Beijing is carrying out an across the board coercive campaign against Taiwan. While its military maneuvers around Taiwan, poaching of the island-nation's diplomatic allies, pressuring of international corporations and the "Orwellian" demands to remove Taiwan nomenclature on their websites have been frequently covered in the media, less reported about and perhaps known is how China also exerts leverage over the two most crucial energy trade routes for Taiwan. Indeed, Taiwan currently imports 98 percent of its energy in oil from the Middle East and Africa, coal from Indonesia and Australia, and natural gas from Qatar, Malaysia, and Indonesia (2016 data) through the South China Sea and the Malacca Strait. Intensifying pressure by Beijing have rekindled concerns about the strategic dangers of Taiwan's reliance on these vulnerable energy trade routes. Taiwan needs access to energy sources that are closer within its security perimeters and whose import routes are not easily subject to blockage by the People's Liberation Army (PLA). Therefore, a combination of energy diversification strategy through exploration of methane hydrates (MH) may present a key to Taiwan's energy security.
Prioritizing Energy Security
The effort to diversify Taiwan's energy supply has been going on for decades given the local population's longstanding resistance to nuclear energy. This internal dynamic in part has contributed to President Tsai Ing-Wen's prioritization of green energy, an initiative that has been outlined in the 5+2 Major Innovation Industries Policy plan and highlighted in her promise to pursue a nuclear free island by 2025. While her promise may satisfy the "no nuke" movements on Taiwan, discontinuing nuclear power is slowly and steadily being replaced by the burning of fossil fuels, which in response has risen to 90 percent of the shared power generation on the island. In light of the nationwide blackout in August 2017, doubts have arisen toward the Tsai's Administration, and conversations have shifted from a concern of energy safety to energy security. There are numerous security risks and vulnerabilities that Taiwan faces due to a lack of indigenous resources and land available to rely completely on renewable energy. Although Taiwan has made massive strides in solar technologies, many potential sites for these projects are still waiting for the Legislative Yuan's approval on account of potentially disrupting habitats of rare migratory birds. Taiwan's solar technologies also rely on cost-cutting OEM model, which has margins that are too low for profit in the saturated global market. The dual efforts of decreasing nuclear energy and advancing renewable energy are laudable ambitious goals, but they do not promise energy security in the face of Beijing's seemingly unrelenting pressure.
Fire in Ice
Taiwan can achieve energy diversification through one channel of acquisition that is often overlooked: methane hydrates (MH). A powerful source of hydrocarbons that can be found on the edges of continental shelves in the depths of the sea where molecules of water and methane have been trapped within high pressured ice. When depressurized, one cubic meter of MH can contain 160 cubic meters of natural gas. As one unit can produce over 11 kilowatt hours, the power potential of MH is exponential. This kind of resource is potentially ideal for highly developed countries which are dealing with limited resources and a growing demand for energy. The International Energy Agency estimated that the cost of gas produced from MH will decrease from US$30 per million British thermal units (MMBTU's) to US$4.70, once practices for extraction are regulated. There are several technical challenges during the extraction process that deserve attention: the drilling for gas hydrates releases pressures that could disturb sea beds and marine environments, possibly causing submarine landslides (probably not problematic for Taiwan), and movement in nearby reserves can result in methane escape, an environmental challenge that has kept states from commercializing it. Yet, if approached correctly, MH has the potential to become a revolutionary source of energy with the potential to compliment the energy efficiency and cleanliness that Tsai's administration seeks. Large deposits have been discovered in Alaska's North Slope, Japan's Joetsu Basin, Southern Taiwan, and sporadically throughout the South China Sea.
Progress in MH
Japan was the first country to successfully extract methane hydrates. In fact, the US Department of Energy's National Energy Technology Laboratory successfully supported a bilateral effort between Japan and the United States to explore these deposits through exchange of information in research and development (R&D) and joint expeditions. Their Fire in the Ice newsletter covering MH first published evidence of MH in Taiwan in 2009 in which they assessed the geological, geophysical, and geochemical characteristics unique to its reserves. A hydrate drilling proposal was submitted to Taiwan's Ministry of Economic Affairs (MOEA) to excavate its resources under the National Energy Program Phase II (NEP-II) and was approved in 2013 by Taiwan's Ministry of Science and Technology (MST). Carried out by the MST National Science and Technology Program-Energy, the "Gas Hydrates Spindle Project" was launched in 2014 with four missions: "(1) Assessment of the gas hydrates resource characteristics in Taiwanese exclusive economic seas. (2) Development of the R&D key technologies related to the production of gas hydrates. (3) Study of the gas hydrates' impacts on the seabed slope stability and on the global environmental system; meanwhile, the evaluation models and countermeasures will be proposed as well. (4) Research and development of the new gas hydrate technologies applied to the energy saving and carbon reduction, as well as the natural gas transport and storage, thereby promoting the related industries to improve the energy efficiency by reducing the proportion of carbon emissions."
In a recent development, a National Taiwan University (NTU) professor of oceanography, Liu Char-shine, reported an unexpected MH discovery during a joint expedition with French researchers and explained that Taiwan needed about three years to fully assess the reserves along Taiwan's shelf. Yet, the second phase of the NEP-II project may be suspended due to one key issue that remains for Taiwan's development of MH: funding. Taiwan's NEP-II project is drawing to a close in 2018 due to the shrinking funding.
According to the Central Geological Survey under Taiwan's MOEA, accumulation of MH is a possible feat for Taiwan. Investigation of MH resources carried out by the Institute of Oceanography of National Taiwan University has resulted in evidence of deposits located in the seas off Kaohsiung-Hengchun and Pingtung coasts. The study, conducted in 2006, proved reserves of 500-2700 billion cubic meters. As Taiwan's annual natural gas consumption is about 10 billion cubic meters, Taiwan could sustain itself for 50-270 years if these reserves were successfully recovered.
The move toward methane hydrates also supports Taiwan's decision to follow the Paris Climate Agreement, as MH can serve as the bridge from a carbon emitting environment to a zero emitting one, as MH has the lowest carbon intensity. In fact, MOEA has drawn up a framework for sustainable development for MH, for "energy, environmentally friendly, economic" developments.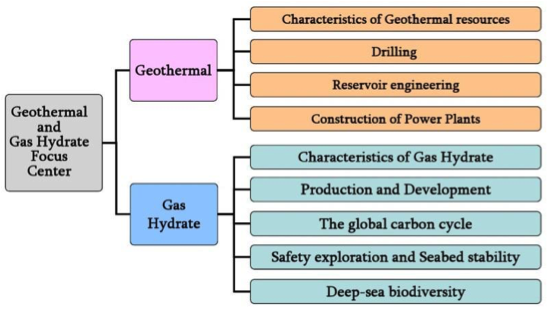 Provided by the National Energy Program-Phase II, Department of Engineering Science and Ocean Engineering, National Taiwan University. Note: the terms "methane hydrate" and "gas hydrate"are used interchangeably.
Some worry that converting MH into water and as carbons may hinder Tsai's green initiative, this is why a carbon capture technology is needed within the gas hydrate framework. Executive Director of the International Energy Agency, Faith Birol, noted at The Cross-Brookings Initiative on Energy & Climate that methane emissions can be addressed with existing technologies with zero cost.
Japan, like Taiwan, is an energy fragile nation importing 98 percent of its energy. As the world's largest importer of natural gas, Japan has been prompted to take the lead in MH production, and the reserves that have been located show enormous potential which is equivalent to about 40-63 times the natural gas consumption in 2012. Through the different phases of the Japan's Research Consortium for Methane Hydrate Resources(MH21), the last stage that is currently being carried out is readiness of technologies for commercial production. The most recent Fire in the Ice publication not only reported that Japan has successfully recovered massive amounts of gas hydrates, but that there is potential gas hydrate formation in Shenhu and Xisha regions in the South China Sea.
Yet, one can already assume which nation lays claim to that territory. Therefore, any inclusion of Taiwan in energy security efforts between Japan and the United States could be a promising solution for many party's problems. Just recently, the US DOE has announced $3.8 million in methane hydrate research, an opportunity for safe, climate friendly extraction to be further developed. The most recent report from the DOE in 2014 showed strong international collaboration with Japan, and hopefully future collaboration efforts with New Zealand, China, Canada, and Taiwan. Together, the United States and Japan have conducted workshops to develop infrastructural plans to build reservoirs and storage solutions of MH. They have also carried out deep water expeditions, partnering with national laboratories, universities, private companies, and governments to conduct further MH developments. To continue these workshops with Taiwan as partner can speed up the process of commercialization. As the 9th International Conference on Gas Hydrates was held in Colorado from June 25 to 30 of this year, having Taiwan be part of the gas hydrate community only holds positive implications for MH R&D, and it would be beneficial not only for Taiwan, but also for the United States and Japan.
The main point: Taiwan's growing demand for electricity and reliance on energy routes in the South China Sea and the Malacca Strait puts it at a risk of energy security, especially in the midst of Beijing's pressure. Though President Tsai Ing-Wen's green energy initiative has taken massive strides, a more urgent solution should be explored. The diversification of energy, specifically through methane hydrates, a natural gas resource, should be a focus in energy policy for Taiwan, in partnership with Japan and the United States.