During an inspection tour of the southeastern province of Fujian (福建) in March, Chinese President Xi Jinping (習近平) called on Fujian, the closest province to Taiwan, to do more to build links with the island democracy. Xi told Fujian provincial authorities to "be bold in exploring new paths for integrated cross-Strait development." He also urged Fujian to implement policies, namely economic incentives, that would enhance Taiwanese people's livelihoods as a means to promote economic and social integration on both sides of the Taiwan Strait—with the ultimate goal of achieving "reunification [sic] of the motherland." Indeed, Fujian Province is a front-line actor that promotes China's preferential policies targeting Taiwanese people. The Fujian government's "soft power" tactics to attract Taiwanese to live and work in the province, coupled with Beijing's mega-infrastructure plans to physically connect Fujian and Taiwan, pose challenges to Taipei's ability to manage China's multi-pronged strategy to foster pro-China support among the island's citizenry.
Experimenting with Taiwan Policies at the Local Level
Fujian has been a pioneer testing ground for the Chinese Communist Party's (CCP) engagement strategies towards Taiwan. The province has close linguistic and ancestral ties to the native Taiwanese population, and also possesses geographical and economic advantages that have been utilized to attract Taiwanese investments. In the late 1970s, Fujian was selected as the first province to conduct economic exchanges with Taiwan. It was also the first Chinese province to expand imports of Taiwanese agricultural products, allow Taiwanese to set up private businesses, and engage with Taiwan on labor issues in the fishing industry, according to Fujian provincial officials. [1] In the 1990s, four Taiwan investment zones of Mawei (馬尾), Haicang (海滄), Xinglin (杏林), and Jimei (集美) were set up in Fujian to further promote cross-Strait economic cooperation. [2]
When Xi worked in the 1990s as secretary of the CCP's municipal committee in Fuzhou (福州), the capital city of Fujian, he also served as head of the Party Committee's Leading Group for Taiwan Affairs in the city. Scholars have argued that Xi's formulation in 2016 of preferential policies for Taiwanese to study, work, and start businesses in China was influenced by his experience with Fujian's Taiwan policies during the 1990s. During Xi's term in Fujian, he initiated several Taiwanese-funded projects. In addition, direct shipping routes were opened between Xiamen (廈門) and Kinmen (金門) and also between Mawei and the Matsu Islands (馬祖列島) as part of the "Mini Three Links" (小三通), a trial implementation and precursor to the "Three Links" (三通). Fujian Province's economic outreach to Taiwan, fueled by both local interest in economic growth and the central government's political objectives towards the island, was tested at the provincial level before becoming adopted as national-level policy.
In 2004, Fujian introduced the concept of the "Western Taiwan Straits Economic Zone" (WTSEZ, 海峽西岸經濟區). The PRC's State Council (國務院) soon recognized the WTSEZ as an "early and pilot zone for cross-Strait exchanges and cooperation," and formally approved a development plan for the economic zone in 2011. The WTSEZ was later reformulated into the "China (Fujian) Pilot Free Trade Zone" [中國(福建)自由貿易試驗區] in 2015, an area spanning 45.57 square miles and comprising the cities of Fuzhou, Xiamen, and Pingtan (平潭). The Fujian FTZ aims to create a cross-Strait cooperation mechanism that liberalizes investment and trade and boosts exchanges of capital and personnel across the Taiwan Strait, with the goal of bringing Fujian and Taiwan economically closer together.
Some of the initiatives carried out in the Fujian FTZ, including attracting Taiwanese talent to the area, providing employment opportunities, and granting equal treatment to Taiwanese enterprises, were later adopted into China's "31 Measures" (惠台31條措施) on enhancing cross-Strait economic and cultural exchanges and cooperation, which was rolled out by the State Council's Taiwan Affairs Office (國務院台灣事務辦公室) and other central government ministries on February 28, 2018. Around 60 places throughout China's provinces, autonomous regions, and municipalities, including Fujian and Xiamen, have introduced specific implementation measures to further promote the "31 Measures." Xiamen launched its corollary "Xiamen 60 Measures" (廈門60條措施) and prominently spearheaded national efforts to provide Taiwanese people with a wide range of benefits and economic incentives.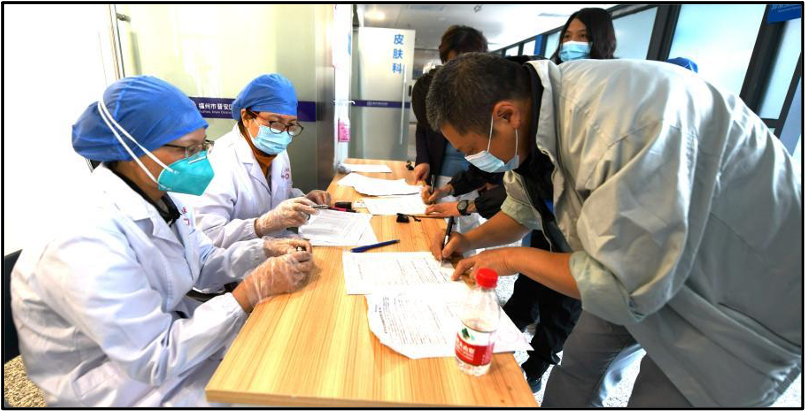 Building Connectivity Between Fujian and Taiwan
Just as he has pushed China's ambitious "Belt and Road Initiative" (BRI, formerly known as "One Belt, One Road," 一條一路) to forge connectivity, trade, and infrastructure links with more than one hundred countries around the world, Xi has also sought to incorporate Taiwan into the BRI. In his 2019 speech on the 40th anniversary of the "A Letter to Compatriots in Taiwan" ("告台灣同胞書"), the Chinese leader said, "We on the two sides should promote connectivity wherever necessary, including trade and economic cooperation, infrastructure building, energy and resources development, and sharing industrial standards." He specifically mentioned moving forward with water, electricity, gas, and bridge projects between Kinmen and Matsu and the coastal areas of Fujian. The CCP also said late last year that it would help Taiwanese businesses join BRI infrastructure projects over the next five years.
In signature BRI fashion, Beijing has proposed cross-Strait transportation routes that would link Fujian with Taiwan. In February of this year, the State Council unveiled its 2021-2035 transport expansion plan, which includes a rail link from Beijing, passing through Fuzhou and Pingtan, and connecting to Taiwan via construction of an underwater tunnel beneath the Taiwan Strait. The so-called "Beijing-Taipei High-Speed Railway" (京台高鐵) is envisioned to connect Pingtan Island to Taiwan's Hsinchu (新竹) City—constituting the shortest, straight-line distance between China and Taiwan—and then ultimately reaching Taipei. The construction of the Beijing-Fuzhou rail line and Fuzhou-Pingtan segment has been completed; what remains is the construction of the Pingtan to Taiwan line and the proposed creation of an artificial island located between Pingtan and the median line of the Taiwan Strait that will help in supporting an underwater vactrain (also known as vacuum tube train, 海底真空隧道列車) , which could make a round trip between Fujian and Taipei in only 13 minutes. Chinese authorities do not appear to be waiting for Taipei's permission to begin construction of the underwater tunnel, which is slated to be finished by 2035.
In addition, China has envisioned the construction of three major highways connecting Fujian and Taiwan by 2035. The Northern Route (北線方案), which is the shortest route, would run from Fuqing (福清) to Pingtan Island and then to Hsinchu. The Central Route (中線方案) would start in Putian (莆田), traverse Nanri Island (南日島), and then reach Miaoli (苗栗) on Taiwan's side. Finally, the Southern Route (南線方案) would connect Xiamen to Kinmen and the Penghu Islands (澎湖群島) and then finally arrive in Chiayi (嘉義) in southwestern Taiwan. As a Taiwanese analyst pointed out, the construction of these transportation routes between Fujian and Taiwan has emerged as a main method used by Beijing to target Taiwan. Taiwanese politicians and citizens have criticized and pushed back against these unilateral Chinese proposals and broader attempts to encroach on the island's territory.
Fujian's United Front Tactics
Fujian has played a key role in United Front activities targeting Taiwan and is the site of numerous preferential policies aimed at encouraging Taiwanese to live, work, study, and do business in the province. Taiwanese newcomers to Fujian have received government subsidies to defray the costs of air tickets and lodging expenses, which has attracted young people from Taiwan. Xiamen's talent programs provide stipends to Taiwanese high-tech talents, while local businesses that hire Taiwanese receive government subsidies. Xiamen also hires Taiwanese to serve as grassroots community assistants in local villages.
In addition, many discounts are provided to Taiwanese-financed enterprises and Taiwanese people, including internship and monthly rent subsidies. Taiwanese arrivals to Xiamen are eligible to rent public housing, often jumping the line ahead of local Xiamen residents who are on a long waiting list. Moreover, the provincial government has created incentives for engaging in cross-Strait agricultural development and cooperation, water supply projects, and scientific and technological cooperation. Fujian has crafted hefty benefits packages in hopes of becoming the "first home" for Taiwanese who go to China, according to the provincial Party Secretary Yin Li (尹力).
Amid the global COVID-19 pandemic, Taiwan is facing a shortage of vaccine supplies, and China's vaccine diplomacy is kicking into high gear. After the Japanese government decided to send a batch of vaccines to Taiwan, local branches of the Red Cross Society of China (中國紅十字會) in Fujian offered to donate Chinese vaccines to Kinmen and Matsu, but were rejected by Taipei. Chinese media reported on Taiwanese residents in Fujian receiving free COVID-19 shots, thereby taking a political shot at Taiwan President Tsai Ing-wen's (蔡英文) inability to procure sufficient vaccines for the Taiwanese population. In some areas in China, Taiwanese people have even been deemed a priority group for receiving Chinese vaccines.
When provinces and cities in China, notably Fujian and Xiamen, continue to offer various preferential treatment and financial incentives to Taiwanese to settle down and work in China over the long run, Taiwan will continue to feel the pressurizing effects of a serious brain drain. Taipei must strengthen economic innovation and competitiveness to retain talented people, particularly in the face of a looming demographic crisis. If Taipei fails to counter the financial allure of places such as Fujian with its own economic, educational, and social policies, then it will likely continue to see more and more Taiwanese being lured to the other side of the Taiwan Strait.
The main point: Fujian has become a testing ground for experimenting on policy initiatives directed at Taiwan, and remains a front-line actor employing United Front tactics targeting the Taiwanese people.
---
[1] "China Focus: Right Time to Boost Taiwan-Fujian Cooperation, Says Governor," Xinhua General News Service, March 27, 2012, retrieved in Nexis Uni.
[2] "Fujian Provincial Chief Details Taiwan Economic Cooperation," BBC Summary of World Broadcasts, November 25, 1998, retrieved in Nexis Uni.