Following a year of mounting tensions, the Hong Kong Economic, Trade, and Cultural Office (HKETCO, 香港經濟貿易文化辦事處) in Taiwan and the Macau Economic and Cultural Office in Taiwan (澳門經濟文化辦事處) have both suspended operations in Taiwan, ending a decade of semiofficial representation between the two special administrative regions of China and Taiwan. In its announcement on May 18, Hong Kong's Constitutional and Mainland Affairs Bureau (政制及內地事務局) said that operations at the HKETCO would be "temporarily suspended," though all employment contracts of local staff were terminated immediately. Initially, Hong Kong authorities did not explain why the closure was necessary, only saying that this was not related to the outbreak of COVID-19 in Taiwan.
The following month, the Macau Special Administrative Region (MSAR) government announced that the Macau Economic and Cultural Office in Taiwan would cease operations, effective June 19.
The very next day, the Taipei Economic and Cultural Office (TECO, 台北經濟文化辦事處 [香港辦事處]) in Hong Kong announced that seven of its remaining eight staff were returning to Taiwan after Hong Kong authorities had failed to renew their visas. As a result, only one staff member, the commercial attaché, was left at the office—down from 20 before the dispute began (this number excludes locally hired employees). MAC has stated that operations at the office will continue for the foreseeable future.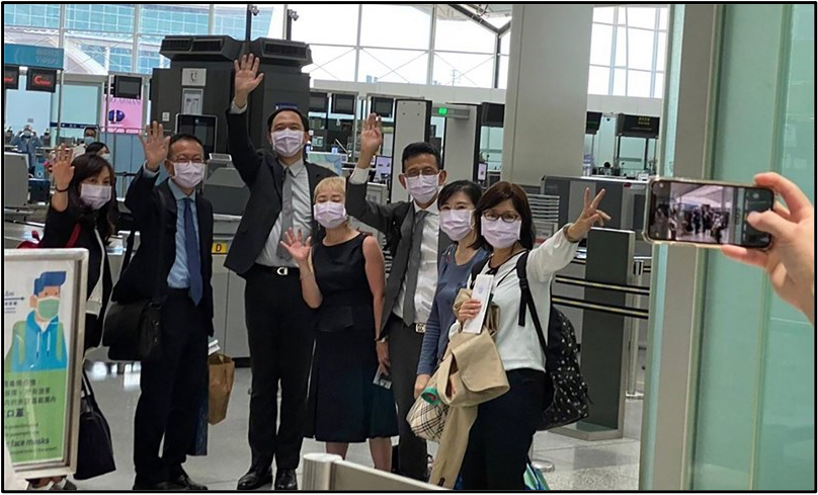 "Tit-for-Tat"
The dispute began in July 2020, after the acting representative at the TECO office was asked by Hong Kong authorities to sign a guarantee of compliance with the "One-China Principle" (一中原則)—Beijing's rigid stipulation that there is only "one China," and that Taiwan is part of it. When Kao Ming-tsun (高銘村), the acting representative, refused to sign the document, he was forced to leave Hong Kong and return to Taiwan. Taipei then retaliated by denying visas to two HKETCO officials, reportedly including one for a new director of HKETCO. This launched a tit-for-tat round of visa denials as relations soured. By June 2021, the eight staffers left at TECO in Hong Kong also saw the renewal of their visas denied by the Hong Kong government after they, too, were reportedly ordered to sign the "one China" declaration.
The Heart of the Matter
It was clear, however, that the reasons for the downturn in relations were the result of more fundamental issues. All this was happening as Beijing consolidated its control over the HKSAR following implementation of its National Security Law (NSL, 香港國家安全法), which had been imposed in the wake of several months of unrest in the city. These developments, moreover, also coincided with a time when relations between Taipei and Beijing were reaching their nadir, with China adopting an increasingly belligerent posture towards a democracy that stubbornly refused to subject itself to Beijing's dictates.
Soon after the initial announcement that the Hong Kong office would "temporarily" suspend its operations in Taiwan, the Hong Kong government averred that the decision was due to "Taipei's 'gross' interference in internal affairs, including with its offer to assist 'violent' protesters." Such activities, Hong Kong claimed, had caused "irreparable damage" to relations between Hong Kong and Taiwan. Among other things, the Hong Kong government was responding to the creation of a Hong Kong assistance office under the Mainland Affairs Council (MAC, 大陸委員會), among whose responsibilities was the provision of assistance to residents of Hong Kong desiring to relocate to Taiwan—including, on an ad hoc basis, participants in the protests that led to the implementation of the territory's NSL. The conspiracy-prone government in Beijing had also been accusing Taiwan, among many other entities, of involvement in activities that sought to destabilize Hong Kong. HKETCO also claimed that its staff in Taiwan had been "threatened by Taiwanese 'radicals,'" forcing the Hong Kong government to repatriate them.
Interestingly, Stella Poon (潘慧心), the former head of HKETCO, stepped down in March. Poon, who quit her job before reaching retirement age, said she had "personal career plans." According to reports, Poon chose to remain in Taiwan and has received a residence permit. MAC has refused to comment on the matter, but the move suggests that Poon may have decided to jump ship following recent developments in Hong Kong.
Deeper Wounds
Although the more proximate reasons behind the closure of Hong Kong's and Macau's respective representative offices in Taiwan are ostensibly linked to the recent unrest in Hong Kong, the NSL, and claims that the Taiwanese government has been assisting alleged Hong Kong "radicals," Beijing's mistrust of the longstanding ties between HKSAR and Taiwan—made possible by the more liberal system in Hong Kong—goes back further in time. In fact, apprehensions over the possibility that continued contact with Taiwan's civil society would fuel discontent in Hong Kong and possibly assist the pan-democrat movement there flared up in 2014: the result of both the Sunflower Movement in March and April that year, and later on, the Umbrella Movement in Hong Kong. The two civil society-led movements highlighted the special ties that had long existed between the two sides, with each providing some assistance, and certainly moral support, to the other as they defied their respective governments.
Soon afterwards, it became increasingly clear that Beijing had tightened its grip on Hong Kong's control of its borders, resulting in the denial of electronic visas for Taiwanese seeking to enter the SAR. In some incidents, members of pro-Chinese Communist Party (CCP) triads in Hong Kong and Taiwan joined hands and mobilized to intimidate Hong Kong pro-democracy advocates, both at the airport in Hong Kong and upon their arrival at Taiwan Taoyuan International Airport. In Taiwan, the protests were led by the China Unification Promotion Party (CUPP, 中華統一促進黨) and its criminal affiliate the Bamboo Union (竹聯幫), as well as members of the Concentric Patriot Association of the Republic of China (CPAROC, 愛國同心會)—one of whose members, Chairman Zhou Qinjun (周慶峻), died of COVID-19 on June 16.
Repercussions
Beijing's crackdown in Hong Kong, assault on the press, and imposition of an NSL—in effect the neutralization of Hong Kong as a somewhat autonomous and more liberal political entity under the "one country, two systems" (一國兩制) formula—is a clear signal of mistrust on Beijing's part. In many ways, it is an admission that the "one country, two systems" experiment has failed and that the center must now take control over the HKSAR—either directly or through local proxies—in an environment where elections can no longer elect politicians from political parties that oppose Beijing and the CCP. It therefore was only a matter of time before Beijing took action to isolate HKSAR (and MSAR) from the "nefarious" influences of Taiwan's democracy.
The relocation of democracy-promoting international non-governmental organizations such as the International Republican Institute (IRI) and National Democracy Institute (NDI) to Taiwan—two of a number of entities that have set up regional offices in Taipei this year—after their operations encountered an increasingly challenging environment in both Hong Kong and China, may also have fueled Beijing's paranoid view of Taiwan as the new epicenter of "anti-China" activity.
The end result of all this is that, besides homogenizing the political environment in the two SARs, these two territories will be further isolated from Taiwan. The aim is to prevent these regions from serving as conduits for ideas that Beijing fears could spread to other parts of China—especially as the Biden Administration makes clear its commitment to a reinvigorated role for the US in the promotion of democratic ideals worldwide. These are endeavors in which Taiwan could potentially assume a greater role.
Beijing's moves also risk causing collateral damage to Taiwanese businesses in China, many of whom rely on Hong Kong's financial system to conduct their operations. (It remains to be seen what, if any, remedial measures Taiwan can implement to continue providing consular and other forms of assistance to Taiwanese in the HKSAR.) This, in turn, could also make it more difficult for Chinese companies to use the HKSAR as a transit point for their investments in Taiwan—including China-based firms that, due to Taiwanese laws, cannot invest directly in Taiwan.
Hailed as a breakthrough in cross-Strait relations under the Ma Ying-jeou (馬英九) Administration, the representative offices are no more. This is a development that the Kuomintang (KMT) opposition will no doubt blame on the Tsai Ing-wen (蔡英文) Administration's refusal to recognize the so-called "1992 Consensus" (九二共識). The closure represents yet another layer in the increasingly hostile relations between Taiwan and China. Added to the effective neutralization of political freedoms in the HKSAR, the termination of the representative offices suggests that Beijing has abandoned the SAR experiment altogether—as well as all pretense that Taiwan could find sufficient allure in the "one country, two systems" experiment to lead it to "reunify" with China along similar terms. The attractiveness of that system had been steadily eroded since 2014; it now seems that Beijing has elected to close that door altogether.
The main point: By closing the Hong Kong and Macau representative offices in Taiwan, Beijing is further isolating the two special administrative regions from Taiwan's "nefarious" influence. It is also signaling that the "one country, two systems" experiment is dead and buried.