During the first US-Taiwan Economic Prosperity Partnership (EPP) Dialogue held in late 2020, Taiwan's Minister without Portfolio John Deng (鄧振中) emphasized that Washington and Taipei have "confirmed that strategic cooperation in the semiconductor industry is a priority, given its potential to generate significant and long-term benefits for both economies." The matter was the focus of a follow-on discussion in February 2021. Along with cooperation on semiconductors, the EPP Dialogue agreed to establish a new task force charged with exploring different areas of cooperation, such as 5G security, the US Department of State's new Clean Network project, investment screening, science, and technology. These efforts underscore how, as China adopts an ever more assertive international policy amidst a global chip shortage, the United States is pushing for supply chains free of Chinese control. Now Washington and Taipei are faced with the reality of needing to unravel, and then realign, the web of intricate supply chains between the three sides.
US Ban on Huawei
Prior to the EPP Dialogue, the United States announced a ban on Chinese telecommunications giant Huawei (華為) and its suppliers from utilizing US technology and software. The US ban—albeit an expected consequence of existing US-China tensions—placed the governments of Taiwan and China, and their respective semiconductor manufacturing companies, in an awkward position. Huawei's chip unit, HiSilicon, relies on domestic and external entities for production, including Taiwan Semiconductor Manufacturing Company (TSMC, 台灣積體電路製造股份有限公司) and the Shanghai-based Semiconductor Manufacturing International Corporation (SMIC, 中芯國際集成電路製造有限公司).
In response to the US ban, TSMC cut off its relationship with Huawei, its biggest customer, accounting for over 13 percent of company revenue. TSMC also agreed to build a new USD $12 billion 5-nanometer semiconductor foundry in Arizona to help bring the production of semiconductors back to the United States, even though the move was not in TSMC's direct economic interest. Later, Beijing's top chipmaker SMIC was declared an "unacceptable risk" in September, and was consequently added to the US Defense Department's blacklist of "alleged Chinese military companies" on December 3. This list signified a significant shift in US policy, and despite China's hopes for a return to normal after President Trump, actions against China's influence in semiconductor supply chains have only been bolstered by the Biden administration. In short, Taiwan is navigating a tricky situation. Although the US pivot away from China has its benefits for Taiwan, it also adds insult to injury for Beijing as it attempts to close the gap with Taiwan, the current leader in foundry capability.
Taiwan, the "Hardware Heavyweight"
Thanks to the rapid economic industrialization and growth of Taiwan, known as the Taiwan Miracle (臺灣奇蹟), the island has become a heavyweight in vital technology. Chief among Taiwan's innovations is its semiconductor chip production capacity. Semiconductors make up the brains of most electronics in production today and are integral for technological advancements in mobile phones, telemedicine, 5G networks, and planes such as Lockheed Martin's F-35 Lighting II combat jet.
Very few companies can build the most advanced chips, which are made in semiconductor fabrication plants, also known as foundries (or "fabs" for short). [1] At the head of the pack is Taiwan's TSMC. TSMC's innovation exemplifies Moore's Law, which states that the number of transistors on a dense integrated circuit doubles every two years.
Thanks to companies like TSMC, Taiwan commands more than 50 percent of the international foundry market. Its closest competition is South Korea, as Samsung boasts 18.8 percent of the chip foundry market share. Despite holding the top spot, Taiwan is fighting to stave off excessive competition in its domestic market, which can drive down profits. As domestic competition increases and China steps up government investment in R&D, Taiwan's current model is facing the potential for a heightened long-term risk to innovation at the foundry level.
Here Comes a New Challenger?
China makes up almost 34 percent of global integrated circuit (IC) consumption and 50 percent of the world's overall semiconductor consumption. Despite its large appetite for semiconductors, China's semiconductor manufacturing is still lagging behind that of Taiwan, which excels in the foundry stage of semiconductor production.
Washington has been effectively disrupting Beijing's efforts to expand its market share by adding barriers to entry, such as new licensing requirements and preventing China from acquiring crucial foundry equipment. For instance, the United States now requires licenses for American companies to ship their equipment to SMIC. As a result, six of China's semiconductor projects aimed at challenging Taiwan's TSMC and South Korea's Samsung have "gone belly up," according to retired Lt. Col. Mark Stokes, executive director of the Project 2049 Institute. [2] One such project, Yangtze Memory Technologies, announced a "world-class" USD $22 billion flash memory chip foundry in September of 2020, only for its parent company, Tsinghua Unigroup, to default on a USD $198 million bond just two months later.
In addition to the challenges presented by new licensing criteria, Beijing has also been blocked from obtaining crucial extreme ultraviolet (EUV) scanners as the Trump administration mounted a campaign to block the sale of Dutch chip manufacturing technology to China. Blocking access to EUV technology is a significant problem for China, as it was already far behind the competition in an industry that innovates at a breakneck pace. [3] If China is to be able to catch up to Taiwan in advanced fabs—which already cost between USD $15 billion and USD $20 billion to build—it must acquire EUV scanners. As this technology took more than 30 years for Dutch chip-maker ASML and its partners to research and develop, Beijing has been forced to ramp up government spending.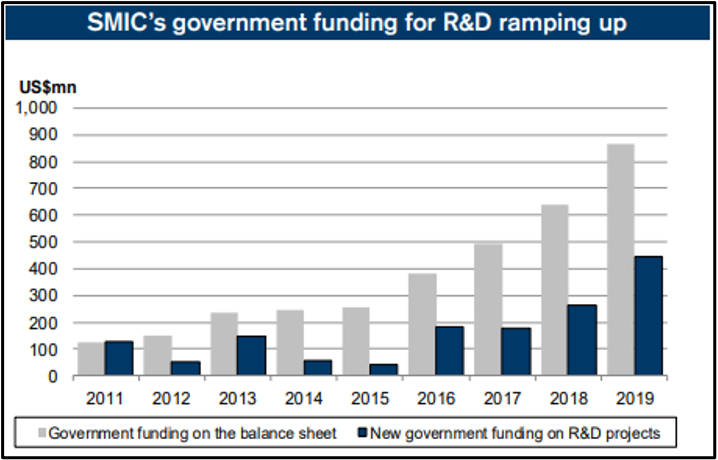 China is at least two generations behind the leading edge of semiconductor fabrication in Taiwan and is unlikely to catch up in the short term. Nevertheless, with the global chip shortage possibly continuing into 2022, and global demand for semiconductors leading to a 19.7 percent sales jump, the Chinese government has increased government grants and R&D funding for its biggest company SMIC (Figure 1). Although big firms like SMIC are receiving an enormous amount of capital investment, there are questions about the sustainability of this strategy.
China's capital expenditure (Capex) far exceeded sales in 2020. This prolonged imbalance, coupled with the failure of several of China's new chip projects, does not bode well for China's long-term economic health or its objective of gaining ground in the foundry sector of semiconductor production.
Despite SMIC's 2021 sales jump resulting from the global chip shortage, US blacklisting—and the blocked sale of Dutch semiconductor equipment company ASML's most advanced lithography machines—currently poses a serious roadblock for advanced production development.
The Threat to Taiwan
There is evidence that China will resort to more clandestine methods to build market share. FBI Director Christopher Wray has stated that China has the capacity to use a wide range of techniques, to include corrupting trusted insiders or conducting cyber intrusions. China also has a reputation for poaching TSMC engineers, leading to a heightened risk of a brain drain in Taiwan and exposing TSMC's valuable intellectual property (IP). As for cyber incursions, Chinese spies have been accused of leaking stolen technology to a state-linked company. Taiwanese firms were also hacked in "Operation Skeleton Key." By employing these tools, China could damage Taiwan by undermining its long-term economic viability and stealing critical IP.
According to Justin Hodiak and Scott W. Harold, the PRC is a determined actor and is "likely to continue pursuing multiple pathways to industrial catch-up in semiconductor manufacturing, leveraging a combination of indigenous development, foreign talent attraction programs, joint ventures, intellectual property theft, [and] vertical integration." China has the capacity to exploit vulnerabilities in Taiwan's supply chain. Therefore, the new EPP should consider stepping up coordination in basic supply chain risk management.
There is no panacea to eliminate the inherent risk that China poses to semiconductor supply chains. According to Eric Lee, research associate at Project 2049, supply chains are "notoriously complex, working as more of a web than an entity that can be vertically integrated as a package." [4] However, most experts, including Lt. Col. Mark Stokes, agree that the latest EPP Dialogue could lead to developments in cooperation for the United States and Taiwan on supply chain security and semiconductor production. [5]
The Solution? Bitter and Boring Work
Taiwan must ensure that its production capability retains its relative dominance to maintain geopolitical relevance. In the same vein, the United States needs Taiwan to succeed in order continue supplying the US with the most advanced hardware. Therefore, Washington and Taipei have a common strategic interest in preventing China from catching up to Taiwan's level of innovation, and it is safe to say that Taiwan faces a real threat from China. [6] While the most advanced semiconductors—and the supply chains that create them—must be secured from China's control, the United States and Taiwan both have a vital security interest in continuing to outpace China in semiconductor innovation.
The United States should consider Taiwan's innovation speed as a strategic interest in maintaining a competitive edge over China. Taiwan should also consider vertical integration of its own small and medium-size enterprises as an additional step to counteract increased FDI from competing countries. Although it is unclear whether increased funding will directly lead to a growth in Taiwan's innovation, it could allow small and mid-tier companies to launch larger projects, which could slow the brain drain from Taiwan to China.
Increased supply chain security could mean expanding the capabilities of entities focused on supply chain analysis. The United States should prioritize increasing its supply chain tracing capacity to the level necessary to unravel this complex web of supply chains. [7] Whether that is accomplished by the Commerce Department's Bureau of Industry and Security, the Defense Department, the State Department, the Office of Commercial and Economic Analysis, or another US Government agency, Washington must continue to add to its extensive list of PLA-linked entities. President Biden's most recent executive order on America's Supply Chains involves multiple agencies on tracing, and diversifying supply chains, as well as calls for coordination between allied nations to jointly strengthen supply chains. [8] Bringing Taiwan into these projects through the EPP is essential. As Lee stated, "Taiwan knows China better than any other country, and could add to the extent Taiwanese companies work with the Chinese military apparatus." [9] The EPP Dialogue, and this year's summit with industry leaders at the White House to discuss the chip shortage, are both great first steps towards strengthening mutual economic cooperation. However, there is no "silver bullet," just a lot of "hard but boring supply chain risk management," according to John VerWey, business intelligence analyst at U Group and former US Director of Investment. [10]
The main point: The US-Taiwan Economic Prosperity Partnership (EPP) has already succeeded in bringing supply chains to the forefront of the conversation on security. Although there is no easy answer to securing integral semiconductor supply chains, further cooperation between the United States and Taiwan is essential to unraveling the web of China's influence, securing vital IP, and furthering innovation in Taiwan's semiconductor sector.
---
[1] Author's interview with Chris Miller, November 6, 2020.
[2] Author's interview with Mark Stokes, December 7, 2020.
[3] Author's interview with Chris Miller, November 6, 2020.
[4] Author's interview with Eric Lee, December 7, 2020.
[5] Author's interview with Mark Stokes, December 7, 2020.
[6] Author's interview with Chris Miller, November 6, 2020.
[7] Ibid.
[8] Ibid.
[9] Author's interview with Eric Lee, December 7, 2020.
[10] Author's interview with John VerWey, November 20, 2020.