Taiwan (as the Republic of China, ROC) currently holds official diplomatic relations with 14 sovereign states around the world. Four of these diplomatic partners—the Marshall Islands, Nauru, Palau, and Tuvalu—are island states in Oceania. At the time of writing, the President of the Federated States of Micronesia (FSM) David Panuelo has proposed to sever diplomatic ties with China in favor of Taiwan. As elsewhere in the world, Taiwan's formal diplomatic relations in the Pacific region are limited to a significant degree by pressure and influence levied by the People's Republic of China (PRC). [1] Despite such pressure, the presence of official embassies in the four island states mentioned—as well as their strategic locations in the Pacific—make this region a highly significant one for Taiwan's diplomatic and foreign aid programs. 
This region has also become a focus of greater international attention and engagement. In September 2022, President Joseph Biden hosted the first-ever US-Pacific Islands Summit, during which the Declaration on US-Pacific Partnership was signed, reaffirming the US commitments to regional affairs. The Pacific Island countries (PICs) themselves have recently developed the "New Pacific Diplomacy" and the 2050 Strategy for the Blue Pacific Continent—both of which aim to demonstrate the solidarity of the region, the agency of individual island countries, and the growing urgency of their efforts to combat climate change. Amid these fast-changing geopolitics, it is essential to identify and reimagine the interests, strategies, and roles of Taiwan in the region.
Charting the Historic Evolution of Taiwan's Relations in Oceania
The Indigenous peoples of Taiwan have a long history of interacting with Oceanic societies through trade and legend which is demonstrated in the shared cultural heritage. During the period of Japanese colonial expansion in Asia (including control over Taiwan, 1895-1945), the Japanese government recruited Indigenous Taiwanese to Oceania for labor and military service during the Pacific War (1941-1945). During the 1970s and 1980s, several Pacific Island countries gained their independence. In 1979, Tuvalu established official diplomatic relations with Taiwan. The relationship between the two began to rapidly develop due to Taiwan's need to purchase fishing licenses for legal fishing in Tuvalu's exclusive economic zone (EEZ). However, the emergence of problems with illegal fishing has tarnished Taiwan's reputation, as several instances of Taiwanese fishing boats violating Tuvalu's sea territory have caused concern for Pacific nations. [2]
During the period of Chen Shui-bian's (陳水扁) presidency from 2000-2008, Taiwan's diplomatic strategy was to establish a multilateral mechanism for its interactions with Pacific Island states. This era was marked by active diplomatic competition with China in Oceania. The Taiwan-Pacific Summit, first held in 2006 in Palau, provides an illustrative example of President Chen's strategy of building multilateral relationships with Pacific partners. Through this forum, Taiwan aimed to strengthen connections with democratic allies in Oceania and improve its international standing, while also counterbalancing and resisting diplomatic coercion from China. In 2007, the second Taiwan-Pacific Summit took place in the Marshall Islands. These two multilateral summits reinforced Taiwan's strong commitment to democracy and emphasized that Taiwan's diplomatic interests overlap with those of the United States, Australia, and Japan.
When Ma Ying-jeou (馬英九) served as president from 2008-2016, he pursued a policy of "flexible diplomacy," seeking to maintain friendly and cooperative relations with China. At the core of Ma's flexible diplomacy was the "diplomatic truce" with the PRC, in which both states committed to refraining from poaching each other's diplomatic allies. Ma's flexible diplomacy advanced a range of economic and educational initiatives. As part of this policy approach, Taiwan's Ministry of Foreign Affairs (MOFA, 中華民國外交部) and the US-based East-West Center co-founded the Pacific Islands Leadership Program in 2013. In this context, Ma canceled the planned third Taiwan-Pacific Allies Summit in the Solomon Islands in 2009, instead conducting bilateral state visits to each of the Pacific Island allies in 2010.
On the other hand, Beijing has engaged in Oceania through a range of initiatives—including high-profile events, meetings, agreements, and foreign aid—with an eye towards building its own influence, as well as seeking to squeeze out Taiwan's presence in the region. In 2006, the same year as the first Taiwan-Pacific Summit, Chinese Premier Wen Jiabao (温家宝) hosted the first China-Pacific Island Countries Economic Development and Cooperation Forum in Nadi, Fiji. More recently, Beijing sponsored the China-Pacific Island Countries Foreign Ministers' Meeting, which released a joint statement in October 2021; as well as the controversial China-Solomon Islands Security Pact, signed in March 2022. The latter meeting was followed in May 2022 by a Chinese attempt to convince ten Pacific countries to endorse an agreement covering everything from security to fisheries. Although China failed to secure the regional agreement, these actions nevertheless raised the concerns of the United States, Australia, and other regional powers.
Multilateral Cooperation and Partnership
The government of Taiwan has drawn on its own Austronesian historical roots, languages, and cultures to craft an indigenous strategy for regional interconnection and political partnership. The idea of creating a permanent organization to promote Austronesian cultures and languages, known as the Austronesian Forum, was first introduced during the 2002 Assembly of Austronesian Leaders. During the first and second Taiwan-Pacific Summits, the Taiwanese government and Pacific leaders elevated this framework to the regional level. In 2008, the Austronesian Forum was established as a permanent international organization. Nevertheless, the plan was put on hold for ten years during the Ma Administration.
It was not until 2018 that the Austronesian Forum was reactivated under President Tsai Ing-wen (蔡英文). In 2019, during her "Oceans of Democracy" state visit to Palau, Tsai pointed out that "Taiwan has passed a six-year program for the Austronesian Forum, opening a new chapter of more stable multilateral cooperation with Taiwan's Indigenous brothers and sisters in the Pacific." The forum's headquarters was opened in Palau in September 2019. It is worth noting that during the 2021 Austronesian Forum, the US government joined the meeting for the first time.
In recent years, Taiwan, the United States, and the Pacific Island states have taken additional steps to formalize their partnerships. The Pacific Islands Dialogue was initiated in October 2019—shortly after Taiwan experienced the loss of two diplomatic allies, the Solomon Islands and Kiribati. At the same time, the United States launched "Pacific Pledge," a new foreign assistance program for the Pacific Islands region that provided a total of USD $300 million in aid funding. During the Pacific Islands Dialogue, co-hosted by Taiwan and US officials, Taiwan Foreign Minister Joseph Wu (吳釗燮) emphasized the significance of collaborating with "like-minded" democratic partners across the Pacific.
In April 2020, the United States and Taiwan organized a virtual dialogue to enhance coordination on COVID-19 assistance and to discuss the effective measures practiced by Taiwan—referred to as the "Taiwan model"—to combat the spread of the virus. The main goal was to assist Taiwan's four diplomatic allies in the Pacific in regaining their capacity and preparing collectively for the post-pandemic era.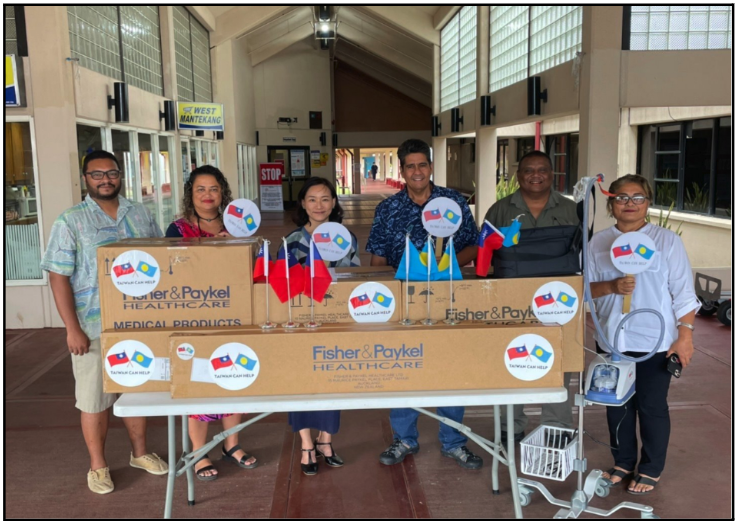 Image: Taiwan's Ambassador Jessica Lee (background, center left) meets with Palau President Surangel Whipps Jr. (center right) to donate medical equipment from Taiwan to enhance anti-epidemic capabilities of Palau (October 25, 2021). (Image source: ROC Embassy in Palau)
Bilateral Bonds: Taiwan's Programs in Palau
The Taiwan International Cooperation and Development Fund (TaiwanICDF, 國際合作發展基金會) is the primary government organization responsible for coordinating and implementing foreign technical missions. The Taiwanese government offers a wide range of programs in areas such as public health, medicine, agriculture, and education.
Since 1998, TaiwanICDF has launched English-language degree programs, with the goal of fostering people-to-people relationships. Palau is among the countries that have close educational ties with Taiwan, as many Palauans seek higher education opportunities abroad due to Palau's own limited educational resources. According to an analysis by the Palau National Scholarship Board, the top three ideal locations for higher education are the continental United States, Guam, and Taiwan (followed by Hawai'i in fourth place). Statistics conducted by the author indicate that Taiwan-sponsored education has gained popularity among Palauans. However, the programs are not without issues: students have noted in the interview that there is a lack of a Pacific-oriented curriculum, insufficient English-language programs, and limited opportunities for internships in Taiwan.
TaiwanICDF has also collaborated since 2005 with 37 hospitals to dispatch teams of healthcare professionals to Taiwan's partner countries. The medical programs vary across different nations. As part of its long-term medical cooperation with Palau, Taiwan's Shin Kong Wu Ho-Su Memorial Hospital (SKH, 新光吳火獅紀念醫院) has implemented various programs to improve public health in the country. For example, SKH has provided free school lunch programs for elementary schools in Koror to promote healthy diets, benefiting around 1,131 students. Additionally, according to former Palau Ambassador to Taiwan, Dilmei L. Olkeriil says approximately 5,000 Palauan patients have gone to Taiwan since 2007 through a joint medical referral program.
Taiwan Interests: Consolidation of Diplomatic Recognition
Taiwan's interests in the Pacific largely center around expanding its international space and consolidating its diplomatic partnerships with allied countries. As ICDF Technical Programs Department Director Yen Ming-hong (顏銘宏) stated, "to use our development projects to consolidate diplomatic recognition from our allied countries is the top priority of our foreign assistance projects." These foreign assistance projects are often employed as a means to advance foreign affairs priorities.
The Pacific Islands Forum is the primary regional organization in Oceania, and it often invites dialogue partners such as the United States and the European Union to participate in post-forum dialogue. However, Taiwan is not permitted to participate. As a result, Taiwan and its Pacific allies have organized the Taiwan-Forum Countries Dialogue and released a series of joint statements. Furthermore, Taiwan is interested in strengthening and broadening its alliances through the platform of Pacific allies, in collaboration with the United States and other regional powers. As an illustration, the then-US Ambassador to Palau, John Hennessey-Niland, accompanied Palauan President Surangel Whipps Jr. on a visit to Taiwan in spring 2021, marking the first time that a US ambassador had visited Taiwan in over 40 years.
Taiwan's economic interests in the Pacific region primarily focus on tourism and fisheries, and Taiwanese tourism serves as a significant source of revenue for Palau. In an effort to bolster the tourism industry in the post-COVID era, Taiwan and Palau have planned to co-host the first Belau Omal Marathon on June 4, 2023. In the area of commercial fishing, Taiwan's Koo's Fishing Co., Ltd. was established in 2000 in the Marshall Islands, becoming the first Taiwanese fishing enterprise to have the Marshall Islands as the flag state. According to 2020 statistics released by the Western and Central Pacific Fisheries Commission (WCPFC), Taiwan ranked third in terms of fishing take in the Western and Central Pacific region. [3]
Another area of interest for the Taiwan government is the demonstration of its naval capabilities. This was demonstrated by the 15th visit of Taiwan's "Fleet of Friendship" to Palau in 2020. Additionally, as part of a bilateral education program, the first two Palauan students of the ROC Naval Academy participated in a voyage from Taiwan to Palau during the same year.
Conclusion: Reimagining Taiwan-Pacific Relations
Taiwan holds a number of interests in the Pacific region. However, the issue of diplomatic recognition for Taiwan remains a top priority. I contend that this factor has hindered Taiwan's ability to fully engage and establish deeper relationships with its Oceanic partners. Over the decades, the Pacific Island Countries have developed extensive economic and diplomatic architecture, with particular emphasis on deepening regionalism and solidarity, collectively reducing and preventing climate change, and safeguarding the shared maritime environment. The government of Taiwan should reflect on how it may best prioritize and advance regional interests, and show itself to be a responsible partner of the Pacific Island states. Lastly, integrating the Austronesian Forum, Pacific Islands Dialogue, and bilateral programs to support and engage in meaningful collaboration with Pacific Island Countries and their regional architectures will be crucial for the Taiwan government's future strategy.
The main point: Establishing a well-coordinated and comprehensive diplomatic strategy and multilateral mechanisms is essential for Taiwan foreign policy in Oceania. The Taiwan government should not only prioritize its national interests, but also respect and advance the interests of Pacific Island Countries.
(The author would like to thank Sra Manpo Ciwidian for reviewing this article.)
---
[1] For example, in 2019 the Solomon Islands and Kiribati both ended their diplomatic relations with Taiwan and established ties with Beijing. 
[2] Jess Marinaccio, "Rearticulating Diplomatic Relationships: Contextualizing Tuvalu-Taiwan Relations," The Contemporary Pacific 31, no. 2 (2019): 448–475.
[3] Pei-yi Guo, Cheng-Cheng Li, Sra Manpo Ciwidian, "Economic Development and Diplomatic Relations with Taiwan and China in Oceania," In Economic Impact of Engagement with Taiwan and China: A Comparative Study, edited by Chien-Huei, Wu, 134-155, 2022.