As the dust settles on Taiwan's 2022 local elections, the speculation and focus towards the 2024 presidential election begins. Following the poor performance of the Democratic Progressive Party (DPP, 民進黨) in the November elections, President Tsai Ing-wen (蔡英文) has resigned from her post as party chair, while those in the Kuomintang (KMT, 中國國民黨) bask in their victory. On both sides of the political spectrum, party leaders have begun to jockey for position as their party's respective presidential nominee. Beyond these headlines, however, one other party sits at a crossroads of uncertainty following the results of November's elections: Taiwan's other major opposition party, the Taiwan People's Party (TPP,台灣民眾黨). 
Founded in 2019, the nascent political party quickly rose to prominence on the back of its founding leader and chairman, former Taipei Mayor Ko Wen-je (柯文哲). As the mayor of the capital city, Ko was in a unique position to forge a new political identity separate from those of the mainstream parties. Stating that his alignment was neither with the "Pan-Blue" camp of the KMT, nor the "Pan-Green" of the DPP, Ko opted instead to represent his new party with turquoise, a color blending both. Ko seemingly hopes that through the TPP he can upend the traditional two-party system, attracting a new base of moderate voters and catapulting himself into higher office. The uphill battle he faces and the barriers he must overcome to achieve this will make this a difficult task.
Green Beginnings and the Test of Taipei
Through much of his adult life, Ko had been a strong advocate for DPP politicians, supporting former President Chen Shui-bian (陳水扁) during the latter's time first as mayor of Taipei, and later as president of Taiwan. Even after Chen's time in office ended and his reputation became tarnished with corruption allegations, Ko continued to remain loyal, lobbying for Chen to receive greater medical treatment and alleging that the former president's prosecution was politically motivated. Ko's support for the DPP continued beyond Chen, as he advocated on behalf of Tsai Ing-wen (蔡英文) during her initial 2012 presidential run. While he has shared his disagreements with President Tsai and her party over their stance on cross-Strait relations with China, Ko has generally presented his strategic goals as aligned with the DPP.
Ko's own political ambitions became evident in January 2014, when he officially announced his intention to run for the soon-to-be vacant seat of Taipei City mayor following the end of KMT's Hau Lung-pin's (郝龍斌) second and final term in office. Given his previous ties with—and support of—the DPP, Ko initially considered running as a DPP candidate before ultimately deciding to continue as an independent, albeit in collaboration with DPP coordinators. After initially refusing to join in DPP preliminary debates, Ko eventually did agree to take part, proving widely popular among the Pan-Green base. As a result, the DPP declared that it would not challenge Ko, and would instead opt for a coalition of support in which Ko himself would remain independent. Without a DPP challenger, Ko's only real competition came from the KMT-backed Sean Lien (連勝文), a businessman-turned-politician who ultimately proved no threat on election day: Ko won handily, securing the second-highest vote total ever for the post, behind only former President Ma Ying-jeou (馬英九) in 2002. 
While Ko enjoyed a productive first term in office, his run for reelection in 2018 proved more challenging. Following increasingly harsh disagreements with Ko, the DPP made the decision to pose a challenger candidate in the mayoral election, ultimately landing on Pasuya Yao (姚文智). Yao had previously campaigned to be the DPP's 2014 candidate for the position, but the decision to align with Ko left those ambitions unfulfilled. While most observers did not expect Yao to achieve victory outright, many questioned whether the DDP could act as a spoiler, sapping votes from Ko and possibly allowing KMT candidate Ting Shou-chung (丁守中) to win the election. This nearly became the case, as the final results on election day showed Ko narrowly escaping defeat by securing 580,820 votes (41.05 percent) compared to Ting's 577,566 (40.82 percent). 
Ko's split from the DPP became increasingly pronounced his second term in office, as he adopted a more moderate, if not China-friendly approach. Striking a sharp contrast with DPP leadership, he often repeated slogans such as the "two sides of the [Taiwan] Strait are one family." While it can be argued that Ko's seemingly tacit agreement to a hybrid of Beijing's "One-China" framework may be intended to benefit constituents through economic ties (illustrated by his regular participation in the Shanghai Taipei Forum [上海-臺北城市論壇]), some have noted that Ko's catering to the Pan-Blue base has been steadily growing over time. 
Ko's attempts to expand his influence continued in 2020, as the TPP competed in its first-ever Legislative Yuan election cycle, winning five seats and becoming the third-largest party in the body. This achievement would grant the TPP a new platform beyond Ko's post in Taipei and start the process of expanding the party's influence beyond the capital.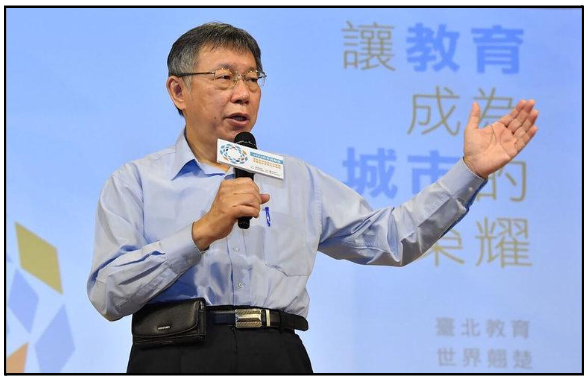 Image: Taipei City Mayor and Taiwan People's Party Chairman Ko Wen-je speaking at a conference on education policy in Taipei (November 10, 2022). (Image source: Central News Agency)
The Road Forward
As the end of Ko's second term in office approached ahead of the 2022 local elections, many questioned whether his young party could continue without its maverick leader holding a prominent political office. While Ko's popularity in Taipei remained steady, with approval ratings rising and falling throughout the pandemic, few other members of the party seem poised to pick up the mantle and become leading national figures. Though Ko has openly alluded to his desire to make a run for Taiwan's presidency in 2024, a strong base of political support would still be crucial to carry on momentum.
Come election day, results were mixed. The highlight victory was that of Ann Kao (高虹安) who won the mayorship of Hsinchu City by nearly ten points over a DPP competitor. Kao, just 38, is the youngest female county magistrate or mayor in Taiwan's history, and will oversee a seat that is home to Hsinchu Science Park, one of the premier global centers of semiconductor manufacturing and development. While Kao presents a promising young face for the party, controversy has risen following allegations that she plagiarized aspects of her doctoral thesis, an accusation similar to one that recently led to the October 2022 resignation of fellow TPP legislator and close Ko ally Tsai Pi-ru (蔡壁如). 
In addition to Kao's victory, 14 other TPP candidates scored wins in local councilor seats across nine different localities and municipalities. While the result is notable in that it is the first local election in which TPP candidates challenged for such positions, only in Taipei City did the party manage to attain the three or more seats necessary to form a local party caucus, a previously announced goal. The final result of note was the defeat of Vivian Huang (黃珊珊) in the campaign to succeed Ko as mayor of Taipei City. Huang competed in the race as an independent candidate, though she had the close backing and support of Ko, under whom she had previously served as Taipei deputy mayor. Huang finished third in the race, receiving approximately 25 percent of the vote, with the KMT's Chiang Wan-an (蔣萬安) ultimately securing the win in the capital.
Following these results, the question stands as to where the party goes from here. While Ko may now opt to focus fully on a presidential run in 2024, without holding elected office he will be forced to create his own platform from which to generate headlines and policy discussion. This will put him at an immediate disadvantage relative to other leading contenders—such as such as Vice President Lai Ching-te (賴淸德) of the DPP or New Taipei City Mayor Hou You-yi (侯友宜) of the KMT, who face no such constraints. As previously stated, Ko has increasingly leaned toward the Pan-Blue camp. And while the KMT's impressive showing in last year's local elections is noteworthy, these results will not necessarily translate come 2024, when the electoral focus shifts away from kitchen table issues and toward cross-Strait affairs. 
While it is certainly possible that Ko can fine-tune his approach to attract moderates from both the Blue and Green camps in the years to come, it remains just as likely that he could instead play the role of a third-party spoiler, siphoning away a small but significant portion of the vote from either of the leading party's candidates. With the 2024 campaign season now on the horizon, leading figures of the DPP and KMT will begin to make their case as to why they should be the face of their party in the forthcoming presidential election. From his seat atop the TPP, Ko will face no such intra-party rival, though whether he is able to take advantage of that opportunity remains to be seen.
The main point: While the strong showing of the KMT and poor performance of the DPP have generated most of the headlines in the wake of Taiwan's recent local elections, the showing of the TPP should not be overlooked. As the 2024 presidential election approaches, Ko Wen-je's young party could play a significant role, though major uncertainties remain.