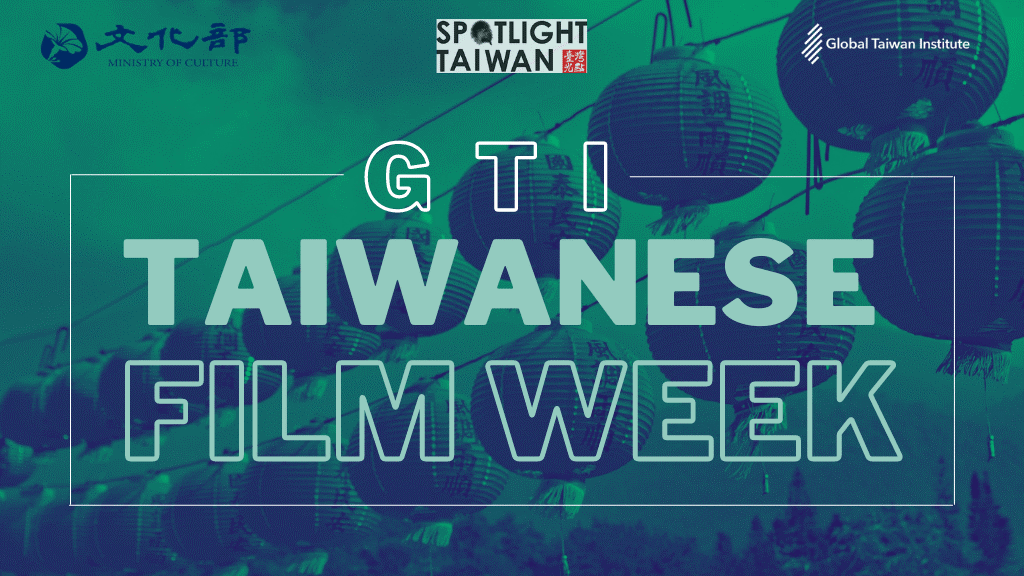 The Global Taiwan Institute is very pleased to host the 2022 Taiwanese Film Week, GTI's third annual virtual film festival. From October 21-29, GTI will feature a diverse selection of eight Taiwanese films and documentaries, as well as Q&A sessions with the directors of two selected films. All will be streamed for free on Vimeo.
All screenings and Q&A sessions will be free of charge. Each film screening will require registration in advance in order to acquire a URL link containing a promotion code. Please make sure to submit your registration by midnight the previous day as some movies will have limited capacity. Only those currently located in the United States will be able to watch the films. There are no geographic restrictions for the Q&A sessions with film directors.
The film festival will be accessible via Vimeo On Demand, a video sharing and streaming platform, starting on Friday, October 21, 2022. Each day, one film will be accessible for 24 hours (please see the schedule below). Participants will need to create a Vimeo On Demand account and register in order to access and watch individual films. For any questions pertaining to online registration, please first refer to the instructions and FAQs below. If you have any further questions, please contact us at gtifilm@globaltaiwan.org.
In addition, GTI will host two pre-recorded Q&A sessions featuring Chang Chih-wei, the director of Jang-Gae: The Foreigner, and Shih Yu-Lun, the director of Crossing's End. Both interviews will be available on this webpage following the related film screenings: the interview with Chang Chih-wei will be released on October 22 at 12 PM EST and the interview with Shih Yu-Lun will be released on October 29 at 12 PM EST.
---
October 21: Jang-Gae: The Foreigner (醬狗)
In this coming-of-age film, Taiwanese-Korean high school student Lee Gwang-yong finds himself stuck between two identities. Born and raised in Korea, he is often bullied and insists on not speaking Chinese as he considers himself Korean. This leads to conflicts with his father, who fights for the rights and interests of Hwagyo (overseas Chinese), and often tells him to "never lose your roots." His only respite is the time he spends with a girl who doesn't care about his identity. Just as Gwang-yong appears ready to secure an overseas scholarship, an unexpected accident shatters his family. Can Gwang-yong put the pieces of his life back together again?
Please note: This film has a limited capacity of only 400 tickets. Make sure to register early!
This film screening will be accompanied by a conversation with the director of Jang-Gae: The Foreigner, Chang Chih-wei. This discussion will be available to viewers worldwide on Youtube on October 22, 2022 at 12 PM EST.
---
October 22: Life For Sale (售命)
Life For Sale follows the adventure of an insurance salesman, Liang, who wants to take his own life. Based on the novel of the same name by Yukio Mishima, Liang ultimately decides to put his life up for sale, deciding that if he doesn't want his life then he might as well sell it. From a gangster trying to recover a lost dog to the mysterious CEO of a pharmaceutical company, Liang's life suddenly becomes coveted by a variety of different people and he has to confront the reality of what his life is really worth and whether he truly wants to sell it.
Note: This film contains scenes and themes that some viewers may find disturbing, such as gore and sexual violence. Viewer discretion is advised.
---
October 23: Qalang (Sing First, Think After) (部落)
This documentary of the Wulai Atayal community explores the community with the students of Wulai Elementary and Junior High School, Fushan Elementary School, National Chengchi University, and director Nelly Chen. Filmed from the kids' point of view, we also find out the difficulties encountered by Yun-jie, a young singer from atayal traditional songs club. We are able to understand the challenges of cultural inheritance in the contemporary Wulai Atayal community under the social and environmental changes by trying to record what people living in the community actually care about from the perspective of students.
Please note: This film has a limited capacity of only 300 tickets. Make sure to register early!
---
October 24: Final Exam (期末考)
Final Exam follows the story of Li-Hong, a teacher waiting for the long-overdue contract renewal he needs to pay for his grandmother's medical bills. While waiting, Li-Hong finds himself facing more complications—his estranged brother gets entangled with a felony assault, his love interest and rival for the contract confesses to him, and his favorite student is falsely accused of an attack. With only seven days left until the final exam, Li-Hong must make important decisions in his life, and—just like his students—he is put to the test.
Please note: This film has a limited capacity of only 300 tickets. Make sure to register early!
---
October 25: Unfulfilled Dreams (願未央)
Producing seven writers within three generations, all of whom have written profoundly influential masterpieces, the Chu family is a one-of-a-kind family of writers in contemporary Chinese literature circles. Unfulfilled Dreams, directed by Chu Tien-wen, tells the story of the family from a daughters' perspective. Along with her sister, Chu Tien-wen explores a diary of their father's journey to Taiwan, their mother's writings about her life growing up among doctors in a small town in Miaoli, and 120 "non-love love letters" exchanged between their parents. It is a priceless record of the journey taken by a family of writers faced with the evolving history of Taiwan.
---
October 26: As We Like It (揭大歡喜)
As We Like It, a reworking of Shakespeare's play, tells of the love blossoming between Orlando and Rosalind, who is disguised as a man. Filmmakers Hung-i Chen and Muni Wei opted for the lovebirds to be played by women, thereby referencing Shakespeare's era when women were banned from the stage and all roles were played by men. This colorful, energetic film follows Orlando and Rosalind and three other potential couples in their search for one another. All set in an internet-free neighborhood in the bustling metropolis of Taipei where there is no rush and people consciously live together. The film upends the binary world, making it a loving spectacle with plenty of music and doll-like design.
Please note: This film has a limited capacity of only 300 tickets. Make sure to register early!
---
October 27: At Your Service (教練)
Directed by Lee Chia-hua, At Your Service is about how a former pentathlon athlete coaches a promising young athlete in the same sport. Lin Sheng-hsiang devotes himself and all the resources he can find to train You-hsuan. If he manages to help You-hsuan qualify for the Olympic Games, he will have realized his dream of bringing Taiwan's modern pentathlon team onto the international stage. But everything, including time, funding, the system, and the wayward adolescent, all seems to be going against his wishes.
Please note: This film has a limited capacity of only 300 tickets. Make sure to register early!
---
October 28: Crossing's End (彼岸) Crossing's End follows the Taiwan Innocence Project's quest to revisit an incident from 2002 in which two men were convicted for killing one of the men's ex-girlfriend. Directed by Shih Yu-lun, the documentary consists of interviews with the convicted men and their family members and calls into question the witness testimony that was used to put the men behind bars. In the face of an unreplicable crime scene and many lingering doubts, what should one believe? How can three connected families pick up the pieces and move on?
This film screening will be followed by a conversation with the director of Crossing's End, Shih Yu-Lun. This discussion will be available to viewers worldwide on Youtube on October 29, 2022 at 12 PM EST.

---
We are grateful to the Taiwan Academy, Ministry of Culture, Taiwan for providing resources to the GTI cultural programs series.