Wednesday, June 9, 2021 from 9:00AM-10:00AM (ET)
Webcast Only
Event Description:
The Global Taiwan Institute (GTI) is pleased to invite you to a virtual conversation with Kerry K. Gershaneck on his new book, Political Warfare: Strategies for Combating China's Plan to "Win Without Fighting." The People's Republic of China (PRC) has been employing a range of political warfare against the United States, Taiwan, and a host of countries around the world in order to promote its national objectives and to elevate its global status – all without having to engage in actual fighting or combat. China's world-wide infrastructure projects under the "Belt and Road Initiative," COVID-19 health diplomacy, dogged "wolf warriors," and persistent military incursions into Taiwan's air space are only a few examples of the types of political warfare deployed by Beijing to exert pressure on other countries to conform to its national interests. Indeed, China has put enormous financial resources and manpower into executing its political warfare across the world. In Political Warfare, Gershaneck provides an in-depth account of the PRC's political warfare, illuminating its history, goals, and tactics. He also delves into case studies of Chinese political warfare operations designed to undermine Taiwan and Thailand, though his framework for understanding the PRC's political warfare can also be applied to other countries facing PRC pressure.
The event webcast will be broadcast live on our website and YouTube on Wednesday, June 9 at 9 AM (ET). Questions for the author may either be sent by e-mail to contact@globaltaiwan.org or through the chat function on the YouTube page.
The Author:
Kerry K. Gershaneck has been a Visiting Scholar at the Graduate Institute of East Asian Studies, National Chengchi University, for the past three years. He is an Adjunct Professor with University of Canberra's Institute for Governance & Policy Analysis in Australia; a member of The Research Institute for Japan-U.S.-Taiwan Relations security think tank; and the Senior Fellow, Regional Security & Geopolitical Trends, Global Risk Mitigation Foundation in Honolulu, Hawaii. He was the Distinguished Visiting Professor at Chulachomklao Royal Military Academy and the Royal Thai Naval Academy as well as a Senior Research Associate at the Thammasat University Faculty of Law (CPG) in Thailand for a total of eight years. Previously Prof. Gershaneck was a strategic planner and spokesman for the Office of the Secretary of Defense and a Senior Fellow and Director of Governmental & Public Relations for Pacific Forum CSIS, a regional security think tank. A former U.S. Marine Corps officer, he has extensive intelligence, counterintelligence, special warfare, combat arms, and strategic communications experience. His writings have been featured in academic journals and news media publications in Taiwan, the United States, Japan, Thailand, Hong Kong, and Europe.
The Discussants:
Lieutenant General Wallace "Chip" Gregson (USMC, Ret.) served as the Assistant Secretary of Defense, Asian and Pacific Security Affairs. Previously, he served as Chief Operating Officer for the United States Olympic Committee, then as an independent consultant before entering Government in 2009. From 2003 to 2005, he was Commanding General of the Marine Corps Forces Pacific and Marine Corps Forces Central Command, where he led and managed over 70,000 Marines and Sailors in the Middle East, Afghanistan, East Africa, Asia and the United States. From 2001 to 2003 he served as Commanding General of the III Marine Expeditionary Force in Japan, where he was awarded the Japanese Order of the Rising Sun, the Gold and Silver Star; the Korean Order of National Security Merit, Gukseon Medal; and the Order of Resplendent Banner from the Republic of China. Prior to his time in Japan, he was Director of Asia-Pacific Policy in the Office of the Secretary of Defense from 1998 to 2000. Lt. Gen. Gregson is a member of the Council on Foreign Relations; the U.S. Naval Institute; and the Marine Corps Association. He is a Trustee of the Marine Corps University Foundation. His civilian education includes a Bachelor's degree from the U.S. Naval Academy, and Master's degrees in Strategic Planning from the Naval War College, and International Relations from Salve Regina College.
Eric Chan is an Adjunct Fellow at GTI. He is the senior Korea/China strategist at the US Air Force's Checkmate Directorate, where he provides USAF and Department of Defense leadership with expertise on DPRK/PRC military capabilities, political leadership, strategic culture, and Great Power competition. Mr. Chan was previously the China, Korea, Philippines, and Vietnam Country Director at the Secretary of the Air Force, International Affairs. In this role, Mr. Chan was responsible for USAF engagement with the Chinese Air Force, and for directing engagement/Foreign Military Sales with key allies and partners, with a portfolio in excess of $100 million. Mr. Chan has also served as an analyst in Headquarters Air Force, A10 (Strategic Deterrence and Nuclear Integration), providing expertise on PRC nuclear doctrine. Mr. Chan has published widely on Chinese influence operations/information warfare, Taiwan military reform, military diplomacy with the PLA, and the strategic balance in East Asia. He has written for publications including the USAF Journal of Indo-Pacific Affairs, The Diplomat, War on the Rocks, and the Foreign Policy Research Centre New Delhi Journal. Mr. Chan holds a Master's degree in International Affairs from the George Washington University and a Bachelor's degree in Political Science/History from the University of California, San Diego.
The Moderator:
Russell Hsiao is the Executive Director of GTI, Senior Fellow at The Jamestown Foundation, and Adjunct Fellow at Pacific Forum. He is a former Penn Kemble Fellow at the National Endowment for Democracy and Visiting Scholar at the University of Tokyo's Institute for Advanced Studies on Asia. He previously served as a Senior Research Fellow at The Project 2049 Institute and National Security Fellow at the Foundation for Defense of Democracies. Prior to those positions he was the editor of China Brief at The Jamestown Foundation from October 2007- to July 2011 and a Special Associate in the International Cooperation Department at the Taiwan Foundation for Democracy. While in law school, he clerked within the Office of the Chairman at the Federal Communications Commission and the Interagency Trade Enforcement Center at the Office of the U.S. Trade Representative. Hsiao received his J.D. and certificate from the Law and Technology Institute at the Catholic University of America's Columbus School of Law where he served as the editor-in-chief of the Catholic University's Journal of Law and Technology. He received a B.A. in international studies from the American University's School of International Service and the University Honors Program.
Event Summary:
On June 9, 2021, the Global Taiwan Institute (GTI) held a virtual book talk with academic and former US Marine Corps officer Kerry K. Gershaneck to discuss his latest publication: Political Warfare: Strategies for Combating China's Plan to "Win Without Fighting." Joining the conversation were discussants Lt. Gen. Wallace "Chip" Gregson (USMC, ret.), who previously served as the Assistant Secretary of Defense for Asian and Pacific Security Affairs; and GTI Adjunct Fellow Eric Chan, who is currently the Senior Korea and China Strategist at the US Air Force's Checkmate Directorate. The event was moderated by GTI Executive Director Russell Hsiao.
To begin, Gershaneck stated that his book portrays the threat of political warfare in a way which average citizens would understand, but also provides practical recommendations for addressing it. Political warfare, as he defined it, is China's primary tool in approaching interactions with the world, including the use of propaganda, lawfare, disinformation, corruption, gang affiliations, and proxy armies. Furthermore, he argued that the United States should understand that China sees itself at war with the United States. Therefore, referring to these tactics as "political warfare" rather than "political competition" will be more productive and allow for a more unified approach. Hsiao asked Gershaneck to provide some recommendations for US-Taiwan cooperation on this issue. To this point, Gershaneck outlined five possible areas of coordination: establishing a Strategic Communications Agency; continuing to build on the Global Cooperation and Training Framework (GCTF); arranging information exchange with Taiwan Economic and Cultural Offices (TECO); establishing a Free World United Front; and having Taiwan take the lead to establish a regional cooperative that synchronizes efforts to deter Chinese political warfare.
Following this discussion, Lt. Gen. Gregson discussed restoring the United States' conventional deterrence abilities to reduce the influence of China's raw military power, but also encouraged a reintroduction of a moral component to the US approach. Chan, who focused mainly on the evolution of China's political warfare tactics, then emphasized that the Chinese Communist Party (CCP) may never intend to reach the kinetic warfare stage, but rather develop a truly sophisticated system of propaganda tools. The discussants also agreed that the United States' interests in countering China's influence in the region were related to the nature of the regime, citing its totalitarianism and ambitions for global hegemony.
Gershaneck also responded to questions posed by attendees regarding the roots of China's political warfare, followed by a panel discussion comparing Russian and PRC tactics. In doing so, Chan argued that Russia is comparatively blunt and risk-accepting, whereas the CCP does not feel the need for extreme leveraging of its networks. In agreement, Gershaneck further pointed out that there should not be a false sense of security that the two nations will diverge again, stating that China and Russia can still work together without being on friendly terms. To finish the discussion, the panel addressed the interaction between China's military strategy and its political warfare strategy. Lt. Gen. Gregson began by pointing to the group of experts that attribute their argument to abandon Taiwan to the size and power of China's military. Gershaneck commented that the People's Liberation Army (PLA) plays a large part in the political warfare effort, and that PLA personnel themselves are often involved in such activities. Chan added that the efforts made by China to use propaganda against the US military have not been successful due to their unclear understanding of cultural context. As domestic politicization increases, he argued, this will leave a vulnerable area for political warfare.
This summary was written by GTI Summer 2021 Intern Zoë Weaver.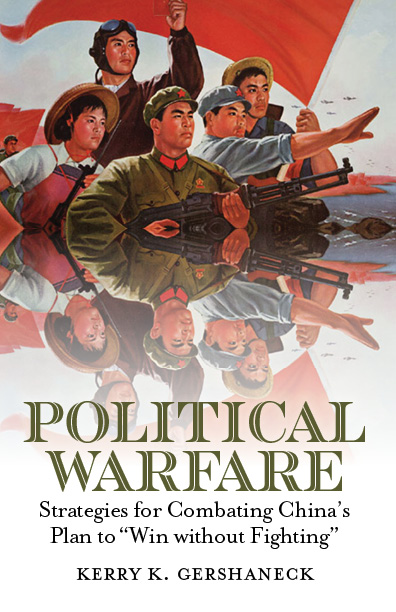 ---
To receive all our updates directly in your inbox you can subscribe by pressing the button below.