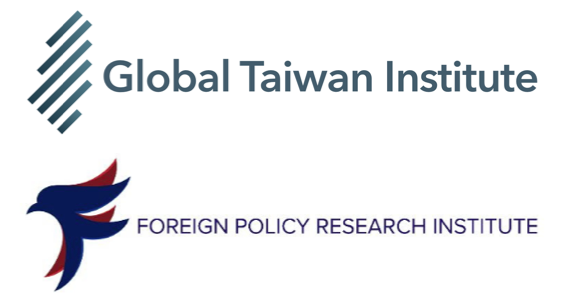 Wednesday, March 27, 2019 from 6:00 PM – 8:00 PM
**Please note that this event will take place in New York City.
Location: Taipei Economic and Cultural Office, 1 E and 42nd St., New York, NY 10017
The full-length recording of the event:
Event Description
The Global Taiwan Institute and the Foreign Policy Research Institute will be hosting a symposium on "The Taiwan Relations Act at 40: An Enduring Framework for US-Taiwan Relations."

For four decades, the Taiwan Relations Act has been a foundation of US policy toward Taiwan and cross-Strait relations. Adopted in the wake of Washington's decision to end diplomatic relations and a mutual defense pact with the Republic of China as part of the process of normalizing relations between the US and the People's Republic of China, the TRA has enduringly set forth Washington's commitment to robust if informal diplomatic relations with Taiwan and support for Taiwan's security. The TRA has been remarkably resilient, nearly immune from amendment, rarely supplemented by other lawmaking, and accepted at home and invoked abroad by US presidents and administrations as a basis for, and a constraint on, US foreign policy. As a law passed by Congress and signed by the president, the TRA has stood apart from the other documents that frame the US's Taiwan policy, including the three US-PRC Joint Communiqués and the Six Assurances.

Why has the TRA proved so durable? How well has it served to shape, and manage, US-Taiwan bilateral, and US-Taiwan-PRC triangular relations? What challenges does a TRA-centered framework for US policy face today and in the foreseeable future, amid:
new pressures from Beijing, including a policy of cold peace or cold confrontation toward the Tsai Ing-wen administration in Taiwan and mounting pressure from Xi Jinping's China for international acquiescence in Beijing's agenda for unification and view of Taiwan's international status;
recent events in Washington, including the instability of policy toward Taiwan during the transition to, and early phase of, the Trump administration, and Congress's passage of laws, such as the Taiwan Travel Act and the National Defense Authorization Act, that call for upgrading of U.S.-Taiwan relations; and
developments in Taiwan's politics, including the run-up to the 2020 presidential and legislative elections?
Panelists:
Jerome Cohen: Professor of Law, NYU School of Law, and Senior Fellow for Asia Studies, Council on Foreign Relations
June Teufel Dreyer: Professor of Political Science, University of Miami, and Senior Fellow, Foreign Policy Research Institute
Shelley Rigger: Brown Professor of East Asian Politics, Davidson College, and Senior Fellow, FPRI
Jacques deLisle: Director, Asia Program, FPRI, and Stephen A. Cozen Professor of Law and Professor of Political Science, University of Pennsylvania
Russell Hsiao: Executive Director, Global Taiwan Institute; Penn Kemble Fellow, National Endowment for Democracy; and Adjunct Fellow, Pacific Forum

The reception will start at 6:00 PM, and the Program will begin at 6:30 PM. The symposium will adjourn at 8:00 PM. Kindly RSVP by March 26. Please direct questions or concerns to Program Manager Marzia Borsoi-Kelly at mborsoikelly@globaltaiwan.org.
Reminder: All our public seminars will be live streamed on our Facebook page at @globaltaiwaninst.
**Media: Please contact Program Manager Marzia Borsoi-Kelly at mborsoikelly@globaltaiwan.org if you would like to bring additional crew members or equipment, so that we can be sure to accommodate you.
---
To receive all our updates directly in your inbox you can subscribe by pressing the button below