Thursday, May 23, 2019, from 11:00 AM – 3:00 PM
Location: Arts Barn (311 Kent Square Road, Gaithersburg, MD 20878)
The Global Taiwan Institute is pleased to present the film "Our Youth in Taiwan" in our ongoing series of social and cultural programs in Washington, DC.
Doors open at 11:00 and the film will begin at 12:00. Light refreshments will be provided. Please contact GTI Program Associate Jonathan Lin if you have questions or concerns. Kindly RSVP by May 20.
** Please note that the screening will not take place at GTI, but at the Arts Barn located at 311 Kent Square Road, Gaithersburg, MD 20878
THE FILM
We will be showing the film Our Youth In Taiwan, directed by Taiwanese director Fu Yue (傅榆).
Stories of bidding farewell to one's youth and growing up are commonplace. The dream shared by the protagonists in the film is to build a better country by rebelling against the establishment. However, their fight becomes part of history in the turbulent relations between Taiwan and China.
A Taiwanese student movement star, who fights against China, a celebrity Chinese student, who loves Taiwan, and I, a Taiwanese documentary filmmaker passionate about politics. Clashes should come between us, but we find the possibility of collaborating with each other in the social movements. After the biggest social movement in Taiwan in the past 24 years had taken place, we came close to realizing our goals but gradually we were let down again. Is it still possible for us to continue fighting for the ideals we had been pursuing?
https://https://youtu.be/UXeUiOqwSrc
GUEST SPEAKERS
Following the film, we will have a discussion with the film director, Fu Yue (傅榆).
Fu Yue (傅榆)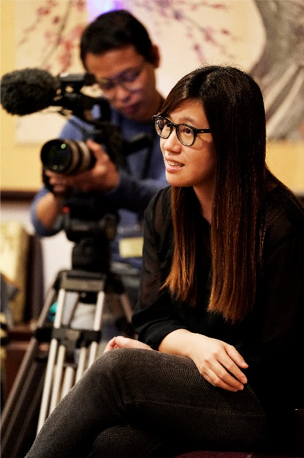 Born in Taipei, 1982, Fu Yue graduated from Institute of Sound and Image Studies of Tainan National University of Arts in 2008, now worked in documentary film production. She mainly explores young people's ideas and attitudes toward Taiwan's political and economic landscape. Her films have received several awards at the youth film festival in China, Hong Kong, and Taiwan. "Dialogue between Blue and Green" won the Best Documentary at the 2013 First International Film Festival Xining. "A Perfect Crash " won the Best Short Documentary at the 2016 Hong Kong Chinese Documentary Festival. "Our Youth In Taiwan " won the Best Documentary at the 2018 Taipei Golden Horse Awards and Taipei Film Awards.
---
We are grateful to the Taiwan Academy, Ministry of Culture, Taiwan for providing resources to the GTI cultural programs series.