In the wake of severed diplomatic ties between Taiwan and Burkina Faso, Panama, and São Tomé and Príncipe, Taipei has stepped up its international engagement with the world in various new ways. This article provides a detailed analysis of Taiwan's Ministry of Foreign Affair's (MOFA) public news releases and its activities in areas such as conducting legislative delegation visits, issuing official statements thanking other countries for their support of Taiwan, and new areas of cooperation such as visa waivers and trade pacts. Additionally, Taiwan's MOFA has also significantly increased international engagement through international think tank exchanges, art exhibitions, and academic visits of foreign scholars to Taiwan [1]. These are the many specific ways that the Tsai Ing-wen Administration is improving Taiwan's international engagement and enhancing other countries' support for Taiwan despite the loss of four official diplomatic allies since May 2016.
Top Foreign Ministry engagement: Legislative visits, visa waivers, trade pacts, expressing appreciation
Among the various activities undertaken by the Tsai Administration, foreign legislative visits to Taiwan have increased the most at over 80 percent in the first two years compared to the last two years of the previous administration. As examples, Taiwan received the following legislative groups in the months of May and June:
11-member delegation of Greek members of Parliament
Delegation led by the chair of the Latvian Parliament's Public Health Subcommittee
Delegation led by a French National Assembly member
Slovak National Council delegation
Delegation led by the chair of Czech Senate Committee on Health and Social Policy
US Senator Cory Gardner, Chairman of Foreign Relations Subcommittee on East Asia, the Pacific, and International Cybersecurity
Delegation from the German Parliament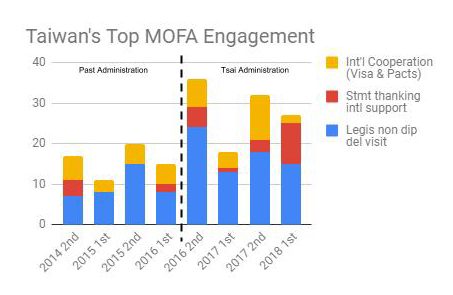 Figure 1: Top aspects of Taiwan's Foreign Ministry engagement
It is easier for senators and congressmen from the United States and other liberal democracies to visit Taiwan as members of the legislative branch due to the separation of powers in liberal democracies. Legislators, representing local governments, are free to formulate their international affairs policies at the local level, and it is therefore a simpler matter to visit Taiwan than senior members of the Executive branch of government such as the White House, US State Department, or Pentagon.
The highest profile congressional delegations to visit Taiwan over the past two years came from the United States, the UK, Germany, France, and the European Parliament:
US Senator Cory Gardner (R-CO) visited Taiwan recently on May 26
Lord Faulkner of Worcester, Deputy Speaker of UK House of Lords visited Taiwan on January 29
Two German Bundestag members also visited Taiwan on November 28, 2017, but they are listed anonymously on the MOFA news website
France's Senator Cyril Pellevat led a delegation of French senators to Taiwan on August 29, 2017
UK Member of Parliament Andrew Rosindell led a parliamentary delegation to Taiwan on August 3, 2017
Member of the European Parliament Anna Fotyga, Chair of the European Parliament Subcommittee on Security and Defense visited Taiwan on May 19, 2017
While these legislative visits are not made by heads of foreign ministries or heads of state since typically only heads of state of Taiwan's diplomatic allies will visit Taiwan, they are nonetheless important engagement with prominent political leaders in leading countries.
Taiwan's official statements thanking others for international support have risen three-fold compared to the previous administration. Taiwan officials expressed appreciation multiple times to US congressmen, members of the European Parliament, Canada, and Japan throughout May for publicly supporting Taiwan's attempts to participate in the World Health Assembly. That same month, Taiwan also thanked US Congressmen for condemning pressure from China to alter references to Taiwan, such as on governments', airlines' and hotel's websites. Taiwan also thanked the international community multiple times on February 7, 8, 9, and 13 for their support in the aftermath of the Hualien earthquake in Taiwan. In September 2017, Taiwan officially thanked its diplomatic allies for speaking up for Taiwan in the United Nations General Assembly. In November 2016, Taiwan's MOFA thanked 97 German parliamentarians for support of Taiwan's participation in the International Civil Aviation Organization (ICAO).
Taiwan has expressed appreciation for international support since it has become more diplomatically isolated over the past two years than under the previous administration.
Taiwan's other major types of international cooperation are its greater numbers of visa waiver programs and trade, which have risen over 20 percent. Taiwan's MOFA recently announced its decision on July 12 to extend its 14-day visa-free entry program for Brunei, Philippine, and Thai nationals for at least another year. Over the past two years, other notable visa waiver programs include:
Visa-free treatment of 10 Latin American and Caribbean countries
eVisa scheme to businesspeople from Iran and six South Asian nations
Easing of visa rules for countries part of the New Southbound Policy
Taxation agreement with Poland
Air services agreement and memorandum of understanding on agricultural cooperation with India
However, Figure 1 shows how the previous administration also made substantial gains in visa waiver programs and trade pacts, though the Tsai Administration has been even more focused on this effort.
Other significant Foreign Ministry engagement: think tank / academic visits and cultural exhibitions
Taiwan has stepped up engagements with international affairs think tanks and academics in other countries by inviting them to attend conferences in Taiwan. The blue columns and the yellow columns in Figure 2 show how think tank engagement and academic engagement respectively have become much more prominent in the past two years than in the prior period. Throughout Tsai's term so far, Taiwan received visits from this sample of key individuals and groups representing high profile universities and think tanks since May 2016:
Czech Academy of Sciences President Eva Zažímalová
Dr. Alim-Louis Benabid of French biomedical research center Clinatec
Dr. Dede Rosyada, Rector of Indonesia's Universitas Islam Negeri Syarif Hidayatullah Jakarta
Three-member delegation of the German Research Center for Geosciences
Five-member delegation of other German researchers
Foreign Minister Wu conferred Grand Medal of Diplomacy upon Heritage Foundation founder Dr. Edwin Feulner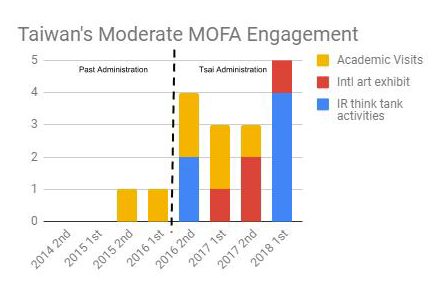 Figure 2: Moderate areas of Taiwan MOFA engagement
Starting in early 2017, Taiwan started to more prominently utilize cultural activities such as art exhibitions to raise Taiwan's international profile. In April 2017, Taiwan launched a photography exhibition entitled: "Leave No One Behind: World Health Security Needs Taiwan, Taiwan Needs the WHO." Later in October 2017, Taiwan launched modern art exhibits in Singapore, New York, and Washington, DC showcasing Taiwan's artistic talent.
While news headlines that grab public attention show Taiwan losing one diplomatic ally after another, there is another story of Taiwan's grit. MOFA's official news releases show Taiwan's renewed determination to make gains in areas outside of formal diplomatic alliances. The analysis contained in this article makes sense of Taiwan's Foreign Ministry data to more clearly show how Taiwan is channeling its effort to boost its ties with foreign legislators and academics. The data shows that Taiwan is more actively bringing businessmen, tourists, and students into Taiwan through visa waiver programs and trade pacts. It is also drawing the attention of the general populace through cultural events. All of these activities reveal Taiwan's persistence in the face of strong adversity.
The main point: In the wake of Taiwan losing one after another of its diplomatic allies, Taiwan's Ministry of Foreign Affairs has drastically increased foreign legislative visits to Taiwan, visa waiver programs, trade pacts, and formal statements expressing appreciation for international support; but has also increased international affairs think tank activities, academic exchanges, and cultural activities such as international art exhibitions.
---
[1] As also mentioned in my previous GTB article, there are many caveats to this quick analysis fit for a short Global Taiwan Brief article rather than a lengthy and thorough occasional report. The information is self-reported by Taiwan MOFA so it does not capture all engagement that occurred, only all of the engagement listed on the MOFA website. In addition, my previous article on the MOFA's overall efforts visualized the complete data set in one chart to show that these top and moderate areas of engagement are representative of the actual data, and not cherry-picking favorable points.