US Ramps Up Public Diplomacy Campaign for Taiwan's Participation in the 73rd WHA
As the international community struggles to grapple with the fallout from the global pandemic caused by the novel coronavirus—which originated in Wuhan, China—the term "Taiwan Model" has been widely used in reference to Taiwan's effective response to COVID-19. Indeed, it has been held up by US officials and leaders worldwide not only for its success but for its clear contrast with China's ruthless, albeit arguably efficient, response. Despite clearly demonstrating its role as a vital contributor to global health responses, Taiwan has been excluded from even participating as an observer at the World Health Assembly since 2016 due to Beijing's objections. As an extension of the United States' long-standing support for Taiwan's meaningful participation in international organizations, in recent weeks the US government has visibly ramped up its public diplomacy campaign to garner support for Taiwan's efforts to participate as an observer in the upcoming 73rd World Health Assembly, which will take place from May 17-21 in Switzerland.
Indeed, the US government's campaign includes high-level political support from Secretary of State Mike Pompeo. On March 30, in response to a question referencing the recent passage of the Taiwan Allies International Protection and Enhancement Initiative (TAIPEI Act), which includes—among various provisions—directions for the executive branch to assist Taiwan in maintaining its diplomatic space and participation in international organizations, Secretary Pompeo stated:
The responsibility now falls to the United States Government to comply with each and every component of that [TAIPEI Act], and that includes working to make sure that in every organization—you identified the WHO in particular—that in every organization that has a—has content that is related to what's taking place inside of Taiwan that we do our best to assist them in having their appropriate role there. We'll do that. We'll fully comply with that.
This powerful and affirmative statement was accompanied by a tweet by the Secretary of State on April 8:
During tough times, real friends stick together. The US is thankful to #Taiwan for donating 2 million face masks to support our healthcare workers on the frontlines. Your openness and generosity in the global battle against #COVID19 is a model for the world.
US efforts to "assist" Taiwan have included a meeting, via teleconference, between the US Secretary of Health and Human Services Alex Azar and Taiwan's Health and Welfare Minister Chen Shih-Chung (陳時中) on April 27. This meeting was the first direct cabinet-level official interaction between the two governments since 2014, when the Environmental Protection Agency (EPA) administrator, Gina McCarthy, visited the island during President Obama's second term. In a tweet publicizing the meeting, Secretary Azar noted:
This morning I spoke with Minister Chen of Taiwan regarding the #COVID19 outbreak. I thanked him for Taiwan's efforts to share their best practices and resources with the US. Now, more than ever, global health partnership is crucial and I appreciate Taiwan's contributions.
While the meeting itself is not groundbreaking for US-Taiwan relations per se—the two sides have had senior cabinet-level interactions before as noted earlier—the timing of this virtual meeting could also have broader effects. Potentially, it could encourage other governments to engage in similar senior-level official interactions with counterparts in Taiwan in order to show solidarity and support for the island-democracy's efforts to assist the world in combating COVID-19, despite its continuing exclusion from the WHA in the face of Beijing's bullying.
These high-level efforts are being complemented by a ground game that incorporates a high-octane public diplomacy campaign, especially on social media. On May 1, the United States Mission to the United Nations and the State Department's International Organizations Bureau both issued online statements expressing US support for Taiwan's international space. For instance, US Mission to the UN issued the following tweet on Twitter calling out UN restrictions barring Taiwanese passport holders from entering UN premises:
@UN was founded to serve as a venue for all voices, a forum that welcomes a diversity of views & perspectives, & promotes human freedom. Barring #Taiwan from setting foot on UN grounds is an affront not just to the proud Taiwanese people, but to UN principles. #TweetForTaiwan
The US Mission to UN's tweet was accompanied by a volley of six statements from the State Department's IO Bureau, with one of them notably stating:
Join us to #TweetforTaiwan's inclusion at the upcoming World Health Assembly so #Taiwan can bring its incredible expertise to the fight against #Covid19. The world needs Taiwan in this fight! Tell @WHO that it is time for Taiwan to be heard.
The Chinese government has not been standing still while this campaign goes on. In response to the US Mission to the UN's tweet, the Permanent Mission of the People's Republic of China to the United Nations issued a strongly worded response:
Another political trick. UNGA Resolution 2758 has long put an end to the Taiwan question. Strongly oppose using this question to interfere in China's internal affairs. Trying to shift the blame for inadequate response to #COVID19 in US? No way. @USUN @State_IO
Far from putting to rest the issue of Taiwan's representation in the United Nations, the Chinese statement seemingly ignores the fact that the UNGA 2758 makes no mention of Taiwan at all.
In a rare demonstration of bipartisanship with the ruling Democratic Progressive Party (DPP), the new chairman of Taiwan's opposition Nationalist Party (KMT), Johnny Chiang, fired a strong retort to the Chinese statement:
The Kuomintang today called on mainland policymakers to abandon the traditional thinking of suppressing Taiwan, and not to ignore the right to health of the people of Taiwan because of political conflict across the Taiwan Straits, and the desire of the people of Taiwan to participate in and give back to the international community.
On the broader issue of the "Taiwan Model" for global governance, at a webinar hosted by the Global Taiwan Institute on April 30, Taiwan's Deputy Foreign Minister Hsu Szu-Chien (徐斯儉) stated:
…the "Taiwan Model" has proved that transparency and accountability help build stronger trust between the government and its people, and this trust leads to public participation by the vibrant civil society with joint efforts to counter the outbreak. This model of governance is worth sharing and is undoubtedly a better path for democratic countries in dealing with the outbreak. The COVID-19 pandemic has once again showcased the urgent need to include Taiwan in the global pandemic response system, such as the World Health Organization.
With less than two weeks left before the World Health Assembly at the time of this publication, it remains to be seen whether the Trump administration's public diplomacy campaign will be effective in persuading or pressuring WHO Director-General Tedros Adhanom Ghebreyesus to exercise the authority vested entirely in his position to invite Taiwan, as an observer, to the upcoming WHA. Or, as a senior Republican policy adviser, Dr. Lanhee Chen, posed during the GTI forum on April 30, will the Director-General continue to prioritize the political agenda of the People's Republic of China (PRC) over the collective well-being of not only the more than 23 million people of Taiwan but also of the global health community? Either way—the international community is starting to hear about the unjustified exclusion of Taiwan not just from the Taiwanese themselves but from world leaders as well, loud and clear.
The main point: With two weeks remaining until the World Health Assembly, the United States has ramped a public diplomacy campaign to encourage Taiwan's participation as an observer. While it still remains to be seen whether the campaign will be effective, it is nevertheless clear that the world is becoming more acutely aware of Taiwan's exclusion from international organizations.
Correction: An earlier version of this brief incorrectly stated the month of the GTI forum.
---
President Tsai's Approval Rating Hits Record High Amid COVID-19 Global Pandemic
Riding on the high-tide from her decisive victory in the January 2020 presidential election, the political momentum behind President Tsai Ing-wen (蔡英文) has been surging over the past several months. The likely causes of her rapidly rising approval ratings are her administration's effective handling of the COVID-19 pandemic and the international attention generated by it that has swept the globe since earlier this year. Indeed, the global pandemic has thrown an unprecedented spotlight on Taiwan and the country's successful containment of COVID-19, despite its proximity to the original epicenter of the outbreak in Wuhan, China. The implications of Tsai's surging approval rating could have short and mid-term effects, both domestically and for the cross-Strait relationship, as she begins her second term in office on May 20. A series of polls from both green and blue-leaning organizations—in reference to the colors of the ruling and opposition coalitions, respectively—have shown President Tsai's approval rating rising to record high territory over the past several months. For instance, according to the latest polling from the blue-leaning television broadcast company TVBS conducted in March and another by a green-leaning organization, My Formosa (美麗島電子報), in late April show the president's approval rating at 60 percent and 70.3 percent, respectively.
Following her election victory in January with a record breaking 8.17 million votes, Tsai was already in a far better political position in comparison to most of her first term, when the average range of her approval ratings was in the 20-30s. Holding on to an approval rating of around 56 percent following her reelection, according to polling data from the green-leaning Taiwanese Public Opinion Foundation (TPOF, 台灣民意教育基金會), Tsai was already in a solid position to lead for a second term. However, in the short span of a month—as the world started to learn about the severity of the COVID-19 outbreak in China—President Tsai's approval rating spiked to 68.5 percent. This is perhaps associated with people's positive perceptions of the government's precautionary measures that it began taking in December 2019.
Similarly, in another poll conducted by TVBS in February, President Tsai Ing-wen 's approval rating reached a new high, rising to 60 percent (an increase from 54 percent from the month before) and her disapproval rating decreasing to 22 percent (a drop from 29 percent from the month before), while 18 percent did not express an opinion. While Tsai's approval reached a new high when compared to previous polling done by the TV news organization, it is notable that her disapproval rate dropped to about 20 percent, which is only slightly higher than when she took office four years ago (18 percent).
Quite remarkably, in a March 2020 poll released by the green-leaning New Power Party (NPP), 75.7 percent expressed support for President Tsai. Subsequently, the most recent follow-up poll conducted by My Formosa in late April showed that 70.3 percent of respondents expressed that they were satisfied with the Tsai administration.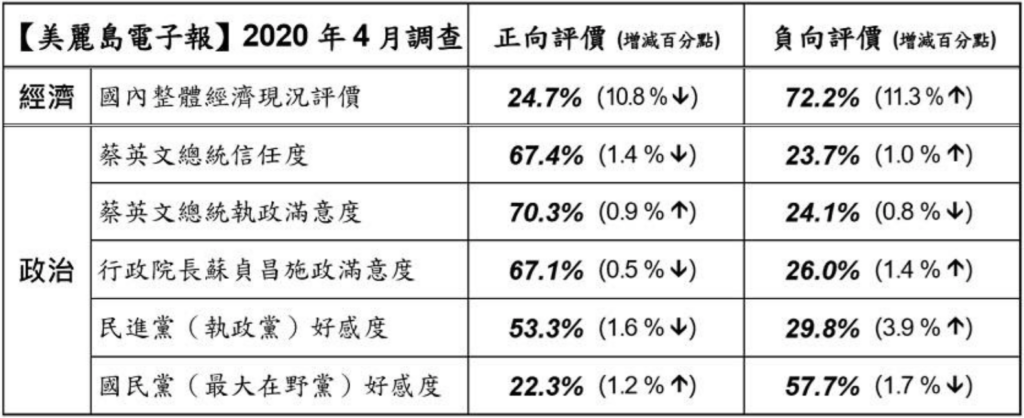 The implications of President Tsai's surging approval rating, especially as she prepares to enter her second term, are numerous. It is perhaps worth noting that many of the controversial domestic reform issues that challenged her first term still exist, even as General Secretary Xi Jinping's hardening stance towards Taiwan and the events in Hong Kong redirected Taiwanese public opinion in 2019. Nevertheless, these domestic issues—which tend to be brought into spotlight during national elections—were eventually going to resurface, most likely in the local elections. However, the global pandemic has once again dramatically shifted public attention towards the government's battle against COVID-19 and Beijing's unrelenting efforts to suppress Taiwan's international space and exclude it from the World Health Organization.
While Beijing now has a golden opportunity to show goodwill to Taiwan, it has clearly failed to do so. With no incentives for Taiwan to make any further concessions to Beijing at this point—and with all indicators pointing to Beijing hardening its approach to Taipei—cross-Strait relations are likely going to deteriorate further in the near-term.
On the domestic front, the successful COVID-19 response has provided the Tsai administration with more political slack to push through reforms without taking on as much of the political risk associated with such reforms. Moreover, Beijing's inflexible position with regards to Taiwan's international space is also forcing the KMT to take a harder approach to Beijing than it has traditionally, as mainstream public opinion seems closely aligned with Tsai's approach. Indeed, President Tsai is going into her second term with a much stronger hand than initially assessed. Without the pandemic, it would have been difficult to re-focus the national attention away from some of the more controversial aspects of her domestic reform agenda still on the table. At the very least, her increased approval rating will likely give President Tsai more political buffer to continue to undertake major reforms once the pandemic subsides.
The main point: The global pandemic has caused President Tsai Ing-wen's approval rating to surge. The increased approval rating will likely give her more political buffer to continue to undertake major reforms once the pandemic subsides.