Even in the midst of a pandemic, Hong Kong activists have managed to organize dozens of protests against harsh new laws and regulations imposed by Beijing this year. China's heavy-handed approach to suppressing the fundamental rights of the people in Hong Kong has promoted democratic sympathies in Taiwan. At the same time, the Hong Kong public since at least 2014 has become more supportive of Taiwan, including Taiwanese independence. The Taiwanese public has clearly taken notice of the Hong Kong people's fight to preserve their rights, identifying common democratic values. Recently released nationally representative survey data covering January through May 2020 from the Taiwan Election and Democratization Study (TEDS) shows that while a clear majority within Taiwan view the protests in a positive light, partisan identification continues to influence views. In the TEDS survey, 1,680 Taiwanese were asked the following: "In response to the mass protests against the extradition bill in Hong Kong that began last summer, some people consider that as Hong Kong people's fight for democracy, while others think that as a violation of social order. What do you think about the protests in Hong Kong?" A deeper look into the data reveal interesting differences in how political orientation shapes Taiwanese views toward Hong Kong.
The outpour of sympathy within Taiwan towards the plight of their neighbor are reflected in the public debate about the appropriate measures to assist those fleeing Hong Kong. The Tsai administration may have attempted a delicate balancing act of providing moral support to Hong Kong protesters and encouraging some quietly to make their way to Taiwan, without addressing the underlying difficulties involved with welcoming arrivals, such as the lack of a refugee law, or the potential ramifications of further souring cross-Strait relations. However, this tells us little about what the Taiwanese public thinks of the current protests. Previous work suggests broad sympathy for Hong Kong protesters among the public, perhaps in part due to seeing Hong Kong's fate as a harbinger of Taiwan's own future if unification were to occur. In the lead-up to Taiwan's national elections in January 2020, Hong Kong was also a frequent point of discussion, although its impact on Tsai's rising approval rates at the time should not be overestimated.
The figure below shows that an overwhelming majority (79.48 percent) views the protests as a fight for democracy. However, a stark partisan divide is evident between the two largest parties, with almost all Democratic Progressive Party (DPP) supporters (94.47 percent) perceiving the protests in democratic terms, compared to only a slight majority of Kuomintang (KMT) supporters (50.80 percent) sharing the sentiment. KMT supporters' views of the protests as a fight for democracy are also far lower than that of the three smaller parties that had at least ten respondents in the survey: the Taiwan Statebuilding Party (100 percent), the New Power Party (96.92 percent) and the Taiwan People's Party (87.37 percent). The KMT's views of the protests as a fight for democracy also contrast with those claiming not to be close to any political party (77.33 percent).
The party deviation on views of Hong Kong was also evident in our original survey work in December 2019, which found that 89.2 percent of DPP supporters, but only 28.8 percent of KMT supporters agreed with the statement "I sympathize with the protesters in Hong Kong." Moreover, in the same survey, 74.5 percent of DPP supporters stated that the Taiwanese government should publicly support the protesters, compared to only 6.7 percent of KMT supporters.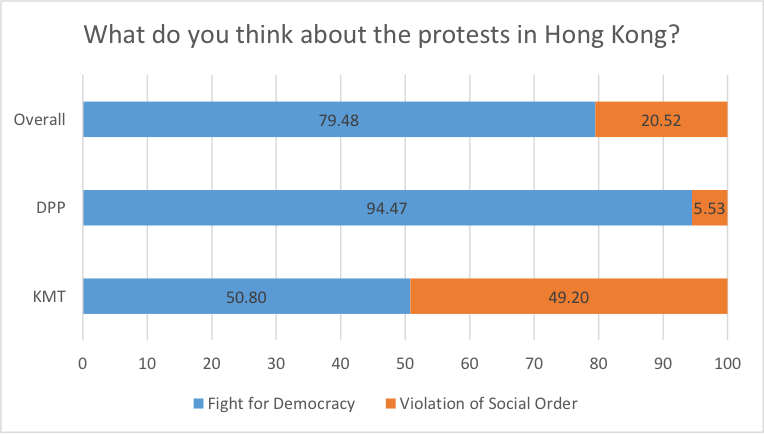 We also broke down answers based on both respondents' preferred status for Taiwan's future (unification, status quo, or independence) and identity (Chinese, Taiwanese, or both), although both of these measures admittedly largely overlap with partisan identification. Those supportive of unification (only 9.82 percent of all respondents) largely viewed the protests as a violation of social order (62.59 percent), with slightly lower rates among the 4.04 percent of respondents that only identified as Chinese (56.67 percent). In contrast, over 90 percent of those in favor of independence (38.37 percent of respondents) or those who identify as just Taiwanese (64.44 percent) viewed the protests as a fight for democracy.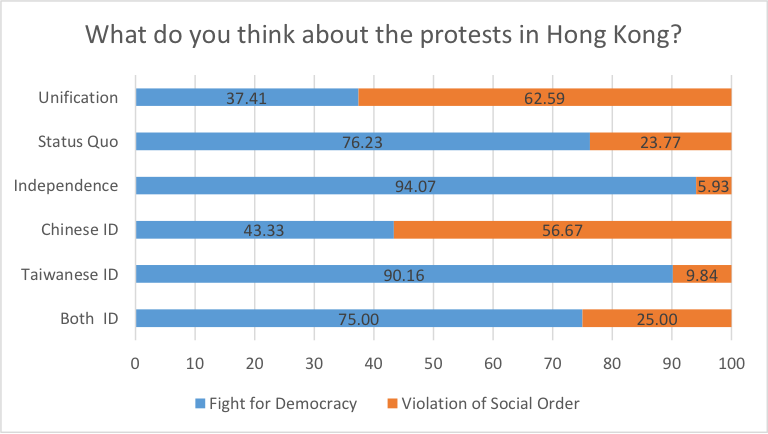 Additional statistical analysis further indicates that the KMT divergence endures even after controlling for future status and identity, as well as other demographic factors (age, gender, income, education, and father's ethnicity).
Still, that the KMT was so divided on this topic indicates that even among nominally pro-China, pro-unification Taiwanese, uncertainty as to how to view China's actions persists. This may stem from the difficulties of spinning China's response to the protests in a way that portrays China favorably, concerns about worsening cross-Strait relations, or tacit acknowledgement of claims by the DPP and others that Taiwan would find itself in a similar situation after unification.
Shifts in political identity towards Taiwanese and support for independence—factors that both benefit the DPP electorally—will also likely continue to shape Taiwanese views of Hong Kong and its relations with China. Even if the Tsai administration struggles to address asylum seekers, China's actions increasingly push Hongkongers and Taiwanese to see commonalities and build networks between a people desiring democratic reforms and a people who a generation ago led their own country's democratization. Together, these phenomena undermine China's goals of unification. Perhaps ironically, as the Taiwanese population identifies less with China, it identifies more with the plight of another territory claimed by China that wishes to distance itself from Beijing.
Admittedly, this survey work cannot elucidate the deeper commitment Taiwanese may have to Hong Kong protesters and perceived commonalities despite limited personal contact with Hongkongers. After all, viewing the protesters favorably is a relatively low-cost endeavor, especially compared to the thornier issues of accepting more Hong Kong asylum seekers or supporting actions that could further worsen relations with China and lead to more aggressive actions by Beijing. For instance, China placed limits on certain types of tourism from China to Taiwan during President Tsai Ing-wen's first term, in part due to her support for Hong Kong protests. It is conceivable that China would intensify such policies if the Tsai administration more openly accepted Hong Kong asylum seekers or took more explicit actions to support protesters.
Meanwhile, the KMT's policies towards Hong Kong remain ambiguous, as the party cautiously attempts to improve cross-strait relations and hold hope for eventual unification while also not appearing to oppose democratic sentiment among Hong Kong protesters. For example, the party, in denouncing the recent security law, has repeatedly referenced China's "one country, two systems" formula and the lack of autonomy promised under the arrangement. Among KMT supporters, enduring unification sentiment as well as generational differences may partially explain divergent support for protesters compared to DPP supporters. That most KMT supporters would be aware of President Tsai's and the DPP's support for protesters may also contribute to a reluctance to follow suit.
The findings that Taiwanese largely view the protests as a fight for democracy are consistent with the views of the governments and publics in many other democracies. However, besides democratic solidarity, this view, seemingly shared by the Tsai administration, potentially aids Taiwan's own efforts to avoid Hong Kong's fate. The United States has spoken out against the violence used against the protesters in Hong Kong and rescinded its special trade status, indirectly punishing China for overstepping, while the US Secretary of Health and Human Services visited Taiwan last month. Taiwan has the potential to further cement growing ties with the US and unofficial relations with other democracies in the region by highlighting its role on the front line for democratic ideals by providing assistance to Hong Kong asylum seekers.
The main point: Even as the COVID-19 pandemic continues to ravage much of the world, activists in Hong Kong have continued their fight for democracy and autonomy. Recent survey data shows that support for these protests in Taiwan has only increased, suggesting growing ties between the two places.