Beginning in the early months of 2020, continuing through the rest of the year, and then increasing in tempo in the first quarter of 2021, People's Liberation Army (PLA) aviation activity has seen a dramatic increase in the vicinity of Taiwan. The largest incursion of the year to date occurred on April 12, when 25 PLA aircraft—including a provocative collection of four J-10 fighters, fourteen J-16 fighters, and four H-6K bombers—entered the southwestern quadrant of Taiwan's ADIZ. Amid this dramatically increased aviation activity, less attention has been given to parallel PLA Navy (PLAN) patrols and exercise activities—as well as nominally private but state-directed "gray zone" maritime activity—in the waters surrounding Taiwan. This has been further accompanied by reporting in PRC state media (see below) intended to publicize amphibious and other exercise activity by PLA ground forces whose primary missions are oriented against Taiwan. Taken together, these military operations are a part of a multi-pronged effort by the leadership of the People's Republic of China (PRC) to apply psychological pressure against Taiwan, as well as to signal Beijing's resolve to employ military force to compel Taiwan's unification with the PRC.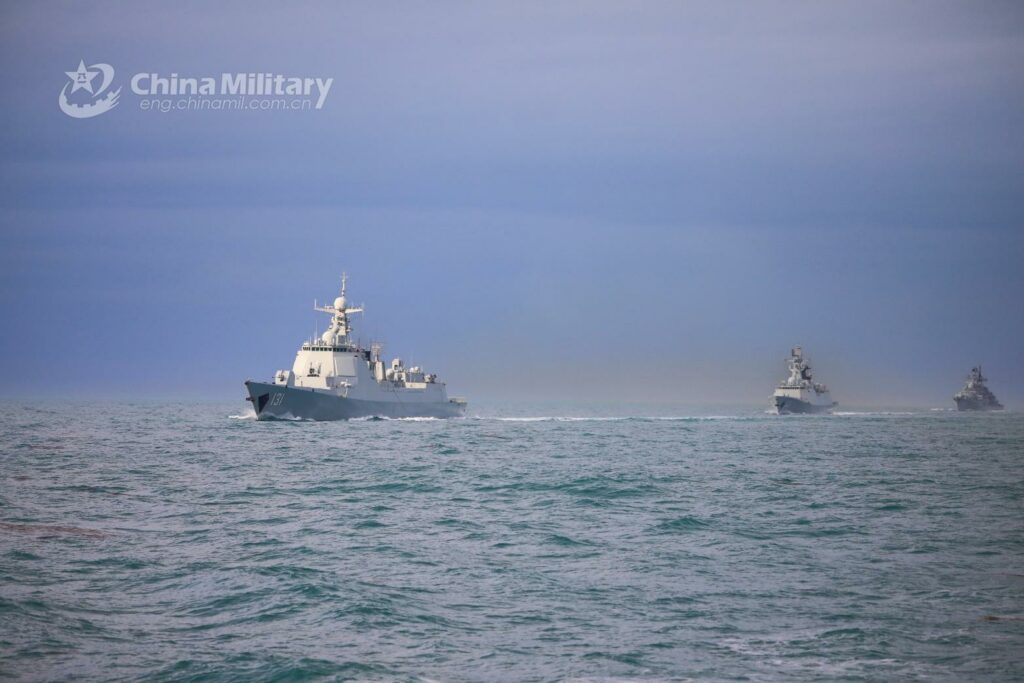 Recent PLA Naval Patrols and Exercises in the Vicinity of Taiwan
In approximately the second and third weeks of March, a task force subordinate to the PLA Eastern Theater Command (東部戰區) consisting of at least two identified ships—the Luyang II (Type 052-C) class guided missile destroyer Jinan and the Jiangkai II (Type 054A) class frigate Changzhou—conducted operations in unspecified areas of the East China Sea. Per brief commentary in official state media, these ships conducted training exercises, including "joint firepower attack" (聯合火力打擊) and "ship-submarine-aircraft free confrontation" (艦潛機自由對抗) operations.
On April 3, a PLAN task force consisting of the aircraft carrier Liaoning, a Renhai-class guided missile destroyer, two Luyang III-class guided missile destroyers, a Jiangkai II frigate, and a Fuyu-class support ship was reportedly located transiting the Miyako Strait in the Ryukyu Islands, on a track to sail into the open Pacific to the east of Taiwan. (The Japanese Maritime Self-Defense Force reportedly dispatched the destroyer Suzutsuki and maritime patrol aircraft to track the task force.) On April 6, PRC state media coverage stressed that the Liaoning task force had been conducting operations in the vicinity of Taiwan, as part of "a routine training exercise organized according to the annual work plan to test the troops' training effectiveness and beef up their capability to safeguard national sovereignty, security and development interests." The commentary further stated that "In the future, the PLA Navy will continue to carry out such exercise and training activities on a regular basis."
PRC state press has also devoted recent coverage to extolling upgrades to some of its larger surface combatants: per state media commentary in March, the PLAN's Sovremenny-class guided missile destroyers (DDG) purchased from Russia had been enhanced "with China's domestically developed advanced weapons and equipment [that] significantly enhances the ship's combat capability, as China's related technologies nowadays have far surpassed that of Russia's when the ships were delivered."
The PRC also publicized plans for live-fire drills in the Taiwan Strait on April 18—likely intended in part to express Beijing's displeasure over the visit of a high-level, albeit unofficial, US delegation to Taiwan from April 14-16.
Reported Exercises in March by PLA Amphibious Forces
PLA media outlets have also acted in recent weeks to publicize exercise activity reportedly conducted by PLA personnel and assets oriented towards amphibious warfare. For example, on April 10 the PLA Daily reported on amphibious landing training conducted at an unnamed location in the Southern Theater Command (南部戰區) on March 24. Commentary and photos indicated at least three landing craft, air cushion (LCAC) vehicles and an unidentified amphibious landing dock "attached to a naval landing ship flotilla" conducting a beach landing training exercise, which included "in and out of the mother-ship [movement] under complex sea conditions, fast and accurate ferry of troops, and simulated seizure and control of islands." Such reporting, however—relating to apparent basic proficiency training conducted by unladen LCACs, and reported two weeks after the fact—suggests a desire to publicize amphibious training, rather than a notable increase in the tempo of such training.
PRC state media has also sought to publicize recent exercises conducted by the PLA Ground Force 73rd Group Army based in Fujian. The 73rd Group Army maintains a primary role for amphibious warfare, and has been described in PRC press as one of "the main forces which would be used in a potential landing mission on the island of Taiwan." In late March, PLA online media publicized a reported force-on-force exercise involving armored elements of the 73rd Group Army. On April 8, the Global Times stated that an unnamed "combined arms battalion affiliated with the PLA 73rd Group Army has been holding a series of amphibious landing exercises in recent days in waters off the southern part of East China's Fujian Province, with several types of amphibious armored vehicles participating in beach assault drills."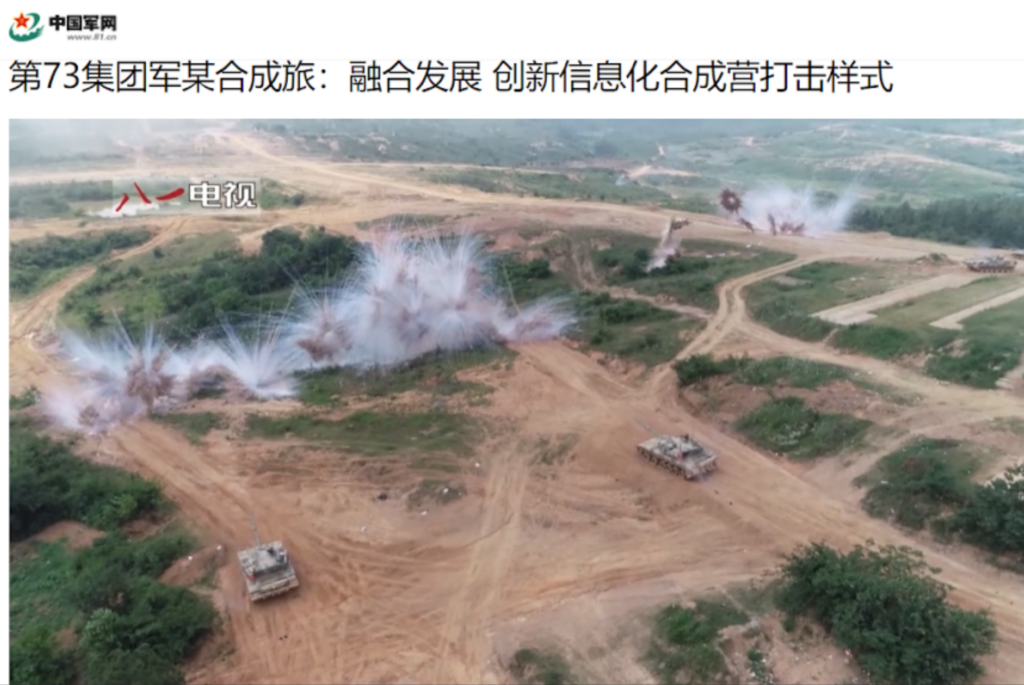 The Intended Psychological Impacts of PLA Exercise Activity
PRC spokespersons and state media outlets have taken pains to characterize recent PLA exercise activity as a response to provocative moves by the United States and "Taiwan secessionists." Against the backdrop of a Taiwan Strait transit conducted on April 7 by the US Navy destroyer USS John McCain, as well as operations in the South China Sea during the same period involving the USS Theodore Roosevelt aircraft carrier battle group and the USS Makin Island amphibious ready group, PRC Foreign Ministry spokesperson Zhao Lijian (趙立堅) stated in an April 8 press conference that "Lately US warships have frequently sailed to the Taiwan Strait to flex muscles, provoke and stir up trouble, sending gravely wrong signals to 'Taiwan-independence' forces and threatening peace and stability across the region."
In reference to the Liaoning task force's operations in waters to the east of Taiwan in early March, the nationalist Global Times opined that such a deployment demonstrated the PLA's ability to "isolate the island's forces from foreign intervention and break Taiwan secessionists' illusion that US or Japanese forces could come to their aid," and that "regular exercises by warplanes and warships are deterrents and warnings against Taiwan secessionists and foreign forces that are attempting to interfere in China's internal affairs." Ma Xiaoguang (馬曉光), a spokesman for the Taiwan Affairs Office of the PRC State Council (國務院台灣事務辦公室), stated on April 13 that "The signal given by the military drills is that we are determined to stop Taiwan independence, and stop Taiwan from working with the US […] We do not promise to abandon the use of force, and retain the option of taking all necessary measures. We are aimed at the interference of external forces and the very small number of separatists and their separatist activities."
For their part, Taiwanese officials have attempted to signal resolve in the face of PRC pressure. Responding to the PRC's pressure campaign, ROC Foreign Minister Joseph Wu (吳釗燮) stated on April 7 that "We are willing to defend ourselves […] We will fight a war if we need to fight a war, and if we need to defend ourselves to the very last day, then we will defend ourselves to the very last day." Taiwan officials have also taken steps to publicize their own military efforts in the maritime domain: Taiwan's coast guard has announced that live fire drills will be held in the Pratas Islands (Dongsha Islands, 東沙島) area on April 25 and May 5, and President Tsai Ing-wen (蔡英文) and Defense Minister Chiu Kuo-cheng (邱國正) attended an April 13 ceremony in Kaohsiung for the commissioning of the Yushan (玉山), an indigenously built, 10,600 ton, multi-mission amphibious ship intended for service with the ROC Navy.
What's a Real Threat, and What Is Being Hyped for Effect?
Beijing is clearly attempting to send a message with its recent military activity in the air and sea spaces around Taiwan. The steadily increasing numbers of PLA aviation flights in the vicinity of Taiwan, and into Taiwan's declared ADIZ, represent a real escalation—both in terms of numbers of sorties, as well as the level of provocation directed against the ROC armed forces and Taiwan public opinion. Furthermore, certain PLAN operations—most notably, the deployment of the Liaoning aircraft carrier task force to the waters of the open Pacific, east of Taiwan—also reveal a gradually growing expansion in the PLAN's operating proficiencies and areas of routine patrol. However, judging from the limited evidence of available media coverage, the state media apparatus appears to also be hyping otherwise routine naval and ground force amphibious exercises for propaganda purposes.
Beijing's current round of saber-rattling is being conducted as much in the media domain as it is in the realm of actual military operations. This does not mean that these messages should not be taken seriously; indeed, Beijing's statements likely indicate a genuinely held sense of indignation and alarm at the perceived growing strength of "Taiwan independence" forces, as well as the Biden Administration's unexpectedly strong displays of support for Taiwan. As political and diplomatic tensions continue to rise, Beijing can be expected to continue—and increase—its efforts to employ the PLA as a political tool directed against audiences in both Taiwan and the United States.
The main point: Beijing is actively publicizing its military operations as a component of a broader psychological pressure campaign directed against Taiwan. However, while PLA aviation activity near Taiwan has continued to increase, Beijing appears to be hyping some routine naval activity in order to promote a narrative of its readiness to employ force against Taiwan.