In two separate incidents in late April and early May of 2021, two Chinese nationals used small rubber dinghies to illegally enter Taiwanese territory, raising questions about the motives behind these incidents, as well as possible blind spots in Taiwan's security perimeter. In each of the two cases, a single Chinese national using a small craft was able to enter Taiwanese waters undetected. As this article shows, the stories—with intrusions off the waters of the outlying island of Kinmen and across the entire Taiwan Strait, with the boat finally being spotted at Taichung—do not add up. As the investigation into the two incidents continues, we can nevertheless speculate that the incidents could be part of efforts by Beijing to identify weaknesses in Taiwan's maritime awareness.
In one case, which occurred on May 4, Taiwan's security system worked. Spotted by the Coast Guard Administration (CGA, 海巡署), the small craft was intercepted by the CGA in waters outside the outlying island of Kinmen near a Republic of China Army facility. During interrogation with officials, the twenty-something Chinese man, surnamed Chiang (江), stated that he was a native of Guangxi Province. Chiang said he had purchased the small rubber vessel online and that he had set off for Taiwan from Xiaodeng Island (小嶝島) at 4:00 AM. Xiaodeng is part of the insular Dadeng Subdistrict (大嶝街道) in Xiamen's Xiang'an District (翔安區). Asked by Taiwanese authorities why he had attempted the illegal crossing, Chiang said "I just wanted to come."
Besides a suitcase containing a pair of portable chargers, two cell phones, two bank cards, and a utility knife, the man had 16 dumplings on board, which compelled the authorities to notify the Bureau of Animal and Plant Health Inspection and Quarantine (BAPHIQ, 行政院農業委員會動植物防疫檢疫局) due to concerns regarding the potential spread of African swine fever (ASF) from China. After completing quarantine, Chiang will be investigated for violations of the Immigration Act (入出國及移民法).
A more troubling incident took place just a few days earlier when another Chinese national in his thirties, surnamed Zhou (周), successfully sailed 100 miles across the Taiwan Strait undetected. Setting off from Shishi County (石狮) in Quanzhou (泉州), Fujian Province, Zhou made the 10-hour-plus trip to Taichung port in an 8.8 feet by 5 feet rubber raft. He was spotted in Taichung by local dock workers, who gave him a lunch box and contacted the authorities. Like Chiang a week later, Zhou claimed that he had purchased the rubber dinghy online (on the e-commerce web site Taobao [淘寶網]). During questioning, Zhou told the Central Branch of the CGA that he had fled to Taiwan seeking "freedom and equality," adding that China was "all kinds of bad." A search on board the craft revealed 23 gallons of fuel and little else.
As with Chiang, the Taiwanese government is trying to determine the motives for Zhou's illegal crossing. But the Zhou case has raised questions about the ability of the CGA and Taiwanese Navy to track and intercept small craft in the Taiwan Strait. According to one Republic of China Navy (ROCN) official, naval land- and ship-based radar may have been unable to spot the vessel due to its small signature (CGA radars cover Taiwan's maritime zone, or 12 nautical miles offshore). It is also speculated that the rubber dinghy may have been concealed by large cargo vessels in the Taiwan Strait.
Raising doubts about the veracity of Zhou's story, Chiang Cheng-kuo (蔣正國), chief of staff of the ROCN, said there was not enough fuel on board the dinghy to complete the journey across the Taiwan Strait.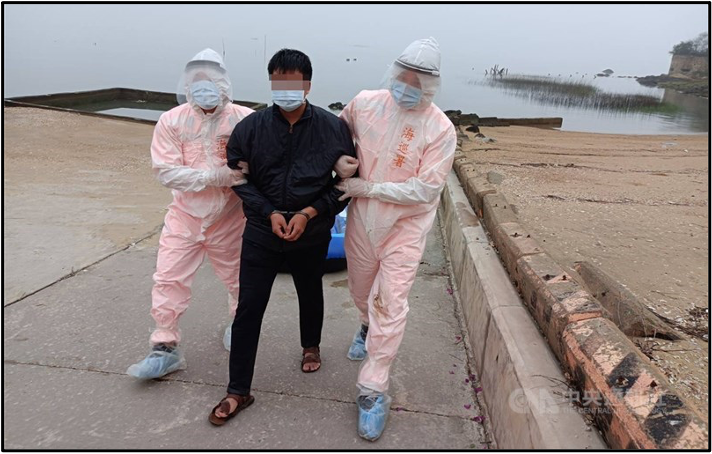 Potential for "Gray Zone" Operations
These unusual incidents need to be thoroughly investigated. While legitimate attempts by Chinese nationals seeking political asylum or refuge from persecution should be handled accordingly by Taiwanese authorities, there nonetheless is a possibility that such incidents may represent criminals fleeing Chinese police, or else may serve as cover for offensive activities by Beijing. We cannot exclude the possibility that these were attempts by the People's Liberation Army Navy (PLAN), the Chinese People's Armed Police Force Coast Guard Corps (China Coast Guard), or "maritime militia" to identify blind spots in Taiwan's maritime surveillance for future exploitation.
Blind spots in Taiwan's surveillance system could allow the Chinese side to introduce Chinese special forces into Taiwan to conduct sabotage operations, or go underground until activation prior to a major PLA offensive against Taiwan. Such operations could also involve the kidnapping of Taiwanese nationals. Undetected dinghies could also be used to carry materiel—such as small arms, explosives, and communication equipment—to be handed over to violent pro-Beijing proxies in Taiwan for future attacks on public infrastructure, government sites, and politicians.
Lastly, such vessels could also be used to wage biological warfare against Taiwan by introducing contaminated meat products and animal diseases into Taiwan, in order to devastate the local economy or spark an epidemic. In early April of this year, a pig carcass infected with ASF was discovered near the Guihou Fishing Harbor (龜吼漁港) in New Taipei City's Wanli District (萬里區). Given that there are no ASF infections at pig farms in Taiwan, the discovery suggests that the infected carcass came from another country. One possibility is that the carcass was brought by sea from China, with the aim of causing an outbreak in Taiwan. A biowarfare attack against Taiwan's pork industry could devastate the industry and exacerbate political tensions over the Tsai Ing-wen (蔡英文) Administration's decision to lift the ban on US pork products containing the food additive ractopamine—a controversy that has led politicians and groups from within the Pan-Blue camp to call for two referenda later this year, which will seek to overturn that decision. (Interestingly, advertisements supporting the August 28 referenda against the import of US pork that appeared in recent months on the side of Taipei City buses have been paid for by the Seattle-based Taiwan Benevolent Association of America [全美台灣同鄉聯誼會].)
Rather than manufacture crises outright, political warfare instead often builds upon and amplifies existing controversies, disputes, and contradictions within a targeted society to undermine a sitting government. Issues such as the controversial lifting of the ban on imports of American pork products containing Ractopamine and food products from Japan's Fukushima Prefecture, as well as same-sex marriage, have all resulted in referenda organized by groups that may have been infiltrated by, or that are indirectly supported via disinformation from, the Chinese Communist Party (CCP).
Over the past three years, a total of 15 pig carcasses infected with ASF have been discovered in Taiwan, all close to the shore. Twelve of those were found in Kinmen and two on Matsu, according to data from the Council of Agriculture (COA). According to the Paris-based World Organization for Animal Health, ASF "is a highly contagious haemorrhagic viral disease of domestic and wild pigs, which is responsible for serious economic and production losses," and for which "there is no approved vaccine."
Such "gray zone" operations have the advantage of providing plausible deniability to the Chinese government and could be used for either limited low-intensity warfare against Taiwan short of major war, or as a means to weaken Taiwan in the lead-up to a full military contingency.
To counter the possibility of China exploiting such maritime routes for "gray zone" operations, the Taiwanese Navy and CGA should complement their existing surveillance networks through investment in remote-sensing capabilities that provide a more granular picture of the maritime space in the Taiwan Strait, as well as around Taiwan proper and its outlying islands. This includes sea- and/or air-based unmanned aerial vehicles (UAV) conducting patrols along and beyond Taiwan's 12 nautical mile zone, as well as close-in approaches to cargo ships that may be providing cover to low-signature dinghies and other small vessels (cargo vessels themselves could also be used as transport for special forces and war materiel). Another option for Taiwan would be to invest in low-Earth orbit passive maritime surveillance satellites, which would also provide high-definition, continuous, and early-warning monitoring of all activity throughout Taiwan's maritime environment. Moreover, under a US-Taiwan Coast Guard agreement signed earlier this year, the two countries could also deepen collaboration (including intelligence sharing) on countering Chinese "grey zone" operations in the Taiwan Strait.
Instead of unleashing a major war that would inevitably capture the attention of media all around the world, Beijing is likely focusing on identifying and exploiting other vectors of attack to harass the Taiwanese government. Such capabilities would also undoubtedly become a factor prior to, or in the initial phase of, major military operations in the Taiwan Strait. Countering both possibilities requires only minor adjustments and would contribute greatly to Taiwan's national security.
The main point: While a possible amphibious assault by China continues to receive the greatest attention in the media and among security analysts, "gray zone" operations at sea involving low-signature craft could be used by China for a variety of low-intensity hostile operations against Taiwan. With investment in remote sensing and other intelligence capabilities, Taipei can counter the possibility that Beijing will successfully exploit blind spots in Taiwan's maritime awareness.