On July 13, the Japanese Ministry of Defense released its annual white paper, Defense of Japan 2021. For the first time, the publication mentioned the importance of Taiwan for Japan's security, stating that "Stabilizing the situation surrounding Taiwan is important for Japan's security and the stability of the international community." Building on this, it continued: "Therefore, it is necessary that we pay close attention to the situation with a sense of crisis more than ever before."
In contrast to past defense white papers that tiptoed around Tokyo's stance on the Chinese military threat to Taiwan, the recent statement referencing Taiwan's role in Japanese national security is a reflection of a perceptible Japanese policy shift, which has reduced some ambiguity regarding Tokyo's willingness to enter a potential military conflict in the Taiwan Strait. In a departure from its previous, risk-adverse approach towards China, a number of high-level Japanese officials have been increasingly outspoken on the need to defend Taiwan. This rhetorical shift in Japanese official statements on Taiwan, which is driven largely by concerns over protecting Okinawa, could pave the way for direct discussions and collaboration between Japan and Taiwan on collective defense issues.
Japan's Policy Shift
In recent months, several senior Japanese government officials have expressed unusually strong statements stressing the importance of Taiwan's security, while also linking it to Japan's national security. During the March 16 "2+2" meeting between US Secretary of State Antony Blinken, US Secretary of Defense Lloyd Austin, Japanese Minister for Foreign Affairs Toshimitsu Motegi (茂木 敏充), and Japanese Minister of Defense Nobuo Kishi (岸 信夫), both sides issued a joint statement that "underscored the importance of peace and stability in the Taiwan Strait." Secretary Austin warned during the consultative meeting that the situation in the Taiwan Strait directly impacts Japan's national security, suggesting that if conflict erupted over Taiwan, the safety of Okinawa would be affected. [1] Minister Kishi reportedly confirmed in this meeting that if China were to use military force against Taiwan, then the United States and Japan would work closely together to respond within the framework of the US-Japan Security Treaty.
The United States and Japan have both been alarmed by China's increasing assertiveness in the region, including in the maritime domain. The ministers' joint statement singled out China and "expressed serious concerns about recent disruptive developments in the region, such as the China Coast Guard law." In reference to the Senkaku Islands (尖閣諸島)—also called the Diaoyutai Islands (釣魚台列嶼) by Taiwan and the Diaoyu Islands (釣魚島) by China—the statement asserted, "The United States and Japan remain opposed to any unilateral action that seeks to change the status quo or to undermine Japan's administration of these islands."
China's Coast Guard Law (海警法) that came into effect on February 1 stipulates that the Chinese Coast Guard can use weapons against foreign ships that are viewed as illegally infringing upon Chinese jurisdiction and sovereign rights. The Japanese government, which has seen a dramatic uptick in Chinese naval intrusions into Japanese waters near the Senkaku Islands, is concerned that the new Chinese law will target Japanese fishing vessels and patrol boats in order to reinforce Chinese claims in the East China Sea.
On April 16, US President Joe Biden and Japanese Prime Minister Yoshihide Suga (菅 義偉) issued a joint statement that said "We underscore the importance of peace and stability across the Taiwan Strait and encourage the peaceful resolution of cross-Strait issues." This was the first mention of Taiwan in a US-Japan joint statement since 1969. The Biden Administration has also encouraged other US allies, including South Korea and European countries, to adopt a unified stance on preserving peace in the Taiwan Strait. The US-South Korea joint statement, which followed Biden's meeting with South Korean President Moon Jae-in, and the G7 joint communique, both issued in May, also have similar references to the Taiwan Strait.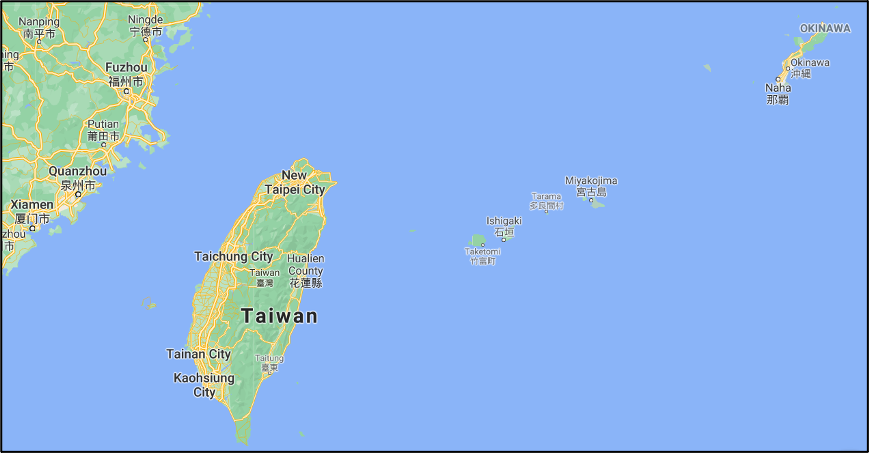 Other Japanese officials have highlighted the connection between a Taiwan contingency and the defense of Japan. In an online event organized the Hudson Institute on June 28, Japanese Deputy Defense Minister Yasuhide Nakayama (中山 泰秀) said it was time to "wake up" to China's growing threats to the region and "to protect Taiwan as a democratic country." Calling Taiwan a "brother" and "family," and likening Taiwan's physical proximity to Japan to that of "nose and eyes," Nakayama said that a military attack on Taiwan would also impact Okinawa and invoke the US-Japan security alliance.
Indeed, the common thread among Japanese policymakers is that if something happens to Taiwan, then Okinawa—and thus Japan—will likely be affected as well. In July, Japanese Deputy Prime Minister Taro Aso (麻生 太郎) said in a speech that in the event of a Chinese invasion of Taiwan, Japan would exercise the right of "collective self-defense" and work with the United States to help defend Taiwan. Aso cited the "existential threat" to Japan's security, and also stated, "If Taiwan falls, Okinawa is next." These Japanese statements suggest that Taiwan's territorial integrity cannot be separated from the protection of southern Japan, especially Okinawa.
Okinawa's Strategic Role
Taiwan lies 450 miles from Okinawa Island (沖縄島) and only 70 miles from Okinawa Prefecture's Yonaguni Island (與那國島), which constitutes the westernmost point of Japan. [2] Japan's territorial waters and exclusive economic zone (EEZ) are also close to the northeast side of Taiwan. Given this geographical proximity, a potential Chinese naval blockade of Taiwan during a military conflict could directly impinge upon Japan's outlying islands, including Yonaguni, Iriomote (西表島), Miyako (宮古島), and Ishigaki (石垣島). The People's Liberation Army (PLA, 中國人民解放軍) could seek to control surrounding areas during an offensive against Taiwan, possibly seizing the disputed Senkaku Islands.
Strategically speaking, Taiwan and Okinawa serve as one another's buffer against a Chinese invasion. In a potential war in the Taiwan Strait, the Chinese military could attack US military bases in Okinawa to prevent the United States from directly intervening in the conflict to assist Taiwan. A former Japanese military officer has also suggested that after China gains control of Taiwan, the PLA could also invade Okinawa, where Beijing has sought to drum up anti-US military and anti-Tokyo sentiment.
It could be argued that Japan's recent remarks about protecting Taiwan are primarily motivated by the security imperative to defend Japan's southwestern islands from a Chinese military assault. In April, a group of Chinese warships, including the Chinese aircraft carrier Liaoning (遼寧), passed through the Miyako Strait (宮古海峡) between Okinawa Island and Miyako Island and conducted military exercises in waters near Taiwan. Japan, alarmed by the Chinese aircraft carrier's activities in the waters off Miyako Island, deployed a destroyer and patrol aircraft to monitor the movements of the Chinese navy.
As China has built up its regional maritime presence and aims to increase pressure on the Senkaku Islands, particularly with the passage of the Chinese Coast Guard Law, the Japanese government has fortified the defenses of its southwestern islands. In recent years, Japan's Self-Defense Forces (SDF) have established new bases on Japan's outlying islands, including Yonaguni, Miyako, and Ishagaki. Japan has also strengthened its military deployment to these islands in an effort to prevent a contingency in the Taiwan Strait from reaching Japan. There have also been reports that Japanese naval vessels were familiarizing themselves with naval routes around the Taiwan Strait in 2018, possibly in preparation for a potential Taiwan contingency.
Taiwan-Japan Security Dialogue
It remains to be seen whether Japan's rhetorical policy shift will be translated into concrete actions towards enhancing Taiwan's security, such as direct collaboration between Japan and Taiwan, which has been elusive in the past. Japan's previous policy on cross-Strait relations was extremely cautious, as Tokyo was largely unwilling to openly confront China over Taiwan. According to a Japanese commentator, Japan's rhetorical shift on Taiwanese security may create new breakthroughs in Japan-Taiwan exchanges.
Taiwan has long wanted to conduct military exchanges and training programs with Japan, but Tokyo was reluctant to offend Beijing. During an interview with the Japanese newspaper Sankei Shimbun (產經新聞) in early 2019, President Tsai Ing-wen (蔡英文) proposed a Taiwan-Japan Security Dialogue (台日安保對話) to Japanese Prime Minister Shinzo Abe's (安倍 晋三) government as a platform for discussing regional security and cybersecurity issues. Tsai called for direct bilateral talks between Taiwanese and Japanese officials amid growing Chinese military threats to the region. She indicated her desire to overcome legal barriers in sharing information on Chinese naval and military activities around Taiwan and Okinawa.
Despite being a strong supporter of Taiwan, Abe's government rejected Tsai's proposal for direct dialogue. Subsequently, Japanese officials told China's state-run Global Times (環球時報) that Tokyo was not considering engaging in a security dialogue with Taipei, and that nothing had changed regarding Japan's unofficial relationship with Taiwan. Some scholars surmised that the Abe Administration had prioritized the improvement and normalization of relations with China during that time, and thus was careful to avoid antagonizing Beijing. However, after leaving office, Abe has been more outspoken on the Chinese threat to Taiwan's democracy. "What happened in Hong Kong must never happen in Taiwan," said the former prime minister in July during the online meeting of Trilateral Strategic Dialogue attended by lawmakers from the United States, Japan, and Taiwan.
At bottom, Tokyo's recent discourse on Taiwan is laying the groundwork for potential policy adjustments in the future. After Suga became prime minister in September 2020, Japanese Defense Minister Kishi expressed his expectation that Japan, the United States, and Taiwan would soon start a security dialogue. Some commentators have pointed out that Tokyo is unlikely to directly engage in such a dialogue involving Taiwanese officials given the political risks to its relations with Beijing, and that the United States must take a leading role. In any case, a future trilateral security dialogue is likely to focus on Okinawa's strategic role, which is key to discussions on Taiwan's and Japan's national security. Okinawa could serve as an important bridge to begin actual security cooperation among Japan, the United States, and Taiwan.
The main point:The rhetorical shift in Japanese official statements on Taiwan, primarily motivated by the need to protect Okinawa, could pave the way for a US-Japan-Taiwan dialogue and collaboration on defense issues.
---
[1] "Okinawa, 50 Years After Reversion; SDF Eyes China from Island Near Taiwan," The Japan News, June 30, 2021, retrieved from Nexis Uni.
[2] Ibid.