On August 4, the Pentagon's Defense Security Cooperation Agency (DSCA) announced the first official US arms sale to Taiwan of the Biden Administration: that of 40 M109A6 "Paladin" self-propelled howitzers, with an accompanying package of support vehicles and additional equipment, for an estimated cost of USD $750 million. The purchase of the mobile artillery systems, following the announced USD $2 billion dollar purchase of 108 M1A2T Abrams Tanks in 2019, represents another significant addition to the order of battle of the Republic of China (ROC) Army. Per a statement from Taiwan's Ministry of National Defense (MND, 國防部), the howitzers "should help improve the rapid response and fire support capabilities of Taiwan's ground forces and build up our defensive capabilities." The traditionally pro-Pan Green Taipei Times praised the sale as a sign of continuing US engagement with Taiwan, commenting that "The good news is that fears of a return to the past practice of piecemeal weapons sales, begrudgingly approved by Washington […] have been unfounded."
By contrast, the announced arms sale drew swift and predictable condemnation from state outlets of the People's Republic of China (PRC). The nationalist Global Times asserted that "the Biden administration is doggedly playing the 'Taiwan card,'" and that "the arms sales were a vicious provocation and in line with US strategy to create trouble for China." On August 6, the more official People's Daily editorialized that the sale was a "dangerous provocation" that "cast another ominous shadow over relations" between the United States and China, and which "lays bare Washington's ill intent to contain China's development." The next day, People's Daily followed up with further commentary blaming Taiwan's government for misallocated priorities, claiming that voices in Taiwan "cry out to the Democratic Progressive Party, 'Taiwan needs vaccines not weapons'" ("臺灣要的是疫苗不是武器").
This most recent arms sale, like nearly all of Taiwan's defense acquisition programs, is sure to be controversial—not only in regard to the inevitable harsh reaction from the PRC, but also in terms of the continuing debate over Taiwan's defense priorities. The purchase of the Paladin howitzers takes place amid other continuing weapons acquisition and development programs—for all of Taiwan's military services—that demonstrate ongoing, and sometimes conflicting, priorities for Taiwan's force structure and defense posture.
Taiwan's Weapons Testing and Acquisitions in Other Areas
Although foreign press coverage of Taiwan defense issues often focuses on weapons purchases from the United States, the MND is also engaged in supporting a range of domestic research and development (R&D) programs. (Of note, an unnamed MND official reportedly stated to the press in mid-August that a shortage of technical experts was impeding progress in Taiwan's military R&D programs.) Many of these programs are centered around the production of indigenously-produced missile systems, which are critical platforms for Taiwan's defense in all three physical warfare domains.
In April, technicians conducted a series of test launches at Jiupeng Military Base (九鵬基地)—a major site for weapons testing located near the southern tip of Taiwan—which reportedly included a high-altitude test launch of a Hsiung Feng-II (雄風-2) anti-ship missile, as well as the launch of a Tien Kung-III (天弓) surface-to-air missile. Press reporting in early August indicated that the National Chung-Shan Institute of Science and Technology (NCIST, 國家中山科學研究院) in Taoyuan, Taiwan's primary R&D center for indigenous weapons systems, planned to conduct further unspecified missile testing at Jiupeng. Also in early August, the Taiwan Coast Guard Administration announced plans for live-fire exercises between September 5-12 on Pratas (Dongsha, 東沙) Island, which press reporting indicated would be for tests of the indigenously-developed, shoulder-fired Kestrel anti-armor rocket (红隼反甲火箭) system.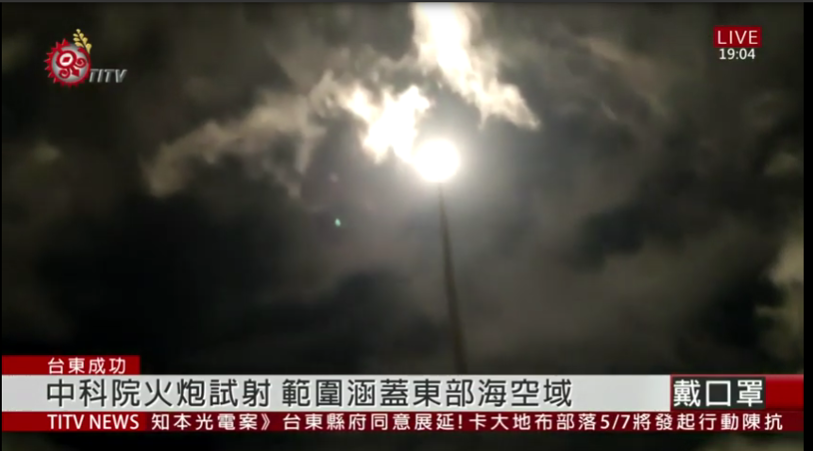 The ROC Navy (ROCN) has also been the recent recipient of indigenously-built systems with the commissioning in April of the 10,600 ton transport dock Yushan (玉山), a ship reportedly intended for amphibious support of Taiwan's outlying islands, and potential disaster relief operations in peacetime. In late July, the ROCN took delivery of Ta Chiang (塔江) (PGG-619), the first of six planned improved Tuo Chiang (沱江)-class fast missile corvettes—vessels with catamaran hulls and a low radar cross-section (RCS) design for greater stealth, and armed with indigenous Hsiung Feng II and III anti-ship missiles—intended to provide the navy with more maneuverable and survivable platforms for naval warfare.
However, the delivery of the new Tuo Chiang corvette was quickly followed by the announcement in early August of the cancellation of another NTD $31.6 billion (USD $1.14 billion) R&D program intended to produce up to 60 smaller missile craft, a program first initiated in 2018.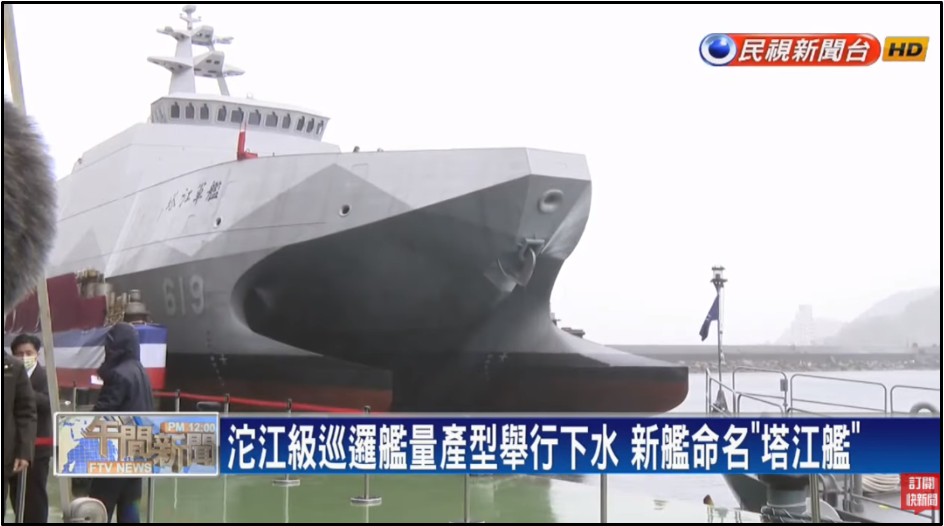 Continuing Debates Over Force Structure and Defense Strategy: "The Overall Defense Concept" vs. "Multi-Domain Deterrence"
These new weapons acquisitions will inevitably play into ongoing debates about Taiwan's military force structure, and its connection to overall defense strategy. During the tenure of former ROC Chief of General Staff Admiral Lee Hsi-ming (李喜明) (2017-2019), the "Overall Defense Concept" (ODC, 整體防禦概念) was advanced as a vision for Taiwan's defense. The ODC emphasized force preservation; a primary focus on warfare in the littoral area (the sea lane approaches to, and the landing beaches of, Taiwan); and asymmetric capabilities intended to compensate for the ROC military's ever-increasing resource disadvantages vis-à-vis China's People's Liberation Army (PLA). The latter idea called for an increasing focus on smaller, dispersible, and more maneuverable platforms—and implicitly, less emphasis on bigger-ticket systems that would be less survivable in the face of a sustained PLA strike campaign.
However, the 2021 edition of Taiwan's Quadrennial Defense Review (QDR, 四年期國防總檢討) (English here, Chinese here) makes no mention of the ODC, a likely sign that it has fallen out of official favor. Instead, the 2021 QDR offers the more traditional (and somewhat vague) concept of "Resolute Defense and Multi-Domain Deterrence" (防衛固守,重層嚇阻). In the English edition, "resolute defense" is explained as "ensur[ing] the security of our [command and control] nodes, critical assets, and critical information infrastructure, and improv[ing] our force protection and preservation." The second half of the equation, "multi-domain deterrence," will employ "joint capabilities to deter the enemy's aggression […] If the enemy launched [an] attack to invade Taiwan, our guiding principles [are] to 'resist the enemy on the opposite shore, attack it at sea, destroy it in the littoral area, and annihilate it on the beachhead' […] so as to ultimately defeat its aggression."
This ambitious formula for "multi-domain deterrence" has garnered criticism among some US-based commentators on grounds that, in the event of an invasion or other major military campaign directed against Taiwan, it commits the ROC military to a symmetric, force-on-force confrontation with a PLA in possession of vastly greater resources. On these grounds, the announced Paladin deal has been harshly criticized as "stark proof that far from undertaking long overdue defense reforms with a sense of existential urgency, Taiwan is acting like it is business as usual."
Speaking before the San Francisco Area Taiwan Chamber of Commerce on July 31, AIT Chairman James Moriarty stated that:
Taiwan needs defense in depth. Taiwan needs truly asymmetric capabilities and strong reserve forces. But as arms sales have become regularized and increasing in scope and dollar amounts, Taiwan's focus and direction seem to be shifting back to conventional, large-scale platforms. […] Taiwan's 2021 [QDR] seemingly abandoned the previous, well-received Overall Defense Concept. The QDR instead championed long-range strike, local air superiority, and controlling sea-lanes of communication – all concepts seemingly focused on a traditional, conventional battle rather than an asymmetric defense for a struggle Taiwan cannot afford to lose. Returning to those systems which are mobile, survivable, and lethal […] is a real and urgent course correction.
Ironically, the PRC's nationalist Global Times expressed the concerns of some critics regarding recent arms sales when it editorialized that "Self-propelled howitzers cannot play their intended role when the armed forces on the island of Taiwan cannot seize air superiority or control the sea, as they will only become live targets of the PLA if they are deployed into the frontline or coastal positions in a potential war."
Calls for Increasing Long-Range Strike Capabilities
The 2021 QDR was also noteworthy for the apparently increased emphasis placed upon long-range strike (遠程打擊) operations capable of hitting targets at extended ranges—including, potentially, targets on the coastline or even deeper inland in the PRC. As the first of six identified areas for force building, the document describes long-range strike thusly: "Air-launched missiles with highly extended range and stand-off attack weapon systems are to be developed to inflict precision strike against the enemy, stretch out the depth of strategic defensive operations, and conduct the multi-domain deterrence."
Taiwan's recent missile development and acquisitions programs have indeed indicated a further allocation of resources towards longer-range strike weapons. In October 2020, DSCA announced the intended sale to Taiwan of 135 AGM-84H Standoff Land Attack Missile Expanded Response (SLAM-ER) Missiles (an air-launched missile intended for long-distance strikes against ground and/or surface targets) and related equipment, for an estimated cost of USD $1.008 billion. Additionally, in April a senior MND official indicated in testimony to the Legislative Yuan that Taiwan was seeking to purchase an undetermined number of AGM-158 Joint Air-to-Surface Standoff Missiles (JASSM) from the United States.
In terms of ground-based systems, the October 2020 arms sales included a package of 11 High-Mobility Artillery Rocket Systems (HIMARS) systems (a vehicle-mounted system intended for strikes against ground targets), with associated munitions and support equipment, for an estimated cost of USD $436.1 million. HIMARS is capable of launching the Army Tactical Missile System (ATACMS), a surface-to-surface missile with a range of up to 300 kilometers. Although the M109A6 Paladin howitzers in the most recent announced sale have a standard range of 30 kilometers—far too short to range the Taiwan Strait, or targets far off-shore—the ROC Army Command issued a statement that the purchase "is obviously helpful to improve the effectiveness of 'long-range and precise' strikes."
Conclusion
Some observable recent trends in Taiwan's weapons acquisitions—notably, the Paladin howitzer purchase, and the cancellation of the small missile boat R&D program—would seem to indicate that the asymmetrical approach advocated by the ODC has indeed fallen out of favor, with an attendant return towards a focus on more traditional conventional weapons platforms. Other programs seem to split the difference—such as the Tuo Chiang missile catamaran, which offers a smaller-to-mid size naval vessel with greater mobility and a lower radar signature than larger surface combatants. Finally, trends in missile development and acquisition signal that planners at the MND are forging ahead in seeking longer-range strike capabilities, in the expectation that this would complicate PLA force protection concerns and enhance "multi-domain deterrence" in the event of a conflict.
This is likely to lead to continuing debates both within Taiwan defense circles, as well as among commentators and Taiwan's defense interlocutors in the United States. US defense analysts generally responded positively to the Overall Defense Concept and its focus on asymmetrical capabilities, while remaining skeptical of the value of larger weapons platforms (even as defense contractors and Congressional districts have benefitted from big-ticket sales, leading to potential charges of US hypocrisy on the issue). Political factors may also play a significant role in Taiwan, with domestic public opinion and bureaucratic politics among the military services playing a significant role in arms acquisition. Military force structure planning should be connected to a coherent vision of defense strategy; as revealed by recent weapons acquisition decisions, Taiwan's MND appears to be leaning away from asymmetry, and towards a more conservative and traditional direction.
The main point: Recent trends in Taiwan's weapons acquisitions suggest that the Overall Defense Concept has fallen out of official favor, and that the MND is leaning towards more traditional conventional weapons platforms.