After the outbreak of the COVID-19 pandemic, Taipei donated 1 million surgical face masks, 5,000 protective suits, and 20,000 surgical gowns to Poland. The Central European country returned the gesture in early September by shipping 400,000 doses of the AstraZeneca COVID-19 vaccine to Taiwan, making it the island's third-largest vaccine donor (after Japan and the United States) and the largest vaccine donor from the European Union (EU). On September 4, Poland's Ministry of Foreign Affairs (MFA) posted on Twitter that "as a gesture of solidarity, Poland will hand over 400,000 AstraZeneca vaccine doses to Taiwan" with an emoji of Taiwan's flag. The Polish MFA tweet also stated that "international solidarity and mutual support are crucial in the global fight against the COVID-19 [virus]."
However, the MFA post was later deleted, raising speculation that Warsaw may have come under Chinese pressure to retract its public statement of solidarity with Taiwan. Polish Foreign Minister Zbigniew Rau also deleted a similar Twitter post about the Polish vaccine donation to Taiwan and was quoted by Russia's Sputnik News as stating that "Taiwan is a part of China" on September 6. As Central and Eastern Europe (CEE) are emerging as new sources of support for Taiwan's international visibility, Taipei should seek to further strengthen cooperative relations with regional countries including Poland.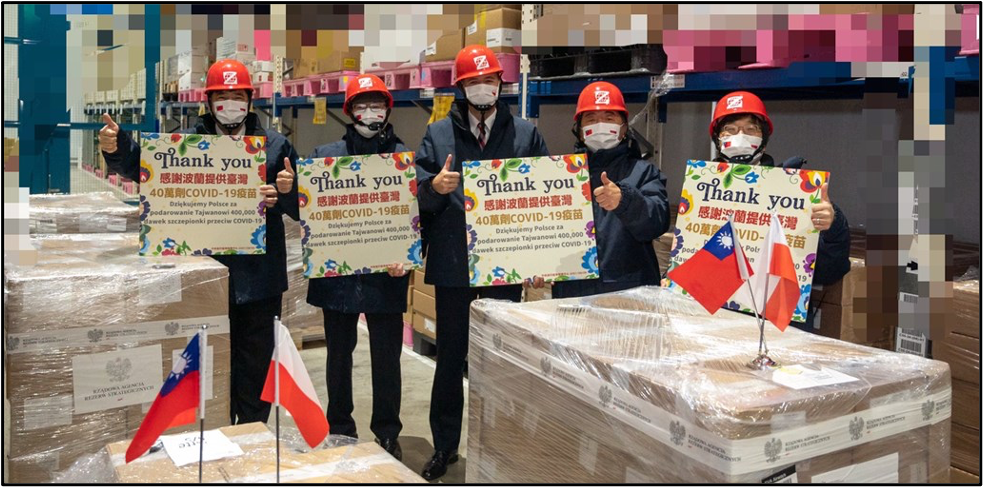 Central and Eastern European Dynamics towards China
Poland's friendly gesture of sending COVID-19 vaccines to Taiwan comes on the heels of earlier vaccine donations by Lithuania, Slovakia, and the Czech Republic, and at a time when European countries are beginning to re-examine their relations with China. Disagreements over economic and trade issues and human rights in Xinjiang and Hong Kong have led to recent tensions between the European Union (EU) and China. Meanwhile, Chinese donations of defective medical equipment to EU countries to combat COVID-19 have increased European mistrust of Beijing. EU countries also are grappling with the national security implications of China's influence and rising profile in their respective countries and around the world. Yet, while the leading Western European democracies have voiced their concerns about China, smaller CEE countries are notably punching above their weight to directly challenge China's pressure campaign, as in the case of Lithuania.
A Chinese initiative to bring 17 CEE countries into a sub-regional cooperation mechanism with China, known as the "17+1" platform, has fallen short of expectations and has hurt China's image in the region. First proposed by former Chinese President Hu Jintao (胡錦濤) in Warsaw in 2012, the "16+1" framework was initially comprised of 11 EU members and 5 non-EU countries, and later renamed the "17+1" bloc with the entry of Greece in 2019. In a move that signaled growing disillusionment with the Chinese initiative, Lithuania pulled out of the "17+1" mechanism in May 2021, urging other EU countries to also withdraw. "From our perspective, it is high time for the EU to move from a dividing 16+1 format to a more uniting and therefore much more efficient 27+1," said Lithuania's Foreign Minister Gabrielius Landsbergis. "The EU is strongest when all 27 member states act together along with EU institutions."
Poland was initially seen as a major partner for China within the "17+1" framework. Poland's geographical location made it an important transit country for railway transportation and cargo links between China and Europe. A major objective of China's Belt and Road Initiative (BRI, 一带一路, also formerly known as "One Belt, One Road") is the creation of railway links between Chinese and European cities, and the railway connection between the Polish city of Łódź and Chengdu in China's Sichuan Province was a flagship project. Sino-Polish ties seemed to be warming up, particularly after Beijing and Warsaw signed a joint statement on the establishment of a comprehensive, strategic partnership during President Xi Jinping's (習近平) visit to Poland in June 2016. Warsaw had high hopes about the BRI's economic potential and embraced Chinese commercial opportunities.
However, enhancing trade ties with China did not yield the expected economic benefits for Poland. In 2019, China-Poland bilateral trade reached USD $27.8 billion, with more than 85 percent of two-way trade comprised of Chinese exports to Poland. Conversely, there was very little growth in Polish exports to China, which mostly consist of raw materials and low-valued products including copper, machines, and chemical products. Bilateral cooperation over the past several years failed to overturn the huge Polish trade deficit with China. In addition, there has been little interest on the part of Polish businesses to invest in China; while similarly, Chinese investments in Poland are relatively meager. Despite these structural trade imbalances with China, Poland thus far has chosen not to follow Lithuania in leaving the "17+1" framework, instead continuing to maintain its economic ties with China.
EU and Polish Views on Taiwan Ties
Particularly in the COVID-19 era, several European countries are seeking further exchanges and enhancement of all-around ties with democratic Taiwan, which they see as a key partner in the international community. Over Beijing's repeated objections, the European Parliament's Foreign Affairs committee passed a draft report on "EU-Taiwan Political Relations and Cooperation" on September 1, calling on the EU to "urgently begin an impact assessment, public consultation and scoping exercise on a Bilateral Investment Agreement (BIA)" with Taiwan. The draft report also supported plans to open a Taiwanese Representative office in Lithuania and urged the EU to change the name of its representative office, the European Economic and Trade Office in Taiwan (EETO, 歐洲經貿辦事處), to "European Union Office in Taiwan" (歐盟駐台灣辦事處) in response to broadening EU-Taiwan ties. According a Taiwanese commentator, although European mainstream thinking may view China as an important partner, many European countries are also seeing that Taiwan is a worthy friend as well.
While Polish foreign policy is pragmatic in its approach to China—particularly on economic issues—it also includes a tenet that is dedicated to "ethical ideas," including the promotion of human rights and freedom in places such as Xinjiang, Tibet, Hong Kong, and Taiwan. Poland's representative office in Taipei welcomed Lithuania's move to open a Taiwanese Representative Office, saying that this would enhance Taiwan's status and visibility in Central and Eastern Europe. During a September visit to Lithuania, Polish Foreign Minister Zbigniew Rau criticized Chinese trade sanctions imposed on Lithuania over its Taiwan policy. Rau also commented that "it is natural for some European Union countries to develop economic cooperation with Taiwan." However, Rau seemed to draw a contrast with Lithuania by stating, "Poland's position is clear—we support a China policy. Taiwan is considered part of China, so the representation of Taiwan in Poland is not a diplomatic office but an economic office."
Taiwan-Poland Relations
Poland's transition from a former Soviet communist satellite to a democracy in the 1990s helped pave the way for its contemporary relations with Taiwan. After Polish labor activist Lech Walesa became president in 1990, Polish-Taiwanese relations markedly improved. [1] In 1992, Taipei established a representative office in Warsaw, which is currently called the Taipei Representative Office in Poland (駐波蘭台北代表處). Three years later, Poland opened the Warsaw Trade Office (華沙貿易辦事處), which was later renamed the Polish Taipei Office (波蘭臺北辦事處) in 2018, a sign of broadening ties with Taiwan. That same year, the Polish Investment and Trade Bureau also opened a Taipei office (波蘭投資貿易臺北辦事處) aimed at promoting economic exchanges and investment.
Polish-Taiwanese economic and trade relations currently form the mainstay of bilateral cooperation. Poland is a major trade partner for Taiwan in Central Europe. Taiwan is Poland's seventh largest trade partner in Asia. Two-way trade reached USD $1.23 billion in 2020, with Taiwan enjoying a trade surplus. Taiwanese exports to Poland include semiconductors, electronics, metal products, and auto parts. Polish exports to Taiwan consist of pharmaceutical products, copper, electrical products, chemical products, and food. In line with its broader interest in securing Asian capital for investment projects, Warsaw has encouraged greater Taiwanese investment in Poland, which has been historically low: There are 31 Taiwanese businesses with investments in Poland, and Taiwan's cumulative investment in Poland yielded only USD $468 million between 1952 and 2020.
Taiwanese companies seeking to transfer production lines or manufacturing operations to Europe should use Poland as their operations base, according to Bartosz Ryś, acting chief of the Polish Office in Taipei. To emphasize this, Ryś pointed to his country's sound infrastructure, large domestic market, and skilled labor force. Poland, the largest supplier of lithium-ion car batteries in Europe, could also collaborate with Taiwan to develop the electrical vehicle industry, he said. Furthermore, Taiwan can strengthen cooperation with Poland and Adriatic, Baltic, and Black Sea coastal countries in the areas of trade, infrastructure, and energy by participating in the "Three Seas Initiative" of the Central and Eastern European Economic Forum, he said.
Taipei recognizes that enhancing comprehensive relations with CEE countries could provide positive dividends for expanding its diplomatic outreach and international space. A 65-member Taiwanese delegation of government officials and business leaders will visit Slovakia, Lithuania, and the Czech Republic in late October, underscoring the growing economic and political significance of these smaller countries. As the largest economy in Central Europe, Poland should also be incorporated into Taipei's broader strategy towards the region. Taipei's first priority should be to strengthen investment and trade ties with Poland, particularly when Warsaw has expressed interest in deepening bilateral economic ties and Polish-Chinese economic and trade relations have been underwhelming.
The main point: As Central and Eastern European countries are emerging as new sources of support for Taiwan's international visibility, Taipei should seek to further strengthen cooperation with regional countries including Poland.
---
[1] "Taiwanese President May Visit Poland," Agence France Presse, November 25, 1996, retrieved from Nexis Uni.