With less than nine months left before Taiwan's national elections are held on January 13, 2024, Beijing is rolling out a suite of economic measures to ostensibly influence Taiwanese voters. Immediately following the overt military pressure demonstrated by the People's Liberation Army (PLA) exercises encircling Taiwan after President Tsai Ing-wen (蔡英文) met US Speaker Kevin McCarthy in California during a transit through the United States (see Eric Chan's article in this issue), the Ministry of Commerce of the People's Republic of China (PRC) issued a public notice on April 12 that Beijing was initiating a trade barrier investigation into Taiwan's alleged restrictive trade measures against China. Specifically, the investigation will involve 2,455 products, mainly including agricultural, mineral, and chemical products, as well as textiles. Lying in plain sight is the political motivation of the decision, the investigation is slated to conclude on or before October 12, while also explicitly indicating that it could be extended to January 12, 2024—a day before people in Taiwan head to the polls—"under special circumstances" (特殊情况下).
Beijing's announcement of its alleged trade barrier investigation should not be viewed in isolation from the other economic measures targeting Taiwan that China has ramped up in greater scale and intensity since the start of President Tsai's second term. In an interview with Vox, Chiao Chun (焦鈞), the author of Fruits and Politics— A Recollection of Cross-strait Agricultural Interaction Over the Past Decade (水果政治學:兩岸農業交流十年回顧與展望), astutely observed: "The motivations behind China's ban are politics and elections. China's ambition for Taiwan has always been unification […] It's a comprehensive top-down strategy, wrapping around Taiwan's agriculture, farmers, and agricultural products like a net."
During Tsai's first term (2016-2020)—as the Trump Administration launched a trade war with China—Beijing emphasized doling out economic enticements to lure more businesses and people from Taiwan. This strategy was exemplified by the two tranches of preferential economic measures that Beijing imposed in 2018-2019. During Tsai's second term, Beijing has decidedly changed this approach and is now leaning heavily on coercive economic tools through a combination of targeted bans of select goods, expanded import restrictions of a range of products beyond just agricultural and aquatic goods, arbitrary regulatory enforcements targeting select companies for their political activities, and the sanctioning of individuals and organizations. 
Incremental Coercion in Tsai's Second Term
In the first wave of this new campaign, China targeted the farmers—a traditional constituency of the ruling Democratic Progressive Party (DPP, 民主進步黨) that is mainly situated in the southern parts of the island. Beijing accomplished this by banning the import of major Taiwanese agricultural products: pineapples in February 2021 , sugar apples and wax apples in September 2021, and finally grouper fish in June 2022. Although Chinese government officials cited harmful pests, chemicals, or other irregularities as justifications, Beijing was using these bans primarily as a tool of economic coercion. It is no surprise that many of Taiwan's top 10 agricultural exports to China in 2020—namely pineapple, sugar apple, grouper, other fresh and frozen fish (i.e., largehead hairtail, fourfinger threadfin), skipjack tuna, squid, other frozen fish, and java apple—have all been banned by Chinese authorities.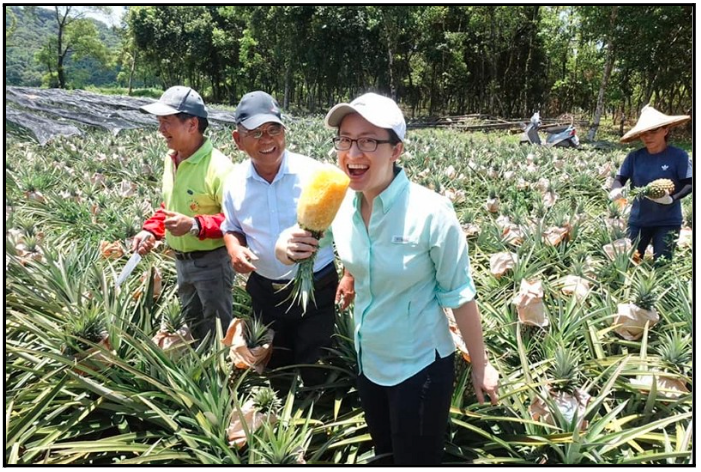 Image: Taiwan's representative to the United States, Hsiao Bi-khim (蕭美琴), promotes Taiwanese pineapples following the ban from China. (Image source: Hsiao Bi-khim's Twitter)

In addition to import bans, Beijing began issuing stern warnings to Taiwanese businesses operating in the PRC to mind their political contributions within Taiwan. In November 2021, Chinese textile and cement subsidiaries of Taiwan's Far Eastern Group (遠東集團)—a major donor to the two major political parties within Taiwan—were arbitrarily fined more than USD $13.87 million for a series of supposed regulatory violations, including breaches of environmental protection rules. 
Then, in a clear escalatory move—after then-Speaker of the House Nancy Pelosi visited the island in August 2022—China suspended natural sand exports, while also blocking imports of citrus fruits, chilled white scallops, frozen mackerel, as well as confectionery products, including suspending imports from 35 Taiwanese exporters of biscuits and pastries. In total, the PRC's General Administration of Customs (GAC, 海關總署) suspended imports of more than 2,000 of about 3,200 food products from Taiwan.
In comments made to the Financial Times following the announcement of these broad bans, Chiu Chui-cheng (邱垂正), deputy chair of Taiwan's Mainland Affairs Council (MAC, 大陸委員會), stated: 
In the past, China hit single products from the primary sector such as specific fruit or fish—that way, they kept the overall macroeconomic impact on Taiwan limited but could target regions where the Democratic Progressive Party is strong […] But now they are broadening this immensely as they are targeting processed foods, that gives them enormous extortion powers. This is probably only the beginning. We are certain that they will further step up their economic coercion measures.
Implications for Taiwan's National Elections
The most recent investigative action taken by the PRC follows the long-established pattern of employing a mix of economic enticements and punishments to influence Taiwan's politics and elections. However, the effects of the recently announced measure by the PRC Ministry of Commerce may be more subtle and potentially more effective than its previous tactics. The investigation, depending on how it is implemented, would make Chinese economic leverage a semi-permanent fixture in Taiwanese politics—at least right until the January elections. This would represent a notable departure from the one-off effects that targeted bans or sanctions have had in the past. 
The investigation will essentially hang as the backdrop for the national elections and could possibly make the viability of the Economic Cooperation Framework Agreement (ECFA, 海峽兩岸經濟合作架構協議) into a national election issue. Beijing could use the ongoing review to justify and indirectly threaten the cancellation of the agreement, which was struck in 2010 between the KMT government under Ma Ying-jeou (馬英九) and the PRC. This could have significant economic ramifications for Taiwan, as the ECFA cut tariffs on 539 Taiwanese exports to China and 267 Chinese products entering Taiwan—"mainly in the fields of petrochemicals, machinery, textiles, and transport, and tariff-free preferential terms for agricultural and fisheries products, including fruit, cut flowers, and fisheries goods." Still, despite these seemingly high numbers, Taiwan's Ministry of Economic Affairs (MOEA, 經濟部) forecasted that a termination of the agreement would affect less than five percent of trade exchanges with China.
Since 2016, when the DPP took back power from the KMT, Beijing has hinted that it could rescind ECFA as a means to punish the ruling administration. These concerns reached fever pitch in 2022 during the Pelosi controversy, when China significantly escalated its rhetoric regarding the future of the agreement. Accordingly, right as Speaker Pelosi visited Taiwan—and while the PLA was conducting unprecedented exercises around Taiwan—the KMT's Vice Chairman Andrew Hsia (夏立言) flew to Beijing to obtain reassurances that China would not scrap the ECFA. 
Leveraging Taiwan Businesses in the PRC
In addition to political parties, another clear target of Beijing's action is Taiwanese businessmen. China has long used Taiwanese business interests in the PRC to interfere in Taiwan's political process. The Association of Taiwan Investment Enterprises on the Mainland (ATIEM, 全國台灣同胞投資企業聯誼會) is the most prominent vehicle for Chinese influence. 
Founded in 2007, ATIEM is a business association—managed under the auspices of the Taiwan Affairs Office (TAO 國務院台灣事務辦公室)—consisting of around 300 Taiwanese-funded enterprises and their members in China. The organization acts as a lobbying group for Taiwanese businesses both in China and in Taiwan. According to a 2012 investigative report by Reuters, ATIEM previously tried unsuccessfully to lobby the Taiwan government to overturn a rule that bars citizens of Taiwan from taking positions in state or party bodies in China, such as the Chinese People's Political Consultative Conference (CPPCC, 中國人民政治協商會議).
Taiwanese businessmen in China interviewed by the Singapore-based Lianhe ZaoBao (聯合早報) stated their belief that if Beijing really wanted to take action on cross-Strait economic and trade, the CCP could simply terminate the ECFA. Instead, Beijing's announcement of the trade investigation was intended to send a strong warning to Taiwan that "if it continues to seek independence and allow external forces to interfere, it must be prepared to face a large-scale trade punishment." Wu Jiaying (吳家瑩), executive vice president of ATIEM and chairman of Jiahao Group (Xiamen) Co. Ltd., said that all those engaged in cross-Strait economic and trade exchanges were worried when they heard about the investigation. While he stated that Beijing's trade investigation may be more symbolic than substantive, it nevertheless carries with it a strong sense of foreboding.  
It is worth noting that voter turnout in Taiwan's general election is generally relatively high, which could have an impact on the election results. According to the Directorate General of Budget, Accounting and Statistics (DGBAS, 行政院主計總處), 163,000 Taiwanese worked in China in 2021—representing a decrease of 76,000 people (19.2 percent) from 2019 and 261,000 persons (61.6 percent) from 2011. A quarter of a million Taiwanese residents in China reportedly voted in the country's 2012 presidential election, and an estimated 100,000 Taiwanese businessmen voted in 2016. Despite these decreased numbers, Taiwanese citizens located in China continue to represent a significant political constituency both in terms of their votes and campaign contributions. With polls predicting an increasingly tight race in January 2024, every vote will count. 
Conclusion
Chinese economic statecraft includes not just enticements, but also punishments. Beijing's recent measures reflect a hardening of its coercive economic approach through a combination of targeted bans of select goods, broadened import restrictions, arbitrary regulatory enforcements, and sanctions of individuals and organizations. Although recent measures do not appear to represent a major departure from Beijing's longstanding strategy, these measures do represent a doubling down of Xi Jinping's (習近平) campaign to pressure Taiwan and its voters. While there are currently significant proposals under consideration in the US Congress to mitigate the effects of Chinese economic coercion, the question remains whether the relief will arrive in time to have any meaningful effects. [1]
The main point: Beijing's recent announcement that it is initiating a trade barrier investigation on Taiwan's alleged trade restrictive measures against China represents continued efforts by Beijing to influence Taiwan—specifically Taiwanese voters and Taiwanese businesses—through economic coercion. 
---
 [1] There are at least two notable legislative efforts that have been introduced that address two prongs of these efforts. While the Stand with Taiwan Act focusses on deterrence by economic punishment, the Countering Economic Coercion Act addresses deterrence by denial of the effects of PRC economic coercion. According to a recent study published by CSIS, "Deterrence by denial–focused on resilience and relief for targeted countries—is more likely to mitigate, and over time deter, China's problematic behavior by decreasing its likelihood of success, frustrating Beijing's intent."