Researchers working on China and Taiwan issues have traditionally looked at the annual Taiwan Work Conference (對台工作會議) to determine the direction of China's approach toward Taiwan in the year ahead. Convened by the Chinese Communist Party (CCP) Central Committee at the beginning of each year, the CCP held the 2022 Work Conference on January 25. Wang Yang (汪洋), who serves as the chairman of the Chinese People's Political Consultative Conference (CPPCC, 中國人民政治協商會議)—as well as deputy director of the Taiwan Affairs Leading Small Group (TALSG, 中央對台工作領導小組), the party's inter-agency policy-coordinating body—delivered the opening remarks laying out the central leadership's guidance on Taiwan work.
Two weeks before Wang's remarks, the Chinese state media outlet Huanqiu (環球網) published an interview with Sun Yafu (孫亞夫), vice chair of the Association for Relations Across the Taiwan Strait (ARATS, 海峽兩岸關係協會), which conducts relations between China and Taiwan in the absence of direct government-to-government relations. In the interview, Sun provided retrospective assessments of developments in cross-Strait relations that occurred in 2021 and offered his projections for 2022. In this interview, Sun alluded to Xi Jinping's (習近平) warning to US President Joe Biden during their virtual summit last November, touched upon US-China competition, and clarified Chinese leaders' thoughts on the struggles taking place in the Taiwan Strait. By lending elaboration to Wang's brief remarks, Sun's interview reaffirmed some observations extracted from the interactions among relevant actors in recent years.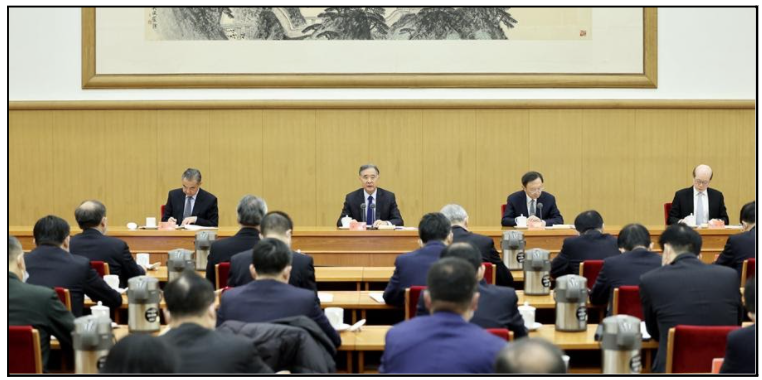 Clues Regarding China's "Comprehensive Plan" for Taiwan Issues in the New Era
In the first few words of his remarks, Wang set the tone for the CCP's work toward Taiwan in 2022, stating that fulfillment of the work will warrant a successful 20th Party Congress at the end of the year. The citation of the relatively new terminology in Wang's remarks, the "comprehensive plan" (總體方略) for tackling Taiwan issues (see discussion separately in this issue), invited a flurry of discussion in Chinese media. However, as presented in its initial debut in the Third Historical Resolution at the sixth plenum held last November, the "comprehensive plan" is largely a summation of Xi's thoughts and policy statements rather than a brand new approach towards Taiwan. Taken together with what Sun pointed out in his interview, the CCP leadership will provide guidance regarding Taiwan policy for the next five years in the coming Party Congress, and the guiding thoughts will likely evolve and be streamlined according to existing policy formulations. Therefore, more continuity is to be expected than disruption. With that in mind, the newly emerged "comprehensive plan" is probably not where to look. Instead, the depiction of Xi's new era gives more clues regarding how CCP leaders will approach key actors, such as "Taiwan independence" activists and "external forces," and plot their own moves in pushing forward initiatives directed toward Taiwan.
In Xi Jinping's concept of the "new era," the West is declining while the East is rising. As a result of this fundamental shift, China has arrived at a position of power, allowing it to view the world with its head held high. Xi demonstrated this growing confidence and patience in resolving the Taiwan issue during his virtual meeting with Biden last November, according to people briefed by US officials. Sun Yafu's interview offered consistent and further elaboration: according to this account, China's approach to the Taiwan Strait is not witnessing fundamental change. While the balance of power will continue to favor China as time goes on, it has not yet reached the tipping point of upending the balance. This confident and patient mindset has primarily focused on deterring challenges to China's "One-China Principle" (一個中國原則) and preventing other countries from altering their "One-China Policies" (一個中國政策). This has become the most prioritized goal of the CCP's work toward Taiwan.
Lithuania's recent decision to allow Taiwan to establish an office under the name of "Taiwanese Representative Office" (rather than the usual Taipei Economic and Cultural Representative Office, or TECRO) has been viewed by Beijing as an attempt to challenge the "One-China Principle." Accordingly, the CCP has treated it as a serious risk, requiring an all-hands-on-deck response. The increasingly warm relationship between Taiwan and the United States under both the Trump and Biden Administrations in recent years has been viewed in a similar light. China's response to Lithuania escalated swiftly from downgrading diplomatic ties to enacting a full trade ban on Lithuanian products, which then expanded to products with Lithuanian components. As a result, China risks taking on the world's largest single market, the European Union.
It has recently been reported that the United States is also considering allowing Taiwan to rename the Taipei Economic and Cultural Representative Office (TECRO) in Washington, D.C. as the "Taiwan Representative Office." Although this was first reported in early September 2021, the decision has remained pending. The US decision on the matter apparently carries more weight, as it may serve as a leading example for other countries to follow, even though both Lithuania and Somaliland have now respectively hosted a Taiwanese Representative Office and Taiwan Representative Office. Reflecting the magnitude of the decision, Xi Jinping himself reportedly issued a warning to President Biden about drastic measures to be taken in response to events considered to be crossing a red line, a message reinforced in Chinese state media.
In a recent NPR interview on the topic, China's Ambassador to the US Qin Gang (秦剛) conveyed yet another warning, this time targeted at a broader American audience. Specifically, he mentioned the threat of potential military conflict between China and the United States. These two high-profile warnings demonstrated the PRC's comprehensive efforts to reinforce its "One-China Principle," to prevent Taiwan independence, and to maintain a tight grip on power in the lead-up to the 20th Party Congress, an important party event where many expect Xi will push his reign into a third term.
Having said that, by not specifying which events would be considered as crossing his red lines, Xi gave himself leeway to possibly avoid a self-inflicted showdown with the United States. In the meantime, one can expect China to conduct aggressive actions and threaten potential drastic measures—be they military, economic, or diplomatic—in order for the relevant counterparts to impose self-restraints. This has long been the CCP's modus operandi for maintaining maximum deterrence.
Attempts at "Unification" Expected to Step Up in Taiwan's Election Year
This bottom line/red line thinking is a key component of the defensive side of China's Taiwan policy. The offensive side of its approach includes efforts to influence certain Taiwanese communities, as well as disinformation operations, especially in a Taiwan election year. These have been a part of China's toolbox in its Taiwan integration campaign for some time. Moreover, China's coastal province Fujian has long been designated as a model for demonstrating "fusion development" (融合發展), with Taiwanese youth looking for opportunities to launch business and careers in a region of the mainland where people speak a similar dialect. However, the Fujian platform has not yet developed into a promising incubator for stronger ties with the mainland among targeted Taiwanese demographics. Nevertheless, its implications for the CCP's efforts to make inroads into Taiwanese grassroots communities should not be overlooked. For this reason, the Chinese government has kept the Fujian platform policy intact and continues to channel resources for its improvement.
Aside from the aforementioned charm offensive, a new Chinese maneuver falls into this category. As has been noted by researchers, at least one Chinese official described various "arrangements after unification" (統一後的安排) in 2021. In comparison to the CCP's previous emphasis on "One Country, Two Systems" (一國兩制) as the primary framework for addressing the Taiwan issue, the model has become increasingly toxic in the wake of Beijing's crackdown in Hong Kong. As a result, Chinese officials have sought to sell the solution by wrapping it in different packaging. We should expect more of these kinds of tactics to be employed in 2022 as a key part of future charm offensives. However, despite the CCP's efforts to give it different faces, the inherent flaws of arbitrary rule in an authoritarian regime will continue to be unattractive to those living in a democratic system.
China's Duplicitous Approach to Taiwan Should Not Be Overlooked
On top of what was mentioned above, Wang Yang's remarks—as well as other various Chinese policy statements—were narrowly focused on realizing nationalist goals while overlooking the implications for the broader geostrategic picture. Specifically, Wang emphasized that efforts to contain Taiwan are fundamentally linked to the Chinese nation's "great rejuvenation" (偉大復興). Outside observers have long interpreted China's obsession with annexing Taiwan as limited to unifying the greater Chinese "nation" (民族). This narrative conveniently makes former approaches that emphasized engagement and cooperation with China seem more plausible and promising. Nevertheless, China's various policy talking points (see examples here and here) have made clear that fulfilling the great Chinese national rejuvenation includes building up a world-class military. Anyone looking at the map could tell that Taiwan holds the key for the Chinese People's Liberation Army to attain its geostrategic goals. That is one unspoken reality that is never overlooked by the Chinese. With that in mind, the Taiwan issue is never just a cross-Strait issue, but rather one important element of broader developments in the international system. Accordingly, it requires a broader perspective in order to orchestrate effective solutions to it.
The main point: The Chinese Communist Party's annual Taiwan Work Conference, held in January, provided indicators of Chinese policies towards Taiwan in the coming year. These policies are likely to include prioritizing the "One China Policy" in the name of blocking Taiwan independence, a renewed focus on "unification," and efforts to cultivate grassroots groups in Taiwan, especially in an election year.