In February 2022, the American Institute in Taiwan (AIT) announced that AIT and the Taipei Economic and Cultural Representative Office in the United States (TECRO) had agreed to a new memorandum of understanding (MOU) that extends existing cooperation between the United States and Taiwan on the "Development, Launch, and Operation Constellation Observing System for Meteorology, Ionosphere, and Climate Follow-On Mission" satellite program—known as FORMOSAT-7 in Taiwan and COSMIC-2 in the United States—which began in 2010.
The FORMOSAT-7/COSMIC-2 program, in which the US was responsible for the launch of a constellation of weather observation satellites and Taiwan was responsible for system integration and design, is the largest-ever US-Taiwan space-based collaboration and represented a "major milestone" for both Taiwan-US science and technology (S&T) cooperation and Taiwan's aerospace development.
Taiwan and the US have built their space-related collaborations on the relationships between Taiwan's National Space Organization (NSPO), the US National Aeronautics and Space Administration (NASA), and the Department of Commerce's National Oceanic and Atmospheric Administration (NOAA). These ties between Taiwan and the US remain strong—as evidenced by President Tsai Ing-wen's (蔡英文) visit to Johnson Space Center in 2018—as do broader S&T relations. In fact, there have been at least 270 bilateral agreements and MOUs signed to promote Taiwan-US S&T cooperation, including a new Science and Technology Agreement that was signed in 2020.
Understanding the FORMOSAT-7/COSMIC-2 Program
The FORMOSAT-7/COSMIC-2 program represents the next step in Taiwan-US space cooperation and S&T cooperation, which began in 1994 with the design and manufacture of the FORMOSAT-1 experimental scientific satellite. Since then, the relationship has grown to include the development of the Alpha Magnetic Spectrometer (AMS) on the International Space Station (ISS) in 1995, the launch of the Submillimeter Array in Hawaii in 2003, the Greenland Telescope in 2016, and the SpaceX launch of FORMOSAT-5, which was Taiwan's first domestically developed remote sensing satellite.
The six-satellite FORMOSAT-3/COSMIC-1 constellation launched from Vandenberg Air Force Base in 2006 was the first major collaboration on weather satellites between Taiwan and the US. Following the success of this program, Taiwan and the US signed another agreement in May 2010 to jumpstart the FORMOSAT-7/COSMIC-2 program at the agency level between the National Space Organization (NSPO) and NOAA.
FORMOSAT-5 was launched by SpaceX and was Taiwan's first domestically produced satellite, in collaboration with the National Space Organization of the National Applied Research Laboratories and Taiwan's industrial and research sectors.
The FORMOSAT-7/COSMIC-2 satellite program relevant to the most recent MOU is a jointly administered program of six kitchen oven-sized satellites that will play an important role for weather forecasters and scientists seeking data on topics including weather prediction, space weather observation, and climate research. In the initial program, the US was responsible for the launch of the satellites while Taiwan was responsible for the design and integration of systems and mission operations, according to the NSPO.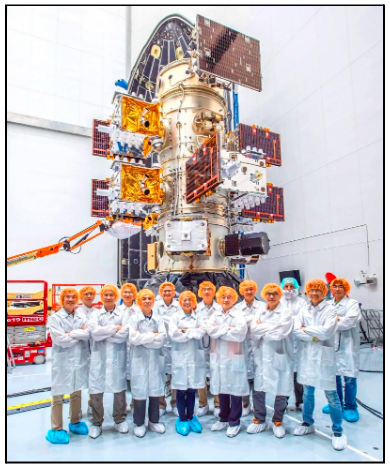 The FORMOSAT-7/COSMIC-2 satellites use radio occultation (RO) to measure how global navigation satellite systems (GNSS)—including global positioning system (GPS)—signals are distorted as they pass through the earth's ionosphere and atmosphere. Analysis of these signals gives distinct measurements for important weather categories including temperature, air pressure, and water vapor content, allowing researchers to better understand the development process of tropical storms and other weather systems. The satellites are also used to measure the impact of space weather on communications, navigation, cellular, and aircraft systems in the ionosphere. These capabilities include the ability to produce real-time conditions for weather prediction and space weather observation.
The new MOU governing the continuation of this program addresses key issues for continued use of the FORMOSAT-7/COSMIC-2 satellites, such as the design, construction, launch, and establishment of control centers. In the revised agreement, TECRO and AIT will, through the NSPO and NOAA, continue existing coordination efforts on the project until May 27, 2030, or until the FORMOSAT-7/COSMIC-2's final satellite reaches end-of-life, whichever comes first.
According to NOAA, NSPO, and others, the COSMIC-2 satellites reached full operational capacity in October 2021. The announcement comes after the satellites' successful June 2019 launch on a SpaceX Falcon Heavy rocket, establishment of communications 173 minutes after launch, successful completion of operations tests in July 2019, an initial release of atmospheric data in March 2020, and attainment of mission orbits in February 2021. To reach their full operational capacity, the satellites have undergone a seven-month instrument and data evaluation period which was followed by software updates. Additional reviews on the satellites certified that:
All six satellites were properly located in orbit;
Ground stations were functioning properly;
Satellite data was validated and correct;
Taiwan- and US-based operations centers were operational;
Backup ground stations with commanding capabilities will work; and
Data from the satellites can be properly archived.
Given the shared responsibilities by both Taiwanese and American actors on this project, the successful deployment at all levels represents a success for bilateral space cooperation and a sign of the promise for future Taiwanese space capabilities.
Taiwan's Space Industry Enters its Third Phase
Taiwan's goals of having an indigenous satellite program trace back to the early 1990s when the government entered the first phase of its Long-term National Space Technology Development Program. From 1991 to 2006, Taiwan focused on building aerospace talent and put its first weather satellite constellation, the FORMOSAT-3, into orbit. As Taiwan entered the second phase of its development program, it turned its focus to the FORMOSAT-5 and FORMOSAT-7 projects. The third phase of Taiwan's satellite program (2019-2028) is primarily focused on launching one satellite a year to support national security and environmental monitoring.
Next Steps for Taiwan's Space Program
Taiwan's space industry has been identified as one key element of President Tsai's Six Core Strategic Industries, and in 2021 the cabinet approved a draft bill from the Ministry of Science and Technology to develop the Taiwanese space industry. This proposed law would promote space-related businesses in Taiwan and reserve approximately NTD $25 billion for Taiwanese space projects. Premier Su Tseng-chang (蘇貞昌) has identified Taiwan's leading role in semiconductor manufacturing as an opportunity for Taiwan to shape developments in the global space industry, and the government has taken steps to grow the nation's existing space and space technology agreements in recent years.
In pursuit of its satellite and space objectives and in line with the third phase of its National Space Technology Long-Term Development Plan, Taiwan plans to launch the first of six FORMOSAT-8 satellites in 2023. This plan also calls for additional launches in each year between 2024 and 2028 to form a constellation that will provide dynamic monitoring information and real-time satellite resource requirements. The next iteration of the FORMOSAT line of satellites presents a strong opportunity for the US to partner with Taiwan at the governmental level. It will also build off the successes of the FORMOSAT-7 program to find more ways for the US and Taiwan to cooperate on future space issues—by leveraging Taiwanese technical expertise with US commercial strength across the sector in critical areas such as space debris identification.
In addition to its new agreement with the US, Taiwan has taken other measures to advance its space program. In 2021, Taipei entered into new space-related MOUs with Lithuania and the Czech Republic, showing a penchant to forge new agreements and identify new partnership opportunities. The current trend of deepening ties between Taipei and Tokyo should also bode well for longer-term satellite and broader S&T cooperation between Taiwan and Japan. In the past, Taiwan has relied on Japan for satellite services, and Taiwan's new satellite plans represent a strong opportunity for Taiwan to leverage the capabilities of the Japan Aerospace Exploration Agency (JAXA) to forge deeper semiconductor-related supply chain security ties—which will simultaneously bolster satellite launch and deployment capabilities, and address potential satellite supply chain challenges for both sides. Ongoing cooperation with the US and other friendly nations will be an essential component of Taiwan's ongoing space ambitions.
The main point: Cooperative agreements between the United States and Taiwan on satellite development and launches—such as the FORMOSAT-7/COSMIC-2 constellation of weather satellites—have opened up a significant avenue of US-Taiwan scientific collaboration in the space industry.