Since the beginning of the Russian invasion of Ukraine in late February, the Ukrainian defense effort has made extensive use of hand-held anti-aircraft missiles (man-portable air defense systems, or MANPADS) and anti-tank missiles (ATMs) to offset the Russian numerical superiority in armored vehicles and aircraft. Sales and training for these systems began long before the war: for example, the United States approved sales to Ukraine in March 2018 and October 2019 for a total of 360 FGM-148 Javelin ATMs and associated Javelin Command Launch Units (CLUs). The pace of ATM delivery has ratcheted up dramatically since the onset of hostilities: based on US government figures from early April, the United States at that point had provided Ukraine's armed forces with 5,000 Javelin and 7,000 other anti-armor weapons systems, not including the significant commitments also made by other NATO member nations. [1]
Although it is difficult to gauge from public information the actual expenditure rate of these weapons systems, the pace of delivery in replacement systems—alongside credible reports of heavy Russian casualties—suggests that the rate of expenditure has been very high indeed. (In late March, Ukrainian officials reportedly indicated to their US counterparts that they needed a stunning figure of 500 Javelins and Stinger MANPADS each per day.) This is turn impacts Taiwan's defense planning, as Taiwan's Ministry of National Defense (MND, 中華民國國防部) has also made purchases in recent years of many of the same systems now being rapidly shipped to the war zone in Ukraine. With many of these systems on long, multi-year timetables for delivery—and with production capacity limited by parts shortages and other constraints—the war in Ukraine is likely having a significant impact on Taiwan's own defense planning.
Taiwan's Purchases of US-Manufactured Weapons—and Competing Priorities for Delivery
The issue of Javelin ATM purchases provides a telling example of how the Ukraine war has affected Taiwan's own force planning, in terms of the delivery of foreign-manufactured weapons systems. Taiwan has also purchased Javelins, beginning with a December 2015 sale of 208 missiles for USD $57 million. Unconfirmed Taiwan press reporting in April 2021 indicated that a total of 400 Javelin missiles and 42 associated launch units would be delivered in a single large shipment to Taiwan sometime in 2022, "effectively strengthening Taiwan's anti-armor combat capability." Yet, the pressing demands of the war in Ukraine—not to mention competition for delivery with other countries such as Thailand, Georgia, and Lithuania, all of whom purchased Javelins in 2021—place such projections in doubt.
ATMs are not the only missiles suddenly in higher demand as a result of the war. US-produced Stinger MANPADS have played a prominent role in knocking down Russian aircraft over Ukraine, particularly helicopters and fixed-wing aircraft flying low in close air support operations. An announced sale of 250 Block I-92F Stinger missiles (and associated support equipment, for an estimated total cost of USD $223.56 million), was part of a series of major arms sales from the United States to Taiwan approved in summer 2019. The United States has currently committed to provide Ukraine with 1,400 Stingers. Although Taiwan's own purchased Stingers are not due for delivery until 2026, Taiwan's MND has reportedly expressed concerns that such competing demands might delay the promised delivery timetable.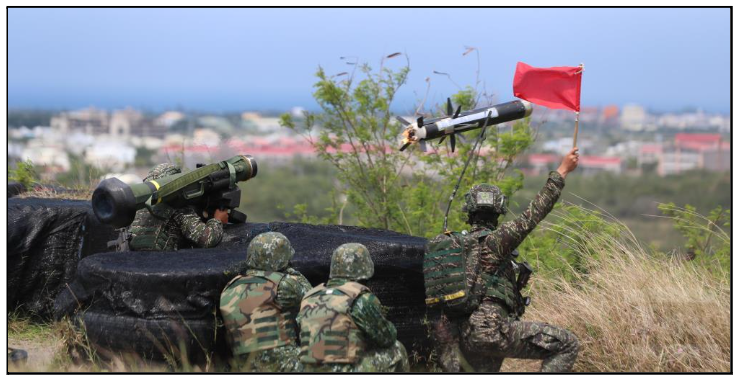 Further controversy has also emerged regarding the delivery of new artillery systems to Ukraine, and how this in turn might affect Taiwan. Artillery has proven to be a key factor in the Ukraine war, and NATO countries sympathetic to Ukraine have delivered (or pledged to deliver) a myriad of artillery systems from their own inventories. For its part, the United States has pledged to provide Ukraine with 90 M777 155mm howitzers. There has also been unconfirmed media speculation that the United States might decide to further provide Ukraine with units of the M109 Paladin, a self-propelled howitzer that offers superior mobility over vehicle-towed artillery pieces. Taiwan is itself a customer for the Paladin: in the Biden Administration's first major approved arms sale to Taiwan, in August 2021 the Pentagon announced a sale of 40 M109A6 Paladins (with an accompanying package of support vehicles and additional equipment) at an estimated cost of USD $750 million.
On May 2, Taiwan's MND indicated that Washington was projecting a delay in the Paladin delivery until at least 2026, unless the MND were to consider an alternate system instead. (The original timetable called for the ROC Army to take delivery of 8 Paladins in 2023, followed by 16 each in 2024 and 2025.) One such possibility might be the substitution of additional units of the High-Mobility Artillery Rocket System (HIMARS), which was itself the subject of another approved sale in October 2020 (for 11 HIMARS M142 launchers, 64 Army Tactical Missile Systems [ATACMS] M57 missiles, and supporting equipment). It is unclear whether the projected production delay is due to the war in Ukraine, but that would be a logical inference. Although no official decision has been made public, Taiwan's MND indicated in early May that it might consider such a substitution deal.
Finally, there is a possibility that production problems and competing requirements could present delays for what is by far the largest of Taiwan's arms purchases made in recent years: a 2019 purchase of 66 F-16C/D Block 70 fighter aircraft (and associated equipment) from the United States at a cost of USD $8 billion. Delivery of the jets—a generational centerpiece of efforts to upgrade the capacity of the ROC Air Force—is currently scheduled for phased shipments between 2023 and 2026, but could possibly face delays due to competing priorities to deliver fighter aircraft to Europe. In March, there was widespread (and often contradictory) speculation that Eastern European NATO members—with Poland mentioned by name—might transfer to Ukraine their Soviet-era MiG-29 fighter aircraft, with their own inventories to be backfilled by newly produced F-16s originally intended for Taiwan. (This rumored turn of events would have been ironic, as there was also unconfirmed reporting in January 2022 that US officials were exploring possibilities for expediting F-16 deliveries to Taiwan in the face of China's provocative flight activity near the island.) These rumors led to a denial by US defense officials that there was any plan to divert Taiwan F-16 production to another country. To date, no such potential transfer of aircraft—or shift in production timelines—has been made public, but it remains another source of potential uncertainty for Taiwan defense planners.
Production Delays and Supply Challenges
Even prior to the Ukraine War, some of these weapons systems were facing production challenges. Lockheed-Martin, the manufacturer of the F-16 fighter, shifted production from a facility in Fort Worth, Texas to a new plant in Greenville, South Carolina in 2017, reportedly with some attendant disruptions to established production processes. Despite this, the company had projected completion of the first new F-16 from the Greenville facility by the end of 2021. However, due to a reported COVID-related supply chain disruption of an unidentified "major subassembly of the aircraft built by a foreign supplier," in late 2021 the company shifted that projection to the fourth quarter of 2022, a year later than originally planned.
It is also likely that the current worldwide shortage of semiconductors, which is impacting industries from video gaming to automobile manufacturing, is also impacting production of many of these advanced weapons systems. President Biden indicated as much during the course of his May 2 visit to a Lockheed-Martin missile manufacturing plant in Troy, Alabama, noting that each Javelin missile contained more than 200 chips (and citing this as another example as to why America needed to boost its domestic semiconductor manufacturing capacity).
Finally, amidst supply chain disruptions and the crisis of the Ukraine War, Taiwan's timetables for receipt of purchased weapons also face competition from the US military itself. In regards to certain weapons systems—particularly Stingers and Javelins—US military stocks are being depleted in the effort to supply Ukraine, and senior US defense officials are facing pressure from members of Congress (and receiving additional supplemental funding) to replenish US military inventories. In testimony before the Senate Defense Appropriations Committee on May 3, Secretary of Defense Lloyd Austin pledged to maintain the US military's own minimal stockpiles, stating that "you can rest assured that I will not allow us to go below [minimum required levels] in critical munitions."
Amid such challenges, US defense contractors are seeking to respond to increased production demands. For example, on May 8 Lockheed-Martin CEO James Taiclet stated that his company had set a goal to nearly double Javelin production, from 2,100 to 4,000 units per year. Such an ambitious effort, if successful, could certainly alleviate shortages of—and competition for—the missile. Yet, if the war in Ukraine proves to be a protracted conflict, even such a dramatically increased rate of production might not be sufficient.
Conclusions
The likely delay in delivery of these weapons systems could affect Taiwan's defense planning in a number of areas. The delay in Paladin howitzer delivery, for example, could prompt the MND in the near-term to redeploy existing (and less capable) land-based artillery assets in order to better cover coastal areas and selected islands—and perhaps to consider the need for attendant changes in naval patrols, as well. Lower inventories of man-portable ATMs and MANPADS will raise the prospect of the need to more carefully husband these resources, and to potentially place greater weight on other (and potentially less effective) tactical options to cope with enemy armor and low-flying aircraft. If the F-16C/D Block 70 fighter aircraft deliveries were to be delayed, this could arguably have the greatest impact of all: by substantially limiting the ROC Air Force's aviation assets with which to respond to continuing provocative Chinese flight activity (such as a major incursion on May 6), and to thereby rely even more heavily on ground-based air defense assets.
Another noteworthy potential effect could be that Taiwan's defense planners might see foreign weapons purchases as unreliable—already an existing concern, following long years during which US approvals of arms sales were frequently denied or delayed due to concerns regarding Washington's relations with Beijing. Taiwan's current defense procurement strategy is placing increasing emphasis on indigenous production—particularly in terms of anti-ship and anti-aircraft missile systems—a trend that could receive even greater impetus if expected arms deliveries are significantly postponed in a way that negatively impacts the MND's force structure planning. The projected delays in weapons deliveries to Taiwan provide yet another example of how Russia's war of aggression in Ukraine is having strategic ripple effects far beyond Europe.
The main point: Taiwan has made a series of major arms purchases from the United States since 2019, including F-16 fighter jets, advanced field artillery systems, and hand-held anti-tank and anti-aircraft missiles. Delivery of some of these systems is likely to be significantly postponed, due to both production delays and the competing priority to supply weapons to Ukraine. This in turn could impact the force modernization efforts and defense planning of Taiwan's armed forces.
---
[1] To cite but one example, at the end of March the UK government indicated that it had committed to provide Ukraine with "over 4,000 NLAW [anti-tank missiles] and Javelin anti-tank systems, as well as committing to send Starstreak air defence systems and 6,000 new anti-tank and high explosive missiles." See: UK Ministry of Defense, "UK Convenes International Conference to Secure Military Aid for Ukraine," press release (March 31, 2022). https://www.gov.uk/government/news/uk-convenes-international-conference-to-secure-military-aid-for-ukraine.