Considering that Western media often unwittingly views Taiwan through Beijing's lens—even a recent BBC article parroted the classic Chinese Communist Party (CCP, 中國共產黨) narrative of Taiwan being a "breakaway province"—many hoped that Taiwan Plus would be a chance for Taiwan to finally take control over its own story. Launched in 2021, the English-language news platform was commissioned by the Ministry of Culture (MOC, 文化部) in order to "highlight to the world the island's diversity, democratic achievements and aspiration to contribute to the international community."  With the onslaught of CCP united front-produced propaganda designed to reframe the world through Beijing's views, Taiwan Plus could potentially be Taiwan's response, allowing the island to showcase its contrasting democratic credentials.
Democratic values are a central component of Taiwanese soft power. For instance, former Vice President Annette Lu (呂秀蓮) defined Taiwanese soft power as consisting of "human rights, democracy, peace, love, and high technology." Multiple scholars, including Gary Rawnsley and Ryan Hass, have also highlighted the importance of Taiwan's democratic values in its soft power attraction. Taiwan Plus has the opportunity to demonstrate Taiwan's commitment to democracy, not only by covering stories that depict Taiwan's vibrant civil society, but also by showing their own commitment to maintaining a free press. During the launch of Taiwan Plus, former CEO Joanne Tsai (蔡秋安) stated that, "Taiwan is not perfect. We will not attempt to beautify its flaws or cover them up." During the same event, Tsai stressed that Taiwan Plus was not a political entity or party apparatus, arguing that the Taiwanese public would object to their tax dollars being used to fund such an operation.
If Taiwan Plus truly wants to shape Taiwan's image on the international stage, then it will be essential for the platform to build up credibility with its audience. In doing so, it can help to showcase Taiwan's ongoing commitment to its democratic values—ultimately reinforcing the projection of Taiwanese soft power in both the content of the platform and its practices.
The Origins of Taiwan Plus and Its Governmental Ties
Taiwan's current media environment, like many facets of Taiwanese society, developed in response to the strict authoritarian controls imposed by the Kuomintang (KMT, 國民黨). Established by the Republic of China (ROC) in 1924 and later relocated to Taiwan in 1949, the Central News Agency (CNA, 中央通訊社) was the only permitted source of news during the early years of Chiang Kai-Shek's (蔣介石) rule in Taiwan. [1] Even as other news agencies were gradually permitted to operate, the KMT continued to control news media both directly and indirectly—either by controlling news agencies directly or by giving control of the agencies to loyal party members. [2] Other controls, such as licensing restrictions and martial law, restricted the development of new media and deterred journalists from publishing anything that opposed the government. Under the control of the Executive Yuan, the Government Information Office (GIO, 行政院新聞局) officially took charge of publication, motion picture affairs, television, and radio broadcasting in 1973. [3]
Restrictions on media only began to loosen as Taiwan began to democratize, which ultimately resulted in an explosion of independent media in the 1990s. Two new free-broadcasting TV stations were established during these years; Formosa Television in 1997, and Taiwan Public Television Service (PTS, 公共電視) in 1998. [4] A 2023 Digital News Report conducted by Reuters Institute and the University of Oxford found that PTS was among the most trusted news sources in Taiwan. This finding was corroborated by Reporters Without Borders, who declared that PTS "scores as the most trusted channel in Taiwan despite its small budget and low audience." Despite PTS' trust score of 55 percent—on par with Business Weekly and far above the overall nationwide trust score of 28 percent—PTS' weekly reach is only 13 percent offline and 10 percent online.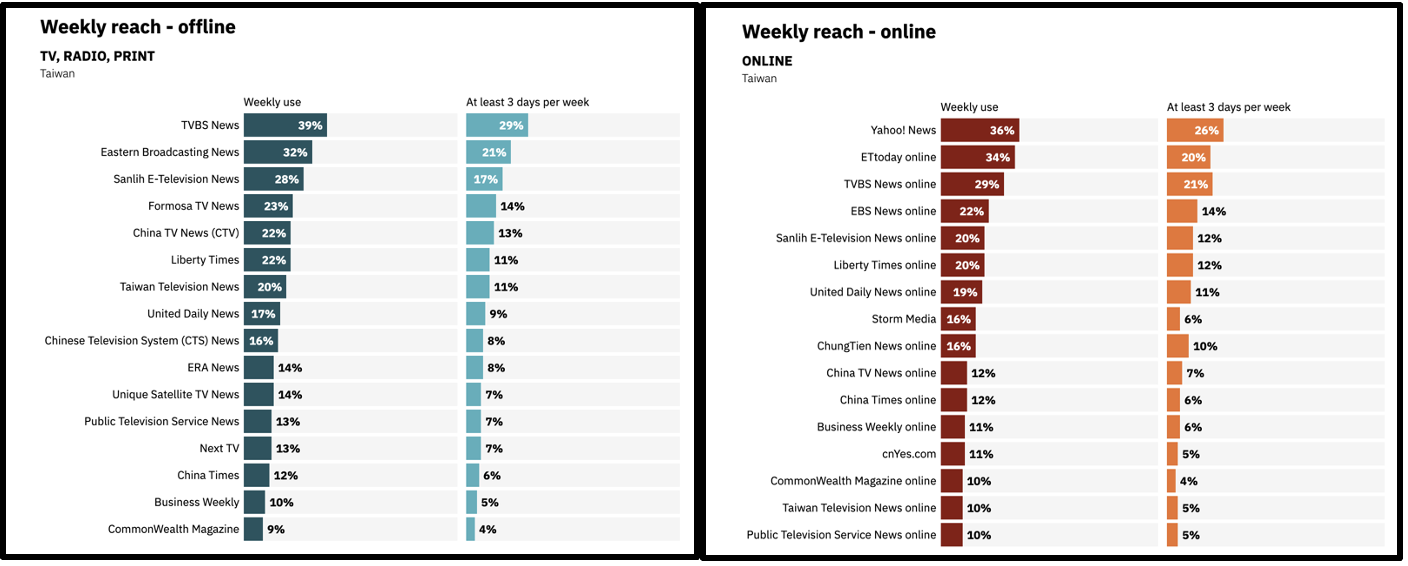 Graphic: The weekly reach of offline and online Taiwanese news sources. (Graphic source: Reuters)
Taiwan's subsequent rejection of regulation has led to other difficulties in the media environment. As noted in a previous Global Taiwan Brief article, business conglomerates with interests in China control large proportions of Taiwan's media landscape. Additionally, former Taiwanese journalist Li Wei-Ping noted in a recent event that obstacles facing Taiwan's present media landscape include: the lack of robust journalism practices and mechanisms to assure truthfulness and accountability; a low trust in Taiwanese media; and the opaqueness of social media algorithms. While the deregulation of Taiwanese media has led to a flourishing news environment, the commercialization of news comes with other factors that potentially undermine journalistic integrity. For instance, companies' business interests contribute to skewed reporting, while social media algorithms reward sensationalist stories.
The concept of Taiwan Plus was first mentioned in a governmental report in 2020. With a four-year funding allocation of NTD $5.8 billion (USD $181 million), this innovative platform was intended to enhance Taiwan's place in the global communication network, increase its international visibility, cultivate a distinct Taiwanese perspective in storytelling, and discover and encourage local talents to actively participate in international media production. Nevertheless, Taiwan Plus experienced significant growing pains in its early stages due to changes in leadership and management.
Initially, PTS was commissioned to execute the project. However, in July 2020, several board members raised their concerns about incomplete official procedures and the potential misuse of public media as a propaganda tool. This divergence of opinions resulted in the resignation of several PTS management members. In May 2020, the Ministry of Culture (MOC, 文化部) announced that CNA had been contracted to manage the project and officially branded the channel as Taiwan Plus. Nevertheless, in June 2022, with the conclusion of the CNA contract, PTS won the bid to begin running Taiwan Plus. Thus, controversy and tension during the initial phases made it difficult for Taiwan Plus to establish its legitimacy.
Recommendations for Building Credibility
Building a Reputation
As a relative newcomer to the industry, Taiwan Plus already faces an uphill battle in gaining credibility due to a lack of brand recognition. Based on 2021 findings by the Reuters Institute and the University of Oxford, respondents from the United States, the United Kingdom, India, and Brazil were more likely to trust news sources that they were already familiar with, and "trust" was often used as a shorthand for familiarity, likeability, and reputation. Viewed from this perspective, Taiwan Plus' partnership with the highly trusted PTS should bolster its reputation with the Taiwanese public. Additionally, as a new, well-funded initiative—in comparison, PTS only received NTD $900 million (USD $30 million) in government funding—Taiwan Plus could potentially amplify PTS' reach and impact.
Some legislators have raised concerns that Taiwan Plus might have a negative effect on PTS' reputation. For instance, during a 2022 debate, KMT Legislator Lin Yi-hua (林奕華) chastised then-Minister of Culture Lee Yung-te (李永得) for "extending the hand of the government into the media" (你把政府的手伸入到媒體裡面去!). Due to these concerns, Taiwan Plus' first contract was with CNA rather than PTS, as was originally planned. Considering PTS' high trust rankings in the aforementioned 2023 report, it does not appear that an association with Taiwan Plus has had any negative impact on PTS thus far.
Still, the benefits that PTS can bring regarding brand recognition may only materialize if audiences are already familiar with PTS. Even with PTS' support, Taiwan Plus will likely have a hard time winning over international audiences, particularly due to its largely online presence. Reuters and the University of Oxford found that respondents would seek out online news from brands they already knew, and had difficulty trusting and differentiating online news from unfamiliar sources. As a result, Taiwan Plus' usage of social media platforms such as Twitter, Instagram, LinkedIn, and YouTube could be both useful and detrimental for its branding—wading into social media allows Taiwan Plus to gain viewers who are not seeking out Taiwan Plus' content specifically, but that content will have to compete alongside other sources of information.
The influx of foreign correspondents from legacy media news sources is another potential source of competition for Taiwan Plus. In 2020, restrictive measures from Beijing and Washington led many foreign correspondents to leave China, with many settling in Taiwan. For global audiences, internationally known media outlets such as BBC, Wall Street Journal, and the New York Times are more familiar, and thus more trustworthy. However, trusted international sources could also benefit Taiwan Plus by acting as a yardstick for reporting that is unbiased by the Taiwanese government. As international readers try to determine if Taiwan Plus is biased towards the government, comparing the network's reporting to articles from other free media outlets can help readers determine its level of impartiality.
Reducing Government Intervention and Increasing Transparency
Government intervention (or at the very least, perceived intervention) has been the main point of concern when it comes to Taiwan Plus' credibility. Currently under the Government Procurement Act (政府採購法), the MOC must periodically hold a bidding process to determine which organization will be in charge of Taiwan Plus' contract. During the time that CNA controlled Taiwan Plus' contract, CNA attempted to make a clear distinction between the two agencies by giving Taiwan Plus a "separate staff, budget and editorial decisions from CNA." However, CNA still provided administrative support to Taiwan Plus, and the two were not regarded as separate legal entities. Considering that CNA is a state-owned agency and PTS is an independent public service broadcaster, Taiwan Plus' move from CNA to PTS would potentially lessen government involvement and make Taiwan Plus more independent.
Additionally, PTS is protected by law from government interference under the Public Television Act (公共電視法). While Taiwan Plus was not initially included in the Public Television Act, the act was modified in May to include Taiwan Plus—giving it extra protection from government interference and putting an end to the practice of having organizations bid for its contract. Under the Public Television Act, PTS and Taiwan Plus receive funding from the government, interest, and contributions from the public, among other sources. However, eventually Taiwan Plus could be funded (or mostly funded) by licensing fees collected from individual households, the same way that the BBC and Japan Broadcasting Corporation (NHK) get their funding.
Although Taiwan Plus' source of funding has drawn criticism, transparency—including transparency about funding sources—is an important factor in trying to produce independent media. Providing insight into the methods that Taiwan Plus uses could be another way of being transparent. For example, a study conducted by the University of Texas' Center for Media Engagement found that explaining the process behind stories that were printed in newspapers was an effective way of gaining the trust of their readers. In addition to clearly disclosing their finances, disclosing other parts of the process and linking biographies of their reporters online could help to further establish Taiwan Plus' credibility.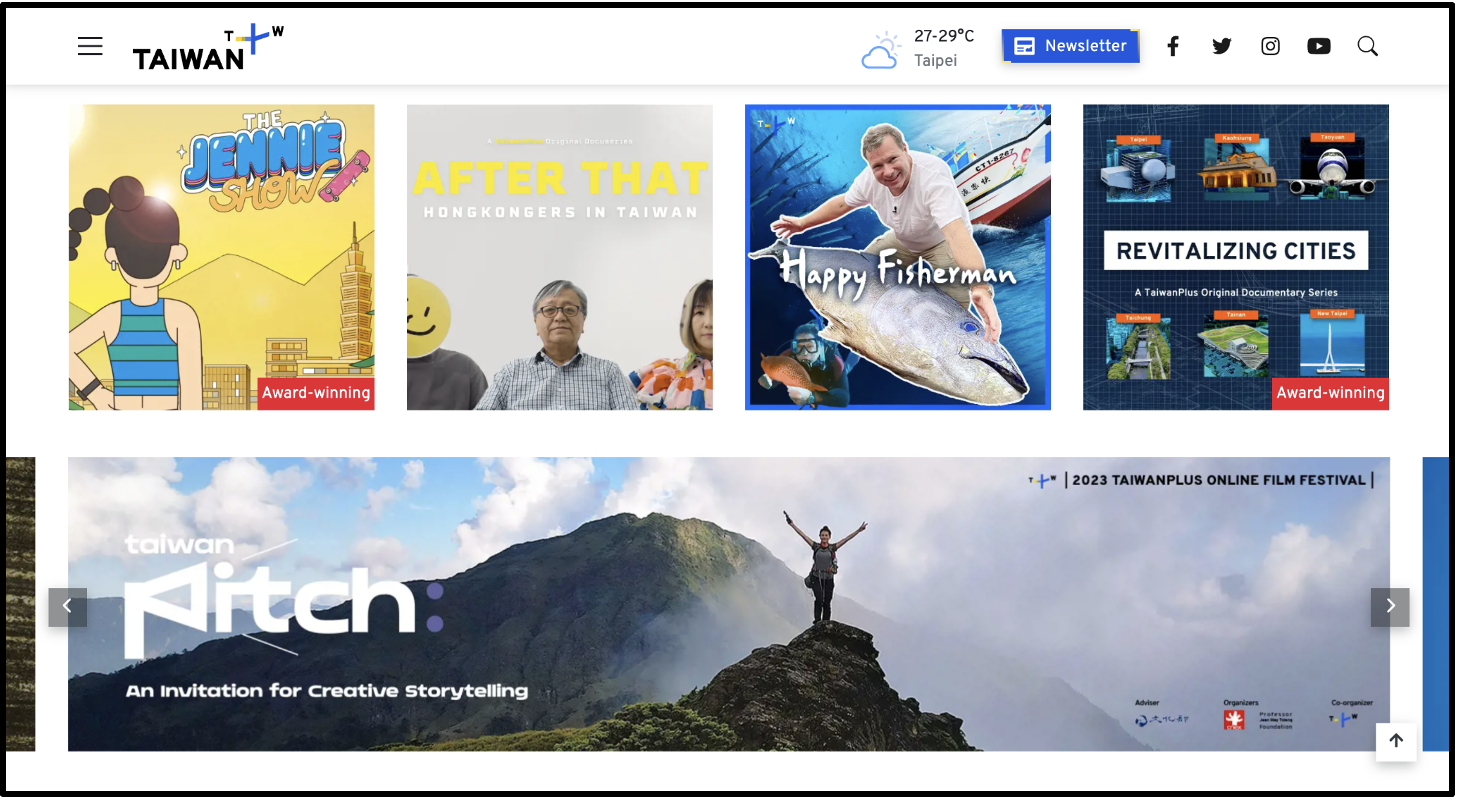 Image: A screenshot of Taiwan Plus' website depicting some of the featured programs. (Source: Screenshot taken by author.)
Sourcing a Variety of Perspectives
Along with transparency, prioritizing diversity is another way in which Taiwan Plus can improve trust in its platform. Studies have found that partisanship is often linked to distrust, and a report by the Aspen Institute found that diversity was important when both reporting news and when assembling a news staff. A cursory look at Taiwan Plus' current range of programs shows a variety of different perspectives: The Jennie Show (shown in the above screenshot) follows the story of a Taiwanese American girl living in Taiwan, while After That (also shown in the screenshot) consists of interviews with Hongkongers living in Taiwan. Additionally, They Chose to Stay, which follows the stories of foreigners who decided to settle in Taiwan, is an excellent way of giving foreign audiences a relatable lens through which to view Taiwan. As Taiwan Plus grows, hopefully even more viewpoints—including perspectives that are critical of Taiwan—will continue to be represented through its programs, especially as Taiwan Plus expands its TV channel to the United States.
The main point: For Taiwan Plus to be a successful counter to the CCP's propaganda efforts, it needs to generate credibility with international audiences by building a reputation for robust journalism, providing transparency, and giving a platform to a variety of perspectives. Moreover, the process of building credibility can showcase Taiwan's ongoing commitment to its liberal democratic values—ultimately reinforcing the projection of Taiwanese soft power in both the content of the platform and its practices.
The authors of this piece would like to thank Ya-Hui Chiu Summer Fellow Jonah Landsman for his research assistance.
---
[1] Winberg Chai, "The Transformation of the Mass Media in Taiwan since 1950: Introduction,"  Asian Affairs 27, no. 3 (2000): 133-140.
[2] Jens Damm, "Politics and Media," in Routledge Handbook of Contemporary Taiwan, ed. Gunter Schubert (New York: Routledge, 2016): 184-197.
[3] Ibid.
[4] Ibid.