In March, Taiwan, Japan, the United States, and the United Kingdom issued a joint statement on disaster cooperation at the close of the forum on "Partners in HADR: Awareness—Resilience—Action." The statement on partnering in humanitarian assistance and disaster relief (HADR) was issued on the 10th anniversary of the Great East Japan Earthquake that devastated northeastern Japan on March 11, 2011 and took approximately 20,000 lives. While the joint statement largely flew beneath the radar screen of the international media, this was a momentous step that could be consequential not only for Taiwan's international space but also substantially benefit the region as well.
Taiwan and the United States—both of whom contributed significantly to the response to the 2011 disaster—announced at the event that they would be launching a six month-long series of activities focusing on disaster cooperation. Notably, the program would come to an end on September 21, the 22nd anniversary of the Chi-Chi Earthquake (集集地震) in central Taiwan's Nantou County, which killed more than 2,400 people—and in the wake of which the Japanese and US governments provided financial support and/or the dispatch of humanitarian teams.
While the details and dates after March 2021 were not fully spelled out in the statement, the series of activities is meant to "expand our already robust cooperation in the HADR space, raise public and international awareness about Taiwan's outsized role in HADR efforts, and support activities that foster personal resilience within Taiwan's communities."
The first several weeks of activities include workshops on capacity-building between Taiwan and the United States, followed by resilience-building webinars. The first and last sessions will involve Japan and the United Kingdom. Unfortunately, from the statement, many elements of the agreement remain unclear—including who will be invited to speak and to attend, the degree of expertise of the speakers and attendees, the length and scope of the discussions, the method of disseminating the results, and the after-action plans. Nevertheless, it is an important first step.
The statement notes that in addition to seeking expanded bilateral cooperation between Taiwan and the United States, the two countries would "work with Japan, the United Kingdom, and other partners through the Global Cooperation and Training Framework (GCTF) and other platforms to share [their] experience and expertise in the field of HADR."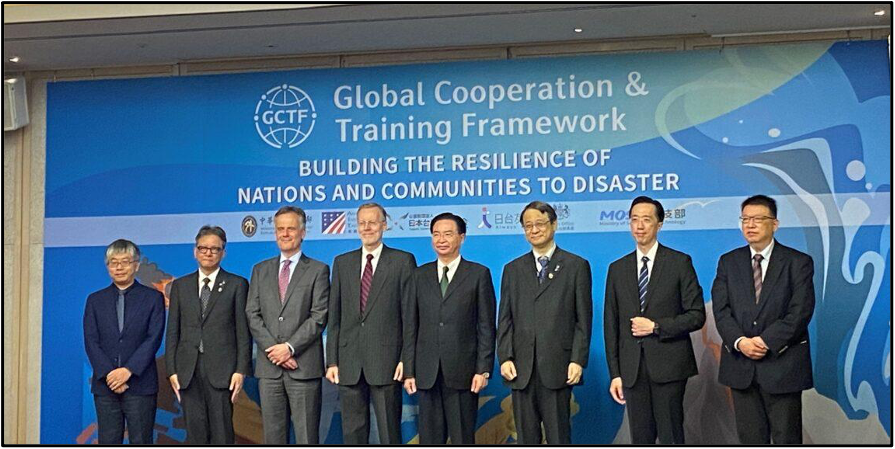 Disaster response is inherently an international operation. It is not just one nation that is impacted by a disaster, but many. Indeed, a whole region or the world as a whole can be affected. Aside from the humanitarian tragedy, which usually also involves the citizens of other countries who may be working, studying, residing, traveling, or vacationing in the stricken nation at the time, economies and their supply chains are inevitably disrupted and governments and/or first responders are placed under enormous pressures. Thus, deepening and expanding regional and global cooperation, especially in HADR, is vital.
Disasters are not just earthquakes and tsunami. They can include volcanic eruptions, typhoons, heavy rain and mudslides, and wildfires. Australia recently experienced horrific wildfires, and it is likely that other countries will increasingly see them happen as global temperatures continue to rise, and conditions grow drier. The Philippines, on the other hand, is situated directly in the Pacific Ocean's "Typhoon Alley" and gets hit annually, causing mudslides and devastating floods. Further, it has experienced numerous volcanic eruptions, a challenge shared by Japan and other countries in the region—including Taiwan, which recently determined the Tatun Volcano Group (大屯火山群) and Guishan Island (龜山島) to be active volcanoes, and discovered that Taipei's Yangmingshan National Park (陽明山國家公園) also has a volcanic pulse.
Two countries that would have made ideal partners in this endeavor from the outset are Australia and the Philippines. Australia, for example, played an important role during Operation Tomodachi—the US-led relief efforts after the March 2011 earthquake in Japan—providing air support and other needed assistance, much like they did 65 years before in the aftermath of the Showa Nankai Earthquake and Tsunami of 1946. [1]
Similarly, the Philippines, with its wealth of experience in responding to disasters and community resilience at the local level, has much to teach Japan. I especially noticed the Philippines' potential following one of several international workshops I took part in there on behalf of the Japan-based international non-governmental organization, the Asia-Pacific Alliance on Disaster Management (APAD), for which I served as an advisor. (APAD is a six-country partnership that responds quickly—in most cases faster than the host governments can—to disasters using its public-private partnerships and networks. While not an official member, Taiwan also has close ties with APAD.) Touring southern Luzon and meeting with local citizens, non-profit organizations (NPOs), and officials, I saw how the Philippines was clearly ahead of Japan in many areas in terms of developing local resiliency and expertise.
For these and other reasons, I recommended shortly after the Kumamoto Earthquake (April 2016) that important islands, as well as airfields and ports along the First Island Chain, be made into disaster response hubs whose use could be shared by Japan, the United States, the Philippines, and Taiwan. The Japanese version of the proposal was published by the Sankei Shimbun (in June 2016) and the English version followed in the Taipei Times in May 2019.
These proposed hubs would start at Marine Corps Air Station Iwakuni (Yamaguchi Prefecture, Japan) and continue along the Maritime Self-Defense Force's Kanoya Air Base (Kagoshima Prefecture), followed by Amami Airport (also in Kagoshima), Marine Corps Air Station Futenma (Okinawa Prefecture), Shimoji Shima Airport (also in Okinawa), a location in northern Taiwan, a location in southern Taiwan, Clark International Airport in the Philippines—which already has the state-of-the-art Emergency Operations Center of the Philippine Disaster Resilience Foundation—and a second location in the southern Philippines (perhaps in Mindanao or a reconstructed Marawi City). The hub concept could even extend to Indonesia, Singapore, and Malaysia, which also experience natural disasters and are vulnerable to the effects of regional disaster events.
In recent years, disasters have become so large and destructive in scale that one nation cannot deal with a tragedy by itself; collaboration across sectors and nations has become increasingly crucial. I stressed that the earlier these hubs were established—the space for them already exists—the earlier the habits of cooperation could begin.
I have argued, as well, that the hub concept would help Taiwan's international and regional standing as it engages at the forefront of humanitarian assistance and disaster relief efforts. In this regard, the initiative taken by Taiwan and the United States as "Partners in HADR" is undeniably worthy of praise. Notably, the collaboration grew out of GCTF, a platform established in June 2015 by Taiwan and the United States to "utilize Taiwan's strengths and expertise to address global issues of mutual concern."
Because Taiwan is so advanced in so many different areas, we can speak of a "Taiwan Model," as American Institute in Taiwan Director W. Brent Christensen did at the series launch workshop on March 10.
Over the past six years, Taiwan, led by President Tsai Ing-wen (蔡英文)—recognized as one of last year's most influential female leaders—has successfully battled COVID-19, and hosted approximately 30 workshops on women's empowerment, public health, law enforcement cooperation, cybersecurity, media literacy, e-commerce, and HADR, which have seen more than 1,800 people from 70 countries participate. Under the GCTF, Taiwan and the United States will co-host the training programs. Not only does this allow for the enhancement of multilateral cooperation and the strengthening of capacity building, but it will facilitate Taiwan's ability to develop partnerships with other countries and expand its international presence.
There is no better field to do this in than HADR, an area all countries have to improve upon as we prepare for whatever future disaster, natural or man-made, awaits us. As was made clear in an earlier Global Taiwan Institute report ("Taiwan's Disaster Preparedness and Response: Strengths, Shortfalls, and Paths to Improvement") by disaster expert and former US Federal Emergency Management Agency official Leo Bosner, even Taiwan has much to learn. By hosting this series of events, Taiwan is showing that it wants to learn and improve, and to do so with others.
It will be exciting to see the results of the series of activities, including the final report following the last session in September, entitled "Building the Resilience of Nations and Communities to Disasters." Hopefully this series will become a recurring event, and the number of participating countries—currently 35—grows.
The main point: Building on the successful Global Cooperation and Training Framework, Taiwan and the United States recently launched a new initiative in the area of humanitarian assistance and disaster relief, which will also involve Japan and the United Kingdom. This will not only grow the international space for Taiwan, but also deepen the level of expertise in Taiwan and the region. This should not only become a recurring event, but other ways to expand Taiwan's role in this field should also be explored—such as through shared disaster response hubs and involving more countries in the co-hosting of the training program.
---
[1] Eldridge, Robert D. Before Operation Tomodachi: Four Cases of Bilateral Disaster Cooperation and American-Japanese Friendship in Postwar Japan. Reed International, 2018.