In recent years the US media has increasingly reported on Taiwan, often in terms of drawing parallels with the war in Ukraine—to include speculating whether China will invade, and publicizing the role of Taiwan's semiconductor industry. Simultaneously, US-Taiwan relations have reached significant milestones, including Secretary of State Antony Blinken encouraging other United Nations members to support Taiwan's participation in the international system; House Speaker Nancy Pelosi's August 2022 visit to the island; the United States announcing a USD $345 million military aid package for Taiwan; and US President Joseph Biden signing into law a bill approving the first stage of a US-Taiwan trade agreement. Journalists have also begun to offer more nuance when discussing Taiwan, rather than simply referring to Taiwan as a "renegade province" of the People's Republic of China (PRC). There is more coverage of both Taiwanese and Taiwanese American viewpoints, including issues connected to the 2020 US Census and Pew Research Center reports (see further discussion below), which helps to highlight the complexities of Taiwanese identity and history. In light of these shifting tides, has a distinct Taiwanese American identity coalesced? If so, what effect has it had on US media reporting on Taiwan? What impact does the Taiwanese American voice have on US-Taiwan relations and policy considerations?
To answer these questions, I launched a survey in both English and Mandarin to better understand what factors influence Taiwanese Americans to self-identify as such. [1] I also examined trends in US-Taiwan relations and policies to determine whether they correlate with recognition of a Taiwanese American sense of identity. This article presents my preliminary findings from the first 685 survey respondents, 71 percent of whom were born in Taiwan, 27 percent in the United States, and 2 percent elsewhere. [2] Respondents' birth years spanned from 1930 to 2011. 58 percent spoke Tâi-gí as their predominant language at home, followed by 36 percent who spoke Mandarin, 14 percent who spoke English, 4 percent who spoke Hakka, and less than 1 percent who spoke an Indigenous language. [3] Outside the home, English was the predominant language spoken by 51 percent of respondents, followed by Mandarin (29 percent) and Tâi-gí (18 percent).
84 percent of the respondents indicated they have always identified as Taiwanese American. US citizenship was the top reason selected for embracing American identity, followed by adherence to American culture, immigrating to the United States, education in the United States, American values, and obtaining English-language proficiency. The top factors cited for embracing Taiwanese identity included a belief in the Taiwanese right to self-determination, Taiwanese food, birthplace in Taiwan, ancestral lineage in Taiwan prior to 1949, and Taiwanese cultural practices.
Those who have not always identified as Taiwanese American noted factors such as the following contributed to their identity evolution: becoming a naturalized US citizen; joining community groups such as the Taiwanese American Professionals, Taiwanese American Citizens League (TACL), and Taiwanese Association of America; increased education and understanding about family, geopolitical, and Taiwanese history; and spending time in the PRC and experiencing firsthand the cultural differences between that country and Taiwan. Some of these individuals now claim a Taiwanese identity—even in cases where their family members arrived in Taiwan with the Nationalists (Kuomintang, 國民黨), and accordingly identify as Chinese.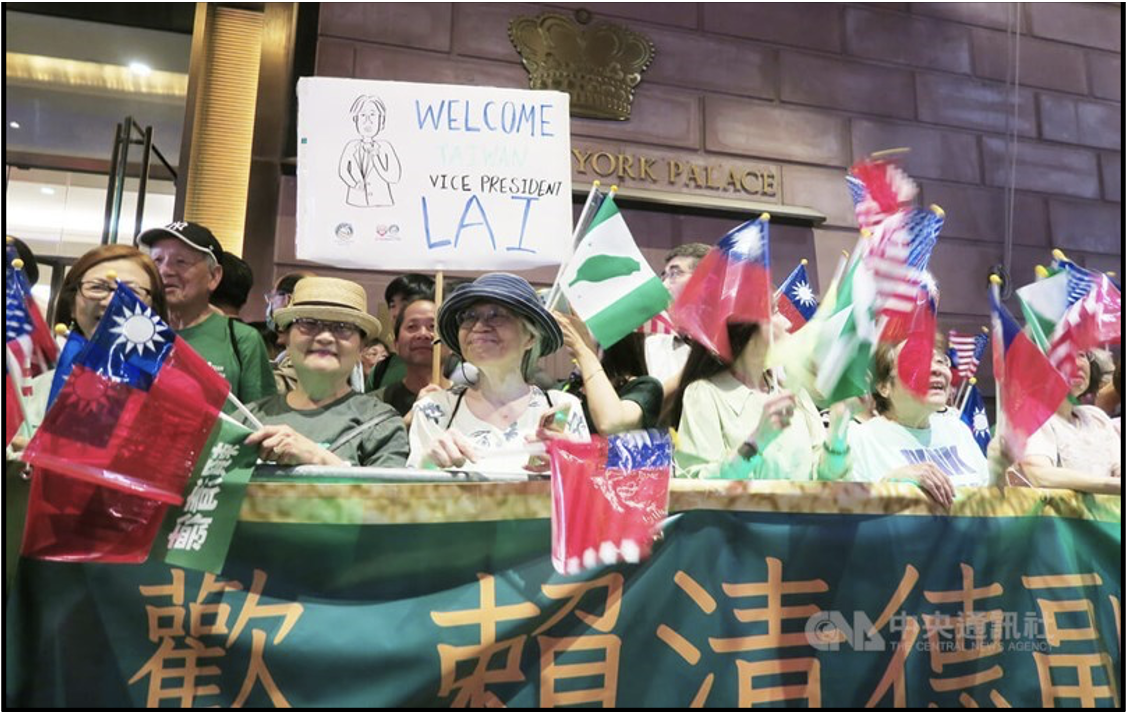 Image: Taiwanese Americans in New York hold a demonstration to welcome Taiwan Vice President Lai during his transit stop through the city (August 12, 2023). (Image source: CNA)
In addition to being Taiwanese American, approximately 25 percent of respondents also identified as Chinese American. [4] Proficiency in the Mandarin language; familiarity with Chinese food, cultural practices, and traditions; and being raised with Confucian values were the top factors attributed to their Chinese identity. To a lesser extent, respondents who also identify as Chinese indicated that having family who fled mainland China with the Nationalists, and having at least one parent who identifies as Chinese, influenced their sense of Chinese identity.
The top factor noted as a unique challenge for those solely identifying as Taiwanese American is the conflation of Taiwanese with Chinese. These individuals view being Taiwanese as completely distinct from Chinese heritage and ethnicity, with different burdens and values rooted in Taiwan's unique history, as well as its civic identity as a democracy. A common sentiment amongst Taiwanese Americans is the feeling of being a minority within a minority. Respondents linked this feeling to several factors: Taiwan lacks broad international recognition, and does not have a seat at the United Nations; the US Census omits Taiwanese as a racial category; and some may dismiss the notion that a separate Taiwanese identity exists, insisting that it is synonymous with the Chinese identity. Other challenges experienced by Taiwanese Americans include: cross-Strait issues; misinformation about Taiwan; the difficulty in preserving Indigenous languages, Hakka, and Tâi-gí; the many nuances of the term "Taiwanese;" conflating Taiwanese with Thai; and struggles with identity issues.
Historically, the US government has conflated the Republic of China (ROC) and the PRC, and has issued identity documents with erroneous place of birth (POB) information to some Taiwan-born individuals. For example, the US government has issued naturalization certificates and passports to some individuals born in Taiwan with their POB listed as "China," "People's Republic of China," or "Taiwan, China." This has resulted in some US-born children being issued birth certificates with their parents' birthplace inaccurately listed as "China."
Some individuals with US identity documents issued with China as their POB without their consent felt they had no choice but to accept being Chinese American to maintain consistency with their documentation. Some checked the "Chinese" box for race on the US Census because "Taiwanese" was—and still is not—a pre-populated option, despite advocacy from TACL and other Taiwanese American groups. Instead, Taiwanese must check the "Other" box and take the additional step to write in "Taiwanese."
TACL's "Write-In Taiwanese" campaigns, which began with the 1990 US Census, have empowered some individuals to cease identifying as Chinese in favor of Taiwanese. Advocacy by  the FormosanAssociation for Public Affairs (FAPA) also resulted in the State Department clarifying that while the United States recognizes the PRC as the sole government of China, applicants born in Taiwan may choose whether their POB is "China" or "Taiwan," but that it is inappropriate to use "Taiwan, China," "Taiwan, Republic of China," or "Taiwan ROC."  
In April 2021, Pew published reports on Asian American communities, aggregating data for "Taiwanese" with "Chinese." The Taiwanese American community responded by requesting that Pew apologize and re-publicize its findings separating Taiwanese from Chinese. Pew issued a subsequent report claiming that determining the number of Taiwanese living in the United States is not a straightforward matter. In a 2023 report, Pew maintained that measuring the identity of Taiwanese Americans is a "challenging endeavor," and their surveys only classify respondents as Taiwanese American if they hold it as a singular identity (and not, by contrast, if they also self-identify as Chinese or another identity). This method also undercounts and underrepresents the Taiwanese American population. However, while long overdue and imperfect, Pew's more recent reports nevertheless acknowledge Taiwanese American as a separate identity from Chinese American.
As revealed by US Census data, the US State Department's recognition of China or Taiwan as a legitimate POB for people born in Taiwan, and the responses to my survey, some individuals in the United States with ties to Taiwan consider themselves singularly Taiwanese American or Chinese American, while others embrace both identities. For some, their journey to identifying as Taiwanese American has evolved over the years, alongside changes in US policy and support from the Taiwanese American community.
The coalescing around a Taiwanese American identity has raised the profile of the community and seems to influence how the US media portrays Taiwanese Americans and issues related to Taiwan. As more Taiwanese Americans reject being othered or being subsumed under another identity imposed upon them, there appears to be increased recognition in the United States of Taiwan's contributions to the international community. Bipartisan support for Taiwan has also garnered attention, raising the visibility of the island and the importance of strengthening relations between the United States and Taiwan.   
The main point: Factors impacting why people self-identify as Taiwanese American and what it means to each individual may vary, but there appears to be a convergence around Taiwanese American as an identity–despite the existence of different ancestral lineages among those hailing from Taiwan. As illustrated by FAPA's advocacy regarding Taiwan as a POB, TACL's "Write-in Taiwanese" census campaign, and the Taiwanese American community's response to Pew surveys, the Taiwanese American voice is critical in uplifting their identity and in changing the narrative on US policy positions. 
---
[1] Both surveys will remain open for the foreseeable future.
[2] The data from both surveys (239 Mandarin and 446 English) are on file with the author and are presented in the aggregate. Special thanks to Michael Lin for his assistance in data analysis.
[3] Tâi-gí (臺語) is often referred to as Taiwanese or Hokkien.
[4] Note that the English survey asks if an individual also identifies as "Chinese," but the Mandarin survey asks if they identify as huaren (華人, ethnically Chinese). 24.9 percent of English survey respondents also identified as Chinese, and 29.6 percent of Mandarin respondents identified as ethnically Chinese.