Thursday, March 31, 2022 from 9:00AM-10:00AM (ET)
Webcast Only
Event Description:
The Global Taiwan Institute (GTI) is pleased to invite you to a virtual conversation with Ryan Hass on his new book, Stronger: Adapting America's China Strategy in an Age of Competitive Interdependence. For the better part of two decades, the United States has watched the People's Republic of China's rise with growing anxiety. An authoritarian state with expansive geopolitical ambitions, China undoubtedly poses significant challenges for the US and its Western allies. However, recent events have demonstrated that unbridled US-China competition may not be feasible. In a world beset by transnational challenges such as pandemics, climate change, and nuclear proliferation, neither side can afford to act in isolation. Instead, the US must work to develop a novel approach to its ascendant rival, balancing geopolitical competition with selective cooperation. In Stronger, Hass provides a comprehensive roadmap for such an approach. In doing so, he lays out a path forward for a new "age of competitive interdependence."
This event will be moderated by GTI Executive Director Russell Hsiao.
The event webcast will be broadcast live on our website and YouTube on Thursday, March 31 at 9:00 AM (ET). Register for the event here. Questions for the panel may either be sent by e-mail to contact@globaltaiwan.org or through the chat function on the YouTube page. Questions submitted by registered audience members will be prioritized.
The Author:
Ryan Hass is a senior fellow and the Michael H. Armacost Chair in the Foreign Policy program at Brookings, where he holds a joint appointment to the John L. Thornton China Center and the Center for East Asia Policy Studies. He is also the Chen-Fu and Cecilia Yen Koo Chair in Taiwan Studies. He was part of the inaugural class of David M. Rubenstein fellows at Brookings, and is a nonresident affiliated fellow in the Paul Tsai China Center at Yale Law School. Hass focuses his research and analysis on enhancing policy development on the pressing political, economic, and security challenges facing the United States in East Asia. From 2013 to 2017, Hass served as the director for China, Taiwan and Mongolia at the National Security Council (NSC) staff. Prior to joining NSC, Hass served as a Foreign Service Officer in U.S. Embassy Beijing, where he earned the State Department Director General's award for impact and originality in reporting, an award given annually to the officer whose reporting had the greatest impact on the formulation of U.S. foreign policy. Hass is the author of Stronger: Adapting America's China Strategy in an Age of Competitive Interdependence (Yale University Press, 2021), a coeditor of Global China: Assessing China's Growing Role in the World (Brookings Press, 2021), and of the monograph, The Future of US Policy toward China: Recommendations for the Biden Administration (Brookings, 2020). He also leads the Democracy in Asia project at the Brookings Institution.
The Moderator:
Russell Hsiao is the executive director of GTI, senior fellow at The Jamestown Foundation, and adjunct fellow at Pacific Forum. He is a former Penn Kemble fellow at the National Endowment for Democracy and visiting scholar at the University of Tokyo's Institute for Advanced Studies on Asia. He previously served as a senior research fellow at The Project 2049 Institute and National Security fellow at the Foundation for Defense of Democracies. Prior to those positions he was the editor of China Brief at The Jamestown Foundation from October 2007- to July 2011 and a special associate in the International Cooperation Department at the Taiwan Foundation for Democracy. While in law school, he clerked within the Office of the Chairman at the Federal Communications Commission and the Interagency Trade Enforcement Center at the Office of the US Trade Representative. Hsiao received his J.D. and certificate from the Law and Technology Institute at the Catholic University of America's Columbus School of Law where he served as the editor-in-chief of the Catholic University's Journal of Law and Technology. He received a B.A. in international studies from the American University's School of International Service and the University Honors Program.
Event Summary:
On March 31, 2022, the Global Taiwan Institute (GTI) hosted a virtual book talk with Ryan Hass on his new book, Stronger: Adapting America's China Strategy in an Age of Competitive Interdependence. GTI Executive Director Russell Hsiao interviewed Hass and moderated the discussion.
To begin, Hass discussed the growing fear of China in Washington, and indicated that the United States is a strong country that should take a more measured view of US-China relations rather than seeing China as an urgent threat. While agreeing that the relationship between the United States and China is competitive, Hass noted that there is also a great deal of interdependence between the two countries. Due to this interdependence, efforts to weaken China will end up damaging the US, and vice versa. For instance, Hass argued that former President Donald Trump's trade war with China actually worsened conditions for Americans—the taxes levied on individuals increased due to tariffs, over 3,000 jobs were lost, and US gross domestic product (GDP) decreased—without significantly affecting China's economic growth. Hass added that the goal of diplomacy is achieving progress, not to achieve absolute victory over other countries.
Addressing the US' top priorities regarding China, Hass noted that building security, having an open market, and ensuring human rights are essential. Hass stated that the goal for the United States should be for China to channel its power into areas that address global challenges that both nations face. Pointing out that 60 percent of global GDP is in Asia, Hass argued that the world is currently in a phase of power transition and Asia will play an increasingly important role in the international system moving forward. However, since neither the United States nor China is likely to support each other's initiatives, regional and global organizations in which both countries are members can provide a venue for cooperation.
Taking into account potential criticisms, Hsiao raised the point that some may see the idea of cooperation between the United States and China as an outdated strategy that has already been proved ineffective through the apparent failure of convergence theory. In response, Hass emphasized that he does not presume that the United States or China will change each other, but that the United States should continue to focus on its strengths to achieve the goals it sees as vital. He further added that the world is already reacting to China's ambitions of becoming a hegemonic power, making it highly unlikely that China will be able to achieve its goal. However, there are still situations that could potentially result in conflict: one of which is if China decides to challenge US security commitments to Asia, and the other would be if there was an unplanned incident that spiraled out of control.
When addressing how Taiwan can fit into this framework, Hass noted the deep sympathy that the United States feels for Taiwan, and Taiwan's strategic importance for the United States, as important starting points for discussion. Overall, the US' main goal is still to achieve peace and stability within the Indo-Pacific region, and while this may force the United States to tackle difficult tasks, it must still continue to develop the capacities to deter China from invading. Hass believes that establishing a timeline would be uncharacteristic of Xi Jinping. Instead, Hass predicted that Xi is likely to use force against Taiwan if Beijing believes that invasion is the only path left for them; or if Beijing believes that it has increased its military power enough that China can take Taiwan by force with minimal risk.
Regarding US influence on cross-Strait relations, Hass emphasized that the United States has a substantial influence. When considering if the United States should pursue strategic clarity or ambiguity, Hass stated his belief that China already assumes that the United States will interfere in the case of an invasion of Taiwan. Therefore, Hass argued that the best position for the United States to adopt on cross-Strait relations would be to follow President Theodore Roosevelt's words and "speak softly and carry a big stick."
During the Q&A period, Hass talked about the "myth of American exceptionalism;" areas for cooperation between the United States and China; "critical" industries that might need to be shifted away from China; and the possibility of China putting a blockade into place, and how that should be countered.
This summary was written by GTI Spring 2022 Intern Adrienne Wu.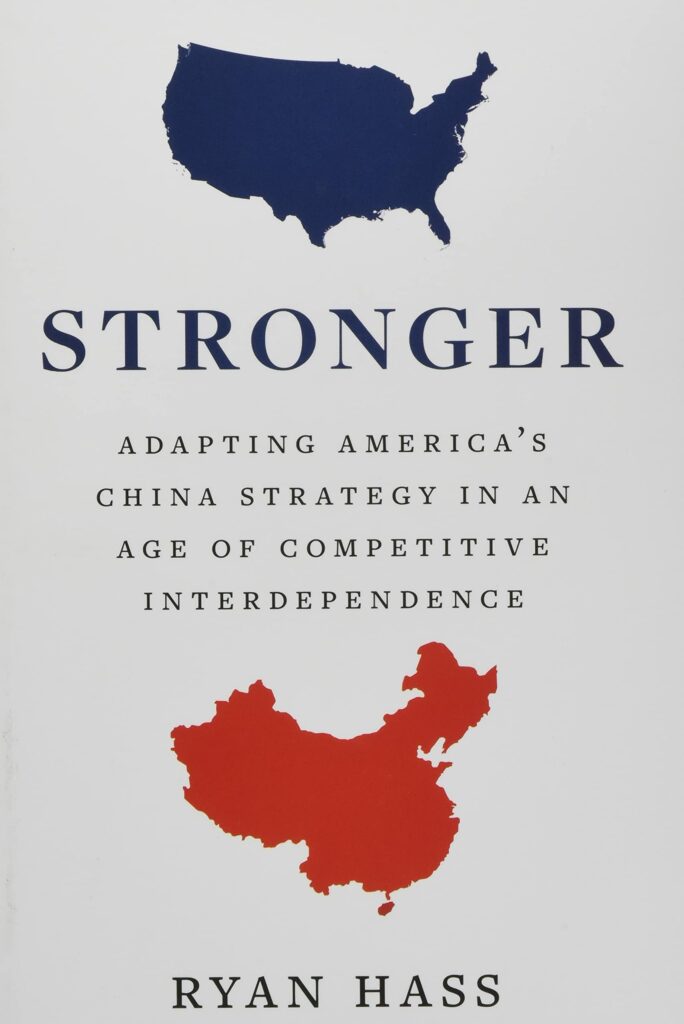 ---
To receive all our updates directly in your inbox you can subscribe by pressing the button below.