Political Warfare Alert: China Using United Front Work Department to Conduct Espionage in Taiwan
On December 3, prosecutors in Tainan on the southern coast of Taiwan charged the chairman of the Workers Party (工黨, also known as the Labor Party), Cheng Chao-ming (鄭昭明), and his son, Lt. Col. Cheng Chih-wen (鄭智文), who previously served in the Missile Command of the Taiwan military for violating the country's National Security Act (國家安全法). The charges are associated with the two persons' activities that span over a decade in which the culprits were allegedly spying on behalf of the Chinese Communist Party (CCP). While efforts by China to develop spy rings in Taiwan are nothing new—there have been many high profile cases in recent years—this case clearly reveals a method that China uses to conduct its espionage activities that was previously unknown or unclear at best. Indeed, the CCP appears to be using the United Front Work Department (UFWD), at least as a cover if not as an independent operational unit, to conduct espionage activities against its intelligence targets.
United Front is a tool for political warfare that involves the use of non-kinetic instruments to organize and mobilize non-CCP masses in pursuit of the Party's domestic and foreign policy objectives. According to a declassified study conducted by the Central Intelligence Agency, United Front is a "technique for controlling, mobilizing, and utilizing non-Communist masses." Since the CCP was founded in 1921, the Party has used United Front as an organizing principle to establish a foothold among the masses, exploiting conflicts within society to undermine the influence of its adversaries, defeat warlords, gain support of the victims of Japanese aggression, and aid in the seizure of state power. After forming the PRC government in 1949, the CCP has employed the United Front to extend its control over non-Communist masses and to mobilize these masses to shore up its domestic legitimacy and undermine threats to state security. According to Professor Anne Marie-Brady: "United Front activities incorporate working with groups and prominent individuals in society; information management and propaganda; and it has also frequently been a means of facilitating espionage."
The Workers Party in Taiwan was established in 1987 and its founding chairman is Wang Yi-hsiung (王義雄). Cheng senior—the party's current chairman—is the first leader of a political party in Taiwan to visit China in 1991 after the opening up of cross-Strait relations in the 1980s. Cheng also serves as the chairman of the Taiwan Cross-Strait Relations Promotion Association (台灣兩岸關係促進會) and the vice chairman of Taiwan Hundred Surnames Cultural Exchange Association (台灣百姓文化交流協會). In April 1991, at the invitation of the Chinese People's Political Consultative Conference (CPPCC)—the highest level entity overseeing the CCP's United Front system—Cheng visited China in his capacity as head of the Workers Party. In addition to these associations, Cheng also serves as the chairman of the Cheng Family Temple in Tainan (台南鄭氏家廟), which reportedly seeks to unite the Zheng Clan in Taiwan and abroad, and study the history of clan's history in Taiwan.
The Taiwan Hundred Surnames Cultural Exchange Association co-organized the 10th annual Straits Hundred Surnames Forum (海峽百姓論壇) in 2018. The Forum started in 2008 during the first term of the previous Ma Ying-jeou administration. Held in Hsinchu, the event was co-organized with the China-based Fujian Family Surname Research Association (福建姓氏源流研究協會). Wu Rongyuan (吳榮元), the chairman of the Taiwan Hundred Surnames Cultural Exchange Association is also the current chairman of the Taiwan Labor Party (勞動黨)—not to be mistaken with Cheng's Workers Party (工黨).
According to the Tainan prosecutor's office, the father and his son, who was then a staff officer at the Combined Logistics Command of the ROC Ministry of Defense, were invited to travel to Japan in November 2009 (a year after the Hundred Surnames Forum began) at the request of a Chinese official who identified himself as an official from the Fujian provincial UFWD. The Chinese official allegedly gave Lt. Col. Cheng $1,000 in cash and paid for his flights. The meetings continued and in October 2010 the father and son travelled to Singapore to meet the UFWD official and others again. According to Liberty Times, in these meetings, the UFWD official made reference to a "Beiping Model" (北平模式) that ostensibly referred to the strategy that the CCP used in 1949 to encourage the surrender and eventual defection of General Fu Zuoyi (傅作義) of the Nationalist Army, who commanded a strategic garrison around Beijing during the civil war, to give up the city to Communist forces without armed resistance.
After Lt. Col. Cheng retired from the Taiwan military in 2013, the Chinese agent again asked him to introduce active-duty Taiwan military officers; and, in December 2016, Lt. Col. Chen invited his friend, Lt. Col. Chen Sheng-yu from Taiwan's military police command, to Malaysia and then to Vietnam (as recent as July 2018) to meet Li and his superiors. During the meeting, Lt. Col. Chen reportedly agreed to follow the "Beiping Model" and received $10,000 in cash and other gifts. In February this year, Lt. Col. Cheng used a Chinese communication software to transfer the latest, presumably classified, military personnel appointments to the UFWD official.
In the preliminary analysis, it is plausible that United Front has an independent intelligence collection function given its control over and access to a vast array of exchange platforms and potential targets. It seems more likely, given capacity and capabilities issues of the UFWD, that it is being used as a cover for the other better equipped intelligence agencies, namely the Ministry of State Security (MSS) or the People's Liberation Army (PLA). In this particular case, given the apparent focus on military targets, it seems likely that the PLA General Political Department's Liasion Department, which has been reorganized to the Central Military Commission Political Work Department, may be the primary operator of this agent.
The main point: A recent spy case reveals that the CCP is using the United Front Work Department, at least as a cover if not as a primary channel, to conduct espionage activities against its intelligence targets.
---
The Testcase of US-Taiwan Cooperation in South America: Paraguay
Since even before Tsai Ing-wen became president of Taiwan in May 2016, Beijing has broken off the so-called "diplomatic truce" between Taipei and Beijing and eventually poached seven of Taiwan's diplomatic partners in less than four years. [1] Taiwan now only has 15 diplomatic partners from the 22 that the island-democracy had when Tsai was elected as president in January 2016. Nine of these remaining diplomatic partners are in Latin America and Caribbean, with only one ally in South America. The landlocked South American republic of Paraguay has maintained diplomatic ties with Taiwan since 1957—and its defense minister just recently visited Taiwan for a military exchange. Despite the apparent advancement of ties on the surface, Asunción has—for some time now—been on the fence about maintaining its longstanding diplomatic ties with Taiwan.
During the Ma Ying-jeou administration (2008–16), Taipei and Beijing reached a diplomatic détente. While Taipei did not gain any new diplomatic allies, Beijing reportedly refused offers of formal recognition from four countries with diplomatic relations with Taiwan: the Dominican Republic, Panama, Gambia—and Paraguay. It was probably only a matter of time before smaller nations would be captured by what former Costa Rican President Oscar Arias called "elemental realism." Three of four countries have since established diplomatic ties with Beijing since January 2016. Now, diplomats in Taipei worry in private that Paraguay may be the next to fall to Beijing's advances. For its part, Taipei has been trying to shore up its formal ties with Paraguay with two presidential visits since May 2016 and President Mario Abdo Benitez's trip to Taiwan in 2018 for the National Day celebrations. Paraguay Defense Minister Bernardino Soto Estigarribia just visited Taiwan in late November for military exchanges. These efforts by Taipei are being complemented by high-level attention paid by senior officials in the United States.
Daniel Erickson, a former Obama administration official, observed: "Paraguay's new president, Mario Abdo Benítez, who assumed office in August 2018, is part of a cluster of conservative leaders who have recently taken power across South America: Argentina's Mauricio Macri, Chile's Sebastián Piñera, Colombia's Iván Duque, and Brazil's Jair Bolsonaro. The Trump administration has taken this opportunity to beef up its regional policy messaging around combating leftist governments in the hemisphere." Asunción is notably the only diplomatic ally of Taiwan in the group—although Bolsonaro is known to be favorably disposed to enhancing relations with Taiwan as well. In this context, it is noteworthy that Mike Pompeo made the first visit to Paraguay by a US secretary of state in 53 years in April 2019 and even more telling that Pompeo explicitly praised Paraguay for "standing up for their own interests and beliefs by supporting a democratic Taiwan." This meeting was followed by a landmark meeting just held between President Donald Trump and President Mario Abdo Benitez in mid-December, in which the post-meeting joint statement stated:
… the United States International Development Finance Corporation (DFC) will pursue providing finance to Jerovia Mount Sinai Medical Center, an internationally accredited 240-bed tertiary medical center in Asuncion, Paraguay. DFC will work with Taiwan to provide technical assistance and financing for the project.
In a follow up comment, Assistant Secretary of State Michael Kozak highlighted: "Paraguay continues to recognize democratic Taiwan & show leadership in the region."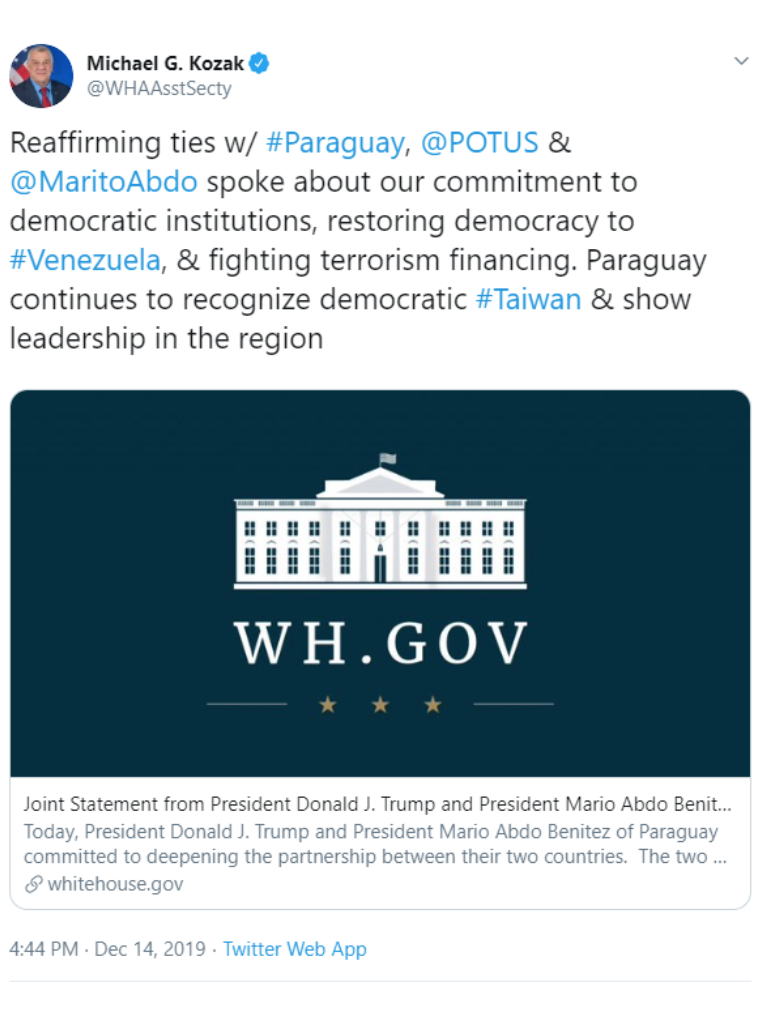 As Erickson further observed, "The country's [Paraguay] strong pro-Taiwan stance puts it off-limits for Beijing. Hence Paraguay has no hope of qualifying for China's soft loans and Belt and Road infrastructure projects." To be sure, there are limitations to competing dollar to dollar with Beijing's deep pockets. Beyond bilateral or even trilateral avenues of cooperation, there are multilateral mechanisms such as the Global Cooperation and Training Framework (GCTF) that could be leveraged to further enhance efforts to counter China's diplomatic offensive. In the RAND report "Countering China's Efforts to Isolate Taiwan Diplomatically in Latin America and the Caribbean" authored by Scott Harold, Lyle J. Morris, and Logan Ma, the authors make the case of utilizing Taiwan aid and assistance more effectively can help shore up Taiwan's diplomatic and international presence. As the authors stated:
US officials favorably regard, and US policy supports, the continuation of Taiwan's diplomatic partnerships with countries in the LAC region. The United States seeks to promote this goal by cooperating on development and disaster relief with Taiwan through the GCTF and other avenues, as well as via direct indications of dissatisfaction with regional states if they break ties with Taipei.
Also, as noted by the American Institute in Taiwan, the de facto US embassy in Taiwan:
"Taiwan has world-class experts in a wide variety of fields and we want to share their knowledge and experience with the world! The United States, Taiwan, and Japan jointly administer the Global Cooperation and Training Framework (GCTF), which serves as a platform for Taiwan to share its expertise with partners around the world. Since we started the GCTF in 2015, we have conducted 22 workshops for over 450 people from 38 countries around the world on a variety of topics. The GCTF will grow even more in 2020!"
The vehicle has already established a precedent for hosting GCTF forums outside of Taiwan. On September 29, a GCTF forum on "International Austronesian Languages Revitalization Forum" was held in Palau with 10 participating countries. It is worth noting that Japan—a close ally of the United States—is now a coordinating partner of GCTF and Japanese Prime Minister Shinzo Abe made a maiden visit to Asunción in December 2018. In the readout of the summit, "the two leaders exchanged views on regional affairs in Asia and Latin America, and shared the view that they will continue to collaborate closely."
The main point: While the United States and Taiwan are making concerted efforts to shore up the latter's formal ties with Paraguay, there are limits in terms of capacity and resources. Multilateral mechanisms such as GCTF may be leveraged to further enhance Taipei's ties with select diplomatic allies such as Paraguay.
---
[1] Gambia severed diplomatic ties with Taiwan in 2013 and Beijing only agreed to establish diplomatic relations with Banjul only in March 2016—two months after Tsai Ing-wen was elected president in the 2016 presidential election.