American President Joseph Biden and Japanese Prime Minister Yoshihide Suga met in the Oval Office last month for what was a historic meeting for many reasons. Not only was Suga the first foreign leader to meet Biden in person since taking office, but also for the first time in nearly 51 years, the leaders put out a joint statement reaffirming the importance of peace and stability across the Taiwan Strait. The statement was well-received by all quarters of Taiwan, notably with Tsai Ming-yaw (蔡明耀), deputy head of the Taipei Economic and Cultural Representative Office in Japan, stating that "this is a historically important document. I would like to express my gratitude."
Yet, the summit and statement were significant for another reason that most observers missed. For both the United States and Japan, maintaining the security of Taiwan isn't just about protecting a fellow democracy, it is also because they have strong economic partnerships with Taiwan. Understanding the dynamics of the Taiwan-Japan economic relationship is important for understanding the broader relationship.
Looking at the Taiwan-Japan Economic Relationship
While there is a great deal of engagement between the Taiwanese and Japanese economies, three main features stand out: trade, investment, and tourism. For trade, the majority of goods traded between Taiwan and Japan are machinery, electrical equipment, telecommunications equipment, and metal and chemical products.
Japan is currently Taiwan's third largest trading partner. With USD $69.3 billion worth of goods traded in 2020, Japan makes up 11 percent of Taiwan's total trade (in terms of both imports and exports). Japan is Taiwan's second largest source for imports (USD $45.9 billion), and Taiwan's fourth largest destination for exports (USD $23.4 billion).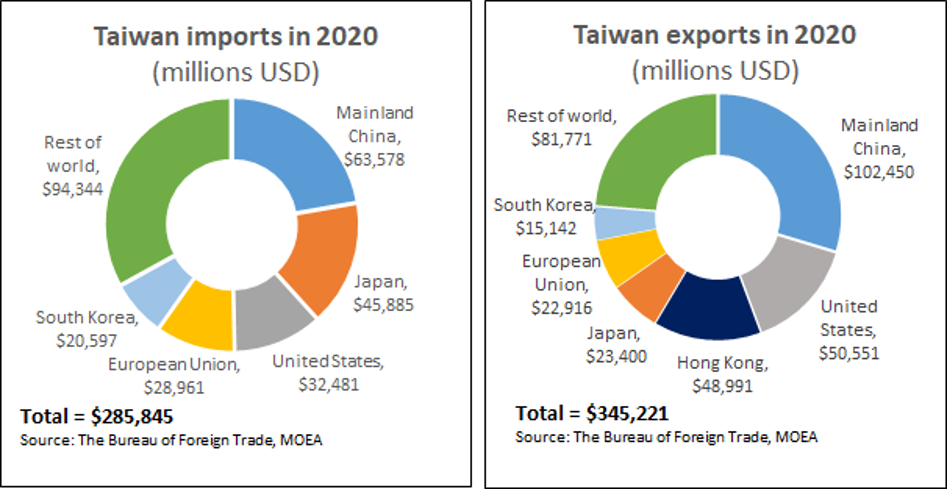 By comparison, the People's Republic of China (PRC) is Taiwan's largest trading partner, constituting USD $166 billion (or 26 percent) of Taiwan's total trade, while the United States is second at USD $83 billion (or 13 percent) of Taiwan's total trade. With just a few percentage points difference, Taiwan's trade relationship with Japan is almost as important as its trade relationship with the United States. Notably, Taiwan's trade with Japan and the United States combined (USD $152 billion or 24 percent) roughly equals the amount traded with China.
For Japan, Taiwan is its fifth largest trading partner. Japan traded USD $71 billion worth of goods with Taiwan in 2020, making up 6 percent of Japan's total trade. Taiwan is Japan's fifth largest source of imports (USD $26.7 billion) and fifth largest destination for exports (USD $44.3 billion). Again, by comparison, China is Japan's largest trading partner with USD $304.8 billion (24 percent of Japan's total trade), with the United States a distant second with USD $187.4 billion (15 percent of Japan's total trade). Japan's third and fourth largest trading partners are the European Union and South Korea. However, its trade with South Korea (USD $71.1 billion) is about equal to its trade with Taiwan.
Turning to investment, much like the goods that are traded, Japanese and Taiwanese investments are primarily in manufacturing of machinery and equipment, electronic parts, chemicals, and wholesale/retail trade.
Japan is currently the fifth largest source of investment in Taiwan. Historically, Japanese investors have invested roughly USD $23.2 billion in Taiwan. Conversely, Japan is the sixth largest destination for Taiwanese investment, with USD $9.6 billion in total invested in Japan. Notably, TSMC announced this year that it would invest USD $190 million in a new research and development facility in Japan.
For Japan—one of the largest sources of investment in the world—Taiwan is its 22nd largest destination for investment. As an example of this, Japan's Mitsui Chemicals announced that it would invest USD $92 million to ramp up production at its factory in Kaohsiung. Meanwhile, Taiwanese investors are Japan's tenth largest source of investment. By comparison, the United States is both Japan's largest destination for, and source of, investment. Historically, Japan has invested USD $581.7 billion in the United States and received USD $94.2 billion in return.
Finally, before the pandemic, tourism was a main source for many countries' export services, and a major source of revenue. Unfortunately, the pandemic has undone much of that. For example, travel services from the United States to Japan decreased in value from USD $8.8 billion in 2019 to USD $2 billion in 2020. Travel services from the United States to Taiwan decreased in value from USD $2.6 billion to USD $1.1 billion over that same period.
During normal travel conditions in 2019, 18 percent of tourists (over 2 million) to Taiwan were from Japan, making Japanese visitors the second largest group of tourists to visit Taiwan after those from the PRC. Japan saw almost 5 million tourists visit from Taiwan in 2019, making up nearly 15 percent of Japan's tourists.
Tourism to Japan and Taiwan collapsed in 2020, experiencing a decline of roughly 90 percent. While Japan is an advanced economy that does not need to rely on tourism revenue, going from roughly 30 million visitors a year to 4 million is nevertheless a significant change that impacts airline ticket sales, hotel bookings, local businesses, and more. The same goes for Taiwan, which saw tourism decrease from almost 12 million visitors to a little more than 1 million. Hopefully, we can get to a point soon where travel can return to some level of pre-pandemic normalcy.
Japanese Business Operations in Taiwan
The previous statistics on trade, investment, and tourism give us some idea of the Taiwan-Japan economic relationship at a macro-level, but they do not tell the whole story. A recent survey by the Japan External Trade Organization (JETRO) gives us a closer look at what business is like on the ground.
Last year, JETRO published a survey on overseas business conditions for Japanese and Japanese-affiliated companies in Asia. 278 Japanese companies in Taiwan responded.
For Japanese companies, Taiwan is one of the most profitable places in Asia to invest. This is primarily because Taiwan remains a relatively strong market with a stable business environment. 71.7 percent of respondents expected to have an operating profit in 2020. And even though companies took a hit last year, Taiwan has consistently been a profitable location for Japanese companies over the last ten years. The only country to beat Taiwan last year was South Korea, with an operating profit forecast of 71.8 percent. The next most profitable places for Japanese companies were Australia and China.
There's no denying that COVID-19 has had a meaningful impact on business in Taiwan. Over 50 percent of respondents expect operating profits to decrease or remain the same in 2021, as compared to 2020. However, Japanese companies expect other advanced economies in Asia to do worse. Perhaps that is why Japanese companies were least likely to reduce their business operations in Taiwan. Only 4.8 percent of companies in the survey said they would reduce business there, while 43 percent say they expect to expand business over the next two years.
Sales have a lot to do with Japanese companies' interests in Taiwan, and 82 percent of companies expect to see their sales increase over the next two years. Notably, Japanese companies are generally investing in Taiwan to access Taiwan's domestic market, as only 22.5 percent of sales can be attributed to exports. This low ratio of exports to sales can also be attributed to Taiwan's lack of free trade and economic partnership agreements. Of course, Taiwan's lack of agreements is not necessarily a fault of its own, as the Tsai Ing-wen (蔡英文) administration is currently seeking a bilateral free trade agreement with the United States and to join the Comprehensive and Progressive Agreement for Trans-Pacific Partnership (CPTPP). Only 36 percent of Japanese companies use free trade and economic partnership agreements for their exports. This makes Taiwan one of the least favorable places in Asia for Japanese companies looking to export.
Of those Japanese companies in Taiwan that do export, 31 percent of the exports go to Japan, 29 percent go to China, 17 percent go to ASEAN, and 6 percent go to the United States. In the future, 64 percent of Japanese companies expect to increase exports to ASEAN. This is perhaps due to Taipei's investment in its New Southbound Policy (NSP, 新南向政策). Additionally, 36 percent expect to increase exports to Japan, while another 36 percent also expect to increase exports to China. Only 14 percent expect to increase exports to the United States.
However, Japanese companies are generally happy with the business environment in Taiwan. Less than a third of Japanese company managers have concerns about wage hikes, orders being cancelled or changed, or the tax burden. Japanese companies also see Taiwan as having an uncomplicated customs process. Production costs in Taiwan are generally lower, at about 84 percent of those in Japan. Additionally, the cost of labor in Taiwan is relatively competitive.
For Japanese companies, Taiwan is only the sixth most expensive labor market in Asia. The cost of labor in Taiwan can be as little as half the cost of labor in Australia, New Zealand, Singapore, South Korea, and Hong Kong. However, the cost of labor in Taiwan can also be nearly twice as expensive as the cost in China. Japanese companies aren't worried about sudden wage increases in Taiwan, which are more common in developing economies like Vietnam or Indonesia.
The most problematic factor for Japanese companies in Taiwan is increasing competition, which might not be a problem for Taiwanese consumers who benefit from more competition. It is also important to point out that as Taiwan and Japan look to adopt more digital economies, 73 percent of Japanese companies in Taiwan feel there are obstacles to using more digital technology. Sales are important for business, but only 20 percent of sales are carried out through e-commerce websites. Most companies say they lack staff knowledgeable of the digital field. Others find that there are high introduction costs, a lack of information on available digital technologies, and difficulty transitioning into a digital business practice.
Besides the difficulties Japanese companies have in adopting new digital technologies in Taiwan, many still find Taiwan a safe place to invest. And while Taiwan and Japan have a strong trade relationship already, it's obvious there are still many opportunities for officials to engage more on trade and digital issues to expand the economic partnership even further.
The main point: Taiwan and Japan have a strong economic relationship. Both are top trading partners to each other. Historically, there has been a constant flow of cross-border investment and tourism. While the relationship is strong, Taiwanese and Japanese officials should invest in expanding trade opportunities and supporting the transition to digital economies.