On April 22-23, US President Joseph Biden hosted a virtual Leaders Summit on Climate, inviting world leaders to take stronger action to combat global climate change, ahead of the United Nations Climate Change Conference (Conference of the Parties, COP26) this November in Glasgow, Scotland. Biden pledged to reduce US greenhouse gas emissions by 50 to 52 percent (as compared to 2005 levels) by 2030. Meanwhile, Chinese President Xi Jinping (習近平), who virtually attended the summit amid rising US-China tensions, did not make new commitments; instead, he reiterated Beijing's earlier pledge to peak carbon dioxide emissions before 2030 and to reach carbon neutrality before 2060. That same day, Taiwan President Tsai Ing-wen (蔡英文) also said that her government is "actively planning" to reach the target of zero net emissions by 2050. The global push to combat climate change, especially the potential for US-China climate cooperation and competition, could serve as an impetus for much-needed domestic reforms related to Taiwan's energy and climate policies.
US-China Competition Extends to Climate Change
"America is back," as President Biden aptly put it, when it comes to fighting global climate change. In one of his first acts as president, Biden rejoined the 2015 Paris climate agreement (Paris Agreement), a move that reasserts US leadership on a pressing global governance issue that requires far-reaching commitments by the world's top polluters—and contains elements of both cooperation and competition with China. Given the transnational nature of climate change, both China and the United States have interests in working together to reduce their carbon footprints; at the same time, each side's climate change ambitions and clean and renewable energy industries are tied to the broader US-China technological, economic, and strategic competition.
Previously, the US withdrawal from the Paris Agreement, initiated by Donald Trump, led to China becoming the de facto leader of global climate efforts and enabled Beijing to stoke its image as a responsible stakeholder in combating carbon emissions. Xi has tried to fill in the leadership role vacated by Washington by calling on Western and other countries to do more to address the global warming crisis. Over the past several years, China has stepped up climate change cooperation with the European Union (EU), with climate change featured as a key issue in the EU-China summits. Beijing also positioned itself as the EU's main partner for taking tougher action on global carbon emissions. Speaking before the UN General Assembly in September 2020, Xi promised that China, the world's top emitter of carbon dioxide, will peak carbon dioxide emissions in 2030 and will reach carbon neutrality, or go "net zero," by 2060. China accounts for 28 percent of global carbon levels, while the United States constitutes the world's second largest carbon polluter, at 15 percent.
One month after heated, bilateral talks in Alaska, Washington and Beijing issued a joint statement on April 17 stating that "the United States and China are committed to cooperating with each other and with other countries to tackle the climate crisis." This statement of solidarity came at the conclusion of meetings between Biden's special envoy for climate change John Kerry and Chinese climate envoy Xie Zhenhua (解振華) in Shanghai ahead of the Leaders Summit. At the same time, each side is hardening demands that the other should shoulder more responsibility to meet the Paris Agreement goals. Kerry wanted the Chinese to peak carbon emissions in 2025, five years earlier than the Chinese pledge.
Underneath the appearance of solidarity on climate issues, mistrust between Washington and Beijing runs deep. The Chinese perceive Washington's demands on climate as part of a strategy to weaken China's economic growth, which is dependent on an energy-intensive, high-polluting economy. When pressed to do more by Washington, Chinese vice minister of foreign affairs, Le Yucheng (樂玉成), replied, "For a big country with 1.4 billion people, these goals are not easily delivered." He said, "Some counties are asking China to do more on climate change. I'm afraid that is not very realistic."
Indeed, the dynamics of US-China climate change cooperation remain embedded in the current strategic competition between the two rivals. During the Obama Administration, cooperation on climate issues served as a stabilizing factor in bilateral relations. While the Biden Administration may desire to compartmentalize its China policy—such as by cooperating on climate issues while countering Beijing over its military aggression against Taiwan, human rights abuses, and trade tensions—the Chinese tend to take a more across the board view of US-China relations. Chinese Foreign Ministry's spokesperson Zhao Lijian (趙立堅) commented that US-China cooperation on climate change "is closely linked with bilateral relations as a whole."
Therefore, China's willingness to do more on climate change may be contingent on the positions taken by the United States, European countries, and other foreign governments on other critical issues. Indeed, Beijing may seek to utilize climate cooperation to negotiate and extract concessions from the United States and EU to advance Beijing's national agenda, which invariably includes the Taiwan issue.
Taiwan's Climate Challenges
Taipei certainly does not want to be left behind on multilateral climate change initiatives, particularly if US-China relations improve as a result of climate change cooperation. For the past few decades, Taiwanese diplomacy has been focused on gaining observer status in the United Nations Framework Convention on Climate Change (UNFCCC). Beijing, however, has consistently opposed proposals raised by member states to bring Taipei into the climate framework, even as an observer. [1] The island, which has been hammered by frequent typhoons and rising sea levels, and more recently droughts, has argued that its continued exclusion from international forums such as the UNFCCC and the COP meetings prevents it from obtaining critical information and accessing early warning systems for disasters. [2] The Taiwanese government has often promoted its expertise in green technology and renewable energy to help garner external support for participating in international discussions on climate change. [3]
Yet, perhaps a more serious concern for Taiwanese policymakers than Taiwan's external climate diplomacy is improving the island's own record in reducing its carbon footprint. Taiwan constituted the 25th largest per capita emitter of carbon dioxide (CO2) in 2018 and contributes around 0.8 percent of the world's total CO2 emissions. Taiwan's climate mitigation policies were ranked low on the Climate Change Performance Index, according to a report released by Germanwatch, Climate Action Network, and New Climate Institute. Taiwan, which lacks a long-term energy strategy to phase out its use of coal, landed among the bottom three performers, only ahead of Saudi Arabia and the United States.
Taiwanese households and industries remain dependent on coal, which provided 45 percent of Taiwan's electricity in 2020, followed by liquefied natural gas (LNG) at 36 percent and renewable energy at 5.4 percent. Taiwan's dependence on these sources of energy was demonstrated by a malfunction at the coal and gas-fired Hsinta power plant in Kaohsiung on May 13, causing rolling blackouts through many areas of the island. Taiwan's Ministry of Economic Affairs (經濟部) forecasts that the country's use of coal for electricity will drop to under 30 percent by 2025, while LNG and renewables will grow to 50 and 20 percent, respectively, over the same period.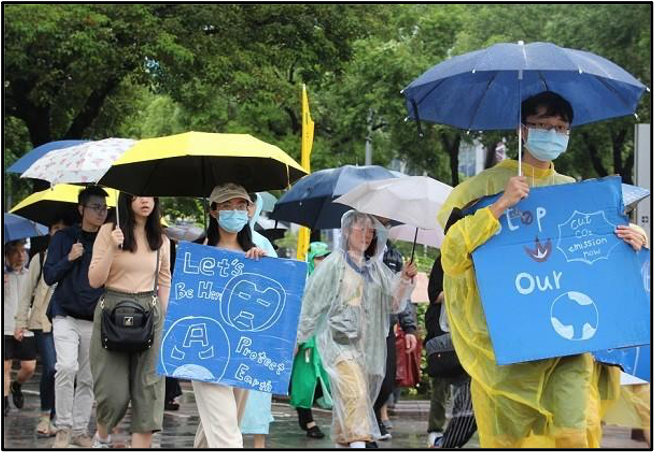 Domestic Impediments to Cleaner Energy
However, there are several factors impeding Taiwan's shift from its current high-carbon economy towards a more energy-efficient model of growth. First, Taiwan's government would need to significantly raise its government-subsidized cheap electricity prices in order to bring down household and industrial electricity consumption, which has been the main contributor to the growth of Taiwan's carbon emissions. However, the government seems keen on freezing new increases in the electricity price, which has remained unchanged since the fall of 2018. Second, fierce Taiwanese domestic political opposition to nuclear energy, which spiked in the aftermath of the 2011 Fukushima Daiichi nuclear disaster in Japan, has enhanced the island's reliance on more polluting energy sources, such as coal, which increase its carbon emissions.
A "nuclear-free homeland" (非核家園) has been central to the Democratic Progressive Party's (DPP, 民進黨) platform and continues to be President Tsai's goal of transitioning away from nuclear power—despite the fact that nuclear energy is a clean alternative with zero carbon emissions. The nuclear issue has become highly politicized and intertwined in the competition between the DPP and Kuomintang (KMT, 國民黨), particularly as the island gears up for a national referendum on the fate of the Fourth Nuclear Power Plant (核四) on August 28 this year.
Moreover, some environmental groups and local communities in Taiwan have opposed the installation of renewable energy facilities, pointing to the consequences of cutting down forests and hurting fragile ecosystems in order to make way for clean energy infrastructure. Environmental activists and local residents have raised concerns about Taiwan Semiconductor Manufacturing Company's (TSMC, 台積電) plan to clear 230 hectares of forests in Pingtung County (屏東縣) to build Taiwan's largest solar power plant. In addition, local fishermen have protested against the construction of a wind farm off the coast of Yunlin County (雲林縣), which they argue could harm local fisheries.
Taiwan's environmental activists are also campaigning against the government's USD $2 billion project to set up a third LNG import terminal based in Taoyuan to boost LNG power generation, arguing that it could threaten the ancient Datan algal reef (大潭藻礁) and endangered species along the northern coastline. On its face, the government's plans to boost LNG imports, solar energy, and wind power are aimed at reducing Taiwan's overreliance on coal. However, environmentalists question whether the construction of clean energy facilities are sustainable over the long run since it may, paradoxically, create irreversible damage to the island's limited land, forests, and fragile ecosystems.
Conclusion
Taiwan's national energy and economic policies, domestic politics, and environmental activism collectively pose challenges to reducing the island's carbon footprint even as its ability to participate in international fora addressing such matters continues to be stifled by China. However, as the US-China climate competition heats up—motivating each side to outdo the other on cutting carbon emissions—this competition could also motivate Taiwan to action. Taipei can start by adopting more ambitious and stringent carbon reduction goals, comparable to other Asian high-volume polluters such as South Korea and Japan. Although it is not under any formal international obligation to reduce its carbon output, Taipei would certainly benefit from engaging in bilateral and multilateral collaboration on finding solutions to current climate challenges. However, such changes should come within Taiwan first. Challenging Taiwanese policymakers to seriously address the climate and energy issues and substantially cut carbon emissions would be the most meaningful way to bolster the credibility of its external messaging that Taiwan is ready to fight climate change. [4]
The main point: The US-China cooperative and competitive dynamics on climate change have created the need for Taiwan to reassess its carbon reduction goals. However, many domestic factors are impeding Taiwan's ability to transition its high-carbon economy towards cleaner sources of energy.
---
[1] "China Opposes Moves to Bring Taiwan into Climate Change Talks," BBC Monitoring Asia Pacific – Political, December 10, 2010, retrieved in Nexis Uni.
[2] "To Counter Climate Change Effects, All Countries Must Be Involved," New Straits Times (Malaysia), November 26, 2018, retrieved in Nexis Uni.
[3] Ibid.
[4] "Taiwan/China: MOFA Video Spotlights Taiwan's Merits as Partner for Combating Climate Change," Thai News Service, November 8, 2018, retrieved in Nexis Uni.