Taiwan and Japan made an important breakthrough in their relations on June 4, when a Japan Airlines flight landed at Taiwan Taoyuan International Airport carrying 1.24 million doses of the AstraZeneca (AZ) COVID-19 vaccine as Taiwan grapples with a domestic outbreak. The need to quickly obtain vaccines gained more urgency with revelations of new infection clusters, starting in mid-May in Taipei and New Taipei, which by early June had spread to central and southern Taiwan.
Amid a global shortage in COVID-19 vaccines and new waves of the virus in various parts of the world, Taiwan has encountered some difficulties in procuring vaccines from abroad. Competing with countries where the outbreak is much more severe—and as a result of its highly successful handling of the pandemic since January 2020—it was natural that Taiwan would not be the top priority for receiving vaccines from foreign manufacturers. Taiwan has placed foreign orders for approximately 30 million doses so far, while two firms, Medigen Vaccine Biologics Corp (高端疫苗) and United Biomedical Inc. (聯亞生技), are developing a domestic vaccine, with rollout expected as early as July. The Taiwanese government intends to purchase 5 million vaccine doses from each local firm, which could be raised to 10 million doses per manufacturer if necessary.
According to the Taiwanese government, interference by the Chinese government in August 2020 had also resulted in the cancellation of a deal between Taiwan's Center for Disease Control (CDC, 衛生福利部疾病管制署) and Germany-based BioNTech for the delivery of vaccines.
Vaccine Politics
Japan's decision to export vaccines to Taiwan in its time of need was a clear demonstration of the goodwill that exists between the two societies. Besides the Liberal Democratic Party's (LDP) predisposition to work with Taiwan, memories of Taiwan's generous financial aid to Japan following the 2011 Tōhoku earthquake and tsunami and provision of 2 million medical masks to Japan in April 2020 also motivated the Japanese government to return the favor. Announcing the vaccine donation to Taiwan, Japanese Foreign Minister Toshimitsu Motegi said "At the time of the great east Japan earthquake 10 years ago, people in Taiwan sent us a lot of donations promptly. I believe that is etched vividly in the minds of Japanese people. Such an important partnership and friendship with Taiwan is reflected in this offer."
In late May, Japanese authorities renegotiated their contract with AstraZeneca so that Japan could donate 30 million doses worldwide. Daiichi Sankyo Co., AstraZeneca's partner in Japan, has a stockpile of approximately 30 million doses that are set to expire by September. The Japanese government has contracted to buy a total of 120 million doses from AstraZeneca, though it has not begun giving the shots due to fears over blood clotting side effects. Japan has also secured supplies of other vaccines for its entire population.
Initially, Japan had reportedly considered sending the vaccines to Taiwan via the World Health Organization's COVAX global initiative. However, it decided to send the vaccines directly instead, over fears that going through COVAX would take too long. It is also possible that Tokyo feared interference if it went through that channel. Such concerns were not unfounded: the moment Japan announced its intention to donate vaccines to Taiwan, the Chinese foreign ministry began threatening the effort. Taiwan's efforts to seek independence via vaccines, PRC Foreign Ministry Spokesman Zhao Lijian (趙立堅) said in a May 28 press conference, would not succeed. Channels for obtaining the vaccines "from the mainland," he added, were open. Wang Wenbin (汪文斌), another China foreign ministry spokesman, accused Japan of using the donation of vaccines to Taiwan as "a tool of political self-interest."
At around the same time, some members of the opposition Kuomintang (KMT) began pressuring Taipei to put its so-called "anti-Beijing ideology aside" and purchase vaccines from China. Moreover, as Zhao was issuing his warnings in Beijing, Chang Ya-chung (張亞中), head of the Taipei-based Sun Yat-sen School (孫文學校), and Alex Tsai (蔡正元), a former KMT legislator, announced in a press conference that they had struck a deal—one without involvement by Taiwan's central government—with Zeng Nian (曾念), head of the so-called Beijing Cross-Strait Oriental Cultural Center (京兩岸東方文化中心), to procure 10 million doses via the center. Half of the vaccines were to come from the German BioNTech brand, supplied via the Chinese company Shanghai Fosun Pharma (復星醫藥), while the other half was to be made of vaccines developed by Chinese developer Sinopharm's Beijing Institute of Biological Products (北京生物製劑研究所). Zeng, a grand nephew of former President Chiang Ching-kuo (蔣經國), has been using his cultural center to promote "reunification." Chang and Tsai are also known to be very close to the Chinese Communist Party (CCP). Besides doubts as to the reliability of the Chinese vaccine, Taipei has serious reservations about the possibility that Beijing would use the supply of vaccines to blackmail Taiwan, perhaps by imposing conditions for delivery. Moreover, almost three quarters (74.5 percent) of the Taiwanese population is highly or very highly opposed to allowing the Chinese vaccine into Taiwan, a recent opinion poll shows.
As other individuals and non-governmental organizations announced initiatives to acquire vaccines from abroad, Taiwan's CDC emphasized that only the central government has the legal authority to negotiate contracts with foreign vaccine suppliers.
Meanwhile back in Tokyo, the Chinese embassy reportedly demarched the Japanese Foreign Ministry until the day of the vaccine doses' delivery to Taiwan, when it became clear that its attempts to derail Japan's plans had failed. After the vaccines were delivered, the Chinese government accused Japan of "interference in China's domestic affairs."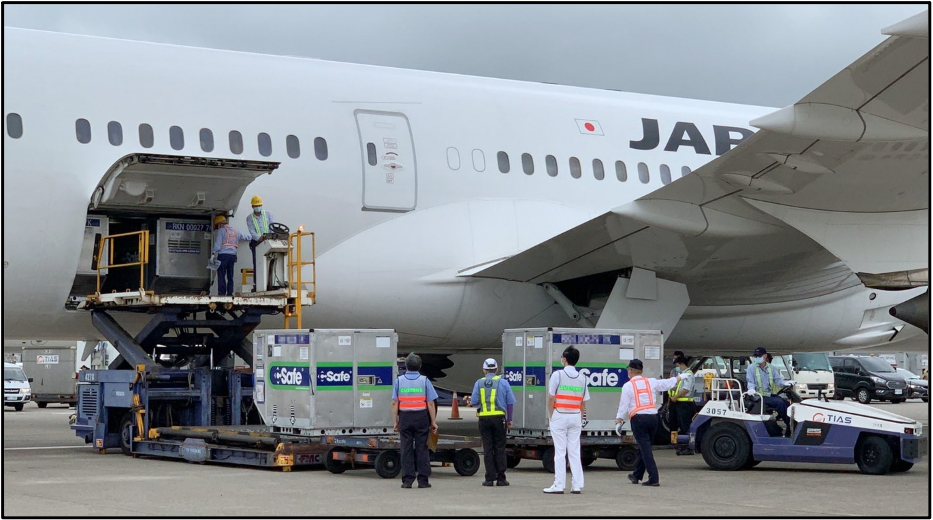 Changing Times
The symbolism of Japan's delivery of vaccines to Taiwan has not gone unnoticed, and comes amid indications that the ruling LDP is keen on Japan developing closer ties with its southern neighbor. The fact that Japan did not give in to political pressure from Beijing is an important political development, one that raises the possibility that Beijing's ability to dictate how other countries engage with Taiwan—usually through coercion—is being eroded due to an ongoing reassessment of China's role within the international system, as well as the imperatives of dealing with the pandemic. Japan's move made it clear that its government would not allow Beijing to put politics above humanitarian considerations, which is an area where China often has scored points, as demonstrated by its continued ability to prevent Taiwan's participation at multilateral fora such as the WHO's World Health Assembly. This defiance of Beijing by a country other than the United States will likely also have a positive impact on other countries' willingness to engage with Taiwan whenever a situation makes it clear that engagement is in everyone's interest—in other words, that it is not, as Beijing regards it, zero-sum.
Tellingly, Japan Airlines flight 809, which brought the vaccines to Taiwan, landed in Taiwan on June 4, coinciding with the anniversary of the Tiananmen Square Massacre in 1989. Although Japanese authorities maintain that this was purely coincidental, there is nevertheless reason to believe that, in the past, the Japanese government would have delayed the flight by a day or two so as to avoid delivery occurring on a date that is very sensitive for Beijing.
There is little doubt, as well, that US leadership on continued engagement with Taiwan by the Biden Administration—as demonstrated by Taiwan's inclusion in the list of countries to receive vaccines from the United States in the first tranche of a total of 80 million doses—has been necessary for other, less powerful countries to be willing to take risks by reaching out to Taiwan. During a three-hour visit to Taiwan on June 6, US Senators Tammy Duckworth, Dan Sullivan, and Christopher Coons confirmed that Taiwan is set to receive 750,000 doses from the United States. Senator Duckworth, whose family on her mother's side fled China for Thailand during the Communist revolution, said of US assistance to Taiwan, "For me, it is particularly important to support another democracy in the [Asia] region. My family and I know the price of freedom. I am here to tell you that the United States will not let you stand alone. We will be by your side to make sure that the people of Taiwan have what they need to get to the other side of this pandemic and beyond."
Such developments constitute perhaps a promising first step in the consolidation of an alliance of democracies that will over time tighten cooperation among like-minded countries; and which, by the sheer weight of its members, can afford to challenge the Chinese authorities when the situation calls for it—as a global pandemic most assuredly does.
Tokyo's willingness to defy Beijing over Taiwan has not been limited to vaccines. This started with the Biden-Suga joint statement of April 16, in which a Japanese prime minister specifically mentioned Taiwan for the first time in more than half a century. Then, on June 9, the foreign and defense ministries of Japan and Australia issued a 2+2 statement following bilateral talks that also affirmed, for the first time, the two countries' agreement on the importance of peace and stability across the Taiwan Strait, and the need for the peaceful resolution of cross-Strait issues. Two days later, the Diet, Japan's legislature, voted unanimously to support Taiwan's participation at the WHO. All this, furthermore, occurred while the ruling LDP has also called on the government to establish closer relations with Taiwan and prepare for contingencies in the Taiwan Strait. From all this, we can conclude that while the donation of 1.24 million vaccine doses to Taiwan represented a new high in Japan-Taiwan relations, such a move did not occur in a political vacuum. In other words, the context has been changing as well, and Beijing is unlikely to like it.
The main point: Withstanding pressure from the Chinese government, Tokyo's decision to proceed with the donation of 1.24 million vaccine doses to Taiwan suggests that Beijing's ability to dictate how countries interact with Taiwan is eroding.