The growing momentum in Japan-Taiwan ties has clearly manifested itself in the form of Japan's donations to Taiwan so far of 3.9 million sorely needed COVID-19 vaccines. These instances of vaccine diplomacy have showcased how the two East Asian partners can address health security in the face of mounting geopolitical challenges posed by Beijing's increasingly coercive diplomacy. Indeed, Tokyo's vaccination assistance came at a time of ramped up harassment by China that intentionally obstructed Taiwan's access to COVID-19 vaccines. By providing vaccine donations, Japan—along with a handful of other nations—prioritized non-traditional security cooperation with Taiwan by responding to the island's health security threats, and sought ways to navigate Japan's uneasy relations with China effectively. [1]
Japan-Taiwan Friendship: Sharing is Caring
As Taiwan scrambled to combat the new wave of COVID-19 in mid-May, Japan promptly lent a helping hand by donating COVID-19 doses to the nation, with 1.24 million doses of AstraZeneca's vaccine dispatched on June 4, followed by 1.13 million more doses delivered on July 8, another 970,000 doses on July 15, and 64,000 doses on September 7. On September 25, Taiwan received the fifth batch of 500,000 AstraZeneca doses from Japan, raising the cumulative number of COVID-19 jabs received from Japan to 3.9 million doses. Japan's support clearly evinced closer ties between the two neighbors. Even the Kuomintang (KMT, 國民黨), the more China-friendly opposition party to the pro-status quo Democratic Progressive Party (DPP, 民進黨), was believed to feel "quiet appreciation" for Tokyo.
Earlier in June, Japanese Foreign Minister Toshimitsu Motegi (茂木敏充) said that the donation was "based on [Japan's] important partnership and friendship with Taiwan." Motegi highlighted the Japanese people's gratitude for Taiwan's 2011 assistance to the country when Japan suffered from a devastating earthquake and tsunami—effectively showing a reciprocal relationship in a time of need. The donations did not go unnoticed in Washington, as former US Defense Department official Drew Thompson opined that "Japan is really doing this because it's in their interest to keep the population of Taiwan healthy."
Japan's vaccine donation to Taiwan was timely, given the global vaccine shortage and Taiwan's worst coronavirus outbreak to date. Although Taiwan has sought to procure shots, China reportedly intervened to derail the democratic nation's purchase of vaccines and to block a deal with Germany's BioNTech for COVID-19 shots. However, the deal finally went through, albeit via detours, thanks to non-governmental actors' astute engagement to help Taiwan procure the BioNTech vaccine. Foxconn and TSMC (Taiwan Semiconductor Manufacturing Company), both Taiwan-based firms, proclaimed in July that they had reached deals to buy 10 million of BioNTech's COVID-19 jabs, which would "boost the lagging vaccine effort in Taiwan." At the same time, China's government pressed Taiwan to receive the two Chinese-made vaccines, which Beijing claims are "highly effective." In a move to spread misinformation, China even accused Taiwan's ruling party of impeding Beijing's efforts to send vaccines to Taiwan.
Taiwanese leaders could hardly put their trust in China's coronavirus vaccines given China's lack of transparency during its clinical trials. To make the lack of confidence in Chinese vaccines even worse, Gao Fu (高福), director of the Chinese Center for Disease Control and Prevention, admitted at a conference in April 2021 that Chinese vaccines "don't have very high protection rates." Moreover, accepting Chinese-made vaccines could be read as yielding to Beijing's pressure or recognizing its superiority over Taiwan. On top of all this, under the current legal framework, the importation of Chinese-manufactured vaccines is not allowed in Taiwan. (This follows the Mainland Affairs Council's interpretation of Article 7, Paragraph 1 of the 2008 "Regulations Governing Permission of Trade Between Taiwan Area and Mainland Area.") The Tsai Administration is likely unwilling to accept Chinese-made vaccines due to concerns related to violating current regulations on cross-Strait exchanges; however, setting political factors aside, the main reason for Taiwan's cautious posture seems to be the lingering concerns over the efficacy and transparency of Chinese-developed vaccines.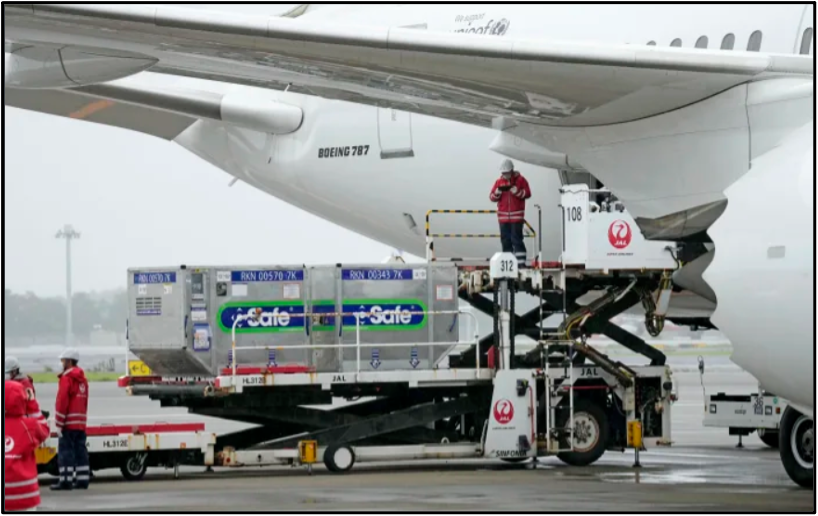 Japan's outreach to Taiwan deserves much credit, as Tokyo's actions invited criticism from authorities in Beijing. In June, Chinese Foreign Ministry Spokesperson Wang Wenbin (汪文斌) urged Japan not to offer vaccines to Taiwan, calling the donation "a tool for selfish political gains." Lambasted by China, Japanese leaders nevertheless proceeded to dismiss Beijing's warnings and provide support to Taiwan. Following this episode, we can expect sustained cooperation in terms of vaccine diplomacy and public health cooperation between Taiwan and Japan in the future.
Japan's Taiwan Vaccine Donation Shows Two Drivers
Japan's consequential boost to Taiwan's vaccination efforts is a complex story, and the donation may in fact have far-reaching implications not only for Japan-Taiwan relations, but also for the future trajectory of regional security. Sharing both democratic values and a commitment to uphold a strong and prosperous Indo-Pacific, Japan and Taiwan are seeing eye-to-eye on regional challenges. Among these concerns, the maritime rise of China is particularly pertinent. In February 2019, President Tsai hailed the importance of the Taiwan-Japan relationship in the region and stressed that "Taiwan and Japan are confronted with the same threats in the East Asian region."
Consequently, Taiwan continues to grow increasingly important in the eyes of Japanese leaders. Recognizing Taiwan's health security challenge, Japan has demonstrated that Tokyo is ready to commit to working closely with Taipei in navigating common challenges. Japan's vaccine assistance towards Taiwan manifests a shift in Tokyo's position on Taiwan: specifically, Japan abandoned its traditionally reticent posture in favor of a more confident stance, although Tokyo still seeks to avoid aggravating China directly. Strategically, Japan's vaccine donation in support of Taiwan has showcased the country's interest in a de facto independent Taiwan, and a firmer relationship between Tokyo and Taipei.
Taiwan and Japan now find themselves facing unequal treatment under Beijing's growing weight. Taipei and Tokyo have both faced China's intimidation tactics. China has escalated its belligerent behavior by deploying aerial forces into Taiwan's southwest Air Defense Identification Zone (ADIZ), ramping up diplomatic and political pressure on Taiwan. Japan's relationship with China has deteriorated over time as China has become more assertive in challenging Japan's sovereignty over the Senkaku Islands (known to China as the Diaoyu Islands, 釣魚台). Coast guard ships from both countries have patrolled around these uninhabited islands to assert their jurisdiction, thereby raising Sino-Japanese tensions. Japan's Air Self-Defense Force frequently scrambles fighter jets in response to Chinese aircraft encroachments, and China's maritime assertiveness continues to be a source of concern for Japan.
Sino-Japanese relations have continued to turn sour, especially after then Japanese Prime Minister Yoshihide Suga (菅義偉), in his speech during a National Diet meeting in June, used the word "country" to refer to Taiwan. Japanese State Minister of Defense Yasuhide Nakayama (中山泰秀) even raised the issue of protecting Taiwan, which he referred to as "a democratic country." Nakayama's comments unsurprisingly outraged Beijing, which called his remarks "highly sinister, dangerous, and irresponsible."
Recent developments in the Japan-Taiwan relationship also have nuanced implications for regional peace and security. Japan seems to project a role of quiet but effective leadership in the Indo-Pacific, providing necessary support to countries in dire need of COVID-19 vaccines. Japan's generous assistance has been in stark contrast to that of China—though both Asian powers have used vaccine diplomacy to bolster their regional and international standing. China has aimed to employ its charm offensive to trick countries receiving Beijing's vaccine doses into subjugation under Beijing's hierarchy. While touting its "no strings attached" approach on vaccine donation, China has stepped up its efforts to bolster engagement with Southeast Asian countries as well as Latin American and Caribbean nations. Some relatively weaker countries, like the Philippines, Cambodia, and Pakistan, even expressed their "high appreciation" for Chinese leaders and hailed the giant for its generosity and "altruism." Tokyo's vaccination assistance is likely to communicate that a middle power like Japan can also use "vaccine diplomacy." By deploying COVID-19 vaccines to Taiwan and Southeast Asian nations, Japan is revitalizing its political commitment and credibility within the region, while at the same time successfully differentiating itself from Beijing and its declining image since the pandemic outbreak.
By donating coronavirus vaccine doses to regional countries, including Taiwan, Japan has aimed to underline its status as a regional responsible stakeholder, enhance its political profile, and make use of its status in a flexible response to China's vaccine diplomacy. Japan's behavior can be considered as a tactic of changing tack when confronting China's diplomatic pressure. Japan's defense white paper, released in July, for the first time mentioned security in the Taiwan Strait by stating that "Stabilizing the situation surrounding Taiwan is important for Japan's security and the stability of the international community."
Japan is working in line with the United States in supporting Taiwan, including signaling the possibility of teaming up to oppose any potential aggression made by Beijing against Taiwan. Tokyo's support for Taiwan is consistent with its commitment to work hand-in-hand with Washington towards "peace and stability across the Taiwan Strait," as mentioned in an April joint statement between the two top leaders of Washington and Tokyo. At the press conference, President Suga stressed "an agreed recognition over the importance of peace and stability of the Taiwan Straits" between the two allies.
Japan's vaccine assistance to Taiwan has been consistent with its efforts to play a constructive role in the Indo-Pacific. Japan has been working closely with the United States and Australia to provide COVID-19 vaccines to Indo-Pacific countries. While Japan prioritizes vaccination support to Asian nations, Australia focuses on supporting Pacific Island countries. It is likely that as the role of Japan in the region continues to grow, Taiwan will continue to remain an essential partner of Japan. Tokyo's donation of COVID-19 vaccines to Taipei suggests that an East Asian democratic alignment is in the making.
The main point: Japan's recent donations of COVID-19 vaccine doses to Taiwan are part of a larger effort to forge closer ties between Tokyo and Taipei, and demonstrate Japan's greater willingness to engage in diplomatic and security initiatives with Taiwan over the objections of Beijing.
---
[1] As of October 3, the countries that have donated COVID-19 vaccines to Taiwan are: Japan (3,904,000 doses), the United States (2,500,000 doses), the Czech Republic (30,000 doses), Lithuania (20,000 doses), Slovakia (160,000 doses), and Poland (400,000 doses).