The Biden Administration is looking to expand its partnerships in Asia this year. In particular, it plans to announce what US Secretary of State Anthony Blinken has called a new "comprehensive Indo-Pacific economic framework." While details about the framework are sparse, it is clear that some issues, like trade, may not be a focus in this "comprehensive" framework. This means that it is unlikely that the Biden Administration will pursue a US-Taiwan free trade agreement; instead, technology will take front and center. This leaves plenty of opportunities for the United States and Taiwan to cooperate—either bilaterally or multilaterally—on a range of issues. In addition, recently established bilateral dialogues between the United States and Taiwan on supply chains and technology could help ease Taiwan's participation into the new framework.
The New Economic Framework
At last October's East Asia Summit, President Biden announced that the United States would soon develop a new Indo-Pacific economic framework. A readout from his speech noted that the framework would "define our shared objectives around trade facilitation, standards for the digital economy and technology, supply chain resiliency, decarbonization and clean energy, infrastructure, worker standards, and other areas of shared interest."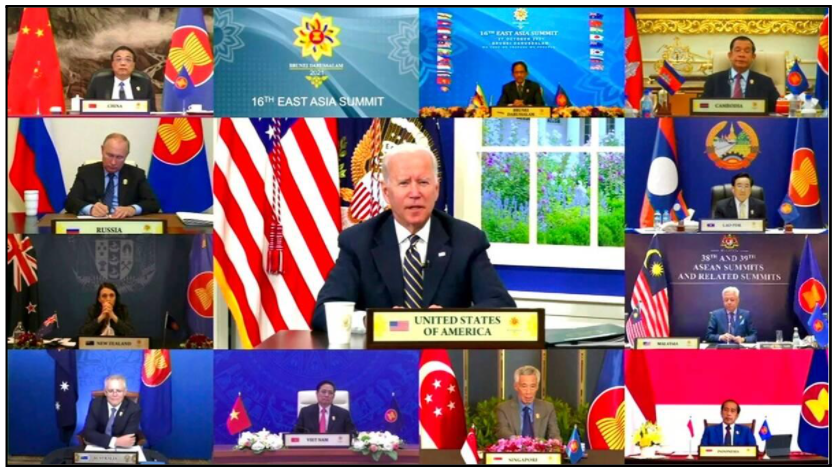 Certainly, there is an argument to be made that the US government has been lacking an economic strategy as it looks to focus more on the Indo-Pacific. Even White House Indo-Pacific Coordinator Kurt Campbell has noted that economic policy is "an area where the United States, indeed, needs to step up its game." Indeed, the new framework appears to be a mix of new and old initiatives already ongoing in the Biden Administration.
For example, supply chain issues are expected to be a major focus of the new framework. Already as a part of the Biden Administration's supply chain task force review from last year, the United States will soon convene a Global Supply Chain Forum, the outcomes of which will likely be mixed into the new economic framework. The United States also has several supply chain initiatives already underway with Japan, Australia, and India through the Quadrilateral Strategic Dialogue ("Quad") framework.
Climate change assistance and infrastructure development are two other initiatives covered in the framework that are already addressed by current activities in the US government – either through the Quad, or the Development Finance Corporation. With this in mind, the real question is: Which parts of the new framework will actually be new?
To understand what will take priority in the new framework, we simply have to look at its structure. The design of the framework appears to be led by US Secretary of Commerce Gina Raimondo and US Secretary of State Antony Blinken. While US Trade Representative (USTR) Katherine Tai is also a part of these efforts, it is clear that USTR will only be playing a supporting role. As a result, trade will likely not be a major feature of the economic framework.
In fact, Secretary Raimondo noted that the framework will act as a substitute for the US joining the Comprehensive and Progressive Agreement for Trans-Pacific Partnership (CPTPP). She even suggested that the framework would be "even more robust […] than the traditional free trade agreement." And while USTR is actively working to establish new standards around workers' rights that will likely be folded into the Indo-Pacific framework, it will still fall short of negotiations towards trade liberalization—such as those involving Taiwan as it works to join the CPTPP.
Ultimately, this only leaves the digital economy and technology as possible new areas for cooperation under the new framework. What could that include? Perhaps a digital trade agreement—so long as it does not require Congress to get involved. Such an agreement would most likely look to bridge the gap between the digital chapter of the US-Canada-Mexico Agreement and the digital chapters of the CPTPP and Regional Comprehensive Economic Partnership (RCEP).
The economic framework would also likely look at areas to co-develop standards for new technologies (such as artificial intelligence), and include efforts to exchange information regarding foreign investments into such sensitive technologies. More likely, the framework will try and establish a new multilateral system to regulate the export of technology to potential adversaries like China. This could mean reexamining what technologies need to be regulated and what level of enforcement by the US and others is needed.
A Focus on Technology
There is an increasing focus on technology these days—whether it is the supply chain of technologies like semiconductors, or the development of new technologies with dual-use potential (i.e., important for consumers and national security organizations alike). In September, the US and European Union issued a joint statement as a part of their inaugural Trade and Technology Council that focused primarily on technology, including matters such as global trade challenges, semiconductor supply chains, investment screening, export controls, and artificial intelligence.
Taiwan knows just as well as any other country in the Indo-Pacific the importance of not letting its technology fall into the wrong hands. This is especially true given Taiwan's leadership in the semiconductor industry and Beijing's growing desire to become technologically self-reliant. Taiwanese regulators have always been cautious about potentially transferring technology to China. Recently, regulators in Taiwan announced that they are reviewing whether to block domestic tech companies from selling their subsidiaries or assets to China.
Given the increasing threat of China's military presence in the region, there is a growing need for the United States and Taiwan to work together and with partners to increase their deterrence capabilities, which means more investment in new technologies. Just last year, Japan's former Prime Minister Shinzo Abe argued that Japan, the United States, and Taiwan should share more defensive technologies. However, this would also mean that these partners would need to up their export control enforcement capabilities as well. Export controls, like economic sanctions, are generally more effective if multiple countries agree to enforce them, instead of a single country acting unilaterally.
Introducing the TTIC
In December, the US and Taiwan established a new Technology Trade and Investment Collaboration (TTIC) framework. Much like the Indo-Pacific economic framework, the TTIC operates under the purview of the Department of Commerce (through its International Trade Administration) and partners with Taiwan's Ministry of Economic Affairs. The aim of this initiative is to "develop commercial programs and explore actions to strengthen critical supply chains" between the US and Taiwan. While the TTIC has yet to have its inaugural meeting, it could be an ideal venue for American and Taiwanese officials to discuss ways of strengthening export controls.
The TTIC adds to a growing list of US-Taiwan initiatives. Among these high-level bilateral initiatives is the Trade and Investment Framework Agreement (TIFA) led by the USTR. This program has existed for nearly 30 years, but was suspended during the Trump Administration before resuming last June. More recently, the United States and Taiwan met for the second Economic Prosperity Partnership Dialogue (EPPD), which was launched in late 2020. The EPPD also looks to enhance cooperation on global health, infrastructure, women's empowerment, technology, and investment screening. (While it can be difficult keeping track of each initiative, an easy way to think about these dialogues is that the TIFA is led by USTR, the EPPD is led by the Department of State, and the TTIC is led by the Department of Commerce.)
Combining Efforts
The Biden Administration seems to be going all-in on establishing this new Indo-Pacific economic framework, which means that it will be looking to ongoing bilateral efforts it has with friends and partners in the region—such as Taiwan and Japan—to help give the framework legitimacy. For their part, Taiwanese officials are also looking at how they might join the framework.
It is possible that discussions at both the TTIC and EPPD can help feed into the framework—just as the new US-Japan economic 2+2 (also led by the Commerce and State Departments) will feed into the economic framework. This is also similar to the recently established US-Japan Commercial and Industrial Partnership, which looks to strengthen "competitiveness, resiliency, and security […] promote investment and vitalize cooperation between the private sectors of both countries […] advance innovation in areas such as digital and advanced technologies […] promote the resiliency of supply chains for semiconductors […] [and] strengthen collaboration in the protection of critical technologies and the development of infrastructure."
Laura Rosenberger, senior director for China at the National Security Council, recently mentioned how different conversations in which the US government is currently engaged with partners in Asia will move at different speeds. What this could potentially mean is that, since USTR is only playing a supporting role in the Indo-Pacific economic framework, TIFA dialogues will likely continue at their own pace and not add much value to the new framework.
Conclusion
It is questionable what new efforts will come from the Biden Administration's proposed Indo-Pacific economic framework, but there is no question that the framework is a priority. The US will be looking to incorporate the input of as many partners and allies in the region as possible in order to give the framework legitimacy. This means relying on some of the bilateral and multilateral dialogues already underway—such as the Quad, TTIC, EPPD, and others—with a main focus on technology.
Ideally, countries in Asia would like the United States to play a greater role in trade negotiations, especially by signing on to regional trade deals like the CPTPP. Yet, this would require both Congress and the White House to get over their aversion to trade agreements. This means that while it is unlikely there will be a US-Taiwan free trade agreement anytime soon, there will be plenty of opportunities for bilateral and multilateral cooperation over the next year.
The main point: Just as the US-Taiwan Economic Prosperity Partnership Dialogue became a substitute for a US-Taiwan free trade agreement under the Trump Administration, the new Indo-Pacific economic framework is the Biden's Administration's substitute for engaging in trade negotiations in Asia. As the framework will mostly center on technology, Taiwan should be a welcome partner in this new initiative.