Introduction
This spring and early summer, German officials have engaged in a series of high-level diplomatic meetings with their counterparts in the People's Republic of China (PRC). These visits have taken place against a background of major concerns for Germany and other European Union (EU) countries related to the PRC and Taiwan, in the realms of both trade and international security.
German officials and businessmen are particularly interested in the trade relationships with both sides. Germany's trade with Taiwan has been on the rise: in 2021, German-Taiwan trade was estimated at a record USD $20.7 billion (up 27.5 percent from USD $16.2 billion the previous year). This is dwarfed by trade between Germany and the PRC (estimated at EUR €245.4 billion [USD $268.6 billion] in 2021), and strong economic ties with China are imperative because it is Germany's number one trading partner. However, Berlin would like to strengthen economic ties with both sides. 
Cross-Strait tensions also play a role in Berlin's diplomacy. Russia's illegal assault on Ukraine has cautioned Germany and other EU countries against becoming economically dependent on an aggressive, authoritarian state. 50 percent of international trade flows through the Strait every day, 70 percent of global semiconductors are shipped through the region, and Taiwan manufactures 90 percent of the world's most advanced semiconductors. Therefore, the situation in the Taiwan Strait is of crucial importance to global trade, and a strategically vulnerable Germany and EU cannot be indifferent to China "fanning the flames" around  Taiwan. 
Germany's spring diplomatic efforts followed on the heels of a state visit to China by French President Emmanuel Macron in early April, in which Macron garnered headlines by seeking to distance EU countries (or at least France) from "crises that are not ours" in relation to Taiwan. (European Commission President Ursula von der Leyen, also engaged in the same trip, was not so accommodating to Beijing, and was therefore treated far more coolly by their hosts.) Macron further conveyed the impression that the United States was behind the current tension with Beijing, stating that Europeans must not become followers and "take our cue from the US agenda and a Chinese overreaction," and that Europeans did not want to be drawn into a "bloc versus bloc logic." (This last phrase echoed China's frequent talk of "bloc confrontation" in relation to international security issues.) 
Such factors illustrate the challenges for Berlin and other EU governments as they attempt to navigate the challenges of cross-Strait tensions, even as they formally accept a "One-China Policy" as insisted upon by Beijing. These factors also highlight the global significance of Taiwan, in terms of both international trade and international security. A look at the German-PRC exchanges between April and June helps to bring these issues into greater focus.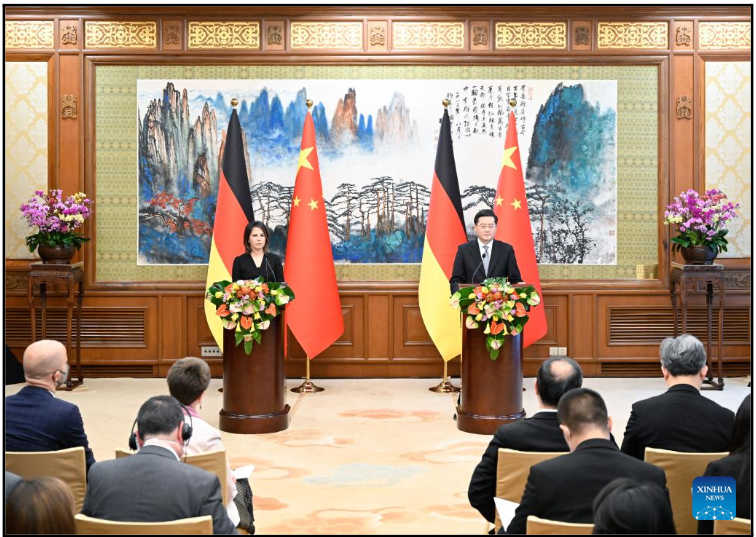 Image: German Foreign Minister Annalena Baerbock (left) and PRC Foreign Minister Qin Gang (right) appear together at a joint press conference following the "China-Germany Strategic Dialogue on Diplomacy and Security" in Beijing (April 14, 2023). (Image source: Xinhua)
The Tension Between the "One-China Policy" and a Bolder New Line 
Like other EU countries and Brussels, Germany upholds the "One-China Policy"—a term subject to interpretation, but which in a European context generally means recognition of the PRC as the sole legitimate government of China, while refraining from any recognition of the Republic of China (Taiwan). However, Beijing condemns even visits to Taiwan by parliamentarians or ministers, whether for economic or educational reasons, as violations of China's sovereignty. For instance, shortly before the April visit to China by Germany's Foreign Minister Annalena Baerbock, in March her colleague Education Minister Bettina Stark-Watzinger made the first visit by a German minister to Taiwan since 1997. Stark-Watzinger carefully affirmed in Taipei that Germany stood by the "One-China Policy." Accordingly, she did not meet with President Tsai Ing-wen, because Berlin did not want to rock the Chinese boat—but even so, Beijing condemned her "egregious act." 
In December 2021, the parties forming Chancellor Olaf Scholz's government released a Koalitionsvertrag ("coalition agreement") in which the government stated that: "Any change in the status quo in the Taiwan Strait must be peaceful and mutually agreed upon. Within the framework of the EU's One China policy, we support the relevant participation of democratic Taiwan in international organisations." This was the first time that Berlin referred to "democratic Taiwan," was explicit about peace in the Strait, and offered support for Taiwan's participation in international organizations. 
Foreign Minister Baerbock's April Visit to China
Security Concerns Expressed Prior to the Trip
Foreign Minister Baerbock—a representative of the Green Party in Germany's current coalition government—conducted an official visit to China from April 13 to 15. In addition to following on the heels of Macron's trip (and his provocative comments), Baerbock's trip also occurred in the wake of the Chinese Joint Sword military maneuvers in the vicinity of Taiwan that commenced on April 9 (the day after Macron and von der Leyen left Bejing). 
Baerbock addressed these issues directly: she declared, as she left Germany, that military escalation would be a "terrifying scenario," with serious consequences for both the German and world economies. She further underlined the "common European conviction" that a unilateral change to the status quo in the Strait—and especially military escalation—would be "unacceptable." Baerbock thus implicitly challenged statements by Macron that Europe should not get involved in disputes that would hobble the EU's strategic autonomy. (Macron doubled down on his comments after his own trip, stating: "Being allies [with the United States] doesn't mean being vassals.")
Foreign Minister Baerbock also seemed to take issue with Macron's assertion that Europe should avoid following the United States' lead on Taiwan. She stated that Germany needs partners around the world—and that one with shared values like the United States would be "crucial when we face our own security threats," which seemed to be an implicit but clear reference to Russia's invasion of Ukraine. Baerbock also asserted European unity on Taiwan, stating that the strength of the EU was that "we pursue joint strategic approaches on the central issues of our interests and values." 
Significant Exchanges on Taiwan
Baerbock's verbal sparring with China proceeded apace when she met State Councilor and Foreign Minister Qin Gang (秦剛) on April 14; and Wang Yi (王毅), Director of the Communist Party's Central Committee Foreign Affairs Commission Office, the next day. Qin's comments sought to dispel the growing German—and broader European—worry that China is becoming less a partner for cooperation and negotiation, and more of an economic competitor and systemic rival. Qin insisted that China and Germany are "partners, not rivals."
Baerbock assured Qin of Germany's respect for the "One-China Principle," but expressed concern about the "current tension" across the Taiwan Strait. That only provoked Qin to repeat Bejing's positions that Taiwan was part of China; that secessionist acts in Taiwan "are as irreconcilable with peace and stability in the Taiwan Strait as fire with water;" and that "the fundamental cause of tension across the Taiwan Strait in recent years is the 'Taiwan independence' forces on the island engaging in separatist activities with the support and connivance of foreign forces."
On April 15, Wang further avowed that Taiwan's "return to China" was an essential part of the post-World War II international order. Noting China's past support for Germany's reunification, he said he "hopes and believes" that "Germany will also support the great cause of [the] peaceful reunification of China." According to the official Chinese readout, Baerbock responded that Germany understood the sensitivity of the Taiwan question for China, and stayed committed to the "One-China Policy." [1]
Reflections of Greater China Skepticism in Europe—and Increasing Concern Over Taiwan
Following her trip, Baerbock did not directly mention Taiwan in her address to the German parliament on April 19. She merely said that the problem of dealing with China as a "strategic rival" was increasing, because China is acting more offensively and aggressively externally, and "above all, more repressively internally… It was really more than shocking at times." Such remarks seemed to align Baerbock with the skeptical comments made by European Commission President Ursula von der Leyen in her speech to the European Parliament in Strasbourg on the same day, in which she underlined the need for coordination within the EU on China and against Beijing's "divide and conquer tactics." 
Such statements are reflective of growing skepticism among some quarters in Europe for closer engagement with China—as well as increasing concerns over Taiwan. For example, Polish Prime Minister Mateusz Morawiecki has criticized Macron's calls for European "strategic autonomy," stating that politicians "who want the EU to be more independent are actually pushing it closer to China." The Inter-Parliamentary Alliance on China, an international cross-party group of mostly European legislators from 29 countries working on how democratic countries approach China, similarly criticized Macron: the group stated that, with Beijing carrying out military maneuvers in the South China Sea and supporting Russia's aggression in Ukraine, this was "the worst possible moment to send a signal of indifference over Taiwan," and that it was "severely out of step with the feeling across Europe's legislatures and beyond."
Baerbock herself realizes that Germany must wait and see whether China will turn out to be a partner, competitor, or systemic rival: she stated that "the direction in which the dial will shift in the future also depends on which path China chooses."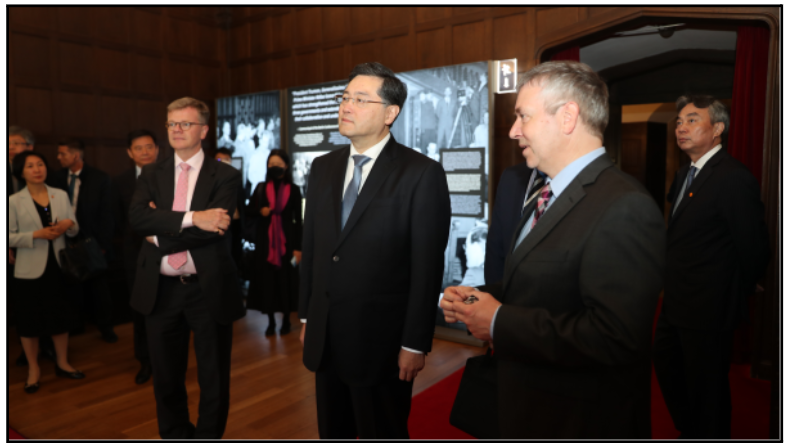 Image: Chinese Foreign Minister Qin Gang visiting the site of the 1945 Potsdam Conference outside of Berlin (May 10, 2023). Qin used the occasion to re-assert China's sovereignty claims over Taiwan, and to claim that the United States was "undermining the post-war international order" through its support of "Taiwan independence separatist activities." (Image source: CGTN)
The Chinese Diplomatic Visits to Germany
Meanwhile, as Berlin prepared in late June for talks with China's prime minister Li Qiang (李強), it reportedly hoped to deter Beijing from escalating tensions over Taiwan. At the same time, Germany is keen to retain its strong economic ties with China. For its part, China is concerned at what it alleges are US-inspired narratives about decoupling and "de-risking", and it wants Germany and the European Union to maintain a distance from them.
Chinese Foreign Minister Qin Gang reiterated the point about the political status of Taiwan on May 10 on a trip to Germany. Visiting Potsdam, Qin highlighted the international significance of Taiwan in a way that contrasted sharply with Baerbock's comments. Qin wrongly claimed that the Declaration of 1945 issued after the Potsdam Conference reaffirmed the provisions of the Cairo Declaration, including that "all the territories Japan had stolen from China, including Taiwan, should be restored to China." In the same breath he called for the preservation of "the post-war international order."
Economic issues remain important in the relationship, and were mentioned by Qin in his joint press conference with Baerbock on May 10. Such concerns also dominated the talks between Li Qiang and German Chancellor Olaf Scholz when China's premier visited Berlin on June 20. "De-risking yes, decoupling no," Scholz assured Li, and further promised that "We have no interest in economic decoupling from China." (This stance is shared by Brussels, as seen in comments by von der Leyen in March.) Unsurprisingly, Li hailed his talks with Scholz and German businessmen as "practical and highly effective," and lauded their "fruitful results." He was optimistic that they would "take China-Germany relations to a new level."
Despite the emphasis on trade, Taiwan continued to remain a complicating factor in discussions during Qin's trip. On June 22, German Chancellor Olaf Scholtz stated in comments to the country's parliament that he had warned the Chinese representatives against using force to obtain territorial goals: "We firmly reject all unilateral attempts to change the status quo in the East and South China Seas by force or coercion. This is especially true for Taiwan." 
Conclusions 
Like the EU-wide institutions in Brussels, the German government is against "decoupling," but wants to "de-risk" its economic ties with China by diversifying its supply chains for security reasons. Were China to further heighten tensions around Taiwan, the political rhetoric of Germany—and the rest of the EU—could move further towards decoupling. China, on the other hand, is against de-risking as much as decoupling. In Berlin, Qin pointed to China's ambition to promote "opportunities instead of crises, cooperation instead of confrontation, stability instead of turmoil, sureness instead of risks." Global industrial and supply chains were "the results of economic globalization and market economy, both of which are strongly advocated and promoted by European countries." [2]
So the clarity Baerbock wants has yet to emerge, both at the wider European and the national German levels. And although Germany abides by the "One-China Policy," differences over Taiwan are likely to endure, even as both Berlin and Beijing continue to express and navigate their differences about Taiwan.
The main point: Comments by German Foreign Minister Baerbock and other European leaders have expressed growing European concerns over China's actions towards Taiwan, and these concerns have also been highlighted during recent diplomatic exchanges between Germany and China. The German government wishes to build economic ties with both Taiwan and China, but this has been complicated by China's increasingly coercive behavior towards Taiwan.
---
[1] There is no official German readout of the conversation between Wang and Baerbock.
[2] That does raise the question of how China would react if Taiwan's TSMC, which manufactures half of the world's semiconductors, were to open a plant in Germany.  Some diplomats hold that such a significant Taiwan-Germany deal could influence Berlin's China-centric Asia policy. Meanwhile, Taipei advocates stronger ties with the EU if Germany and Europe want continued Taiwanese investment in semiconductor production.