In June, Taiwan's Foreign Minister Joseph Wu (吳釗燮) conducted a European tour that brought him to Prague, Brussels, and Milan. Although the Ministry of Foreign Affairs (MOFA, 中華民國外交部) has not publicized a great deal of information about Wu's trip, the visit has nevertheless had the effect of raising Taiwan's international profile, and has further paved the way for potential Taiwanese investments in Europe.
Deepening Cooperation in Prague and Brussels
In Prague, Wu attended the European Values Center for Security Policy summit held on June 14, where Czech President Petr Pavel delivered the keynote address. Wu also met with Speaker of the Chamber of Deputies Markéta Pekarová Adamová and Senate President Miloš Vystrčil, both of whom have been at the forefront of Czech efforts to build closer relations with Taiwan in recent years.
Czech Republic-Taiwan relations have grown significantly since 2019. Taipei and Prague have exchanged several legislative delegations and signed several memoranda of understanding (MOUs) in various areas. After he won the Czech presidency this January, Pavel took a brief call from Taiwan's President Tsai Ing-wen (蔡英文), in which she congratulated him on his victory. Pavel has since adopted strong, Western-leaning policies, and his plans to increase economic cooperation with Taiwan do not yet seem deterred by People's Republic of China's (PRC) protests.
Proceeding to Brussels after the summit, Wu met with members of the European Parliament and legislators from Belgium, Luxembourg, and the United Kingdom. The main topic of discussion during these meetings was Taiwan and the challenges it still faces while engaging with Europe.
Additionally, and perhaps foremost, the two sides discussed chip diplomacy. Brussels sees Taiwan as an important, like-minded partner, and in recent years the European Union (EU) has strengthened economic ties, as well as political engagement. Specifically, the EU would like to upgrade its technological cooperation with Taipei, especially in the semiconductor sector.
While the EU is Taiwan's largest source of foreign direct investment (FDI), amongst Taiwan's overall global FDI, the EU currently plays a limited role. Nonetheless, Taiwanese investors continue to demonstrate confidence in the European market, potentially setting the stage for greatly expanded Taiwanese investment in the bloc. Taiwan's leading role in the production of high-tech goods—in particular, semiconductors and electronic products vital to both the green and digital transitions—represents a major asset. Indeed, the EU is eager to attract Taiwanese investments in high-tech industries. Taiwan Semiconductor Manufacturing Company (TSMC, 台灣積體電路製造股份有限公司) recently announced that it would be investing roughly USD 3.9 billion to establish a chipmaking plant in Germany. The investment—part of TSMC's global plan to invest USD $100 billion over the next three years to ramp up production—would help meet strong European demand for specialty processes in high-tech goods and mitigate potential geopolitical barriers.
However, the Taiwanese government currently seems unwilling to enhance cooperation under the current framework. In an interview given to Politico, Wu clarified the point: "[The] philosophical issue is that when a country is in shortage of computer chips, they will ask Taiwan, 'you should do this, and you should do that' — but they don't seem to be thinking about a broader picture of better relations with Taiwan, economic or otherwise." These comments were evidently in reference to an incident in 2021, when then-German Minister for Economic Affairs and Energy Peter Altmaier asked his Taiwanese counterpart, Wang Mei-hua (王美花), to intervene regarding TSMC's reduced supply to the German auto industry. The EU cannot expect to enjoy growing technological cooperation with Taipei without a more formal upgrade in economic relations.
Another key topic has been a potential EU-Taiwan bilateral investment agreement (BIA). The European Commission has been reluctant to begin negotiations, apparently out of concern about retaliation from Beijing. Last February, EU officials crushed Taiwanese hopes, stating that there is no economic rationale for such an agreement. In the same interview with Politico, Wu stated that he was "very concerned" that a possible EU-Taiwan investment deal was caught as a "hostage," even as Brussels seems determined to move forward on a trade and investment agreement with the PRC. The EU-China Comprehensive Agreement on Investment (CAI) has been frozen since 2021, though some have pushed for renewed engagement. Wu further argued that "If you look at the linkage—close linkage—between Taiwan and the EU, in economic sense, I think [the] EU needs to find an alternative to strengthen the bilateral economic or trade relations." The foreign minister also called for stronger European voices to caution the PRC against hostile actions against the island: "We are continuing to make our effort so that there can be more European voices to caution against China."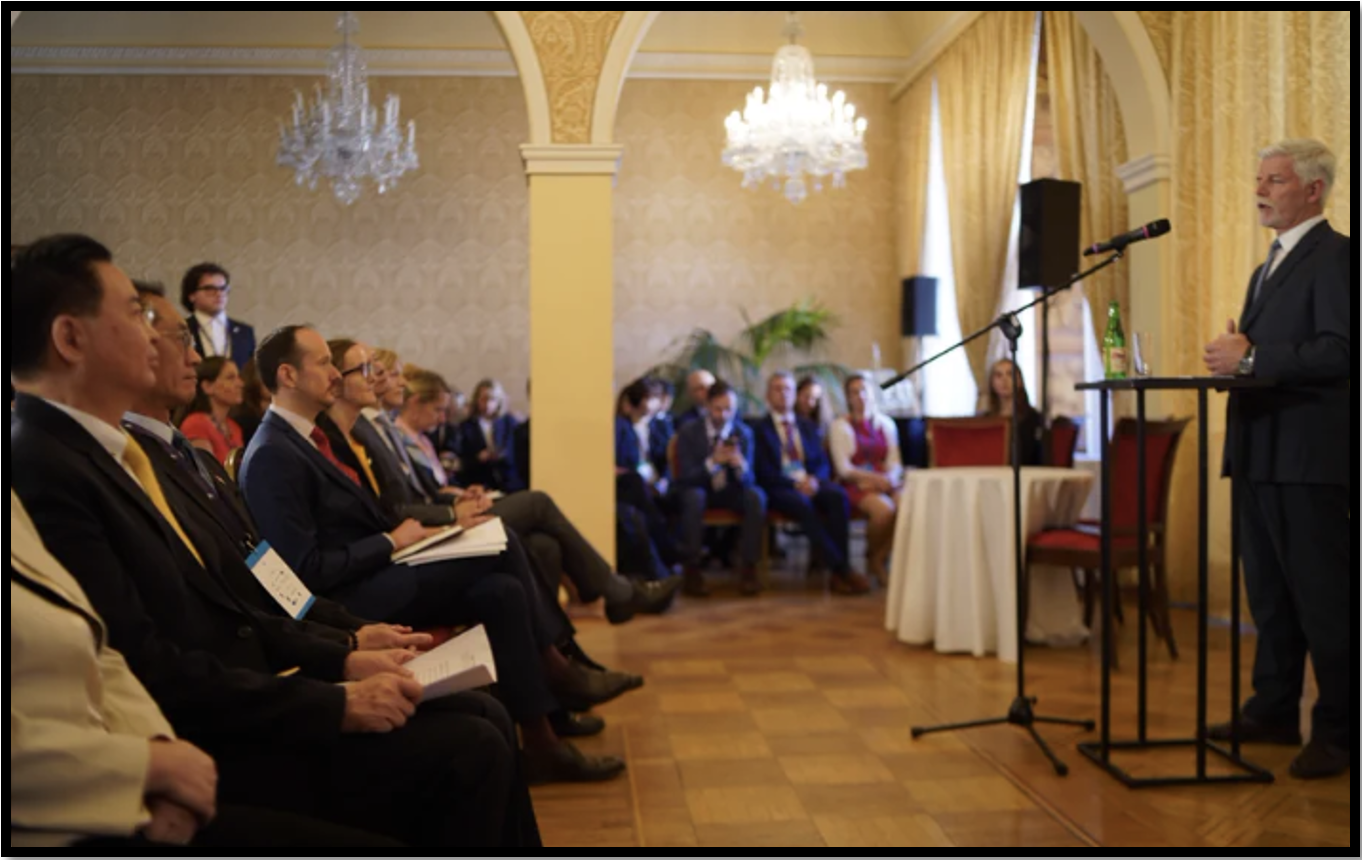 Image: Taiwan Foreign Minister Joseph Wu (seated, left foreground) in attendance at the European Values Summit in Prague (June 14, 2023). Czech President Petr Pavel is speaking (right). (Image source: Twitter)
The Italian Trip
In Milan, which will soon host Taiwan's second Representative Office in Italy, Wu met with four Italian parliamentarians, including Paolo Formentini, vice president of the Foreign Affairs Commission of the Italian Chamber. Formentini has been a firm proponent of closer Italy-Taiwan ties and recently presented a parliamentary question regarding Taiwan's participation in the work of the World Health Organization (WHO).
The relationship between Rome and Taipei is becoming deeper and more open. Traditionally, chemicals, machinery, and equipment are at the core of bilateral trade, totaling EUR € 4.7 billion in 2021, when Italy ranked as Taiwan's third-largest EU trading partner. Both sides have expressed their desire to expand cooperation. In recent months, the Italian government has been lobbying to attract Taiwanese investments in high-tech industries. Italy depends particularly heavily on semiconductors for its automotive sector.  In April, an Italian delegation from the Ministry of Enterprises and Made in Italy visited Taiwan to discuss plans to increase cooperation on the production and export of semiconductors. Furthermore, Carmaker Stellantis (controlled by the Agnelli family) and Foxconn (富士康科技集团) recently created a 50-50 joint venture, called SiliconAuto, to design and sell semiconductors for the automotive industry beginning in 2026.
In May, Taiwan's Representative in Italy, Vincent Y.C. Tsai (蔡允中), visited Biella, a small town in Piedmont. During the trip, Tsai was received by government and local officials to discuss shared economic interests, including discussing Biella as a possible destination for Taiwanese investments. Piedmont is trying to boost its microelectronic industry through EU's "Chips Act" funding and to attract foreign investments that could generate added value, knowledge spillovers and technology transfer. Although the meeting was primarily focused on digitalization, Biella is known for its textile industry. Textiles are one of Taiwan's major industrial export sectors, with a production value of over USD $11 billion in 2022. Amid serious challenges due to labor shortages, increasing overhead costs, and environmental protection concerns, Taiwan's textile industry is attaching great importance to developing sustainable technologies and practices.
It is not coincidental that the Italian political figures with whom Wu and Tsai met all belong to right-wing parties. In recent years, Italy's Prime Minister Giorgia Meloni's Brothers of Italy (FdI) and Minister of Infrastructure and Transport Matteo Salvini's Lega have expressed strong pro-Taiwan stances. A delegation of Lega parliamentarians visited Taiwan in 2019, and another large Italian parliamentary delegation—part of the Taiwan-Italy Parliamentary Friendship Group and composed of FdI members—was slated to visit Taiwan in April before the visit was cancelled last-minute due to security concerns linked to the PRC's military exercises in the area. While Wu was in Prague, Vice-President of the Italian Senate Gian Marco Centinaio and Senator Elena Murelli, both from Lega, arrived in Taipei for a personal visit, during which they conducted high-level meetings and were also received by President Tsai.
What is out of the ordinary is the level of transparency and visibility given to these visits by the Italian press. Although European parliamentary delegations to the island are not infrequent, the Italian media has remained reluctant to openly discuss relations with Taiwan. Centinaio, who had already visited Taiwan in his institutional capacity in 2019 while simultaneously cultivating good relations with the PRC embassy in Rome, not only talked about new opportunities in the cooperation between Rome and Taipei but also defined Taiwan as a "democratic garrison" to defend. 
Meloni's government is attempting to implement an ambitious, values-based foreign policy, with a particular emphasis on the Indo-Pacific. While mercantilist interests are still present and important, they are increasingly complemented by ideological considerations, with democratic values and principles guiding relationships and strategies. This value-based approach was reiterated by Under-Secretary of Justice Andrea Delmastro Delle Vedove (FdI) after the summit with Ambassador Tsai in Biella: "Taiwan's respect for freedom, [the] free market and human rights represents a fundamental feature in the possible cooperation." The big test for such foreign policy ideals will come before the end of the year, when Italy will need to decide whether or not to withdraw from its Memorandum of Understanding on the Belt and Road Initiative (BRI, formerly known as "One Belt, One Road," 一帶一路), which was signed in 2019. Given recent public pronouncements, such a withdrawal may be more likely than ever.
The main point: Joseph Wu embarked on a European tour in June that brought him to Prague, Brussels, and Milan. The trip was a valuable opportunity to deepen political ties with Czech government officials and lawmakers, and to hold meetings with European and Italian parliamentarians about possible Taiwanese investments—potentially setting the stage for expanded future relations.