In May, the United States and Taiwan held the inaugural meetings of the US-Taiwan Science and Technology Cooperation Dialogue (STCD), which brought together government officials and scientists to discuss different ways in which the United States and Taiwan can deepen science and technology (S&T) cooperation. These working-level meetings helped lay out various joint policy priorities, including limited efforts on semiconductor research. The last few months have also seen developments that have helped to shape joint approaches on supply chains, export controls, and other issues between Washington and Taipei.
Inaugural US-Taiwan Science and Technology Cooperation Dialogue Meets
On May 22, 2023, the inaugural STCD negotiations were convened in Taipei under the auspices of the American Institute in Taiwan (AIT) and the Taipei Economic and Cultural Representative Office in the United States (TECRO). Co-chaired by Taiwan's National Science and Technology Council (NSTC) Minister Wu Tsung-Tsong (吳政忠) and the Acting Deputy Assistant Secretary of State of the Bureau of Oceans and International Environmental and Scientific Affairs (OES) Jason Donovan, the event provided a forum for bilateral discussion of scientific issues and strengthening collaboration between science and technology communities in the United States and Taiwan.
The inaugural meeting of the STCD comes after a November 2021 announcement creating the working dialogue. The meeting is also the first time that the US Department of State has led a group of scientific researchers to Taiwan, and marks the first time in which officials from Taiwan and the United States have held a high-level strategic dialogue exploring S&T issues since the December 2020 signing of the Taiwan-US Scientific and Technological Cooperation Agreement.
Representatives at the meeting from government ministries—including TECRO, NSTC, and the US Department of State—focused the group's priorities on science, technology, and innovation policy. Simultaneously, other representatives from the National Science Foundation (NSF), National Institute of Standards and Technology (NSIT), the National Institutes of Health (NIH), and the National Oceanic and Atmospheric Administration (NOAA) led US discussion on topics including semiconductor research and applications, biotechnology and manufacturing, cancer research, and environmental monitoring. The inclusion of subject matter experts and scientists at the participating agencies shows that both governments are adopting different approaches to key issues of collaboration, even as executive-level collaboration has been limited.
Of note, the meeting's discussion on semiconductor research and application, biotechnology, and biomanufacturing signaled targeted areas of importance for both private and public sector leaders in Taipei and Washington. Members of the US delegation also traveled to the Hsinchu Science Park (HSP, 新竹科學園區) as a part of the visit, where they met with representatives of the Industrial Technology Research Institute (ITRI, 工業技術硏究院), the National Center for High-Performance Computing (NCHC, 國家高速網路與計算中心), and the Hsinchu Biomedical Science Park (HBSP, 新竹生物醫學園區), all indicating potential future coordination across research and development-heavy scientific fields.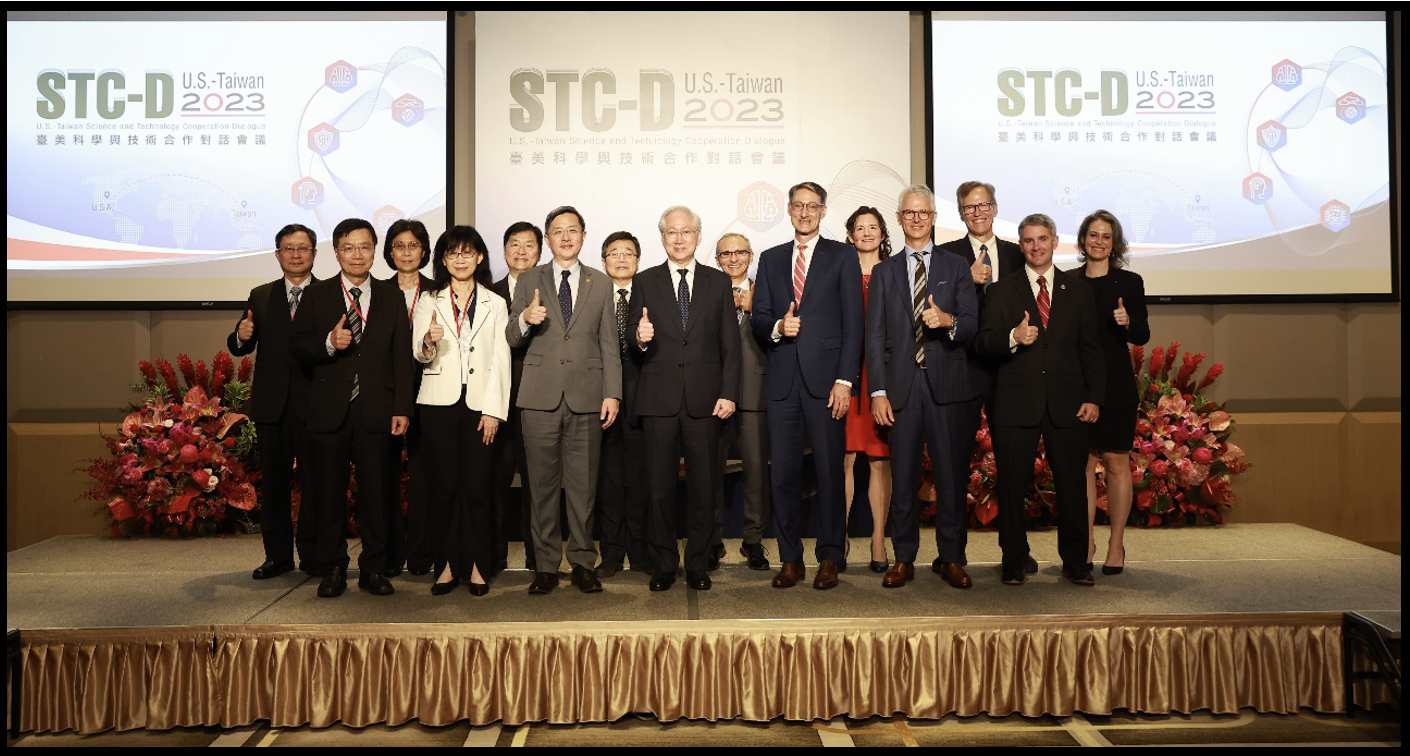 Image: Attendees at the May 2023 U.S.-Taiwan Science and Technology Cooperation Dialogue meeting in Taipei. The delegation leaders, NSTC Minister Wu Tsung-Tsong (center) and Acting Deputy Assistant Secretary Jason Donovan (center right), are visible in the front row. (Image source: NSTC)
Supply Chain and Semiconductor Developments
Developments on semiconductor and supply chain-related topics have been relatively limited since AIT and TECRO announced the launch of the Technology, Trade and Investment Collaboration (TTIC) initiative between the US Department of Commerce and the Taiwan Ministry of Economic Affairs (MOEA, 經濟部) in April 2022.
However, this June, the Office of the United States Trade Representative (USTR) announced the first agreement that was signed by representatives from AIT and TECRO as a part of the US-Taiwan Initiative on 21st Century Trade. The agreement itself does not specifically address leading-edge technology issues—including microelectronics, semiconductors, and other specific technologies—but elaborates on trade rules and practices governing US-Taiwan trade relations. In remarks discussing the first stage of the agreement, AIT Director Sandra Oudkirk stated that the United States and Taiwan also have a need to collaborate on cybersecurity issues.
More technical discussions on semiconductors have helped drive research and development collaboration efforts. This June, the National Science Foundation (NSF), a leading research and development agency of the US government, announced that it would be teaming up with the National Science and Technology Council (NSTC, 國家科學及技術委員會) on investments totaling USD $6 million across advanced semiconductor chip design and fabrication practices. These projects are ultimately guided by AIT and TECRO's January 2023 Memorandum of Understanding and Implementing Arrangement for Cooperation in Advanced Semiconductor Chip Design and Fabrication, and supported by the NSF Advanced Chip Engineering Design and Fabrication (ACED Fab) and NSTC's Department of Engineering and Technologies. US officials have said that the new project will enable more collaboration between researchers and expand access to facilities, ultimately supporting future workforce capabilities for chip design and fabrication.
The aforementioned meetings could indicate that both working- and research-level discussions on US-Taiwan semiconductor and other supply chain issues are ongoing, given the discussions of semiconductor research and applications, biotechnology, and biomanufacturing coordination efforts.
Export Controls Loom Large 
One possible issue of contention between Washington and Taipei (and also Washington and Seoul) has been high-technology export controls targeting China's growing domestic chipmaking and manufacturing capabilities.
According to reports, in June, Undersecretary of Commerce for Industry and Security Alan Estevez told members of the Semiconductor Industry Association that the US Department of Commerce would extend exemptions to allow Taiwanese and South Korean chipmakers to keep operations in China. This decision will undermine export-control measures and other efforts aimed at weakening Beijing's stranglehold on various technology sectors that began during the Trump Administration. If enacted, the waiver exemption would extend exemptions previously granted by the Biden Administration.
In response to American technology sector export controls, China issued export controls of its own, which some feared could potentially impact the microelectronics and microelectronics components industry. Implemented by the Chinese Ministry of Commerce (MOFCOM, 中華人民共和國商務部) and General Administration of Customs (GAC, 海關總署) under the guise of Chinese national security interests, these export controls targeted American companies and other companies in countries complying with American export controls, such as Japan and Taiwan.
Despite fears from industry that new Chinese export controls would impact Taiwanese semiconductor production capabilities, the impacts have been limited at best. For example, Taiwan Semiconductor Manufacturing Co. (TSMC, 台灣積體電路製造股份有限公司) reported that it did not expect any direct impact on its production as a result of the new export controls. Similarly, senior Taiwanese officials, including Minister of Economic Affairs Wang Mei-hua (王美花), have downplayed the impacts of export controls on raw materials such as germanium and gallium, claiming that they are refined in the United States and Japan before being incorporated into microelectronics.
Artificial Intelligence Policy Developments
Taiwan has also forged ahead with its own artificial intelligence (AI) policies this summer. In early June, the Executive Yuan announced the Taiwan Artificial Intelligence Action Plan 2.0, which is a continuation of the 2018 Taiwan AI Action Plan. The AI plan will run until 2026 with a focus on industry development, increasing Taiwan's technological influence overseas and fostering talent in conjunction with innovative industrial policies in the existing Forward-Looking Infrastructure Development Program. As a part of the program, the Ministry of Digital Affairs (MODA, 數位發展部) will establish an AI evaluation center, work for cross-agency coordination on AI issues, and plan to draft AI-related regulations and policies before tentatively presenting an artificial intelligence-related policy act this September. 
What's Coming Next?
When USTR announced new agreements between AIT and TECRO as a part of the US-Taiwan Initiative on 21st Century Trade, it was anticipated that digital trade could have been a component of the first round of agreements due to its inclusion in Article 6.2 of the agreement. Developments on this front have been slow, and as negotiations continue through the 21st Century trade dialogue track, the second negotiating round stayed away from digital issues and focused on agriculture, labor, and the environment. We will have to wait and see how subsequent rounds may address the issue.
The United States will likely continue to push Taiwan on joining broader, multilateral approaches to supply chain assurance and microelectronics production capabilities, such as the thus far unsuccessful "Chip 4" program. Taiwanese industry leaders have continued to meet this idea with resistance since it was first introduced in 2022. Despite some interest from partners, the Biden Administration has failed to start multilateral chips and industrial security-related working groups, and has yet to find a way to increase Taiwan's involvement in the administration's Indo-Pacific Economic Framework (IPEF).
On August 18, US President Joseph Biden hosted Japanese Prime Minister Fumio Kishida and South Korean President Yoon Suk Yeol at Camp David for a trilateral dialogue on the state of US-Japan-South Korea relations, of which technology policy is a major component. The leaders' statement from the meeting confirmed that the leaders discussed technology policy and stated there is no change in their basic positions on Taiwan policy. It will be interesting to see how Taiwan-related conversations subsequent to this summit may address broader emerging technology, semiconductor, and supply chain coordination, but no major Taiwan policy developments were announced at the summit.
If Washington, Tokyo, and Seoul agree to some sort of technology-based supply chain approach, it is likely that the three nations will look for creative ways to include Taipei in their approach given Taiwan's leading role in the production and manufacture of leading-edge chips.
The main point: Science and technology policy-related developments continue between the United States and Taiwan, although at a slower pace than in 2022. New collaboration efforts between research and development agencies could help shape longer-term engagement on issues such as supply chain assurance and artificial intelligence, but the biggest factor in this could be the establishment of technology-based components of a US-Taiwan trade agreement later in 2023.