Commenting on a recent spate of Chinese military drills, Taiwanese Defense Minister Chiu Kuo-cheng (邱國正) described the "recent enemy situation" as "quite abnormal," warning that events risk "getting out of hand." Vice President Lai Ching-te (賴清德), the Democratic Progressive Party (DPP, 民主進步黨) candidate for president in next year's election, stated that "China's attempts to annex Taiwan have not changed." But while tensions are certainly running high in the Taiwan Strait, it is developments in the South China Sea that may spark a dangerous crisis in the coming weeks and months.
Beijing has been on the offensive in the region's disputed waters this year. In the spring, Vietnamese and Chinese vessels had a dangerously close encounter after the China Coast Guard (CCG, 中國人民武裝警察部隊海警總隊) began regular patrols of oil and gas wells in the Nam Con Son basin, an area from which Vietnam secures 13.5 percent of its power generation needs. While Vietnamese and Chinese ships have regularly shadowed each other in the area, opposing ships may have closed to as near as 10 meters on March 25—far too close for comfort.
Construction at a Malaysian gas development project in the South China Sea likewise drew Chinese attention in March. Available evidence does not suggest a close encounter as in the Nam Con Son case, but after a CCG ship had parked itself near the gas project for about a month, Kuala Lumpur responded by dispatching a small naval vessel to the area. According to the Asia Maritime Transparency Initiative (AMTI), there is mounting evidence to support the contention that "oil and gas development could reemerge as a flashpoint in the South China Sea this year."
But Beijing has set its sights squarely on the Philippines, the only US treaty ally with maritime claims in the South China Sea. In May, the two countries engaged in a round of competitive buoy placement. Manila moved first, installing five navigational buoys at five Spratly Island features, three of which the Philippines occupies and two of which—Irving Reef and Whitsun Reef—are unoccupied. Beijing proceeded to install five buoys of its own, including at Irving Reef and Whitsun Reef.
Tensions have been running particularly high near the Philippine-occupied Second Thomas Shoal. Second Thomas Shoal plays host to the Sierra Madre, a former US naval vessel that the Philippines intentionally grounded on the feature in 1999 and that serves as an outpost for Philippine Marines. In February, during a naval resupply mission to Second Thomas Shoal, a China Coast Guard ship reportedly directed a "military-grade laser" at a Philippine coast guard vessel, "temporarily blinding its crew on the bridge."
Tensions picked up again in the summer, when CCG vessels again interfered in a naval operation near Second Thomas Shoal in July. According to a Philippine coast guard spokesperson, Philippine coast guard vessels were "constantly followed, harassed, and obstructed by the significantly larger Chinese coast guard vessels." One month later, the CCG was at it again, this time disrupting a resupply mission not just with aggressive maneuvering, but with water cannons. Chinese naval vessels hovered nearby.
Things may now be coming to a head. In late September, the CCG and the Chinese Maritime Militia (中國海上民兵) installed a barrier at Scarborough Shoal aimed at keeping Philippine fishing boats out of the area. A few days later, a Philippine Coast Guard diver severed the ropes anchoring the barrier. His shipmates then pulled the barrier from the sea.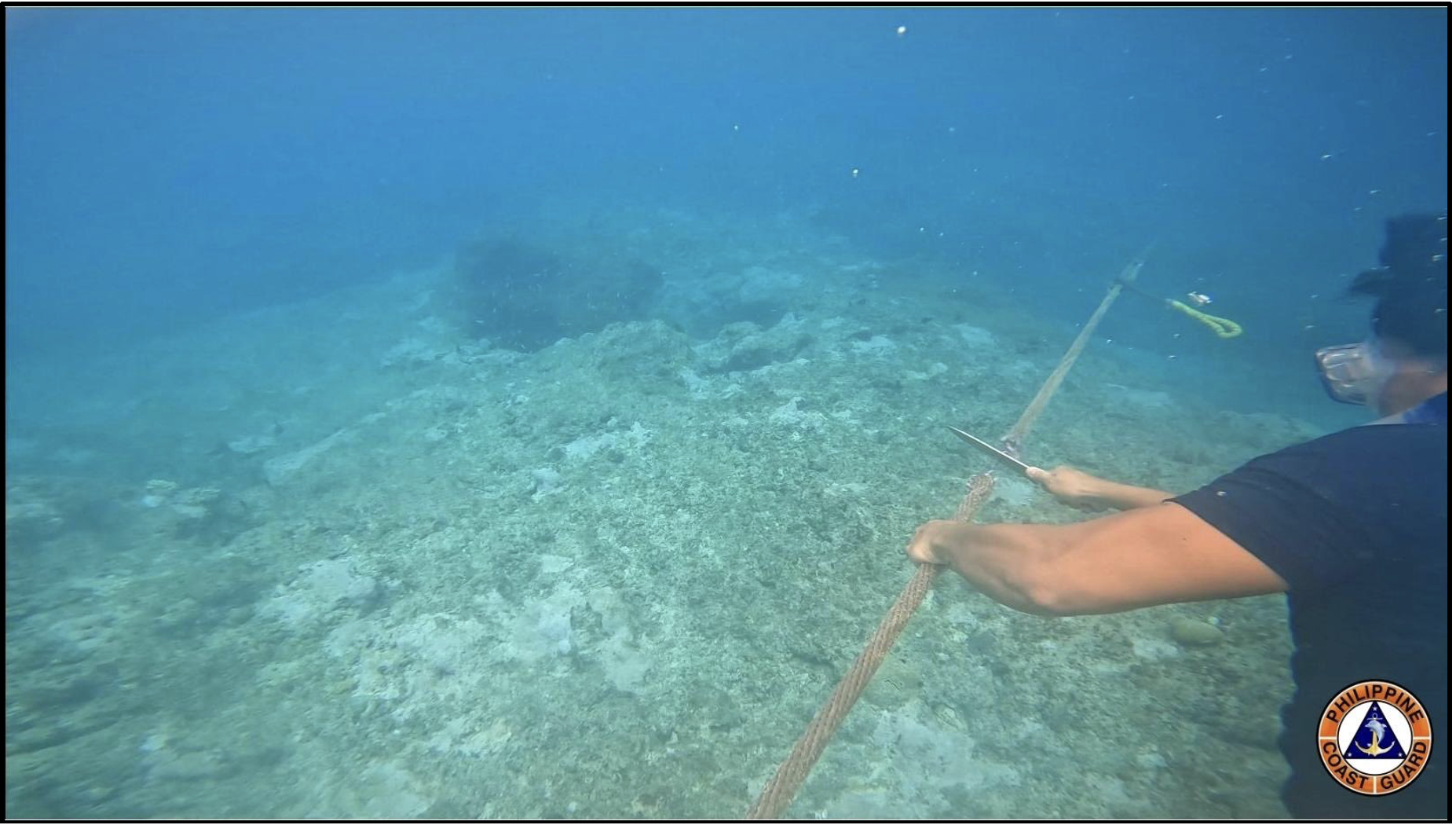 Image: A Philippine Coast Guard diver cuts an underwater rope barrier placed by Chinese personnel around Scarborough Shoal (image taken on or about September 25). (Image source: Philippine Coast Guard/US Naval Institute).
China's focus on the Philippines may be related to its frustration with Philippine President Ferdinand Marcos Jr., and to displeasure with American moves in the region. Marcos has proven himself a more stalwart defender of Philippine interests in the South China Sea than his openly anti-American predecessor, Rodrigo Duterte. After his election in May 2022, Marcos pledged to use the 2016 Permanent Court of Arbitration ruling "to continue to assert our territorial rights," consigning Duterte's approach to the policy trash heap. Marcos's decision to embrace the arbitral ruling, notably in the wake of Russia's invasion of Ukraine, paved the way for a growth in international support for the legal finding. American diplomacy no doubt played some role as well. "Since November 2022," according to the AMTI, "16 governments have shifted from positively acknowledging the ruling to fully supporting it by issuing statements endorsing the ruling as legally binding." With the exception of India, those countries are all in Europe. AMTI notes that "only two governments […] had shifted in this way during the previous six years."
In other words, the South China Sea has become a live, international issue in a way that it has not been since Rodrigo Duterte was elected president in 2016. This development has coincided with enhancements to America's defense posture in the region. Earlier this year, Washington and Manila announced an expansion of the bilateral Enhanced Defense Cooperation Arrangement (EDCA) to include four new military facilities in the Philippines. Notably, those sites include naval and air installations in the north of the country—across the South China Sea from Taiwan—and a facility on Balabac island near the disputed Spratlys.
In May, the United States and Papua New Guinea signed a new Defense Cooperation Agreement (DCA). According to the State Department, the agreement "will form the foundational framework around which our two countries will enhance security cooperation, further strengthen our bilateral relationship, improve the capacity of the PNG Defence Force, and increase stability and security in the region." ABC News reported that "the deal could lead to a rotational military presence," per unnamed US officials.
Four months later, the United States and Vietnam upgraded their relationship to a comprehensive strategic partnership, a shift that Hanoi had refused to make only two years ago. And while the new partnership does not pave the way for US military presence in Vietnam, it will lead to closer security and defense relations, which Beijing likely views with disfavor.
In focusing the bulk of its ire on the Philippines, China is not only trying to intimidate Manila, but also signaling to Washington that efforts to enhance America's deterrence posture are unlikely to be effective. Unfortunately for Beijing, this effort is backfiring. On May 1, in a joint statement with Marcos, President Biden reaffirmed "the United States' ironclad alliance commitments to the Philippines, underscoring that an armed attack on Philippine armed forces, public vessels, or aircraft in the Pacific, including in the South China Sea, would invoke US mutual defense commitments under Article IV of the 1951 U.S.-Philippines Mutual Defense Treaty." A State Department spokesperson reiterated that commitment after the August contretemps by Second Thomas Shoal, even specifying that mutual defense commitments apply in the case of attacks on the Philippines Coast Guard in the South China Sea.
Of course, the Chinese effort to intimidate Marcos (and Biden) is backfiring in one particularly important way: the Philippines is pushing back. Suddenly, Beijing risks the appearance of strategic impotence in the face of a far weaker rival.
Implications for Taiwan
By installing a barrier at Scarborough Shoal, China may have pushed past some red line that neither Beijing, nor Manila, nor Washington recognized ahead of time; it was a seemingly minor escalation that was too much for the Philippines to bear. China has long been confident that it can control escalation, in large part because it believed it could count on the restraint of its rivals and adversaries. That confidence may have been misplaced.
Dangers in the South China Sea necessarily pose risks for Taiwan. Beijing has yet to respond substantively to the Philippine gambit at Scarborough Shoal, but Taipei should consider the possibility that, even as all eyes have been on the Taiwan Strait, regional conflict could begin in the South China Sea. If China-Philippine tensions do continue to escalate, Taiwan will find itself in an uncomfortable situation. Although Taipei might prefer to remain an innocent bystander in such circumstances, its own presence in the South China Sea may deny it that status. The Pratas Islands—upon which Taiwan maintains a Coast Guard presence and to which it has at times deployed marines—sit squarely between Guangdong Province and Luzon, the main Philippine island. Taiwan's sole possession in the Spratly Islands, Itu Aba (or Taiping Island), is just 80 miles northwest of the China-occupied Mischief Reef, which itself is less than 30 miles northwest of Second Thomas Shoal. If hostilities break out, will Chinese forces be willing to leave potential enemy strongpoints in their rear, especially if the Philippines' treaty ally—which just happens to be Taiwan's main security partner—gets involved?
Even if cooler heads prevail in the coming weeks and months, the latest Scarborough Shoal affair provides a potent warning. It is perhaps not the known red lines that mark the divide between peace and war, but rather the lines that only become apparent once they are crossed. It is hard to say how many lines remain concealed in the Taiwan Strait. But with the People's Liberation Army (PLA) frequently sending aircraft across the median line, lobbing missiles over Taiwan, and maintaining an intense exercise schedule, China is no longer "crossing the river by feeling the stones" in the Taiwan Strait. As China was constantly pushing the Philippines in the South China Sea, Manila probably did not know how far was too far until the latest barrier was erected at Scarborough Shoal. Does Taipei?
The main point: While tensions are running high in the Taiwan Strait, it is developments in the South China Sea that may spark a dangerous crisis in the coming weeks and months, with grave implications for Taiwan.