Thursday, November 19, 2020 from 9:00 AM-10:30 AM (EST)
Webcast Only
Event Description:
The Global Taiwan Institute (GTI) is very pleased to invite you to the release of a new occasional report by Lt. Gen. (Ret.) Wallace 'Chip' Gregson, Russell Hsiao, and Amb. (Ret.) Stephen Young, entitled "David and Goliath: Strengthening Taiwan's Deterrence and Resiliency."
As the new American administration sets out its agenda with US allies and partners to preserve and promote the rules-based order, it will have a natural partner in Taiwan. In January 2020, Tsai Ing-wen was reelected president of Taiwan—formally known as the Republic of China (ROC)—with a popular mandate. As a democratic ally and vital security partner of the United States, Taipei and Washington have many reasons to deepen their ties. It's clear that in the face of the rise of revisionist authoritarian powers such as China and the existential threat they pose to Taiwan's democratic system and the rules-based international order, the United States, Taiwan, and other like-minded nations will need to work closer together—but how? This report provides policymakers in Washington and Taipei a common reference point that both identifies the challenges as well as proposes some recommendations to ensure common purpose and policy objectives.
This report roll out event will feature opening remarks by Ambassador Hsiao Bi-khim, who serves as Representative of the Taipei Economic and Cultural Representative Office to the United States, as well as a panel discussion with the report authors and Randy Schriver, chairman of the Project 2049 Institute and a former Assistant Secretary of Defense for Indo-Pacific Security Affairs, as the discussant.

The event webcast will be broadcasted live on our website and YouTube on Thursday, November 19 starting at 9:00AM EST. Questions for the panel may be sent by e-mail to contact@globaltaiwan.org, through the chat function on the YouTube page, and via Twitter by tweeting @globaltaiwan.
Panelists:
Hsiao Bi-khim assumed her position as Taiwan's Representative to the United States in July 2020, after serving as a Senior Adviser to the President at the National Security Council of Taiwan. Representative Hsiao previously served four terms in the Taiwan Legislature, representing overseas citizens for the first term, and then the constituents of Taipei City and Hualien County through different terms. For many years she was ranking member of the Foreign Affairs and Defense Committee and previously the chair of the USA Caucus in the Legislative Yuan. She began her political career serving as Director of the Democratic Progressive Party International Affairs Department. After Taiwan's first democratic change of government in 2000, she became an Adviser in the Office of the President and was international spokesperson for all DPP presidential elections between 2000 and 2012. Representative Hsiao has taken on numerous leadership roles in international organizations. She was the Chair of the Council of Asian Liberals and Democrats (CALD), an organization representing Asian democratic political parties. Between 2005 and 2012, she was elected Vice President on the Bureau of Liberal International (LI), a London-based global political party organization. She is also a founding Board Member of the Taiwan Foundation for Democracy. Born in Kobe, Japan, Representative Hsiao grew up in Tainan, a city in southern Taiwan. She has an MA in Political Science from Columbia University in New York and BA in East Asian Studies from Oberlin College, Ohio.
Randy Schriver is Chairman of the Board at The Project 2049 Institute. Most recently, Mr. Schriver served as the Assistant Secretary of Defense for Indo-Pacific Security Affairs from 8 January 2018 to 31 December 2019. Prior to his confirmation as Assistant Secretary, Mr. Schriver was a founding partner of Armitage International LLC, a consulting firm that specializes in international business development and strategies. He was also a founder of the Project 2049 Institute and served as President and CEO. Previously, Mr. Schriver served as Deputy Assistant Secretary of State for East Asian and Pacific Affairs. From 2001 to 2003, he served as Chief of Staff and Senior Policy Advisor to the Deputy Secretary of State. From 1994 to 1998, he worked in the Office of the Secretary of Defense, including as the senior official responsible for the day-to-day management of US bilateral relations with the People's Liberation Army and the bilateral security and military relationships with Taiwan. Prior to his civilian service, he served as an active duty Navy Intelligence Officer from 1989 to 1991, including a deployment in support of Operation Desert Shield/Desert Storm. After active duty, he served in the Navy Reserves for nine years, including as Special Assistant to the Chairman of the Joint Chiefs of Staff and an attaché at US Embassy Beijing and US Embassy Ulaanbaatar. Mr. Schriver has won numerous military and civilian awards from the US government and was presented while at the State Department with the Order of the Propitious Clouds by the President of Taiwan for service promoting US-Taiwan relations. Mr. Schriver received a Bachelor of Arts degree in history from Williams College and a Master of Arts degree from Harvard University.
Wallace 'Chip' Gregson served as the Assistant Secretary of Defense, Asian and Pacific Security Affairs. Previously, he served as Chief Operating Officer for the United States Olympic Committee, then as an independent consultant before entering government in 2009. From 2003 to 2005, he was Commanding General of the Marine Corps Forces Pacific and Marine Corps Forces Central Command, where he led and managed over 70,000 Marines and Sailors in the Middle East, Afghanistan, East Africa, Asia and the United States. From 2001 to 2003 he served as Commanding General of the III Marine Expeditionary Force in Japan, where he was awarded the Japanese Order of the Rising Sun, the Gold and Silver Star; the Korean Order of National Security Merit, Gukseon Medal; and the Order of Resplendent Banner from the Republic of China. Prior to his time in Japan he was Director of Asia-Pacific Policy in the Office of the Secretary of Defense from 1998 to 2000. He received a Bachelor's degree from the U.S. Naval Academy, and Master's degrees in Strategic Planning from the Naval War College, and International Relations from Salve Regina College.
Russell Hsiao is the Executive Director of GTI, Senior Fellow at The Jamestown Foundation, and Adjunct Fellow at Pacific Forum. He is a former Penn Kemble Fellow at the National Endowment for Democracy and Visiting Scholar at the University of Tokyo's Institute for Advanced Studies on Asia. He previously served as a Senior Research Fellow at The Project 2049 Institute and National Security Fellow at the Foundation for Defense of Democracies. Prior to those positions he was the Editor of China Brief at The Jamestown Foundation from October 2007- to July 2011 and a Special Associate in the International Cooperation Department at the Taiwan Foundation for Democracy. While in law school, he clerked within the Office of the Chairman at the Federal Communications Commission and the Interagency Trade Enforcement Center at the Office of the US Trade Representative. Mr. Hsiao received his J.D. and certificate from the Law and Technology Institute at the Catholic University of America's Columbus School of Law where he served as the editor-in-chief of the Catholic University's Journal of Law and Technology. He received a B.A. in international studies from the American University's School of International Service and the University Honors Program.
Stephen Young is a member of GTI's Advisory Board. He served as a US diplomat for over 33 years, with assignments in Washington, Taipei, Moscow, Beijing, Kyrgyzstan and Hong Kong. He earned a B.A. at Wesleyan University and a Ph.D. in history at the University of Chicago. Young was Ambassador to the Kyrgyz Republic, Director of the American Institute in Taiwan (AIT), and Consul General to Hong Kong. Young first lived in Taiwan as a teen in the 1960s, when his father was a MAAG advisor to the Taiwan military. He has lived a total of 11 years in Taiwan. Since retiring to his family home in New Hampshire in 2013, Young has been writing and speaking. He was a Visiting Professor at Wesleyan University in 1994-95, where he taught a seminar on modern Chinese foreign policy. Young speaks Russian and Mandarin Chinese.
Event Summary:
On November 19th, 2020, the Global Taiwan Institute hosted a panel discussion to mark the newly released occasional report "David and Goliath: Strengthening Taiwan's Deterrence and Resiliency," authored by Lt. Gen. (Ret.) Wallace 'Chip' Gregson, GTI Executive Director Russell Hsiao, and Amb. (Ret.) Stephen Young. The event featured opening remarks by Ambassador Hsiao Bi-khim, as well as a discussion featuring the authors and Randy Schriver, chairman of the Project 2049 Institute.
Amb. Hsiao Bi-Khim, in her first event since the US presidential election, began by thanking the authors of the report for their "timely and clear-eyed suggestions." Hsiao stated that the US will find Taiwan as a natural partner in the ongoing competition between democracies and "revisionist authoritarian powers." She also highlighted three main points of challenges and opportunities Taiwan's government has been working to address. First, Taiwan is working to respond to China's "Wolf-Warrior" diplomacy and saber rattling by stating that "Taiwan's collective resolve to safeguard our democracy remains unmistakable and ironclad." Second, Taiwan must ensure that it can respond to shifts in critical global supply chains. Third, Hsiao argued that Taiwan's survival is reliant upon "Taiwan's ability to integrate efforts across all levels of our free and open society, strengthen public confidence, and immunity against Orwellian China's influence operations." Hsiao concluded by echoing the analogy of the report: against all odds, "Taiwan, as a confident and intelligent young warrior, David, will eventually defeat giant Goliath."
The following speaker, GTI Executive Director Russell Hsiao, began by stating that the "report seeks to find a holistic approach to countering China's hard and sharp power." Hsiao emphasized that Taiwan is a democratic ally, with President Tsai Ing-wen elected by popular mandate. Furthermore, he described Taiwan "as a vital security partner to the United States," arguing that "Washington and Taipei have many reasons to deepen their ties." Chief among them, it is clear that the "US, Taiwan and other likeminded nations will need to work closer together." Hsiao expressed his hopes that this report will provide policymakers in both DC and Taipei with a "common reference point that identifies the challenges and proposes some recommendations to ensure common purpose and policy objectives." Hsiao ended by stressing that despite some of the shortcomings of the previous administration's foreign policy, "expanding on the previous presidents' policies is important to proving Washington and Taiwan's ties are bipartisan and enduring."
Stephen Young began his remarks by reflecting on his own longstanding status as an advocate for Taiwan, dating back to when he lived in Kaohsiung in the early 1960s. Young remarked that he had the pleasure of watching Taiwan grow from an "agricultural and textile exporter under Chiang Kai-shek, to a high tech powerhouse" and the bane of authoritarian regimes around the world. Young defined sharp power as "aggressive and subversive policies employed by authoritarian governments as a projection of state power, especially aimed at democratic countries like Taiwan," which "seeks to take advantage of the asymmetry between free and unfree systems, allowing authoritarian regimes to limit free expression while shielding their own public spaces from democratic appeals." Young declared that as Hong Kong stands on the precipice of falling to China's sharp power and influence, "we can now safely dismiss Hong Kong serving as any kind of model for Taiwan." He concluded by stating that although Taiwan faces a Goliath in China, "David only had one stone, whereas Taiwan has three: 1) a thriving democracy, 2) a booming high-tech economy, and 3) the backing of the United States."
Lt. Gen. (Ret.) Wallace 'Chip' Gregson followed with an adept explanation of the reality of China's hard power threat to Taiwan as well as China's motives, which present a credible threat to the democratic island-nation. Gregson expounded on Xi Jinping's promise to reunify Taiwan with the mainland as a central pillar of China's great rejuvenation. Indeed, Xi has framed Taiwan as the key to the continuation of his rule, as the blame for failing to bring the island into the fold would "lay at the feet of Xi." Gregson refuted the idea that Taiwan was indefensible, affirming that "sheer numbers are not the end of the tale; if they were then Britain would not have survived the 'Blitz' in 1940, and the Falkland Islands would still be called the Malvinas." Gregson declared his support for the Taiwan's Overall Defense Concept (ODC) as a key piece in defeating China's "Anaconda" strategy which should be treated as a "mobile doctrine," constantly updated as "the threat [from China] grows and changes." Lastly, Gregson stated that "all of Asia's maritime nations are facing the same threat, and the challenge must be met by all in a combined effort," and suggested that critical examination of policy changes and military doctrine is necessary to meet the needs of the relationship between the US, Taiwan, and other partner nations.
Randy Schriver concluded by highlighting the points of the three authors and emphasized the important issues raised in the new report. Among them, he addressed Stephen Young's point that China may be beginning to believe that coercion is the only way to regain its territory, as well as Gregson's assertion that Taiwan is indeed defensible from China's incursions on their democracy. In his reflection of the previous administration, Schriver stated that after serving in previous administrations, "the clarity of this national defense strategy" is unlike anything he has seen before, that "the competition with China is not a priority, it is not one of the priorities, it is the single priority." Schriver then echoed Hsiao's hope that the new administration will maintain the positive policy accomplishments of the previous administration, perhaps even building on the new foundations of cooperation with Taiwan. Schriver wrapped up the presentation by comparing Taiwan to a modern day "Fulda Gap," arguing that the loss of Taiwan will not only shake Japan's confidence in the US ability to protect its interests, but also our confidence in our own capacity to protect and secure our interests in Asia.
This event summary was written by GTI Fall 2020 intern Nicholas Henderson.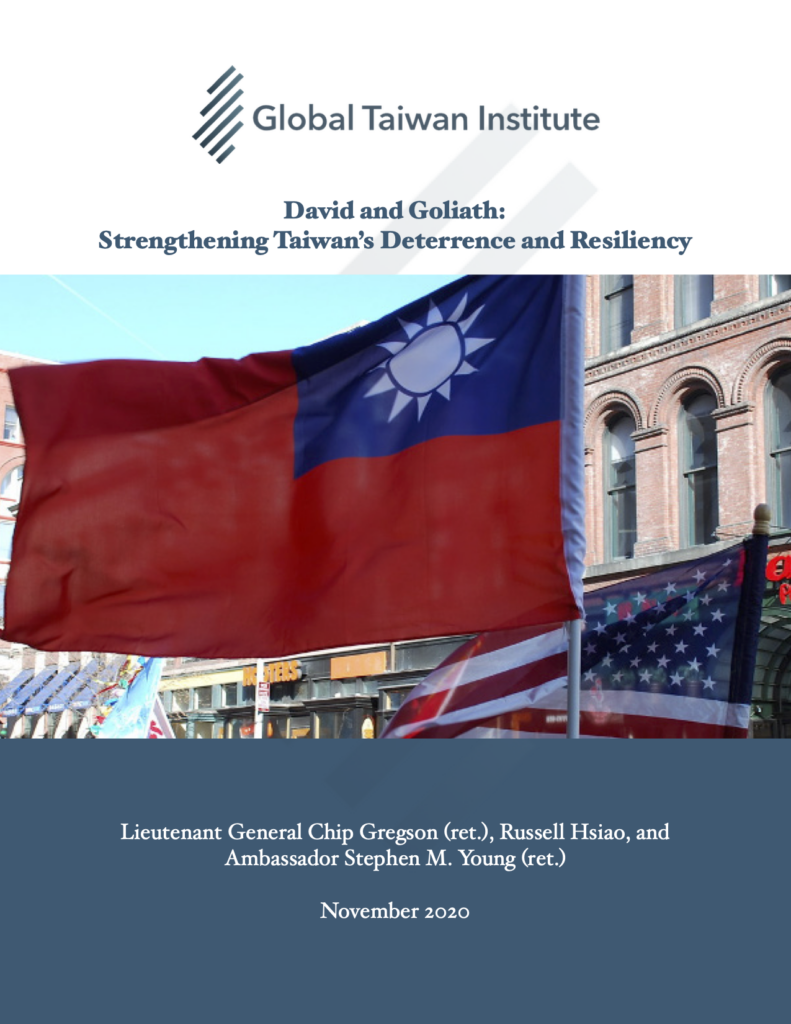 ---
To receive all our updates directly in your inbox you can subscribe by pressing the button below.