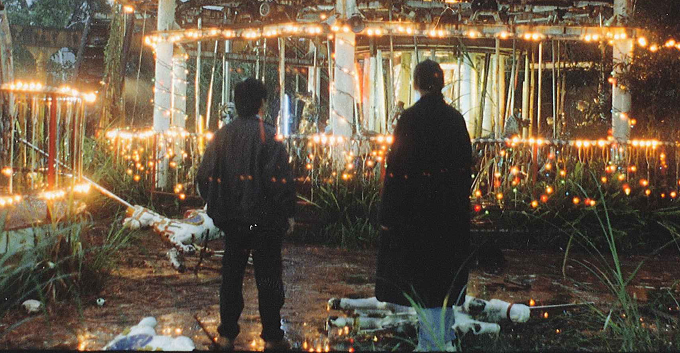 Thursday, October 19, 2017 from 5:30 PM – 8:00 PM
The Global Taiwan Institute is pleased to present the first film in our ongoing series of social and cultural programs for young professionals in Washington, DC. We will be joined by Jack Yeh-Chin Kuei, director of TECRO's cultural arm, the Taiwan Academy. Mr. Kuei will introduce the movie and take questions.
Doors open at 5:30 for opening remarks, and the film will begin at 6. Light snacks will be provided. Please contact GTI Program Assistant Jonathan Lin if you have questions or concerns.
THE FILM 
We will be showing the film Connection by Fate (超級公民, 1998), directed by celebrated Taiwan director Wan Jen (萬仁):
"A-Te used to be a social movement fanatic. But after suffering the pain of divorce and the death of a child, he changed his profession and became a taxi driver. Ma Le, a young aboriginal man, came to Taipei alone to earn a living on construction sites. However, unable to bear his exploitation, and in a rage, he accidentally killed a site superintendent and was sentences to death. A-Te gave Ma Le a ride in his taxi on the night that Ma Le committed the killing Their two fates were thereafter intertwined.
Wan Jen demonstrates a more philosophical and sympathetic approach to facing life and death through the interaction and dialectic between the dead and living characters, and between a Han and an aboriginal. As politics becomes a manipulative and utilitarian power struggle with reality, the pure idealistic spirit, which attracted the devotion of many young souls, seems to gradually sink into desperation and despair, and in the end, death is the only option."
SPEAKER
Jack Yeh-Chin Kuei assumed duties as Director of Taiwan Academy for Taipei Economic and Cultural Representative Office in the US (TECRO) on December 12, 2016. Mr. Kuei joined Taiwan's Government Information Office (GIO) in 1988 and transferred to the Ministry of Culture (MOC) in 2012. Mr. Kuei has had overseas assignments in Washington, DC, Singapore and Kula Lumpur. Most recently, Mr. Kuei served on the MOC's Department of Cultural Exchanges as Deputy Director from 2015-2016. Mr. Kuei was born in Taipei, Taiwan. He attended National Sun Yat-sen University where he graduated with a Bachelor's degree in Foreign Language and Literature.
---
We are grateful to Taiwan Academy and the Taiwan Cinema Toolkit for providing the film for our use, and to Academy Director Jack Kuei for generously agreeing to introduce it. All media and content relating to the film are taken from the Taiwan Toolkit website.