Last fall, an Indian newspaper suggested that China's steadfast ally Pakistan was secretly promoting trade ties with Taiwan. In a Twitter post from September 3, 2020, which has since been deleted, Sidrah Haque, trade and investment attaché at the Embassy of Pakistan in Egypt, posted a picture taken with Michael Yeh (葉人誠), director of the Taiwan Trade Center in Cairo (開羅台灣貿易中心), an overseas office of the Taiwan External Trade Development Council (中華民國對外貿易發展協會, TAITRA). In an accompanying tweet, Haque stated: "Met with Mr. Michael Yeh, a veteran commercial officer from Taiwan Trade Center. We spoke of Pakistan-Taiwan trade ties, our shared commercial experience in Cairo and major products of interest in the local market. Always feels good to connect with other trade wings and compare notes." Although Taiwan's New Southbound Policy (NSP, 新南向政策) aims to expand economic and people-to-people exchanges with 18 countries including those in the South Asian region, Taipei has long had difficulty building closer economic and trade relations with Pakistan due to structural market conditions and Chinese influence over its South Asian ally.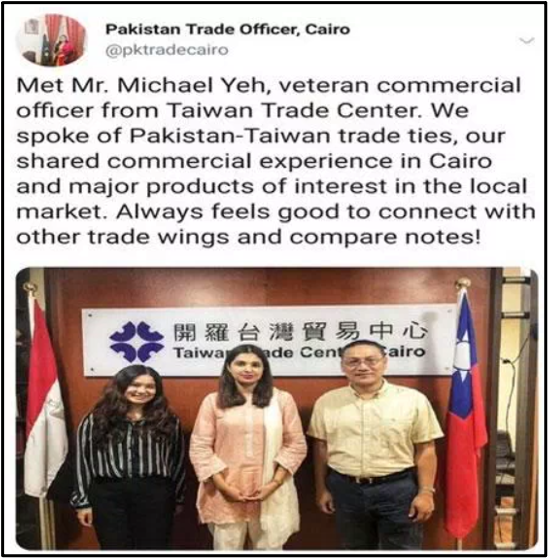 Taiwan-South Asia Economic Relations
South Asian markets have become a focus of Taiwan's external trade relations under President Tsai Ing-wen's (蔡英文) New Southbound Policy since 2016. The six South Asian countries identified in the NSP are Bangladesh, Bhutan, Nepal, Pakistan, India, and Sri Lanka. Last year, Taiwan's top trade partners in the region were India (USD $4.8 billion in bilateral trade), Bangladesh (USD $939.6 million), and Pakistan (USD $524.5 million). Meanwhile, Sri Lanka (USD $369.8 million), Nepal (USD $10.5 million), and Bhutan (USD $124,299) ranked among Taiwan's smaller regional trade partners. Yet, due to cultural, trade, and foreign investment barriers, Taiwan's overall economic engagement with South Asian countries remains at relatively low levels. Even Taiwan's trade with its largest South Asian trade partner, India, lags significantly behind its trade levels with smaller-sized Southeast Asian countries, suggesting that Taiwan-South Asia economic relations have yet to reach their full potential.
Indeed, Taiwan's national advantage in information and communication technologies (ICT) is currently underutilized in South Asian markets. Taipei has sought to link its hardware production to India's software services industry and other similar industries in South Asia. However, South Asian economies still lack strong connections to Taiwan's ICT sector and thus largely sit outside global supply chains that the United States, Taiwan, and other countries are currently aiming to shift away from China. Currently, the bulk of Taiwan-South Asia trade tends to consist of low value-added goods, such as textiles, plastics, mineral fuels, and seafood. Thus, as long as Taiwan-South Asian trade remains mired in lower-end products and disconnected from Taiwan's digital industries, the potential for future economic and trade growth will likely remain limited and unremarkable.
Even before Tsai's announcement of her New Southbound Policy, Taiwanese businesses were interested in Pakistan's emerging market. The South Asian country has a young population, large middle class, and growing consumer market. Indeed, the Pakistani market has high potential for development and is a main focus for expanding economic relations under the NSP, according to TAITRA, which has also encouraged Taiwanese businesses to explore commercial opportunities in Pakistan.
Lack of Direct Channels
Despite this interest, there have been several barriers preventing the building of comprehensive economic and financial ties. First, neither Taipei nor Islamabad have set up representative offices in each other's capitals. Instead, matters related to Pakistan are handled by the Taipei Economic and Cultural Representative Office in the Kingdom of Saudi Arabia (駐沙烏地阿拉伯王國台北經濟文化代表處). In fact, in all of South Asia, Taipei only has representative offices in India: two offices in New Delhi and Chennai. It has no other South Asian missions, leaving a gaping hole in its diplomatic efforts towards the region. In 2009, Taiwan's Ministry of Foreign Affairs (MOFA) closed its representative office in Bangladesh, citing Dhaka's "many restrictions" towards Taipei even after the office was opened in 2004.
In the absence of direct channels of communication, TAITRA has emerged as the main semi-official Taiwanese entity conducting regular outreach to Pakistani industry counterparts on commercial matters. TAITRA has signed memorandums of understanding (MOUs) with the Federation of Pakistan Chambers of Commerce and Industry (FPCCI) and the Lahore Chamber of Commerce and Industry (LCCI) to strengthen economic and trade exchanges. The latter signing was meant to boost ties between Taiwan and Lahore, which is the center of Pakistan's software industry and has a growing local computer assembly industry. However, another limitation is that TAITRA—which has established overseas offices in Dhaka (Bangladesh), Kolkata (India), and Tehran (Iran)—does not have an office in Pakistan.
Visas and Other Hurdles
In addition to these barriers, the cumbersome visa process was a major hurdle to strengthening economic and financial cooperation between Taiwan and Pakistan over the past decades. [1] The challenge of providing expeditious consular services from both sides was compounded by the absence of representative offices in each other's territories. In the past, Pakistani businessmen interested in exploring commercial opportunities in the Taiwanese market would have to travel to a third country, such as Saudi Arabia, to apply for a Taiwan visa.
Therefore, one of the earliest measures taken under the NSP was extending the eVisa process for businesspeople from Iran and six South Asian countries (Bangladesh, Bhutan, India, Nepal, Pakistan, and Sri Lanka) in June 2017. The eVisa process removed the need for businessmen from these countries to apply for a Taiwan visa in person at one of the Republic of China's (ROC) overseas representative offices. As part of the eVisa application, businesspeople from these countries would need to be recommended by a local office of TAITRA. Prior to the outbreak of the COVID-19 pandemic—which has forced Taipei to impose restrictions on foreign entry into its territory—Pakistani business personnel who had previously traveled to the island could apply for the Taiwan eVisa through TAITRA's Tehran office. In addition to traveling to Taiwan to engage in commercial activities, Pakistani citizens can also apply for visas to receive short-term medical care or to participate in international conferences related to religious, sports, and cultural exchange activities under the NSP.
Meanwhile, Taiwanese businesses face a challenging environment in Pakistan. According to TAITRA Chairman James Chih-Fang Huang (黃志芳), the barriers for Taiwanese businessmen to enter Pakistan are higher than those of India. He cited Pakistan's poor public security, domestic political unrest, and terrorism as factors that keep Taiwanese businesses away. Pakistan's relationship with China has been another stumbling block, he said. Although some Pakistanis have bad impressions regarding the quality of Chinese products and view Taiwanese products more positively, the visa issue had prevented opportunities for commerce, tourism, and talent exchanges from taking shape, he said, before Taipei moved to extend the eVisa program to Pakistani citizens.
The China Factor: "Ironclad Brothers"
As a result of their long history of close military and strategic cooperation against India during the Cold War, the relationship between China and Pakistan—often referred to as "ironclad brothers" (鐵桿兄弟)—is indeed very unique and virtually unseen in Beijing's other bilateral relationships, including with its traditional communist ally North Korea. Islamabad's political deference to and policy coordination with Beijing at the highest levels of government, its military-to-military ties with China, as well as the launch of the China-Pakistan Economic Corridor (CPEC, 中巴經濟走廊) in 2015, have all made it quite difficult for Taipei to make inroads into Pakistan.
Pakistan's official position is that Taiwan is an integral part of the People's Republic of China (PRC) based on its "One-China Policy." In a December 2020 meeting, Pakistani President Arif Alvi told Chinese State Councilor and Defense Minister Wei Fenghe (魏鳳和) in Islamabad that his country would continue to support China's positions on Taiwan, Xinjiang, Tibet, and the South China Sea. Pakistan has also backed Chinese opposition to Taiwan's participation in international organizations, including the World Health Organization (WHO). In the past, Taiwan has cited Pakistan's "unfriendly position in the international arena" as an obstacle to the island's efforts to join international organizations.
In 2016, due to "Chinese sensitivity towards issues relating to Taiwan," Pakistan's Ministry of Foreign Affairs issued a series of policy guidelines regarding Taiwan to its federal ministries and the four provincial authorities of Sindh, Punjab, Balochistan, and Khyber Pakhtunkhwa. These guidelines stated that Taiwan's official name, "Republic of China," could not be used; instead, the island could only be referred to as "Taiwan, China" or "Chinese Taipei." In addition, Taiwanese government-owned vessels or vessels flying Taiwan's flag were forbidden from entering Pakistan and its seaports. Although trade with Taiwan was not officially restricted, the guidelines mandated that commercial activities were to be conducted on an unofficial basis and through the private sector, and there were to be no direct contacts with the Taiwanese government. In addition, the foreign ministry directive stipulated that exchanges of Taiwanese and Pakistani government leaders or delegations were not permitted. It also warned of possible Taiwanese attempts to enter Pakistan to conduct "anti-China activities" and thus called for a careful examination of visa applications from Taiwan.
Humanitarian Assistance to Pakistan
Despite Pakistan's unfriendly attitudes towards Taiwan in the political arena, successive Taiwanese administrations have nonetheless offered humanitarian assistance to the South Asian nation. In the past, the delivery of Taiwanese relief aid to Pakistan in the wake of natural disasters was hampered by lack of direct communication channels. Moreover, Pakistan was reluctant to accept aid offered by Taiwan's government in response to a 7.6-magnitude earthquake that struck an area northeast of Islamabad in October 2005.
More recently, Taiwan's MOFA has worked with private sector organizations to help distribute aid to disaster-stricken countries, including Pakistan. Nonprofit organizations in Taiwan collaborated with the government and Pakistani civil society partners to deliver 400 tons of white rice to 34 cities in southern Sindh province, which was devastated by massive flooding that struck Pakistan in 2010. Although the restrictions on official contacts prevent Taiwan from playing a more prominent role in the area of humanitarian assistance and disaster relief, Taipei's collaboration with non-government groups are helping to forge friendly people-to-people connections, particularly in times of urgent need.
Moving Forward
Given the close strategic and economic ties between China and Pakistan, the main area for growth in Taiwan-Pakistan relations lies in unofficial economic and trade relations. If Pakistan is to become a serious focal point of the New Southbound Policy, then Taipei and Islamabad must work together to facilitate economic and financial activity and reduce barriers to trade. China's influence over Pakistan, on the other hand, is more difficult to change. Taipei should also be mindful of the shifting geopolitical sands in South Asia, as the new China-Iran deal is likely to create a new economic and political alignment involving China, Iran, and Pakistan, which will, in turn, diminish India's overall regional influence. Therefore, Taipei should not continue to solely focus on India, but also position itself to capitalize on new commercial opportunities with Pakistan, including a potential convergence of bilateral commercial interests in Egypt, as indicated by the outreach between the Pakistani and Taiwanese missions in Cairo. [2]
The main point: In order to make Pakistan a serious focal point of the New Southbound Policy, Taipei and Islamabad must take more steps to reduce barriers to economic exchange and trade growth and seize new commercial opportunities to further develop the relationship.
---
[1] "Pakistan and Taiwan: Expeditious Issuance of Visa to Businessmen Urged," Business Recorder, April 16, 2014, Retrieved from Nexis Uni.
[2] "Pak-Egypt Relations Enter New Phase," The Statesman (Pakistan), February 24, 2021, Retrieved from Nexus Uni.