On October 24, the Federal Bureau of Investigation (FBI) posted online a picture of Director Christopher Wray shaking hands with Wang Chun-Li (王俊力), the director-general of Taiwan's Ministry of Justice Investigation Bureau (MJIB, 法務部調查局). Typically, a photograph of two senior law enforcement officials would not warrant much attention, but the meeting was more than a mere photo-op between the heads of the United States' and Taiwan's law enforcement and domestic intelligence agencies. The meeting was notable because it was reportedly only the second publicly known meeting between the heads of the two domestic intelligence agencies—and it underscored the growing law enforcement and counter-intelligence exchanges between the United States and Taiwan in recent years, amid growing concerns about the People's Republic of China (PRC) malign influence operations.
Reportedly arranged by the US side, Director Wray and Director-General Wang held a one-hour "high-level meeting" on October 16 at the FBI Dallas Division Office on the side of the International Association of Chiefs of Police (IACP) conference held from October 15 to 18. According to the readout of the meeting issued by MJIB on October 26, the two sides had in an in-depth exchange on a range of topics of mutual concern:  
The FBI is an important international law enforcement partner of the MJIB, with a friendly and close no-limits cooperation. In this meeting, MJIB Director-General Wang and FBI Director Wray had an extensive exchange of views on international counter-terrorism, economic [crimes], money laundering, cybercrime, dangers of disinformation and related topics that both Taiwan and the United States face together, and continue the achievements from many years of cooperation, as well as make new innovations for Taiwan-US law enforcement and security cooperation and joint crime-fighting.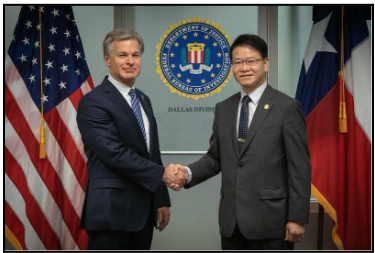 Image: FBI Director Christopher Wray and Ministry of Justice Investigation Bureau Director-General Wang Chun-Li meeting at the FBI's Dallas field office during the International Association of Chiefs of Police (IACP) conference in Dallas (October 2022). (Image source: FBI Twitter)
For its part, the FBI's post on its official Twitter account read:
"At @TheIACP 's recent #IACP2022 conference, #FBI Director Wray met with Director General Chun-Li Wang of Taiwan's Ministry of Justice Investigation Bureau. Our commitment to cultivating law enforcement partnerships at home and abroad helps us keep America and our allies safe."
In addition to meeting with Director Wray, the head of MJIB also reportedly met with representatives of the Drug Enforcement Administration (DEA) and the Department of Homeland Security's (DHS) Homeland Security Investigations Agency, as well as IACP President Dwight Henninger and International Director Vince Hawkes. [1] These discussions reportedly focused on the prevention of transnational drug crimes; the inclusion of fentanyl, a synthetic opioid that is a leading cause of overdose-related deaths in the United States, in Taiwan's Narcotics Hazard Prevention Act (毒品危害防制條例) regulations; as well as prevention of human trafficking and other major topics.
US-Taiwan Law Enforcement Exchanges
Although heralded in Taiwan's media as a historic first for its public nature, the heightened media attention belies the longstanding cooperation and exchanges between the two law enforcement agencies. The FBI and MJIB exchange liaison officers. In the absence of formal diplomatic relations, these liaison officers act as the two countries' de facto legal attachés, and maintain liaison with the other side's principal law enforcement, intelligence, and security services to cooperate on organized crime, international terrorism, foreign counter-intelligence, and general criminal matters. 
Taiwan has also been sending officers from MJIB and the National Police Agency (NPA, 警政署) since 1961 for training at the FBI's National Academy in Quantico, Virginia, with 36 officers having taken part in the program over the last six decades as of 2019. In 2019, the FBI National Academy Association's leadership retraining program for the Asia-Pacific Chapter was held in Taiwan for the first time, with then-FBI Associate Deputy Director Paul Abbate speaking at the opening ceremony as the highest-level official from the FBI to ever visit Taiwan. 
Shared Counter-intelligence and Malign Influence Concerns
Even as Taiwan and the United States maintain a longstanding law enforcement partnership, the FBI's interest in Taiwan's law enforcement capabilities has grown in recent years. Although not mentioned in either of the two agencies' publicized notices, a range of concerns—from criminal activities involving emerging technologies and cybersecurity, to malign influence by the PRC's intelligence and political warfare networks, particularly at the state and local levels—have both broadened and deepened the areas of cooperation between the FBI and MJIB in recent years.
Notably, the FBI director has recently called China the United States' "biggest threat," and in recent years has repeatedly underscored the growing volume of China-related counter-intelligence cases that the Bureau has opened. The FBI director noted as recently as February 2022 that the Bureau opens a new counter-intelligence case against China about twice a day. The malign influence also extends into election integrity: in early October, the FBI and the Cybersecurity and Infrastructure Security Agency (CISA) issued a joint notice to raise awareness about the potential threat posed by attempts to manipulate information or spread disinformation in the lead up to (and after) the 2022 midterm elections. Moreover, the recent announcement of criminal indictments connected to PRC malign schemes to obstruct US judicial prosecution of Chinese telecom giant Huawei all serve to underscore the core competencies of Taiwan's law enforcement and domestic intelligence agency—which has long experience in dealing with similar threats from China, uncovering 52 Chinese espionage cases involving 174 individuals in 2018 alone. 
The counter-intelligence threat to the United States was so severe that the Trump Administration ordered the closure of the PRC's consulate in Houston. Then-Secretary of State Mike Pompeo called it a "den of spies," with another senior US government official cited by Reuters stating: "the consulate in Houston was a particularly aggressive source of malign activity." According to one US government intelligence assessment: "Among the PRC government agencies involved in foreign influence operations […] [i]n the United States, China's Embassy and Consulate offices play an active role in such efforts." It is therefore understandable that Taiwan has reportedly assigned a legal attaché to its consulate in Houston in July, underscoring the importance of growing law enforcement ties between the United States and Taiwan at the subnational level.
Multilateral Law Enforcement Cooperation, Taiwan's Isolation
Yet, the alarm bell over China's covert pressure is ringing not only in the United States and Taiwan. In July, FBI Director Wray and his counterpart at the UK's MI5 held an unprecedented joint appearance to highlight the growing counter-intelligence threats from China.  According to MI5 Director-General Ken McCallum, the UKs' domestic intelligence agency is running seven times as many China-related investigations as it was four years ago. Underlying the shared threat perception, the MI5 Director exclaimed: "The most game-changing challenge we face comes from an increasingly authoritarian Chinese Communist Party that's applying covert pressure across the globe."
Yet, despite the capacity and value that it could bring to the table, Taiwan has been repeatedly prevented from participating in the International Criminal Police Organization (Interpol), which would allow Taiwan to contribute—and the world to benefit from—its law enforcement and intelligence capacity. In October 2022, in response to Taiwan's request to observe the organization's general assembly, Interpol Secretary-General Jürgen Stock stated that Interpol cannot grant observer status to Taiwan because: "In 1984, the Interpol General Assembly recognized the People's Republic of China as the sole representation of China. As such, Interpol recognizes Taiwan is part of China, and as China is a member of Interpol, Interpol cannot grant Taiwan observer status in the general assembly." 
While Taiwan is prevented from being able to participate in Interpol, the United States and Taiwan have been strengthening multilateral cooperation through other forums such as IACP. Particularly important is the Global Cooperation and Training Framework (GCTF), which counts both Japan and Australia as full members. The GCTF has co-organized international workshops over the last several years focused on law enforcement issues: for instance, in March 2022 a GCTF forum was held on combating digital crimes.
In the final analysis, the public (if somewhat symbolic) revelation of the meeting between Wray and Wang helps to underscore the growing ties and exchanges between the two law enforcement and intelligence agencies. While such actions invite Chinese protests, they provide a positive demonstration effect for other countries who may also want to strengthen law enforcement exchanges with Taiwan, but may feel intimidated due to Chinese pressure. The United States, Taiwan, and like-minded partners should fully utilize the GCTF to strengthen law enforcement and counter-intelligence cooperation among other groupings like the Quad and the Five Eyes.
The main point: An October meeting between FBI Director Christopher Wray and MJIB Director-General Wang Chun-li underscores the growing ties between the two law enforcement agencies, which are increasingly cooperating on issues such as transnational crime, cyber security, and Chinese malign influence operations.
---
[1] "HSI is the principal investigative arm of the US Department of Homeland Security, responsible for investigating transnational crime and threats, specifically those criminal organizations that exploit the global infrastructure through which international trade, travel and finance move." See: US Immigration and Customs Enforcement, "Homeland Security Investigations," accessed November 1, 2022.