Throughout 2022, People's Liberation Army (PLA) military aircraft flights into Taiwan's Air Defense Identification Zone (ADIZ) and across the Taiwan Strait centerline—as well as the August missile launches conducted in the waters around Taiwan (and in at least four instances, over northern Taiwan itself)—have provided the most visible examples of People's Republic of China (PRC) military intimidation directed against the island and its people. However, PRC military "gray zone" operations intended to pressure Republic of China (ROC, Taiwan) territorial sovereignty have also been occurring in other domains, including interactions between PRC and Taiwan navy and coast guard vessels in the waters around Taiwan and its outlying islands.
One such incident drew press attention in mid-November, when an audio recording (apparently made by a nearby merchant vessel) was posted online of an interaction between the PLA Navy Type-052D (Luyang III) destroyer Xiamen (廈門) and the ROC Navy Keelung class destroyer Ma Kong (馬公) at an unidentified location in the waters to the east of Taiwan. In the recording, a voice from the bridge of the Ma Kong warns the PLA vessel that it is approaching the line of Taiwan's contiguous zone (24 nautical miles from shore). In response, a voice from the Xiamen responds: "Xiamen to Ma Kong, the so-called '24 nautical-mile baseline' does not exist. Please check your terminology. Our ship has the right to sail here. Please maintain a safe distance of at least 3 nautical miles." (For their part, Taiwan defense officials have declined to comment on the validity of the recording.) This exchange of communications was apparently not threatening—and per the recording, the ships communicated on distance and headings in a professional manner—but it does provide a further example of the refusal by the PRC to recognize any legitimate claims to sovereignty by Taiwan over its own territory. 
Viewed in isolation, such incidents—in addition to the PLA Navy's August "joint blockade" exercise around Taiwan, as well as incidents such as the reported stand-offs between Taiwan-based civilian research vessels and Chinese (as well as Japanese) coast guard vessels—appear to be minor in nature. However, taken in broader context, they further illustrate the PRC's steady and forceful encroachment upon Taiwan's sovereignty in the maritime domain. Such incidents help to explain the ROC Ministry of National Defense's (MND, 中華民國國防部) continued interest in acquiring new naval platforms—even in the face of admonitions by US observers to adopt a more dispersed and asymmetric defense posture. Although Taiwan has turned away from foreign ship purchases in recent years, it is investing significant resources in indigenous ship production, in ways that could signal future trends for Taiwan's defense posture overall.
Increases in Taiwan's Defense Budget – and the Composition of Taiwan's Legacy Navy
Throughout 2022, President Tsai Ing-wen (蔡英文) and other senior Taiwan officials have vowed to increase Taiwan's defensive capabilities amidst the continued military intimidation directed against the island by the PRC. In August, the Executive Yuan (行政院) proposed a defense budget for 2023 that would see a 13.9 percent boost from the previous year: with NTD $415.1 (approximately USD $13.3 billion) in base spending, and additional supplementals for fighter jets and other unspecified spending that would take the budget to an estimated NTD $586.3 billion (approximately USD $18.8 billion). This boost to the defense budget comes on the heels of the defense special budget supplemental approved in November 2021, which allocated NTD $240 billion (approximately USD $7.7 billion)—separate from the annual budget process—for indigenous anti-ship missile production and other programs over a five-year period from 2022 to 2026. Currently, it is unclear what percentage of the 2023 budget is intended for indigenous shipbuilding, although defense planners have publicly indicated clear intent to devote further resources towards ship construction (see further discussion below). 
These increases to the overall defense budget take place at a time when many commentators, both in the United States and within Taiwan itself, have criticized the MND for its traditional focus on acquiring force-on-force conventional platforms. This force structure includes the ROC Navy's (ROCN) legacy fleet of small- and medium-sized naval surface combatants, which many observers fear could be destroyed or crippled by missile and air attacks early in any actual conflict. Many active ROCN vessels are refurbished ships purchased after their retirement from service in the US Navy (USN): Keelung-class destroyers (former USN Kidd-class destroyers), Chi Yang-class frigates (former Knox-class frigates), and Cheng Kung-class frigates (former Oliver Hazard Perry-class frigates). While such vessels still make up the backbone of the ROCN fleet, the MND is turning increasingly towards indigenous production of smaller, and arguably more unconventional, surface ships.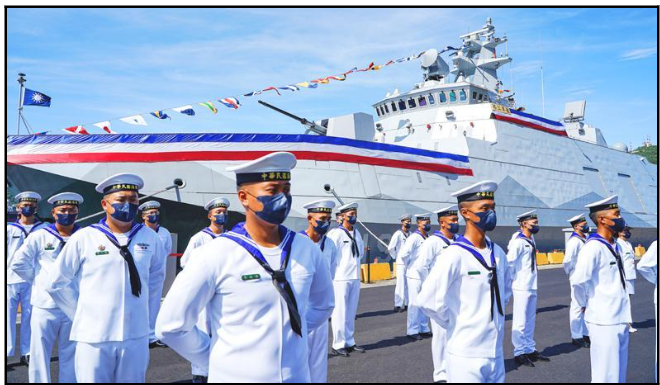 Image: ROC Navy sailors stand in formation at the launch ceremony for the missile corvette Ta Chiang (PGG-619) in Yilan County, September 2021. (Image source: Taipei Times)
The Tuo Chiang-Class Missile Corvette Program
The special budget supplemental approved late last year provided NTD $69.6 billion (approximately USD $2.24 billion) for indigenous shipbuilding programs, focused primarily on the construction of additional Tuo Chiang (沱江) guided missile patrol craft (PGGs). The Tuo Chiang-class vessels are small missile corvettes, approximately 200 feet long and reportedly displacing 685 tons, assigned to service in the ROCN. The ships are designed with stealth features including waterjet propulsion, as well as a catamaran hull design with a reduced radar cross-section (RCS) profile. The Tuo Chiang corvettes are intended to serve as more mobile and survivable surface combatants, capable of targeting larger vessels with their Hsiung Feng (HF, 雄風) HF-II and HF-III anti-ship cruise missiles (ASCMs). 
The prototype ship of the class, Tuo Chiang (PGG-618), was commissioned in 2014. Taiwan's Lung Teh Shipbuilding (龍德造船) reportedly received a contract in 2018 to build a total of 11 more of the vessels (for a total of 12) by the end of 2026, at a reported cost of NTD $2.2 billion (approximately USD $71 million) each. To date, three of these ships have been commissioned into service: the Tuo Chiang, the Ta Chiang (塔江) in 2020, and most recently, the Fu Chiang (富江) in September of this year. Immediately following the commissioning of Fu Chiang, Taiwan's MND reiterated plans to take delivery of nine more of the ships by 2026, and provided a list of the planned names for these future vessels. [1] 
A Future Indigenous Frigate Program: Lighter, More Numerous Ships 
In addition to the Tuo Chiang corvette program, debates are also underway regarding the potential future production of indigenously built light frigates, intended to give the ROCN a smaller and more modern ship for patrol (and potential surface combat). For example, in August, Democratic Progressive Party (DPP, 民主進步黨) legislator Wang Ting-yu (王定宇) called for a more modern frigate to replace aging (and slower) platforms such as the 1970s-vintage, steam turbine-powered Chi Yang-class frigates. The ROCN has a "next-generation" guided missile frigate development program with a budget of NTD $24.5 billion (approximately USD $792.7 million), intended to produce a new class of ship by 2026—although differences over desired capabilities and design have reportedly delayed production. 
Originally, this program was geared towards producing a single, approximately 4,500-ton displacement vessel (roughly the same size, or perhaps a bit larger, than one of the current Cheng Kung or Chi Yang frigates). However, in mid-October MND officials announced an abrupt change to this plan in testimony presented before the Legislative Yuan (立法院). ROCN Chief of Staff Admiral Chiang Cheng-kuo (蔣正國) and other senior officials indicated intent to scrap the previous plan, in favor of focusing on new models of lighter frigates—citing as justification both design delays, as well as the need for more ships to respond to the PRC's escalating "gray zone" encroachments upon Taiwan's maritime space. In place of the original plan, these officials announced plans to build two smaller (approximately 2,000-ton displacement) prototype frigates: one geared towards an anti-air warfare (AAW) role, and the other oriented towards an anti-submarine (ASW) mission, with both models to also be armed with Hsiung Feng III missiles for an anti-surface role.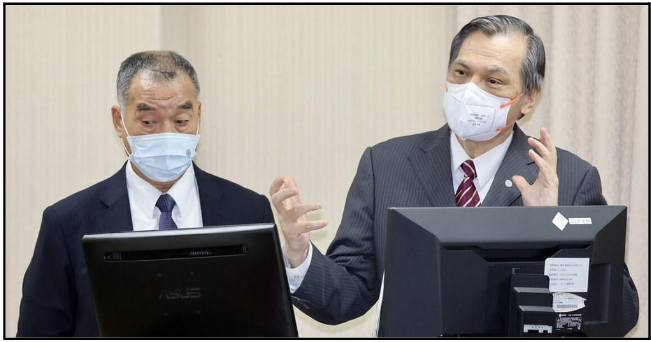 Image: Taiwan Defense Minister Chiu Kuo-cheng (邱國正, left) and National Security Bureau Director-General Chen Ming-tong (陳明通, right) testifying about the decision to change the focus of the ROC Navy's indigenous frigate program (October 12, 2022). (Image source: Central News Agency)
Conclusion
As with all branches of Taiwan's armed forces, the ROC Navy is having to re-examine its traditional force structure in the face of the breakneck military build-up pursued by the PRC—as well as the increasingly aggressive steps by Beijing to use the PLA as a coercive political tool, by pressing in ever-more forcefully on the air and sea spaces around Taiwan and its outlying islands. Taiwan's MND is caught between competing priorities: on one hand, the need to move towards a more asymmetric defense posture, in the face of both foreign criticism and internal calls for reform; and on the other, the need to maintain conventional capabilities with which to contest PRC "gray zone" encroachments. 
Although the MND and the ROC Navy have stepped back from the more thorough-going advocacy of asymmetry that was set forth under former ROC Chief of Staff Lee Hsi-min (李喜明) (as seen, for example, in the August 2021 cancellation of a research and development program to produce up to 60 small missile boats), there does appear to be a clear realization of the need to reorient the navy's surface ship acquisitions over the next several years. Recent statements by senior officials, and the current budgetary allocation of resources, reveal two overarching trends: first, an emphasis on indigenous production rather than foreign ship purchases; and second, a move towards lighter, more mobile, and more numerous vessels, rather than the acquisition of larger platforms. 
This points towards an evolving direction for Taiwan's defense strategy: one that is neither fully asymmetric on the model of Admiral Lee's "Overall Defense Concept" (整體防禦概念), nor fully focused on the acquisition of conventional prestige platforms. Recent observable trends in naval surface shipbuilding indicate a focus on lighter, more mobile, and more numerous vessels capable of presence operations in peacetime, as well as the potential targeting of larger enemy vessels in wartime. This move to split the difference between competing priorities is unlikely to satisfy critics of Taiwan's defense posture, who offer compelling arguments as to why radical reforms within Taiwan's armed forces are needed now. However, it does demonstrate an effort to address (at least in part) the rapidly evolving threats to Taiwan, while balancing domestic political considerations and the need to assert sovereignty over Taiwan's own maritime spaces. It is arguably a move in the direction of partial, although by no means complete, naval asymmetry. How this trend plays itself out over the next few years, and whether the other services follow suit, will be worth watching.  
The main point: Taiwan's naval acquisition programs are showing a clear orientation towards indigenous production, as well as an increasing focus on building more numerous and lighter surface combatants. This represents an effort to balance competing priorities: the need both to adapt to the growing gap in military capabilities with the PRC, while also maintaining capabilities to assert presence in the face of PRC "gray zone" territorial encroachments.
---
[1] In addition to the existing Tuo Chiang (沱江) (PGG-618), Ta Chiang (塔江) (PGG-619), and Fu Chiang (富江) (PGG-620), the announced names for the future ships of this class are: An Chiang (安江), Wan Chiang (萬江), Hsu Chiang (旭江), Liu Chiang (柳江), Wu Chiang (武江), Wu Chiang (浯江), Dan Chiang (丹江), Lan Chiang (蘭江), and Bao Chiang (寶江). See: "Navy Tuo Chiang-Class Ships Second Vessel Is Launched, Named Fu Chiang" [海軍沱江級艦第二艘量產艦下水 命名富江軍艦], Central News Agency, September 21, 2022, https://www.cna.com.tw/news/aipl/202209210361.aspx.