In the months since Incantation (咒, 2022) became Netflix's most-watched Taiwanese film, two other Taiwanese productions have broken through previously established barriers, clearly demonstrating the positive effects of the memorandum of understanding (MOU) between Netflix and the Taiwan Creative Content Agency (TAICCA, 文化內容策進院). The success of Wave Makers (人選之人—造浪者, 2023) in displaying Taiwanese politics has reignited discussions of whether Taiwanese media can show Chinese people living in the People's Republic of China (PRC, 中華人民共和國) that democracy is a "viable alternative" to their current political system. At the same time, Copycat Killer (模仿犯, 2023) was the first Taiwanese TV show to make it into Netflix Global Top 10 (for non-English productions), making it the first Taiwanese production after Incantation to break out of the Chinese-speaking market. Taken together, these productions could potentially serve as a model for future efforts to export Taiwanese cultural projects, both within the Chinese-speaking world and beyond.

Can the Tail Wag the Dog?
The hope that Taiwan could influence China towards becoming more democratic is not new to discussions of cross-Strait relations. In addition to comments such as former Vice President Mike Pence's statement that "Taiwan's embrace of democracy shows a better path for all the Chinese people," many have noted Taiwan's role as a "beacon of democracy" and its potential to be a model for China's transition to a fully-fledged democracy. In the 1970s, Taiwanese radio broadcasters projected Teresa Teng's (鄧麗君) songs to China in the hope that Chinese soldiers would be swayed and even successfully convinced a pilot to defect. Late Academia Sinica Research Fellow Yun-han Chu (朱雲漢) noted in a 2011 article that Taiwan's cultural similarities with China, the Chinese public's positive impressions of Taiwan, and numerous interactions between private actors demonstrate that Taiwan could use public diplomacy and soft power to influence China's policies toward Taiwan—effectively becoming a tail that could "wag the dog."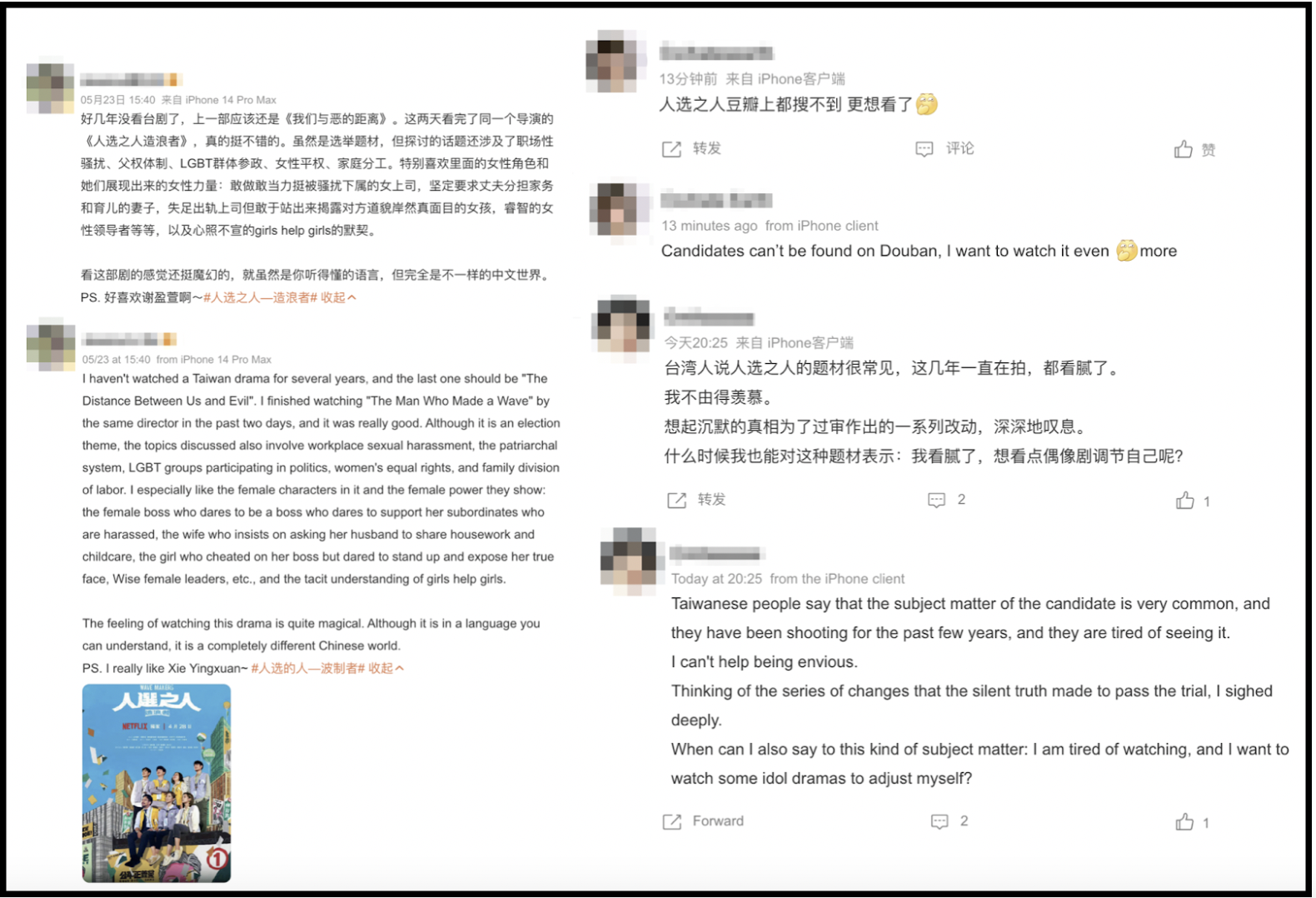 Image: Screenshots of Weibo posts discussing Wave Makers (English translation via Google translate). (Image source: Screenshots taken by the author)
Wave Makers is a character-centered show about Taiwanese politics, whose central characters are campaign staffers. By showing Taiwan's democratic processes from such a close and personal perspective, it provides the viewer with a peek into the inner workings of Taiwanese democracy. Posts on Weibo praised the show, stating things such as "Mainland Chinese people should go and see what kind of progress the distant world has made, and what a normal social environment for conversation looks like" and "I can't help but be envious of the Taiwanese people."
A quick search of "人選之人" on Weibo shows users commending the show for its discussions of sexual harassment, comparing China and Taiwan, and noting Taiwan's support for LGBTQ+ rights. Due to the show's discussion of gender rights and the depiction of women in politics, many fans of the show are likely well-educated, wealthy women. Additionally, Wave Makers might have resonated with viewers because it was released just six months after the "white paper revolution," a series of demonstrations protesting COVID-19 restrictions that some protestors used to voice criticisms of the government and political system. Wave Makers was blocked in China, and deleted from Douban (a Chinese film site analogous to IMDB), and the show does not appear on the director's Baidu, so it is surprising to see that it has not (yet) been blocked on Weibo. One user even stated that because the show was not on Douban, they wanted to watch it even more (as shown in the image). 
Despite the buzz that Wave Makers generated on Weibo and from Taiwanese media and public figures—even President Tsai Ing-wen (蔡英文) posted about the show on her social media—the show itself fell short of previous rankings achieved by Taiwanese productions. In fact, the production only made it to Netflix's top 10 list in two countries: Hong Kong (for one week) and Taiwan (for two weeks). This indicates that the show was unable to break out of the Chinese-speaking market in any significant way. Still, not every Taiwanese show needs to be geared toward a greater international audience. Furthermore, it is important to note that since Netflix is not technically available in China, any viewership data from viewers in the PRC is completely unknown. Thus, while Wave Makers may have been comparatively unsuccessful by international viewing measures, the show could have had a greater—and potentially even more important—impact on Chinese audiences.

Yet, any impact that Taiwanese media can have remains hindered by the Chinese Communist Party's (CCP, 中國共產黨) censorship practices. In Freedom House's 2022 Freedom on the Net report, China was rated as "not free," and only scored an Internet Freedom Score of 10 out of 100. In order to access content on websites such as Netflix, Chinese netizens have to rely on virtual private networks (VPNs) or reposted content on video hosting platforms such as Bilibili. Moreover, Freedom House found that only a minority of Chinese internet users use VPNs, and technological upgrades that block data packets are making it more difficult for even VPN users to access censored content. This is not to mention that these access restrictions come on top of other content restrictions—reduced opportunities for Taiwanese representation, pressure to self-censor, and limited funding—that inhibit Taiwanese productions.
Overall, the existence of Wave Makers on Netflix indicates that Taiwanese productions are finding ways to operate within restrictions on their creative content. In a past interview with Ketagalan Media, Island Nation (國際橋牌社, 2020) producer Isaac Wang (汪怡昕) discussed the difficulties of finding a platform that would stream the political drama, ultimately stating that "platforms are not necessarily afraid of hosting political shows. The real concern is the reality of Taiwan-China relations as it is presented." When I reached out to Wave Makers' production company, DaMou Entertainment (大慕影藝), to ask if the omission of Taiwan-China relations was an intentional choice, a company representative pointed out that the focus of the story was the lives of the campaign staff. Accordingly, they wanted to keep the story centered on those individuals. (They also noted that they did not have much to say about the positive reception the show was receiving on Weibo, although they appreciated all positive reviews from around the world.) 
In the end, an absence of cross-Strait tensions in the show could have both positive and negative implications; while it could indicate that Taiwanese productions still need to be careful when addressing more politically sensitive topics, the result is a show that focuses more on the individuals, depicts an idealized version of Taiwanese politics that is not permanently framed as "amid tensions," and perhaps is more palatable to Chinese viewers.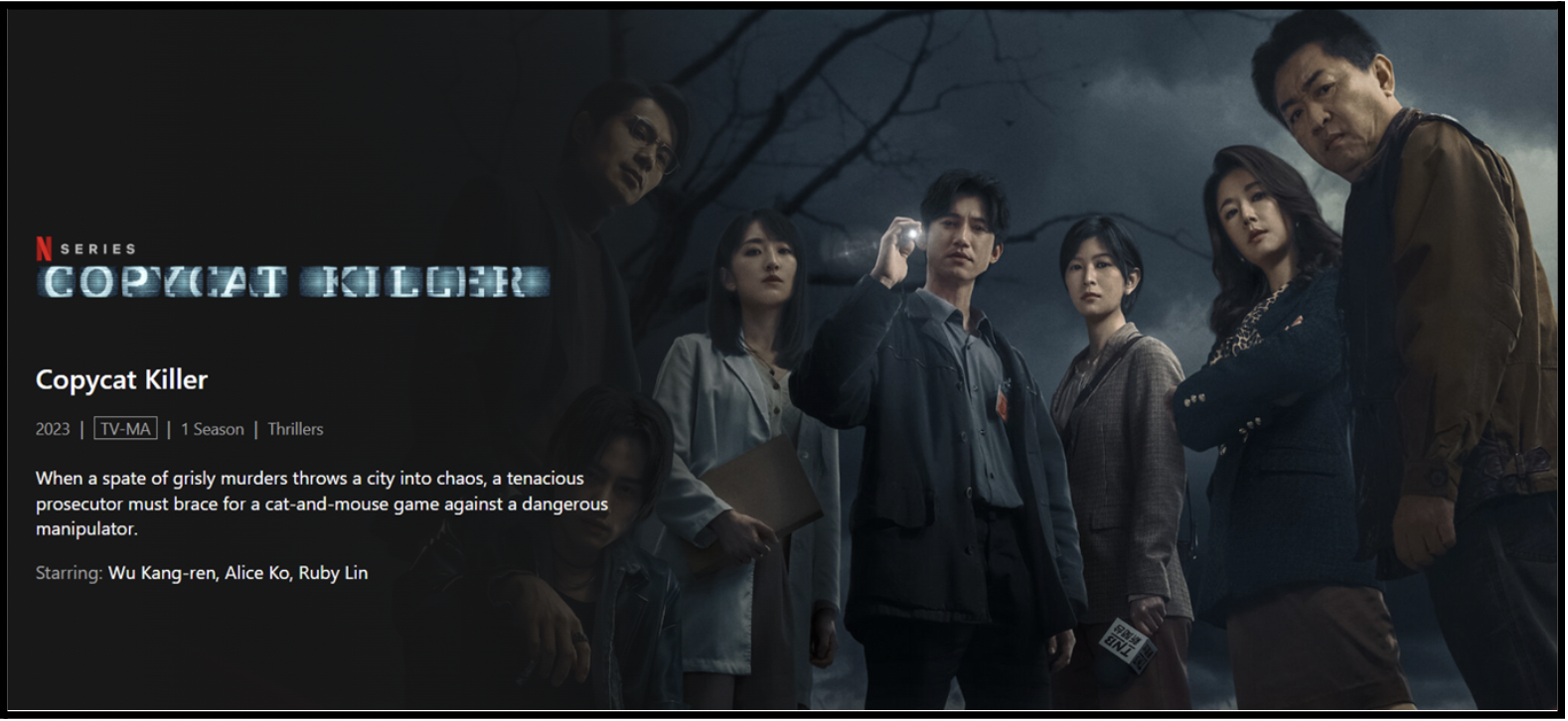 Image: A promotional graphic for the Taiwan crime drama Copycat Killer. (Image source: Netflix)
Can Taiwan Be the Next South Korea?

After South Korea's success in the global market with Parasite (2019) and Squid Game (2021), it is understandable that many observers of Taiwan see South Korea as the model for branding the nation on the international stage. As a result, experts often debate whether South Korea's government intervention has been effective and which policies should be adopted—including import quotas, screen quotas, and subsidies—and what interventions are even viable in today's globalized world. However, South Korea's success has also been fueled by its willingness to embrace globalization and cultural hybridity.
In contrast to Wave Makers' focus on domestic issues, Copycat Killer, Netflix's newest mystery-thriller addition—alongside other Taiwanese shows such as The Victims' Game (誰是被害者, 2020) and Light the Night (華燈初上, 2021)—represents a more globalized approach to Taiwanese productions. In addition to being based on a Japanese novel, Copycat Killer also features American television writer Neal Baer, known for his work on ER and Law & Order: SVU. While the production company, directors, cast, and setting are Taiwanese, the strategy of drawing upon foreign skills in production mimics South Korea's strategy of adopting Hollywood styles and skills in the service of creating unique local content with higher production value. [1] Isaac Wang made a similar observation at Taiwan NextGen Foundation's (台灣世代教育基金會) Global Taipei Dialogue XII, pointing out that the South Korean film industry trained for 20 years by "copying Hollywood's production model."
In another move to embrace globalization, Copycat Killer also made sure to offer dubbing in multiple languages. At the time of its premiere, Copycat Killer's production company, Greener Grass Productions, had seven different audio tracks available (Chinese, English, Japanese, Thai, Indonesian, Spanish, and Brazilian Portuguese), the first Taiwanese production to do so. Producer Hank Tseng (曾瀚賢) credited the dubbing for the success of the show internationally, stating that "dubbing in multiple languages has overcome cultural differences, and resonated emotionally with viewers in different countries and markets." This could very likely be the case, as Netflix revealed that they found that US consumers that viewed an English-dubbed version of a French show by default were more likely to finish watching the show to the end. 
Although Copycat Killer's record of making it into the top 10 in 20 countries falls short of Incantation's peak of 29, the show was the first Taiwanese production to reach the top 10 in several countries. These included Bangladesh, Greece, Kuwait, Oman, Romania, Saudi Arabia, United Arab Emirates, and Uruguay. [2] In line with Greener Grass Productions' aim of capitalizing on this greater global interest, Tseng also announced the launch of a USD $17.4 million media fund that would "invest in up to 15 feature film and drama projects over the next three years," with the long-term goal of giving Taiwan a competitive advantage when breaking into international markets. 
Shifting focus away from Chinese-speaking markets gives Taiwanese productions more freedom of expression. Even though Taiwanese creators may still face difficulties in the form of distributors or funders who are hesitant to upset Beijing, the restrictions are much looser than they would be if Taiwan was attempting to enter the Chinese market directly. Additionally, the greater outreach that Netflix provides could bring new international collaborators to Taiwan, which would further benefit the growth of the country's entertainment industry.
While creating content that appeals to a wider audience provides notable benefits, there also comes the danger that the origin of the productions or its endogenous qualities could become indistinguishable. As the Taiwanese industry matures, perhaps the successes of Wave Makers and Copycat Killer will set the stage for more productions that focus on Taiwan's democracy, while also appealing to a wider audience. In the meantime, productions such as Wave Makers, despite having a smaller reach, show the potential for Taiwan's creative content to influence PRC citizens and the Chinese diaspora, while Copycat Killer's success shows the potential for Taiwan's industry to grow beyond the Chinese-speaking market.
The main point: Despite the CCP's continued efforts to ramp up media and internet censorship, Wave Makers has reignited the hope that Taiwan can influence PRC citizens and the Chinese diaspora by showcasing democratic values in more character-centric political dramas. At the same time, Copycat Killer has embraced globalization in production by drawing on skills from talents abroad and prioritizing dubbing. Both productions represent notable achievements for Taiwanese productions—Wave Makers for bringing a modern political drama to an international streaming platform, and Copycat Killer for successfully breaking out of the Chinese-speaking market.
---
[1] Dal Yong Jin, "Cultural Globalization in Korean Cinema," in New Korean Wave: Transnational Cultural Power in the Age of Social Media (Chicago: University of Illinois Press, 2016): 68–90.
[2] Based on data made available by Netflix, the full list of countries in which Copycat Killer made the top 10 (non-English productions) are: Bahrain, Bangladesh, Greece, Hong Kong, Indonesia, Japan, Kuwait, Malaysia, Maldives, Oman, Philippines, Qatar, Romania, Saudi Arabia, Singapore, Taiwan, Thailand, United Arab Emirates, Uruguay, and Vietnam.