In late July, Taiwan's Ministry of National Defense (MND, 國防部) held the live-maneuver portion of the 39th iteration of the Han Kuang exercise (漢光39號演習), an annual event held since 1984 to simulate the response of Taiwan's armed forces to an invasion by the People's Republic of China (PRC). The annual Han Kuang exercises have been the subject of criticism from many experts, who have contended that they are overly scripted, and therefore offer limited value as a mechanism for training military service members to respond effectively in real-world crisis scenarios (see previous comments by this author, and by observers in Taiwan). Despite this, the exercise provides a useful opportunity to observe emerging trends in the Republic of China (ROC) armed forces as they seek to adapt to the growing threat of military coercion, and potential invasion, from the PRC.
As is standard for Han Kuang, the exercise was split this year into two parts. The first of these was a computer simulation and tabletop phase, held from May 15-19. Per an MND spokesperson, these were conducted using US-designed modeling software to simulate high-tempo joint operations, and incorporated invasion scenarios that drew upon assessed current trends in People's Liberation Army (PLA) development. The live-maneuver portion was conducted from July 24-28, involving several local scenarios in multiple locations throughout Taiwan. Portions of the exercise were reportedly cancelled due to Typhoon Doksuri, which passed to the south and west of Taiwan (on a northwesterly track, through the Bashi Channel and the southern part of the Taiwan Strait) just as the exercise was scheduled to commence. Despite this complication, the scaled-down exercise still involved a range of scenarios, including counter-terrorism and civil defense drills, a counter-amphibious landing exercise, and the defense of key infrastructure sites.
Prior to commencement of the exercise, sources cited by Taiwan state media indicated that particular focus in this year's Han Kuang would be placed on the survival of critical command-and-control nodes. As indicated in comments made by National Security Council (NSC, 國家安全會議) Secretary-General Wellington Koo (顧立雄), the 2023 iteration of Han Kuang would also place a greater emphasis on civil defense scenarios and training. Speaking on July 21, Koo noted that "Defending Taiwan would not be a purely military endeavor, but [would] also involve making use of civilian personnel and materiel."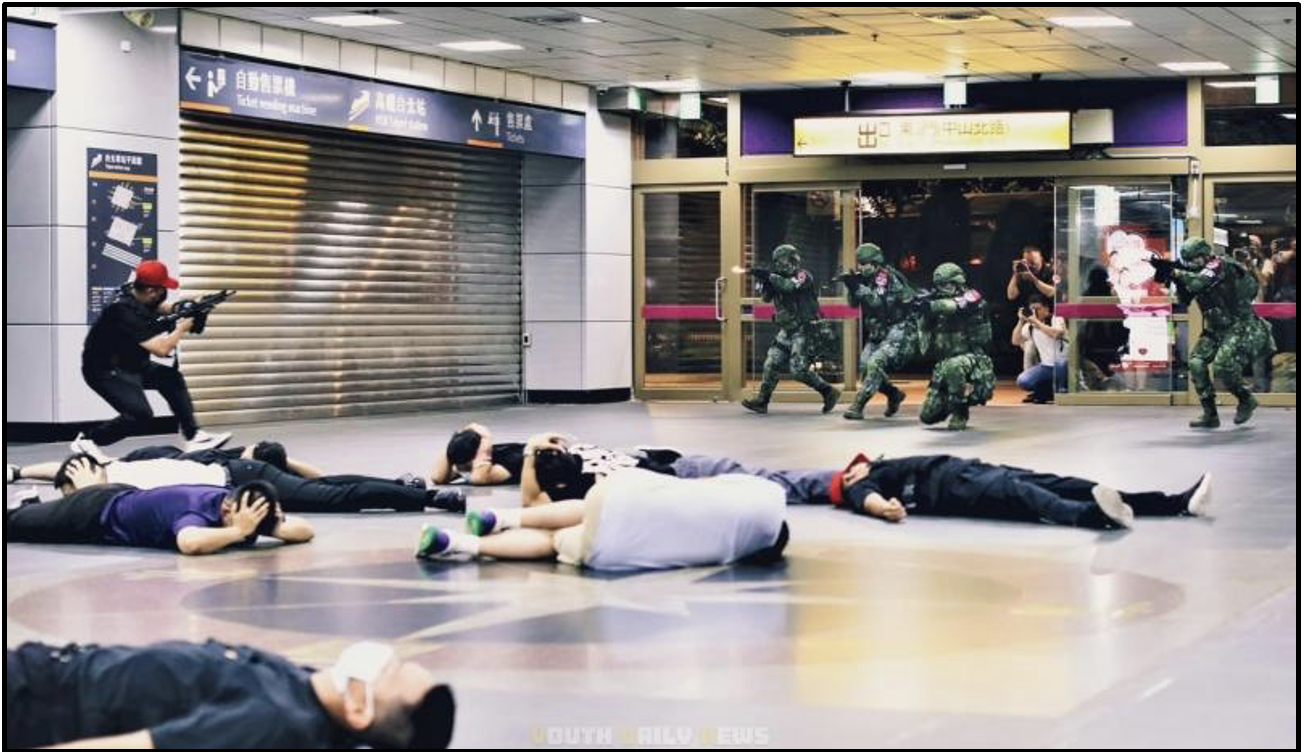 Image: ROC military police personnel conducting a mock hostage rescue drill at Taipei Main Station on the morning of July 26, as part of the annual Han Kuang exercise. The public relations aspect of the exercise is demonstrated by the numerous media photographers visible in the background. (Image source: Youth Daily News / Taipei Times)
An Overview of the Major Events of Han Kuang 2023
July 24
As was the case with last year's exercise, the first day of Han Kuang opened with dispersal drills of both ships and aircraft. Aircraft from ROC Air Force bases in the west of Taiwan flew to Hualien Air Base on Taiwan's eastern coast (the reported site of underground shelters to protect aircraft against bombardment). ROC Navy ships also sortied from their ports to undisclosed operational locations off the coast. The dispersal drills also included survival and relocation scenarios for the ROC Air Force Joint Air Operations Center (空軍作戰指揮部) on Toad Mountain (蟾蜍山) in Taipei. In these scenarios, the center came under simulated attack, forcing the sequential transfer of personnel and functions to three undisclosed alternate locations around the island.
The annual Wan-An (萬安) civil defense air raid drill also began for localities in northern Taiwan. The drill commenced at 1:30 PM local time and lasted until 2:00 PM, with pedestrians and motorists required to clear the streets and move to one of a number of designated shelters (such as subway stations and parking garages) as identified by a National Police Agency (NPA, 內政部警政署) smartphone app. This year's drill was more rigorous than those held in the recent past, with residents reportedly required to comply under penalty of fines.
A major theme of last year's Han Kuang drills was the MND's effort to highlight the inclusion of reserve force personnel in the exercises. This was continued this year, with a particular campaign by the MND to publicize a very limited program in which 19 female reservists engaged for the first time in a military training refresher program, reporting on July 24 for duty at the Taoyuan City Reserve Command.
July 25
Air defense was a key theme of the scenarios conducted on July 25. These operations involved counter-ballistic missile drills, as well as the public deployment of vehicle-mounted surface-to-air missile (SAM) systems to locations at key facilities around the island. Military and civil defense personnel also took part in a series of drills intended to simulate the response to missile attacks against infrastructure targets such as airports and harbors.
This aspect of Han Kuang overlapped with the ninth annual iteration of the parallel Min-An Exercise (民安演習) civil defense drills, which were conducted at five locations throughout Taiwan. These scenarios involved rescue operations for a simulated building collapse, complemented by responses by firefighters and medical personnel. The various drills were observed by a number of senior government officials, including Premier Chen Chien-jen (陳建仁), Defense Minister Chiu Kuo-cheng (邱國正), and Wellington Koo.
A series of drills were also conducted overnight on the 25-26, involving both local and military police setting up a closure of the Wanban Bridge (萬板大橋) connecting the Banqiao District (板橋區) and Wanhua District (萬華區), as well as establishing surrounding roadblocks, to simulate efforts to block invading forces from entering Taipei City's downtown.
The Wan-an air defense drills continued in southern regions of Taiwan, with police and military personnel ushering citizens off the streets and into shelters between 1:30 PM and 2:00 PM in Tainan and other cities.
Some aviation activities planned for the exercise, such as scheduled dispersal and landing drills at the civilian Fengnian Airport in Taitung (southeastern Taiwan) involving F-16 fighter jets and C-130H Hercules transport aircraft, were cancelled due to weather associated with Typhoon Doksuri.
July 26
In the early morning hours of July 26, a mock counter-terrorism and hostage rescue drill was conducted at the Taipei Main Railway Station. In the scenario, local police called in assistance from soldiers of the ROC 202nd Military Police Command to engage terrorist suspects in the station. The scenario also involved the discovery of explosives in the station, which were removed and detonated by a bomb squad.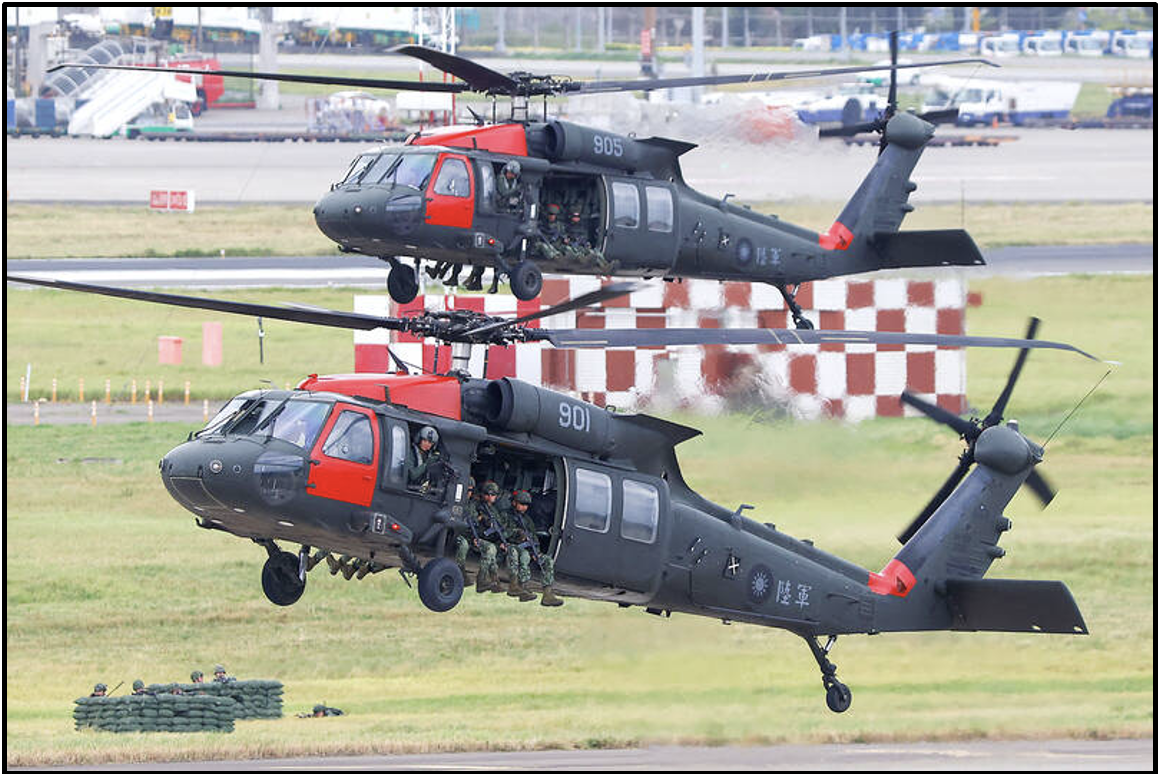 Image: ROC Army Blackhawk helicopters (marked in red, signifying the aggressor forces) land troops at Taoyuan International Airport as part of a drill during this year's Han Kuang to simulate defense of the airport against seizure by invading airmobile forces. (Image source: Taipei Times)
Additionally, ROC forces conducted a drill at Taoyuan International Airport—Taiwan's largest and primary international airport—to repel a takeover of the facility by hostile forces. (A similar drill was conducted last year at Taipei's smaller Songshan Airport, but this was the first time the larger and busier Taoyuan Airport was used in the exercise.) The failed Russian attempt to seize Antonov Airport outside of Kyiv at the outset of the invasion of Ukraine in February 2022, which would have allowed Russian forces to airlift in considerable numbers of troops and materiel into the battle for Ukraine's capital, demonstrated the critical role played by large airports in a rapid-invasion scenario. In this drill, troops from the Aviation Special Forces Command and Army Airborne Special Forces reportedly took on the role of aggressor "red" forces, while responding "blue" ground force personnel (a mix of army soldiers and airport police) responded to repel the attack. The drill also included a simulated bomb attack on the facility, with airport firefighters called in to extinguish the flames.
The Wan-an air defense drills continued in eastern regions of Taiwan (such as Hualien and Taitung), as well as on outlying islands (such as the Penghus).
July 27
Drills were held in in New Taipei City's northwestern Bali District (八里) to simulate resistance to an amphibious landing near the port facilities located in the area. This region near the mouth of the Tamsui River (淡水河) has often been regarded as a potential key invasion route, which if seized could allow invading forces an avenue of rapid advance into the capital. The drills included the showcasing of a 150-meter defensive trench constructed near the port and underneath Highway 61, constructed by the ROC Army's 109th Infantry Brigade and civilian contractors. (A similar, 100-meter trench was constructed in the same area during the 2022 Han Kuang exercise; an MND spokesperson indicated that the larger trench built this year could accommodate not only more personnel and supplies, but possibly also battle tanks to allow for more firepower to apply against hostile landing forces.)
The relatively brief (30 minute) counter-amphibious drill involved invading "red" troops landing on a Bali beach in 20 AAV7 amphibious assault vehicles, supported by AH-64E and UH-60M attack helicopters. The defending "blue" troops, equipped with tanks and armored vehicles, set off smoke screens and deployed simulated artillery and gunfire to repel the invasion force. The drill also reportedly involved the employment of FGM-148 "Javelin" missiles by the defenders. The scenario was reportedly scaled down from earlier plans to further involve the ROC Navy and Air Force, once again due to weather issues associated with Typhoon Doksuri. The Bali drills were observed by senior government officials, to include President Tsai Ing-wen (蔡英文) and Defense Minister Chiu Kuo-cheng. 
The Wan-an air defense drills continued in central regions of Taiwan (such as Taichung and Nantou County).
July 28
No major public events appeared to have occurred on the final day of the exercise.
PRC Responses to the Han Kuang Exercise
The response by official outlets and spokespersons of the government of the PRC—the assumed aggressor of the overall scenario—was relatively restrained in terms of public statements about this year's Han Kuang exercise. Rather than denouncing and drawing attention to the exercise, in late July PRC government outlets seemed focused instead on issuing condemnations of US military assistance to Taiwan. There were indications immediately prior to the exercise that PLA forces were planning to ramp up even further their naval and air operations around Taiwan—both as a political statement, and perhaps also to maximize opportunities to collect intelligence on ROC military activities. However, the track of Typhoon Doksuri likely played a role in diminishing PLA operations around Taiwan during this year's exercise, just as it reportedly downgraded the scope of activities within Han Kuang itself.
Conclusions
Overall, the 2023 iteration of Han Kuang offered no dramatic surprises, and largely adhered to patterns established in recent years. There were some interesting and incremental changes, including a reportedly  increased role for US military observers, as part of a larger process of growing US-Taiwan defense ties. Some aspects of the exercise—such as the survivability drills for ROC Air Force command and control nodes, and the counter-airmobile assault drill at Taoyuan International Airport—demonstrate increased attention to the some of the lessons drawn from the Ukraine war, in terms of both critical infrastructure protection and an heightened focus on preventing the rapid "decapitation" of key command echelons.
However, the Han Kuang exercise remains highly scripted and unrealistic—particularly in terms of the severe logistical challenges, high casualty rates, and widespread social dislocation that would be encountered during an actual, large-scale PLA invasion. It may be that the secret, computer simulation phase of the exercise deals with these problems more realistically and in greater depth, but the public, live-fire portion of the exercise remains largely a public relations exercise for the Ministry of National Defense and civil defense officials. Far more rigorous and realistic training exercises will be required to more effectively prepare the ROC military and civilian officials alike for the nightmare scenario of an actual, large-scale invasion by the PLA.
The main point: This year's iteration of Han Kuang, the largest annual training exercise conducted by Taiwan's military and civil defense agencies, was conducted in the last week of July. This year's exercise included drills for aircraft and ship dispersion, civil defense responses to simulated attacks on infrastructure, and a counter-amphibious landing exercise. While the exercise provides some limited training value, the highly scripted nature of Han Kuang diminishes its value in preparing the island's citizens for a real-world crisis scenario.