In January 2023, Taiwan took another step in its clean energy transition with the passage of the Climate Change Response Act (氣候變遷因應法), which codified the Tsai Ing-wen (蔡英文) Administration's efforts to reach net-zero emissions by 2050, distinguishing Taiwan as the 18th country to commit to net-zero by law. The long-awaited blueprint for achieving a complete transition to renewable energy simultaneously reinforced policies previously laid out in the National Development Council's (NDC, 國家發展委員會) initial roadmap of "Taiwan's Pathway to Net-Zero Emissions by 2050" and introduced new initiatives that have been under consideration for some time. While the new amendment solidifies Taiwan's commitment to joining the international community in its goal of reaching climate neutrality, Taiwan stands at the center of what many experts and commentators are describing as an "energy trilemma"—battling to balance energy security, affordability, and sustainability.
Although a small island, Taiwan finds itself in the top 25 largest carbon emitters in the world. It remains imperative for Taiwan to hold itself responsible for a clean energy transition—and in doing so, strengthen its energy security. Taiwan currently has an inextricable relationship with imported energy sources, which account for more than 97.7 percent of its energy supply. The recent Russo-Ukraine war has further underscored the significant vulnerabilities and rising threats to Taiwan's energy grid. Faced with only a few indigenous sources of energy and a heavily politicized nuclear debate, Taiwan has begun its search for ways to strengthen its own energy generation, and withstanding the volatility of the energy market while meeting the goal of net-zero emissions by 2050.
While it is apparent that Taiwan still has significant progress to make, recent developments in both the decarbonization and renewable energy fields highlight recent strides. However, substantial obstacles still exist, which Taiwan will need to address in order to secure its precarious energy needs amidst rising geopolitical tensions. In pursuit of this, the Ministry of Economic Affairs (MOEA, 經濟部) has proposed a 2×2 net-zero transition structure, with two major areas of focus: lowering carbon emissions and investing in Taiwan's renewable energy industry.
Taiwan's Game Plan
Taiwan has adopted a "20-30-50" formula by 2025 to keep itself on track to meet its net-zero goal: 20 percent from renewable energy sources, 30 percent from coal-powered plants, and 50 percent from liquified natural gas (LNG). In the grander scheme, a clean energy transition mix would ideally entail 60-70 percent of energy met with renewable sources, 9-12 percent from hydrogen, and 20-27 percent from fossil fuels, matched with enhanced carbon capture, utilization, and storage capabilities. In order to assess whether Taiwan is currently on the path to meeting these goals, it remains necessary to turn to Taiwan's current energy supply composition. Taiwan's 2022 breakdown, as reported by the Bureau of Energy (BoE, 經濟部能源局), still reflects an excessive reliance on fossil fuels and nuclear energy, with only 8.27 percent coming from renewable energy. [1]
New Strides in Decarbonization
On Earth Day 2023, President Tsai announced collaborative efforts underway between the National Development Council and the Taiwan Stock Exchange (TWSE, 臺灣證券交易所) to launch a carbon exchange slated to open for registration in mid-2023. Just recently in August, the exchange officially launched in Kaohsiung, and is set to provide carbon consultation and training services first—and then slowly transition to actual trading as the EPA imposes more defined trading rules. The carbon exchange is among the handful of programs that were authorized in the Climate Response Act, along with a carbon pricing system.
The creation of a carbon exchange—an online platform that takes the form of an Emissions Trading System (ETS)—is intended to reduce emissions by offering carbon credits, forms of allowance that companies can hold to trade or purchase depending on their carbon output. The credits act as units of exchange, potentially alleviating the burdens on smaller companies that cannot afford to pivot to more expensive, renewable energy supplies instantaneously. To hold the carbon exchange to the standard of an effective carbon emissions reduction tool, the NDC and TWSE will jointly inject funds to uphold the initial standards, aligned with those set by the Environmental Protection Administration (EPA, 行政院環境保護署). The exchange has already been met with approval from businesses facing pressure to strictly adhere to environmental regulations in order to keep pace with international companies shifting to offset their carbon footprint. Yet, the exchange's effectiveness and full potential are likely to remain largely unknown until the platform has matured.
The carbon exchange will act in tandem with the carbon pricing system as a coordinated effort to reach the 2050 net-zero emissions goal. The carbon pricing system outlined in the Climate Change Response Act is two-pronged: a carbon levy modeled on the European Union (EU) Carbon Border Adjustment Mechanism (CBAM); and a carbon fee charged to major emitters. [2] The EPA is forecasted to start targeting larger emitters that exceed an output of 25,000 tons annually in the petrochemical, steel, cement, and electronic manufacturing industries before moving to smaller, local industries. According to public statements, the initial focus group consists of an estimated 287 companies. Environment Minister Chang Tzi-chin (張子敬) stated that the levy could be set at an initial rate of NTD $300 (USD $9.54) per ton, which could reflect 20 to 30 percent price increases annually for companies if Taiwan is to meet its net-zero goal. In an effort to mobilize the industry, all revenues from the carbon tax will go to the "Greenhouse Gas Management Fund" (溫室氣體管理基金), which will funnel funds into carbon reduction policies and subsidize local governments for climate policy costs.
Renewable Energy Developments
While Taiwan prepares to kickstart its carbon offsetting mechanisms, renewable energy development has also garnered significant domestic attention. In March 2022, the NDC announced an investment of nearly NTD $900 billion (USD $28.18 billion) in renewable energy technologies and carbon capture tools. Since then, Taiwan has made significant headway and is steadily moving through its agenda for net-zero emissions: Taiwan Power Company (Taipower, 台灣電力公司) data has indicated that Taiwan produced more solar and wind energy than coal for the first time in March 2023, with renewables generating 31.53 percent of the nation's energy. Additionally, the BoE reported in 2022 that Taiwan's renewable energy production surpassed nuclear production for the first time. Recent strides in legislative attempts to promote renewable energy use include the solar panel mandate for newly built, expanded, or altered buildings and structures passed in May by the Legislative Yuan.
Renewable energy progress is getting back on track following project delays due to COVID-19 pandemic restrictions. The Formosa 2, an offshore wind farm that was originally planned to be commissioned in 2021, was finally launched into full operation in March 2023. Foreign-funded solar projects have also expanded: Singapore-based power producer Vena Energy officially inaugurated the Taiwan E2 Solar Project in April. The project, which spans across reclaimed land, will be capable of generating energy equivalent to 90,000 Taiwanese households' electricity demands annually, and will produce roughly 4 percent of Taiwan's total solar output annually.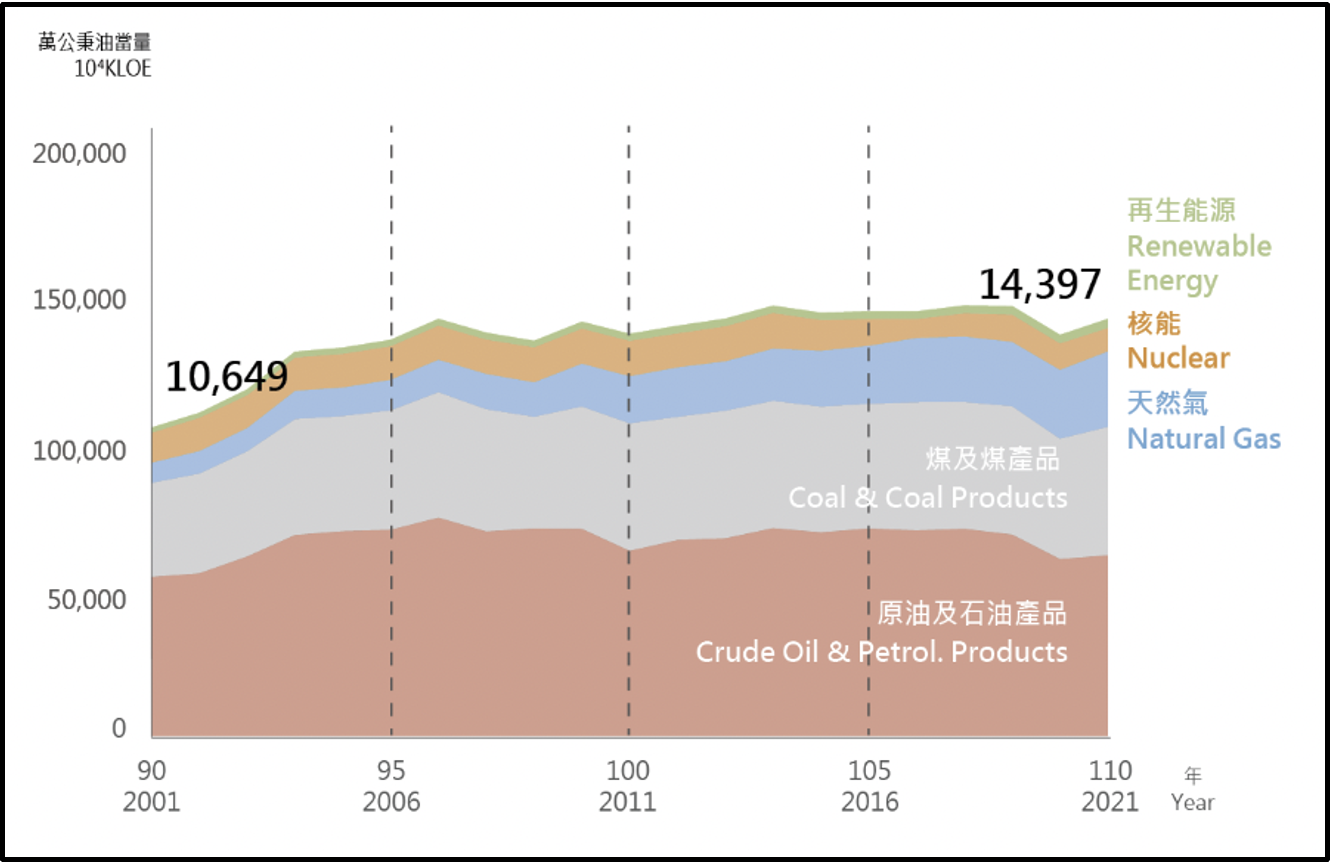 Chart: Taiwan's Reliance on Sources of Energy, 2001-2021 (Image source: Taiwan Ministry of Economic Affairs, Bureau of Energy)
How Much More Does Taiwan Have to Do?
Despite these material strides in both carbon offset systems and renewable energy technologies, the energy industry continues to be riddled with domestic skepticism from industry leaders and climate experts. These critics have described Taiwan's net-zero goal as "ambitious," pointing to imminent obstacles that Taiwan will undoubtedly have to grapple with before reaching the finish line.
Commenting on the carbon trade platform in an interview with TaiwanPlus, Professor Shih Wen-Chen from National Chengchi University explained that the carbon credit system acts as a "supplemental tool" to other decarbonization measures, and was "not designed for the purpose" of meeting Taiwan's net-zero goal. As a result, in order for the carbon credit scheme to work, a large portion of its effectiveness will fall on the shoulders of large, private industries to act in accordance with carbon reduction policies. Shu-Pei Lin of the agroforestry company PUR also expressed: "If the government is not putting enough regulations for [large companies] to follow and they don't feel hurt [by the policies], it is unlikely for them to take actions." He further warned that Taiwan should not "copy [directly] from other countries, because Taiwan has a different culture." [3]
This nuance to the conversation on decarbonization has fueled the skepticism of many industry leaders and climate change activists. Merely charging companies a "social cost" may not be sufficient to move towards carbon neutrality by 2050, particularly as Taiwan's industrial sector accounted for 48.74 percent of carbon emissions in 2020. Drawing on another potential concern, Professor Shih expressed that "those charged with carbon fees currently are not eligible to apply for this type of carbon exchange project, but policies may change." Excluding large emitter industries charged with carbon fees from the carbon trade system could disrupt the efficacy of the system in its overall application.
The dominant narrative in the renewable energy development story echoes that of the progress of decarbonization. Industry leaders cite mounting concerns, as even with full production efforts, the energy produced by solar and wind is not likely to meet growing demands. As the BoE has reported, Taiwan's domestic energy consumption continues to grow at an average annual rate of 1.54 percent. As of 2022, 9.7 gigawatts (GW) of solar energy is being generated, but in order to meet the 2025 goal of 20 GW, Taiwan would need to more than double its capacity in less than three years. Similarly, offshore wind industries are falling behind schedule due to legislative inefficiencies and land availability issues, causing relatively stagnant wind energy production. As a result, wind energy has accounted for less than 0.3 percent of Taipower's electricity generation annually since 2014. In February, representatives from major industries in Taiwan met with President Tsai, during which they echoed concerns over energy demand and requested an extension of the use of nuclear power if necessary, a controversial subject socially and politically. These gaps in energy supply would have to be filled in order to secure a safe energy transition.
The Final Stretch
As the first goalpost looms ahead, Taiwan must gather itself to prepare for the "20-30-50" marker set for 2025. Rather than treating each hurdle as an insurmountable obstacle, Taiwan must embrace them as growing pains in the early stages of its transition to clean energy. In light of domestic criticism, Shu-Pei Lin expressed that while he agrees achieving net-zero is not an "overnight" initiative, Taiwan is on the right trajectory by setting up an ambitious goal, especially in the world of carbon where "there is no such thing as the right thing to do" but to continue making progress. Taiwan has already made material strides and significant advances since the beginning of the 21st century. By continuing this progress, it can prove itself to be a force to be reckoned with as a leader in green technological growth. Taiwan has even leveraged its private sector to combat greenhouse gas emissions, as Taiwan Semiconductor Manufacturing Company (TSMC, 台灣積體電路製造股份有限公司) and Acer have both pledged to reach net-zero emissions by 2050. However, the government must stay focused on its goal and ramp up its progress by embracing a multi-pronged approach incorporating varying sources of renewable energy.
While Taiwan is headed in the right direction, its energy blueprint would benefit from market input and a directional transition toward competitive technologies that would expand its energy capacities. As recently expressed by the founder of the World Climate Foundation Jens Nielsen at the 7th Cathay Sustainable Finance and Climate Change Summit, "What we need at this stage is a different energy mix, with market competition driving relevant investments towards solutions that reduce development and production costs." [4] Taiwan needs to stay competitive in the global renewable energy market in order to be given a seat at the table. Yet, competing narratives that have circulated regarding Taiwan's capacity to generate electricity are being countered by statistical evidence on energy supply shortages. Taiwan must prioritize addressing these claims to instill public confidence and re-assert its message confidently. As Taiwan slowly proves itself to be a burgeoning technological force in the Indo-Pacific, it should recognize the manifold progress it has made in green energy, and its advancements should be pursued jointly by the government and private industries.
The main point: As Taiwan treks toward its 2050 net-zero emissions goal, it must overcome key hurdles by facing the daunting conversation on how to fulfill its unprecedented growing energy demands. Despite the looming pressure of the energy crunch, Taiwan's recent developments in the decarbonization realm and renewable energy industries indicate that the government is taking steps in the right direction.
---
[1] The other ratios are: 42.07 percent from coal, 38.81 percent from natural gas, and 8.24 percent from nuclear energy.
[2] The levy is similar to the CBAM to impose a tax on imported carbon-intensive products in a list determined by regulatory authorities. The carbon fee scheme is set to begin collection in the latter half of 2024.
[3] Source from an interview conducted with PUR program officer Shu-Pei Lin on July 6, 2023.
[4] The quote was translated directly from the news source interview with Jens Nielsen.