In June of this year, Wang Huning (王滬寧), the Chinese Communist Party (CCP, 中國共產黨) Politburo Standing Committee member responsible for the CCP's united front policy portfolio, announced at the CCP-hosted Fifteenth Straits Forum (十五海峽論壇) that the party would soon unveil a new plan intended to promote closer economic and social linkages between Taiwan and China's southeastern coastal province of Fujian. In mid-September, the government of the People's Republic of China (PRC) unveiled this new plan for the "integrated [or 'fused'] development" (融合發展) of Taiwan with the PRC. The plan focuses on measures to make Fujian—China's closest province to Taiwan across the Taiwan Strait, and a region that shares heritage and linguistic ties with much of Taiwan's native, Hokkien-speaking population—into a model region for attracting Taiwanese businesspeople and youthful immigrants.
PRC state commentary noted that "Fujian has a distinct position and role in comprehensive Taiwan work," and further proclaimed that the new plan would "deepen cross-Strait integrated development in a variety of areas, advance the course of the peaceful unification of the motherland, [and] engage in sustaining support for the new road of explorations in cross-Strait integrated development [by] building cross-Strait integrated development model zones" to bring people from both sides of the strait together. For its part, Taiwan's current Democratic Progressive Party (DPP, 民主進步黨)-led government has rejected the plan and its proposals out of hand, with the Mainland Affairs Council (MAC, 大陸委員會) dismissing the plan as yet another united front initiative from the CCP intended to drive wedges into Taiwan society.
This latest initiative follows on the heels of other recent significant CCP policy messaging related to annexing Taiwan. These include CCP General Secretary Xi Jinping's (習近平) January 2019 speech to "compatriots" (同胞) in Taiwan, as well as the "Party's Comprehensive Plan for Resolving the Taiwan Problem in the New Era" (新時代黨解決台灣問題總體方略), which was first unveiled in late 2021. (See detailed discussion of this "Comprehensive Plan" in an earlier article of the Global Taiwan Brief.) In light of the publicity given to the new Fujian-Taiwan integration plan, both positive and negative, it is worth asking the questions: What is actually contained in this plan? And, is it any different from the CCP's many ongoing united front initiatives to recruit and coopt Taiwan's citizens in support of unification?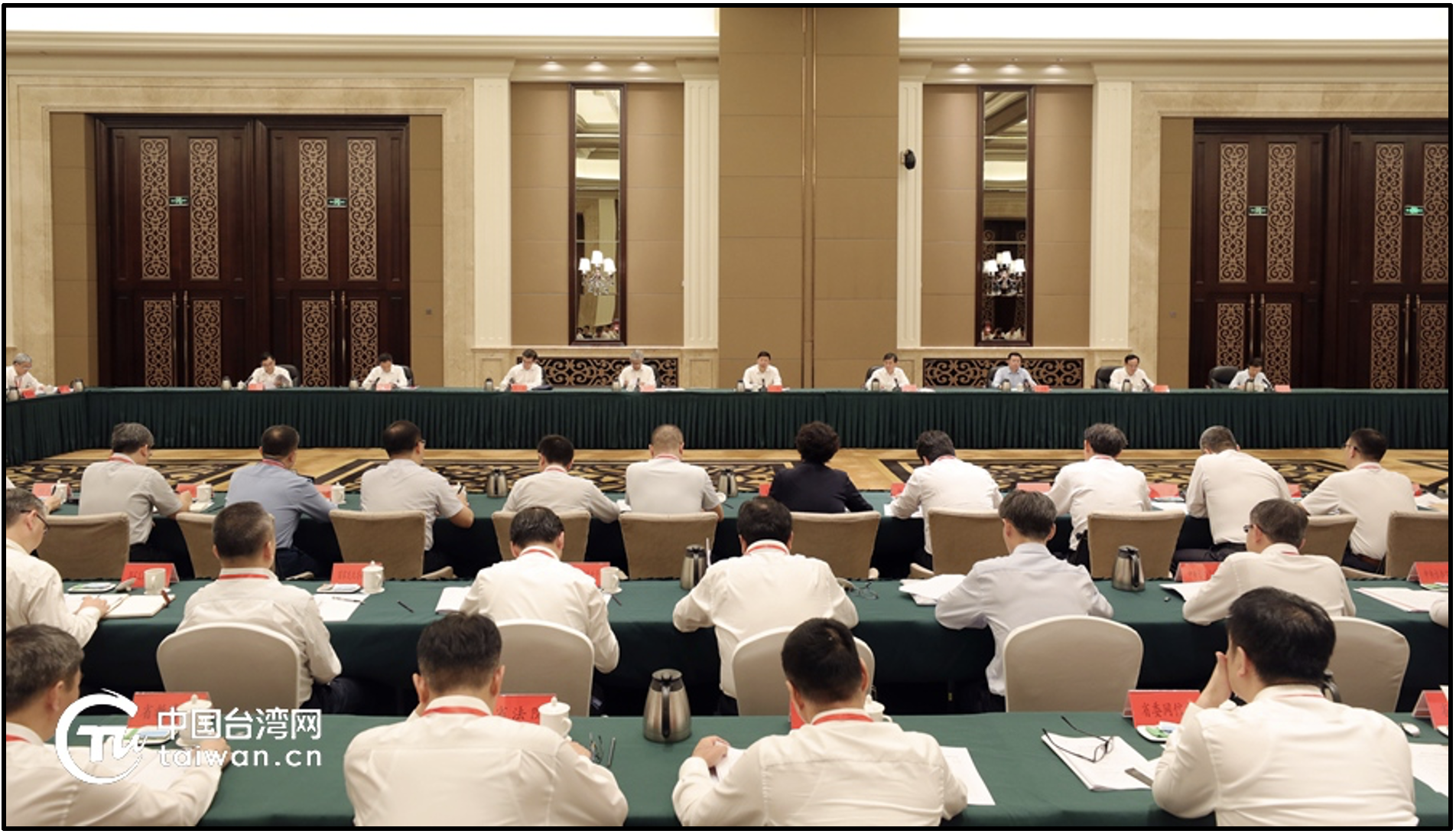 Image: Officials from the CCP Taiwan Office and the PRC National Development and Reform Commission (國家發展和改革委員會) convene a meeting with Fujian provincial officials to promote the CCP's new plan for Fujian-Taiwan integration (September 27, 2023). (Image source: Zhongguo Taiwan Wang)
The Contents of the Fujian-Taiwan Integration Plan
On September 12, the PRC government officially promulgated the policy document Communist Party Central Committee and State Council Opinions Concerning the New Path of Supporting Fujian Explorations in Cross-Strait Integration and Development and Building Cross-Strait Integration and Development Model Zones (中共中央國務院關於支持福建探索海峽兩岸融合發展新路建設兩岸融合發展示範區的意見). The plan's preamble states its purpose as follows:
[We must] establish a cross-Strait integration and development model base, [and let] Fujian become the effective and abundant number one home for Taiwan compatriots and Taiwan enterprises to embark. [We must] further perfect the policy system for integrated development, give greater strength to the societal feeling that "both sides of the strait are one family, Fujian and Taiwan are one family" [… make] contacts between Fujian and Taiwan personnel more convenient, [make] trade and investment smoother, [open] exchange and cooperation into broader realms, deepen the expansion of administrative levels [and] let the integrated development model for Xiamen and Kinmen, Fuzhou and Matsu be ever-more revealed.
The plan lays out broad guidelines for the goals of the program, as well as promises—most of them vague and noncommittal—for the benefits that will be offered to Taiwan residents who participate. Following longstanding themes in the CCP's united front work, the provisions of the plan are aimed primarily at businesspeople and young adults, while ignoring Taiwan's government (see here and here). Some of the major areas addressed by the plan are briefly summarized below.
Infrastructure and the Closer Connection of Kinmen and Matsu with China
A major emphasis of the plan is the need to build further transportation infrastructure to connect Taiwan—and in particular, the islands of Kinmen and Matsu—with regions in Fujian Province. The plan declares that:
[We must] promote the full connection of infrastructure in Fujian and Taiwan, build a three-dimensional, comprehensive model for connecting with Taiwan, [and make] unimpeded thoroughfares to connect Taiwan with Fujian and other regions of the mainland. [We must] strengthen key logistics hubs and other such major logistics infrastructure building, perfecting regional logistics distributions systems [… and] further optimize and strengthen passenger and freight transportation routes along the coast of Fujian and the main island of Taiwan, as well as with Kinmen and Matsu.
The text of the plan particularly emphasizes closer infrastructure connections in order to establish "accelerated integrated development" (加快融合發展) between Kinmen and the city of Xiamen, and "deepened integrated development" (深化融合發展) between Matsu and the city of Fuzhou.
The plan promises equal treatment for Taiwan people in terms of accessing public services in both Xiamen and Fuzhou. For the island of Kinmen, it predicts the sharing of common infrastructure, vowing to "accelerate and advance common electricity and gas [utility usage], bridge connections, and support Kinmen in sharing use Xiamen's new airport." For Matsu, it similarly promises the sharing of common water, electricity, and gas utilities, and the construction of shared-used bridges. It also notes intent to attract to Fuzhou "Taiwan compatriot enterprises" (with referenced interest in "digital economy development"), and makes vague promises for "new cooperation in maritime fisheries and other domains." In the cases of both Xiamen-Kinmen and Fuzhou-Matsu, a central goal will be to form "common city social circles" (同城生活圈) that will bind people from the paired regions together.
Promised Benefits for Taiwan Businesspeople
Another core theme of the plan lies in its promises to set forth Fujian as a promising region in which Taiwan companies can conduct operations and make investments. The plan states in one section that Fujian will:
[…] optimize the business environment for Taiwan enterprises [… and] lead Taiwan compatriots and Taiwan enterprises to mutually share in building marketization [and] a business environment that is more convenient and governed by law." It further states in another section that government policy will "support Fujian enterprises and Taiwanese enterprises in Fujian to jointly build enterprise cooperation alliances […] support the construction of multi-level cross-Strait financial markets, innovate cross-Strait social capital cooperation methods, [and] promote the establishment of cross-Strait industrial integration development funds.
Although the language of the plan is vague, it does mention a few economic sectors as priority areas for attention. It promises land usage and financing for Taiwan farmers and fishermen, with a goal of establishing "national rural development model counties" (国家乡村振兴示范县) and "cooperation bases" (合作基地) for agriculture. It also mentions attracting Taiwan businesses with an eye toward technology sharing, stating that Fujian will "encourage Fujian-Taiwan enterprises and scientific research institutions to jointly build technology research platforms, advancing digital, online, and smart transformations [in the economy]." Somewhat incongruously, it also promises support for "fashion and creative industries" in order to "mutually cultivate brands with national characteristics."
Of note, but without further explanation, the plan mentions two specific enterprises for development (presumably, with assistance from Taiwan entrepreneurs) as "industrial bases": Gulei Petrochemical Industrial Base (古雷石化產業基地), and Ningde Power Battery Group (寧德動力電池集群). Why these enterprises are singled out in this manner is not entirely clear.
In the case of Fuzhou-Matsu economic integration, the plan plays up the particular importance of the "Pingtan Comprehensive Experimental Zone" (平潭綜合實驗區), a grouped collection of industrial parks on the island of Pingtan (located just off the coast of Fujian, to the southeast of Fuzhou). The plan touts its value as an investment and production site for Taiwan enterprises, and as a showcase for economic integration between the two sides. This zone, as described in Fujian provincial government publicity material dating back to 2013, is a "pioneering model zone oriented towards exploring cross-Strait exchange cooperation [and a] [Taiwan] Strait west coast economic zone [and] scientific development pioneering zone."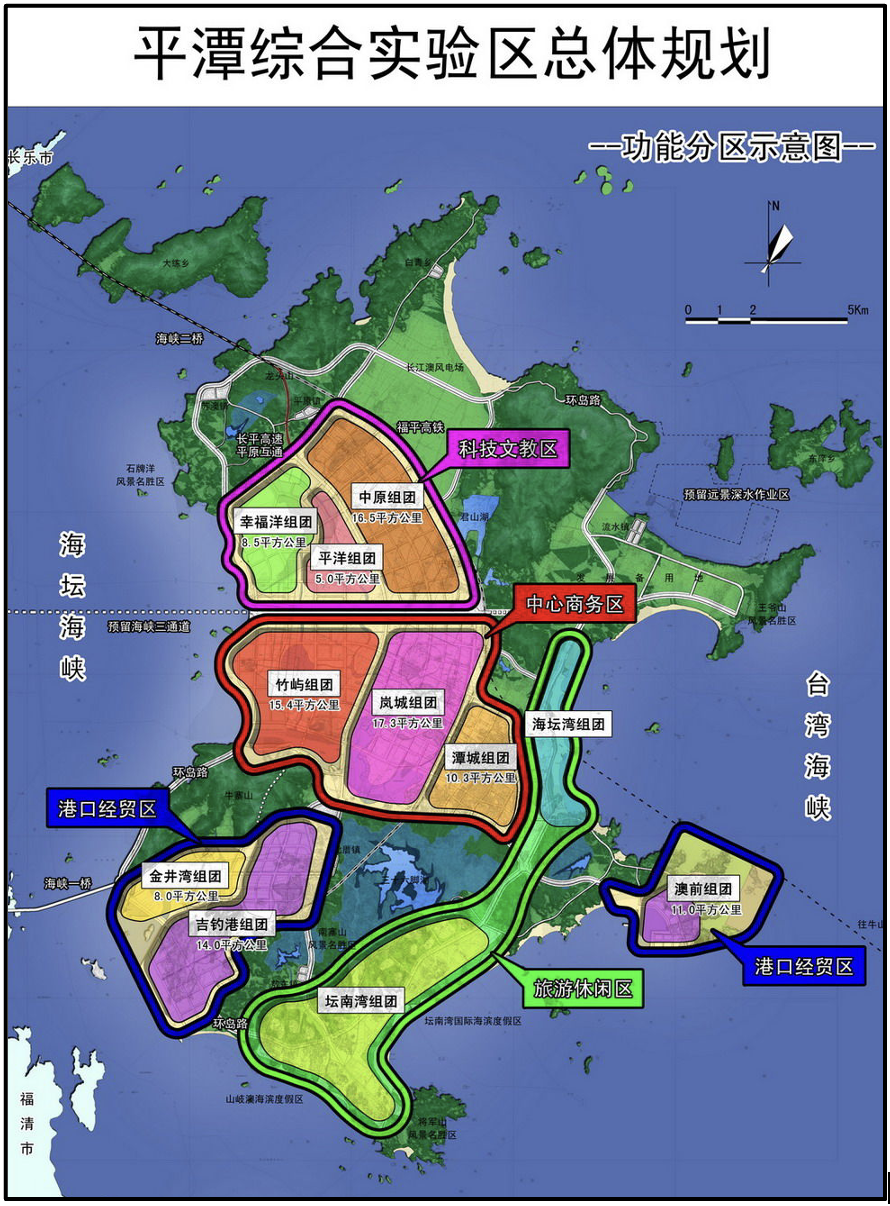 Image: A map of the "Pingtan Comprehensive Experimental Zone" on the island of Pingtan, near the city of Fuzhou. The island is promoted as a centerpiece of the new CCP plan for Fujian-Taiwan economic integration. The map shows the island divided into five main zones: the "Science, Technology, and Culture Zone" in the north; the "Central Business District" in the center; the "Travel and Recreation Zone" in the south; and two "Port Trade Zones" in the southwest and southeast. (Image source: Fujian Government Taiwan Office)
Conclusions
Beijing's new plan for the economic integration of Taiwan, while much ballyhooed in PRC state sources, appears to offer little in the way of quantifiable inducements to Taiwan entrepreneurs—and little to turn around a larger trend of Taiwan enterprises leaving China to set up manufacturing and other operations elsewhere. The provisions of the plan are vague, and tend to take the form of non-specific promises and exhortations rather than firm commitments. Furthermore, the plan also contains read-between-the-lines subtext that strongly hints that one of its central goals is to leverage the technology and managerial knowledge of Taiwan businesspeople, rather than to open up promising new avenues for them to pursue profits. Against a backdrop of China's overall economic downturn and an atmosphere of intensifying political pressure in the PRC (the plan itself contains language vowing to "maintain the Party center's unified leadership over […] all aspects of the process"), there appears to be little new here that would really inspire a significant new wave of investment in Fujian by Taiwan-based enterprises. Instead, the plan appears to be a case of old wine in new wineskins: repackaging traditional united front cooptation themes related to the golden opportunities available for Taiwanese who will relocate to the PRC for study or business. As with autumn 2021's "Comprehensive Plan" for unification, the plan for Fujian-Taiwan economic integration appears to be largely a propaganda exercise, with little substance to back up its promises.
The main point: In September, the Chinese government released a new plan pertaining to efforts to make Fujian Province a model region for economic and social integration with Taiwan. The actual plan, although hyped up for propaganda purposes, appears to offer little in the ways of substantive inducements for Taiwan businesspeople.