The Biden Administration revealed quite a bit about its concerns regarding and approach to the Taiwan Strait during the month of March. Although significant apprehensions with respect to peace and stability in the region are evident in Washington, panic is not. In addressing those apprehensions, the Biden team has thus far opted for a mix of high-level diplomacy and pragmatic initiatives.
When US Secretary of State Antony Blinken and National Security Advisor Jake Sullivan hosted Yang Jiechi (楊潔篪)—the senior-most Chinese Communist Party (CCP) member responsible for foreign affairs—and Foreign Minister Wang Yi (王毅) in Alaska last month, Blinken specifically mentioned Chinese actions in Taiwan as one of Washington's "deep concerns." This accorded with President Joe Biden's own message to CCP General Secretary Xi Jinping (習近平): according to the White House readout, when the two leaders spoke in February the new American president conveyed his "fundamental concerns about Beijing's […] increasingly assertive actions in the region, including toward Taiwan."
In early March, the White House released its Interim National Security Strategic Guidance, which presented an agenda designed to "allow us to prevail in strategic competition with China or any other nation." Taiwan featured in that agenda: "We will support Taiwan, a leading democracy and a critical economic and security partner, in line with longstanding American commitments." The past few weeks have provided a peek at what that support will look like.
The Paraguay Call
Before the Anchorage meeting, Blinken and US Secretary of Defense Lloyd Austin were busy engaging with diplomatic partners regarding stability in the Taiwan Strait. During a March 14 call with Paraguayan President Mario Abdo Benítez—the leader of one of Taiwan's 15 remaining diplomatic allies—Blinken "stressed the importance of continuing to work with democratic regional and global partners, including Taiwan, to overcome this global pandemic, combat corruption, and increase transparency and accountability." The Paraguayan Foreign Ministry later revealed that unidentified "intermediaries" had offered COVID-19 vaccinations to Paraguay in exchange for Asunción severing relations with Taipei (Beijing has denied the charge).
It is worth noting that the State Department's readout of the Blinken-Benítez call is only four sentences. Taiwan, then, seems to have featured prominently in the discussion. This is perhaps evidence that the new administration is taking seriously the Taiwan Allies International Protection and Enhancement Initiative (TAIPEI) Act of 2019. The TAIPEI Act, which became law just over a year ago, urges the US government to "support Taiwan in strengthening its official diplomatic relationships as well as other partnerships with countries in the Indo-Pacific region and around the world."
"Peace and Stability in the Taiwan Strait"
Two days after the Paraguay call, Blinken and Austin were in Tokyo for meetings with their counterparts, Japanese Foreign Minister Toshimitsu Motegi and Defense Minister Nobuo Kishi. The joint statement released by the two sides featured a lengthy paragraph on countering problematic Chinese behaviors, which included an explicit mention of the Taiwan Strait: "The Ministers underscored the importance of peace and stability in the Taiwan Strait." Kyodo News later reported that Austin and Japanese Minister of Defense Nobuo Kishi "agreed […] to closely cooperate in the event of a military clash between China and Taiwan." Then, last week, Nikkei Asia broke the news that President Joe Biden and Japanese Prime Minister Yoshihide Suga are expected to "affirm the importance of stability in the Taiwan Strait" when they meet in Washington this month. According to Nikkei, the last time the US and Japanese leaders made such a public statement on Taiwan was in 1969. Tokyo's security interests in the Taiwan Strait are well-known, but official Japanese statements have often referred to Taiwan only obliquely.
It was somewhat unexpected to see Taiwan appear as a major topic of discussion between the US and Paraguayan foreign ministers. And it is remarkable to see how far Japan is willing to go in publicly discussing Taiwan at the highest levels of government. Both suggest that the United States will be intent on putting Taiwan on the agenda for bilateral talks with other countries going forward.
Even as it does so, the Biden Administration appears committed to easing its own bilateral diplomacy with Taiwan as well. Just before his time as secretary of state ended in January, Mike Pompeo declared "all 'contact guidelines' regarding relations with Taiwan […] null and void." How incoming Biden officials perceived this decision has been unclear, but they have apparently ruled out reverting to the status quo ante. New guidelines are coming, according to the Financial Times, but those guidelines will "focus on encouraging US officials to meet Taiwanese counterparts rather than imposing limits on contact." Per one source, "most of the restrictions on interactions 'between US and Taiwanese diplomats […] will disappear.'"
Taiwan Visit by the US Ambassador to Palau
In one prominent instance of such engagement last month, the American ambassador to Palau accompanied the Palauan president to Taipei to inaugurate a Taiwan-Palau travel bubble. During his 2019 confirmation hearing, Ambassador John Hennessey-Niland stated that the TAIPEI Act, should it become law, "would be a very important contribution to supporting allies [such] as Palau." Hennessy-Niland further described Taiwan as "an important partner […] an under-utilized ally in the Pacific." The Biden Administration has provided Hennessy-Niland with an opportunity to act on those observations. In his public remarks in Taipei, he highlighted the potential for trilateral cooperation beyond grappling with COVID-19. If Hennessy-Niland's trip marks the beginning of more robust multilateral diplomatic efforts involving Taiwan in the Pacific Islands, Taiwan's own diplomatic engagement in the region may become more effective, while China finds a less welcoming environment for efforts to extend its influence there.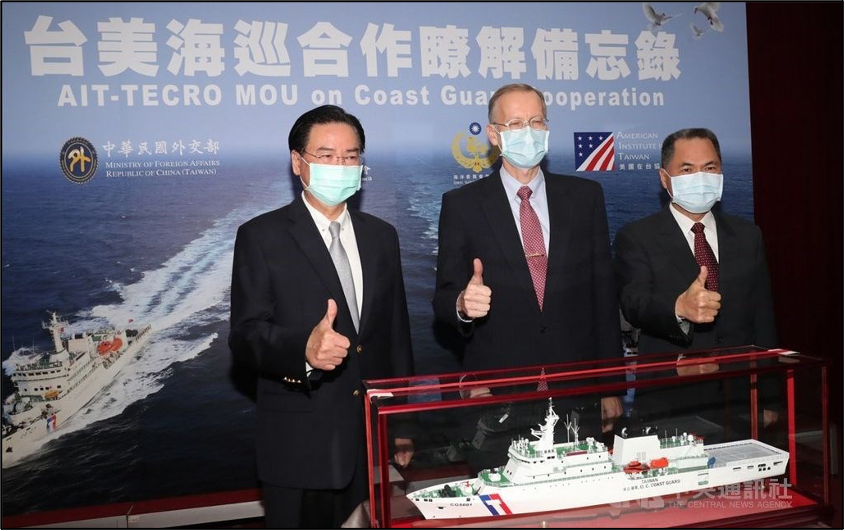 The Coast Guard Working Group
A focus on pragmatic US-Taiwan diplomatic cooperation with tangible outcomes was also evident in March. Most notably, on March 26, the American Institute in Taiwan (AIT) and the Taipei Economic and Cultural Representative Office in the United States (TECRO) signed a memorandum of understanding (MOU) to establish a Coast Guard Working Group. The AIT press release described the working group:
This new forum will improve communications, build cooperation, and share information between AIT and TECRO through their respective Designated Representatives, the United States Coast Guard (USCG) and Taiwan Coast Guard. Additionally, this MOU affirms a relationship with the common objectives of preserving maritime resources; reducing illegal, unreported, and unregulated fishing; and participating in joint maritime search and rescue as well as maritime environmental response events.
TECRO's announcement also highlighted extant bilateral coast guard cooperation, particularly regarding search and rescue and fisheries enforcement. Both Taiwan and the United States stand to benefit if the new working group meaningfully deepens that cooperation. As the US Coast Guard enhances its presence in the West Pacific with both cutters and attachés, there is surely much it can learn from local maritime law enforcement bodies. Engaging with the Taiwan Coast Guard (and with other coast guards across the region) can better enable the US Coast Guard to carry out assigned missions in the Indo-Pacific area of operations.
China's new coast guard law, which explicitly permits its coast guard to use force against foreign vessels, has raised concerns across the region, including in Taiwan. Taipei may hope that enmeshing the US Coast Guard more deeply in the region will help deter such PRC assertiveness. Indeed, Taiwan's coast guard increasingly finds itself on the front line of Taipei's confrontation with Beijing. Chinese sand dredgers operating illegally in Taiwanese waters have become a newly persistent feature of cross-Strait relations. Taiwan's coast guard captains may hope that, in putting their heads together with American counterparts, they can devise innovative ways to chase off ships significantly larger than their own vessels. They may likewise hope that cooperation may move from a working group conference table to the waters around Taiwan, with US and Taiwan coast guard vessels exchanging sailors or even sailing side-by-side and conducting joint patrols.
Finally, in a little noticed yet interesting development, on March 10 AIT announced a new funding opportunity. AIT is soliciting applications from individuals and organizations "to create and implement programs to support and increase Taiwan's capacity for Humanitarian Assistance and Disaster Relief (HADR) […] These programs must be aimed at improving the resilience of the people of Taiwan to respond to disasters, natural or civil." This is not a large initiative—a total of USD $20,000 in support of one or two projects—but it has the potential to have a direct impact on Taiwan's preparedness for worst-case scenarios, including those of the manmade variety. The program is a great example of an initiative that is unlikely to attract much attention from Beijing, but could ultimately bear fruit that complicates Chinese designs on Taiwan.
Indeed, all of the steps that the Biden Administration took in March were designed to deny China a free hand in the Taiwan Strait. Publicizing allied concern for Taiwan's security, reinforcing Taiwan's formal diplomatic relationships, deepening America's engagement with Taiwan, and supporting Taiwan's own efforts to enhance its security—all make it more difficult for Beijing to isolate and effectively intimidate Taipei. Thus far, the Biden Administration appears to be taking its Interim National Security Strategic Guidance quite seriously.
The main point: Significant apprehensions with respect to peace and stability in the Taiwan Strait are evident in Washington, but panic is not. In addressing those apprehensions, the Biden team has thus far opted for a mix of high-level diplomacy and pragmatic initiatives.