Wave Makers (人選之人—造浪者, 2023), the same TV show that Weibo users praised for discussing sexual harassment, is now also credited for being the catalyst for Taiwan's own #MeToo movement. Inspired by the protagonist's words to "Let's not just let this go" in response to a sexual harassment accusation, a former staffer for the Democratic Progressive Party (DPP, 民主進步黨) was the first to come forward about being touched inappropriately by a filmmaker following a DPP video shoot. Following her post in late May, a wave of sexual assault allegations have been levied against well-known figures in politics and the Chinese dissident community. These have included Chinese dissident and pro-democracy activist Wang Dan (王丹), former Deputy Director of Poland's representative office in Taipei Bartosz Ryś, and Kuomintang (KMT, 中國國民黨) lawmaker Fu Kun-chi (傅崐萁).
This has led observers to speculate about how this recent #MeToo movement will affect the current political landscape. While jarring for these cases' sharp contrast to Taiwan's oft-praised open and democratic culture, it seems clear that Taiwanese government officials are not "letting it go" in real life. Accordingly, this movement could provide a much-needed opportunity for policymakers to reflect on how to better accommodate victims of sexual harassment and assault through policy reforms, while also showing how Taiwan deals with these allegations as a mature democracy.
#MeToo and the Legal Background 
First gaining prevalence in the United States in 2017, the #MeToo movement spread to Asia via Japan and South Korea during the following year. The fact that Taiwan is only having its own #MeToo movement five years later has led to difficult questions: why now and why has it taken so long? According to Chen Mei-hua (陳美華), a sociology professor at National Sun Yat-Sen University (國立中山大學), many Taiwanese women are taught to tolerate sexual harassment in favor of considering the "big picture." Given the prevalence of such mindsets, it is perhaps not surprising that Wave Makers resonated so powerfully with Taiwanese women.
Additionally, Chen noted that Taiwan has been slow in creating a legal framework to deal with these cases. The term for "sexual harassment" entered the lexicon in Japan and Taiwan at around the same time—with the term arising in Taiwan in the early 1990s and gaining popularity in Japan around 1992. However, Japan revised the Equal Employment Opportunity Law in 1997 to include guidelines for the prevention of workplace sexual harassment (the same year that the US Equal Employment Opportunity Commission issued a fact sheet defining sexual harassment), nearly ten years before Taiwan passed its own Sexual Harassment Prevention Act (性騷擾防治法) in 2006. Taiwan also lagged behind South Korea, which included articles on sexual harassment in its own Equal Employment Act in 1999. Considering Taiwan's relative listlessness in addressing sexual harassment, it is perhaps understandable that its #MeToo movement has been slower to catch on as well. Still, it should also be noted that this current movement did not emerge from nowhere. As Taiwanese lawyer Audrey Lu emphasized: "This is the effort of a lot of men and women put in fighting sexual harassment and sexual assault for many generations. This is a combination, not a one-shot or one-event impact of the TV show."
Timeline of the Main Developments
Date

Main Political Accusations and Rulings

Responses to the Accusations

May 31

●      Former DPP staffer Chen Chien-Jou (陳汘瑈) posts on Facebook, calling out the inadequate response of DPP official Hsu Chia-tien (許嘉恬), who was the head of the DPP's gender equality department

 

June 1

●      Another former DPP staffer, Chen Wen-hsuan (陳汶軒) accuses Tsai Mu-lin (蔡沐霖) of covering up her sexual harassment allegations against a fellow DPP staffer

●      DPP Deputy-Secretary General Hsu Chia-tien resigns

June 2

●      KMT New Taipei Mayor Hou You-yi (侯友宜) is accused of mishandling and covering up a sexual harassment case in New Taipei that resulted in suicide (Hou has not apologized for this incident)

●      Tsai Mu-lin, aide to DPP Deputy Labor Minister Lee Chun-yi (李俊俋), resigns

●      Vice President and DPP Chairman William Lai (賴清德) publicly apologizes and announces three reforms

●      President Tsai Ing-wen (蔡英文) apologizes on Facebook for the DPP's mishandling of sexual misconduct complaints

June 3

●      Tung Cheng-yu (董成瑜) accuses KMT Lawmaker Fu Kun-chi of sexual harassment

●      A former Taiwan People's Party (TPP, 台灣民眾黨) staffer accuses the TPP of covering up sexual harassment accusations

●      The KMT pledges to investigate the claims against Fu Kun-chi

●      TPP Chairman Ko Wen-je (柯文哲) says that sexual harassment allegations were handled immediately

June 4

●      DPP Legislator Mark Ho (何志偉) is accused of sexual harassment

 

June 5

●      A professor who formerly served as Taipei City Gender Equality Commissioner under Ko Wen-je is accused of sexually harassing a subordinate  

●      Albert Tzeng (曾柏文), a researcher employed by a KMT think-tank, apologizes after being accused of sexual harassment by multiple women (KMT denies any current connection to him)

June 6

●      The ruling that KMT lawmaker Chen Hsueh-sheng (陳雪生) must pay USD $2,605 as compensation for sexually harassing a female DPP lawmaker is upheld in court

●      Tsai Ing-wen apologizes in a second Facebook post and pledges reforms

●      National Policy Advisor to Tsai Ing-wen Yan Chih-fa (顏志發), quits after being accused of sexual harassment (despite denying the allegations)

June 13

 

●      DPP candidate Lin Fei-fan (林飛帆) decides to withdraw his candidacy to take accountability as head of the DPP's Gender Equality Committee
While early developments in the #MeToo movement centered mainly around the DPP, further cases have included figures in the KMT and TPP, as well as individuals outside of politics—such as those working in the entertainment industry. One aspect that should be noted in the above timeline is that the DPP has thus far accepted all the allegations that have been made against them without contestation. For instance, while Yan Chih-fa initially contested the accusations against him and even filed a defamation case on June 5, he ultimately decided to withdraw the case and resign instead.
In contrast, the KMT and TPP have not been so eager to accept wrongdoing. As of yet, the two parties have either stated that any allegations were already handled (such as in the case of Ko Wen-je) or have yet to take any visible actions to increase accountability (such as in the case of Fu Kun-chi). While several DPP officials who were accused of mishandling cases have already resigned, the KMT continues to support lawmaker Chen Hsueh-sheng as its candidate for a legislative seat from Matsu, even though Chen has already been found guilty of sexual harassment.
As some political commentators have noted, there are several possible reasons behind the DPP's disproportionate response. First, the DPP may face greater pressure, both as the ruling government and the focus of initial accusations. With the election coming up, the party may also be concerned about losing the support of female and younger voters (who tend to care more about gender-related issues). Lastly, the DPP may hope that tendering the resignations of officials higher-up within the party will pressure the TPP and KMT to do the same. Regardless of the reason, of the three parties, the DPP is the only one to take concrete steps toward reforming itself so far.
Long-Term Impacts 
Policy Reform
As noted above, responses from the DPP and the government have also been accompanied by proposals for policy reform. As chairman of the DPP,  Lai Ching-te was the first to announce reforms to DPP party procedures. According to Lai, the DPP would set up an office at its Gender Equality Department to deal with sexual harassment reports. During the investigation, the parties involved would remain anonymous, legal assistance and counseling would be provided by the DPP, and if wrongdoing is proved, then perpetrators would be dismissed and not allowed to work in the party. Accompanying these changes, Lai also promised to redraft the party charter to implement an internal framework to support gender equality, which would include education programs.
In a June 6 Facebook post, Tsai Ing-wen announced that she had assigned Premier Chen Chien-ren (陳建仁) to conduct a government review and propose reforms in three main areas: 1) to clearly define what constitutes sexual harassment; 2) to review the current sexual harassment reporting mechanisms and facilitate public powers' ability to intervene in cases that are being mishandled; and 3) to review and propose amendments to the Gender Equity Education Act.
On July 13, five weeks after Tsai's post, the Executive Yuan—which functions as the government's executive branch—approved drafted amendments to the Gender Equity Education Act, the Act of Gender Equality in Employment and the Sexual Harassment Prevention Act, with the aim of combating power-based sexual harassment. These amendments, which among other changes necessitate immediate action from employers and introduce harsher fines, passed within two months of their drafting and are set to take effect on March 8, 2024. (Amendments to the Gender Equity Education Act passed on July 28, and additional amendments passed on July 31.) Women's March Taiwan (我們台灣),  a grassroots organization that works towards improving awareness around women's rights in Taiwan, has praised the government's approach for being "victim-centered," arguing that this will help encourage more victims to come forward. Still, as some have noted, the current amendments have some remaining blind spots, including a limited statute of limitations and a lack of clarity when it comes to after-hours behavior. Targeting power harassment would be in line with Japan's own workplace reforms in 2019. However, compared to Japan's own power harassment law—which was passed over a year following the start of Japan's #MeToo movement and took effect a year to three years after that—the DPP's timeline for reforms has been incredibly fast.
Implications for the Election
With many of the first allegations centered on the DPP, the ruling party has taken the brunt of the criticism from Taiwanese voters. The Taiwan Public Opinion Center (TPOC, 台灣議題研究中心) found that the DPP's favorability rating generally stayed above 30 percent from April to June, peaking at 53 percent in May. However, immediately following the allegations, the DPP's favorability dropped to 21 percent, and there were 27,975 negative social media posts about the DPP posted online. When TPOC analyzed public opinion trends on social media platforms from June 1 to 9, they found that the DPP, KMT, and TPP all experienced a similar level of favorability when it came to discussions about the #MeToo movement—the DPP was at 13 percent approval, while the KMT and TPP were each at 15 percent. Among the parties, the DPP faced the most scrutiny, with 219,137 total social media posts, 96,498 of which were negative. (The KMT had 57,889 total posts, with 29,981 negative; the TPP had 22,114 total, with 10,413 negative.) Additionally, a Daily View article found that, compared to the period before the allegations, Lai Ching-te's favorability dropped from 35 percent to 28 percent, while Tsai Ing-wen's dropped from 40 percent to 31 percent. Clearly, all the parties have suffered in the court of public opinion, the DPP most of all.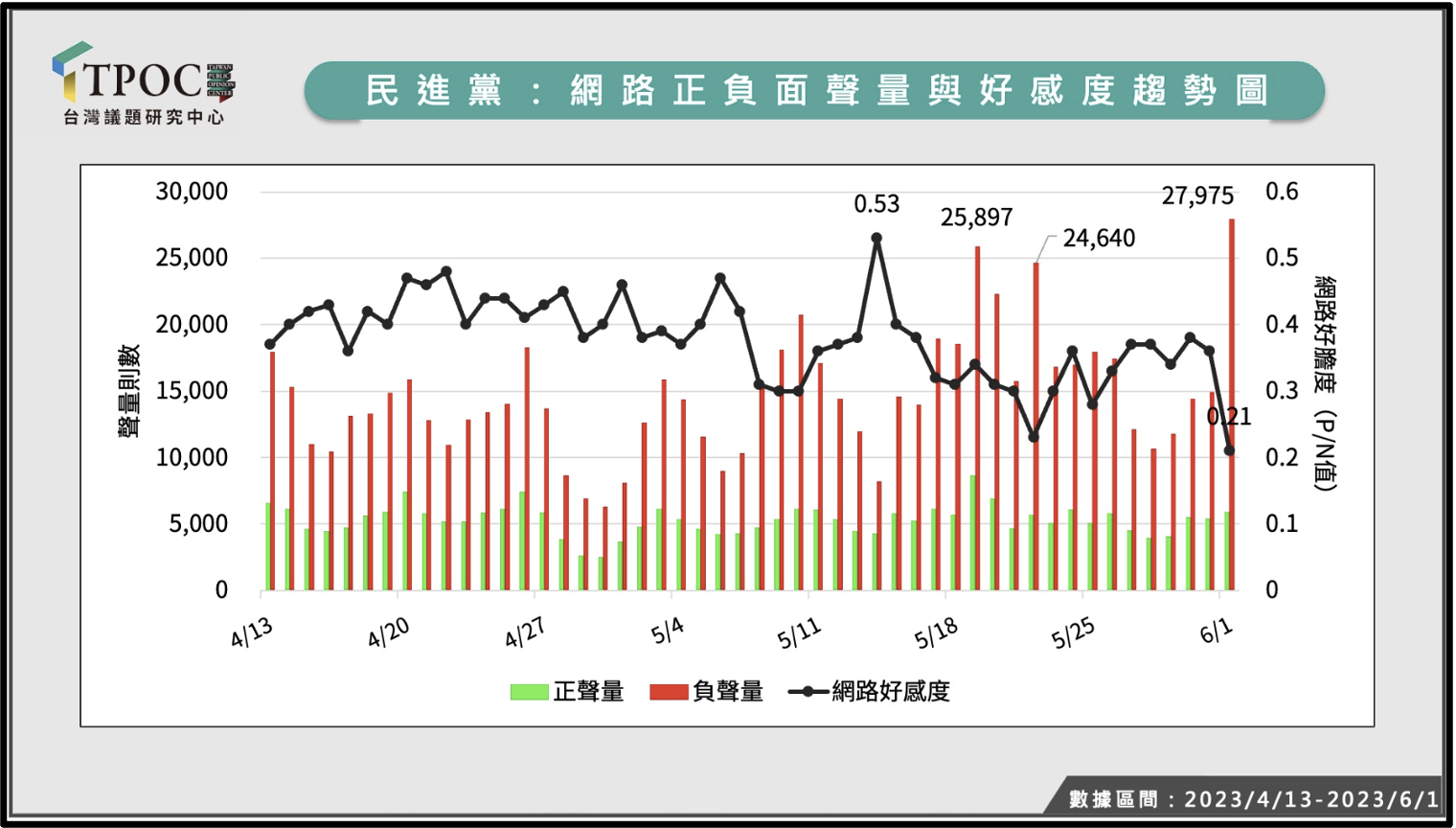 Graphic: The results of data collected by TPOC depicting the DPP's internet approval ratings from April 13 to June 1, as well as the number of negative and positive social media posts on each day. (Source: TPOC)
Whether these lower approval ratings will translate into changes in voting remain to be seen. In polling results released by the Taiwanese Public Opinion Foundation (TPOF, 台灣民意基金會) on June 20, 34.5 percent of respondents were satisfied with Lai's handling of the sexual harassment allegations (a slight relative majority when compared to the 30.7 percent who said they were not satisfied). On the TPOF's feeling thermometer, Lai had a slight edge over the other candidates (56.48 percent, compared to 53.06 percent for Ko and 48.78 percent for Hou). However, the TPOF added a caveat that Lai's ratings have continuously declined over the last two years, while the ratings for Ko—his closest competitor—have remained stable. According to TPOF, "If Ko's presidential support in the poll rises, we know it is not so much that Ko himself won over more hearts and minds but that his opponents have become more unpopular." Overall, the DPP continues to struggle winning over younger voters, and any doubts about the DPP's ethical standards will make gaining that support even harder.
Still, July polling results from the TPOF seem to indicate that the DPP has not taken a sustained hit from the #MeToo allegations. Lai, at 36.4 percent, continues to lead when compared to the other presidential candidates (Ko is at 27.8 percent and Hou at 20.2 percent). Additionally, responses indicated that Lai would still be in the lead even if Foxconn founder Terry Gou (郭台銘) were to join the presidential race, with Lai at 33.9 percent, Ko at 20.5 percent, Hou at 18.0 percent, and Terry Gou bringing up the rear at 15.2 percent. A poll by RW News (菱傳媒) from July 12-16 found similarly high levels of support for the DPP. Further, the poll indicated that women tend to support Lai over the other candidates, a crucial figure given that the majority of DPP supporters are women. (This stands in contrast to the KMT and TPP, where male supporters outnumber female supporters.) Although the DPP is still struggling to capture the youth vote, it remains the frontrunner when it comes to polling, especially among women.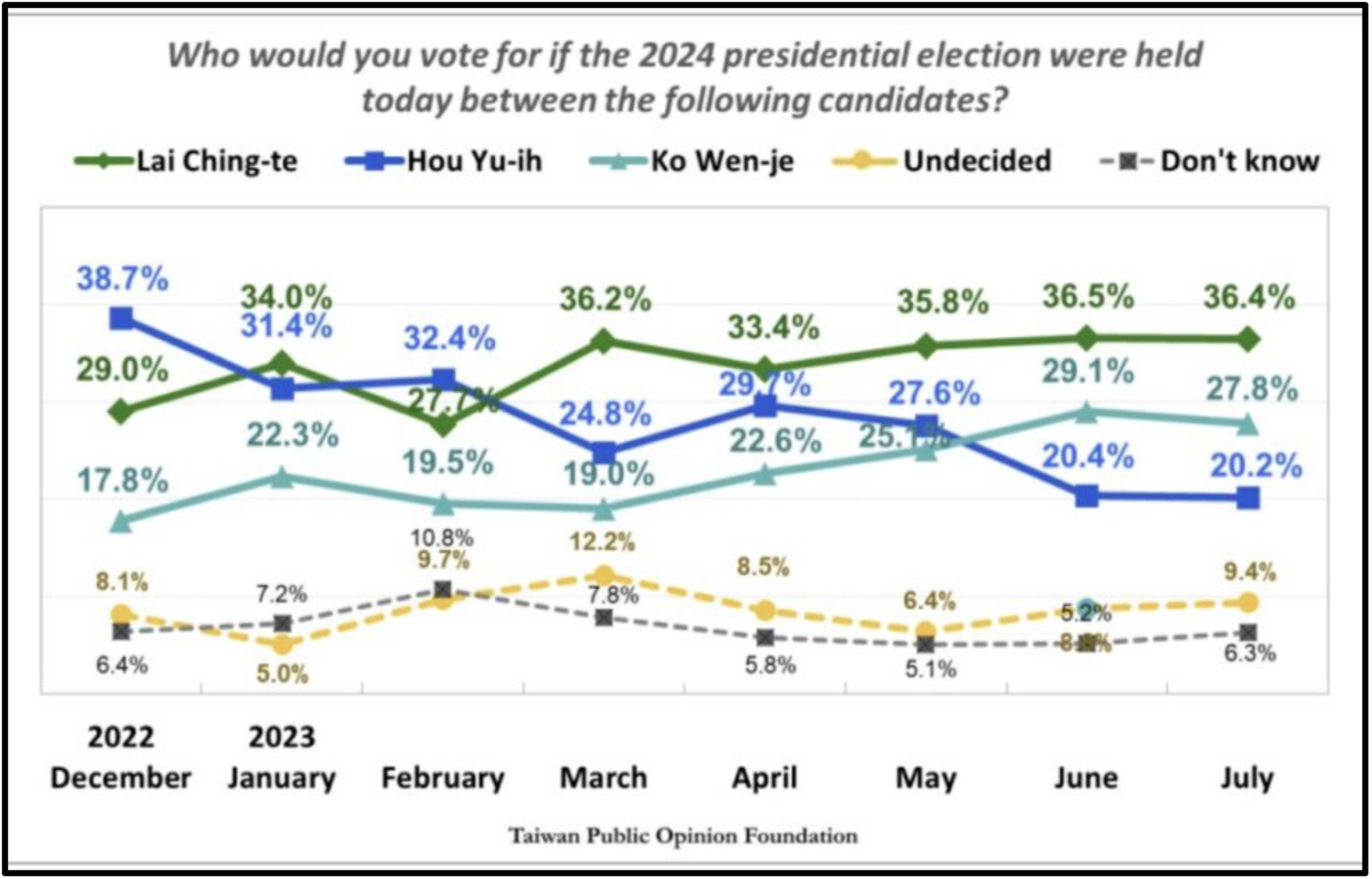 Graphic: Polling results from the TPOF's July 25 report asking respondents about who they would vote for in the upcoming 2024 presidential election. (Source: TPOF)
The main point: Although the #MeToo movement was slow to take hold in Taiwanese society compared to some other countries, the government has responded quickly to the allegations and has already passed amendments to existing laws. However, whether the proposed reforms are effective in addressing sexual harassment, and whether the DPP can continue to hold its current lead in the polls, both remain to be seen.
The author would like to thank GTI Summer Intern Kristin Chang for her research assistance when writing this article.