In the spring of last year, I covered various lessons from the Russia-Ukraine War that Taiwan could benefit from, ranging from mobilization and logistics to the importance of airpower and initiative. At the time of this writing, Ukraine is now in the process of carefully husbanding reserves, integrating nearly two thousand Western-provided armored vehicles and tanks, and training troops in combined-arms warfare in preparation for an expected late-spring counter-offensive.  
It is the last portion—modern combined-arms training—that has proven to be one of the most difficult challenges. This is due to the immense number of escalating requirements for combined-arms warfare to work effectively: basic soldiering, systems proficiency, inter-service communication, a command-and-control network able to operate between services—and finally, a leadership that understands the capabilities that each service brings, and can coordinate their effects accordingly. However, the payoff for being able to conduct combined-arms warfare is immense. The Russians were not capable of this, and thus their offensives repeatedly bogged down into sequential operations that could be predicted and countered at each turn. Now, Ukraine is attempting to boil down what would ideally be several decades' worth of reform into several months. This is made all the more difficult because many of Ukraine's most experienced soldiers from the pre-invasion period have fallen. New recruits must not only rapidly pick up soldiering skills without the benefit of battle-experienced mentors, but also learn to operate completely new platforms via crash course training. 
In this regard, Taiwan's military has several key advantages. First and foremost, it has the advantage of time. Over the winter and spring, many of Ukraine's combat-experienced regular units were pulled away from the frontlines to undergo intensive combined-arms training, both within Ukraine and in Europe. Ukraine's territorial defense force brigades (whose members receive anywhere from three days to three weeks of training) had to cover the gap, taking severe casualties to blunt Russia's winter offensive and buy time. Given the terrible pressure these units faced at home, the combined-arms training time allotted is also short by Western standards: five weeks to go through "marksmanship, along with medical training, squad, platoon and company training, and a battalion force-on-force exercise." By way of comparison, Western units often go through a six month training cycle. 
Second, Taiwan already has many—and better—platforms than what Ukraine is getting, and has used them for years. Ukraine has been asking for Western fighter aircraft since the beginning of the war, and likely will not receive any for some time. By contrast, Taiwan has used F-16s since 1992, has acquired upgrades that make them more capable than the ones in the US Air Force inventory, and in a few years will have an additional 66 new F-16Vs. The army has trained on M1A2T Abrams since last year. By already having a high baseline of platform training compared to Ukraine, Taiwan's armed forces can allot more time to combined arms and joint maneuver. 
In this article, I will look at one of the main existing challenges to US-Taiwan security cooperation—a massive backlog in weapons deliveries—and explore the likely contours of US-Taiwan security cooperation in the near future. I then provide several recommendations for both Taiwan and the United States in order to maximize the effectiveness of such security cooperation, building upon my previous comments on the subject in 2021.       
Weapons Starvation, then Glut
US security cooperation with Taiwan previously focused on foreign military sales (FMS) of platforms, with a longstanding debate over the type of platforms that Taiwan should or should not acquire. However, it was only after the Western scramble to rapidly and massively arm Ukraine that the US national security community began to realize that the US defense industry had serious, long-standing capacity issues, worsened by the effects on the global supply chain from the COVID pandemic. This affects almost every single platform and munition. Accordingly, the US Congress has also begun to take notice of the infamously large backlog of US FMS to Taiwan.
The US Departments of State and Defense, under Congressional pressure, are now employing a variety of methods to speed up the delivery of weapons. These methods range from policy/process review to the use of Presidential Drawdown Authority (PDA). However, this will still not mean rapid, sustained deliveries of all of the weapons in the backlog. 
Rather, there will likely be a tiered effect: first, PDA items, which include weapons, platforms, and capabilities released from existing US stock. PDAs were first authorized under the Foreign Assistance Act of 1961 for emergencies (such as disaster relief) and for non-emergency situations given special legislative authority. The criticality of stopping Russian aggression against Ukraine has vastly expanded the US government's appetite to use PDA: at the time of this writing, there have been 37 Ukraine PDAs since August 2021, totaling USD $21.1 billion. In light of the PRC's unrelenting gray zone warfare, under the 2023 National Defense Authorization Act (NDAA), Taiwan was allocated USD $1 billion in PDA funds. The first tranche of announced Taiwan PDA is valued at USD $500 million—comparable to a medium-sized Ukraine PDA—which gives some additional capability while filling out munition stocks.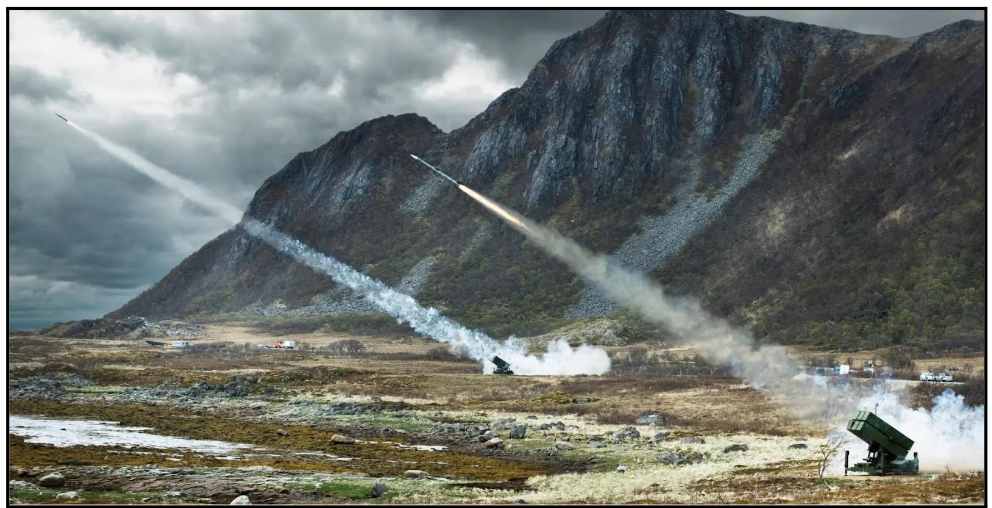 Image: The National Advanced Surface-to-Air Missile System (NASAMS), a distributed, networked short-to-medium range air defense system jointly produced by the US and Norway. Multilateral support for Ukraine has opened up significant new avenues of cooperation within the US alliance network, both in terms of policies such as PDA and weapon system availability. The United States is now slated to sell NASAMS to Taiwan, with delivery expected in 2024. (Image source: Kongsberg)
Using similarly-sized Ukraine PDA examples as conjecture, Taiwan's PDA would probably represent a first step towards building a robust war reserve stockpile, and may add capabilities that would otherwise be impacted by the lengthened backlog. These assets would be useful both against gray zone warfare and against all-out invasion. Second on the delivery tier will be the items from the backlog that have been prioritized by both US and Taiwan political leadership. Given the heightened US concern regarding an all-out invasion, this tier will likely include capabilities such as the Harpoon anti-ship missile. Finally, the most complex and technologically demanding items—such as the F-16V—will still enjoy minor speed-ups in delivery due to policy changes and generalized pressure on the defense industry to prioritize Taiwan over other customers. 
Operationally, this means that in the immediate future, Taiwan's military will receive a relative trickle of new platforms, weapons, and capabilities from PDA and US FMS. Then, in roughly a few years' time, that trickle will transform into a flood. Taiwan will thus have approximately three years to structure and optimize its military training programs to ensure that these weapons can be rapidly and fully integrated, thus greatly increasing deterrence against the PRC.  
Training en Masse  
Both the United States and Taiwan have realized the importance of training prior to the influx of platforms. Accordingly, both sides have announced a number of new training initiatives as part of the bilateral security cooperation strategy. The United States has sent a number of advisors to Taiwan, building on existing Army, Marines, and special forces efforts to quietly train elements of Taiwan's military. US special forces personnel are now specifically training for simulated urban combat in Taiwan. Taiwan, for its part, announced in February plans to send a combined-arms battalion to the United States for training. Furthermore, Taiwan also announced an extension of the mandatory military service requirement from four months to one year, coming into effect in 2024 and applicable to those born after 2005.  
These efforts are critical in improving small-unit tactics as well as critical basic soldiering skillsets such as marksmanship and communication in a disrupted environment. However, it would be a serious mistake if the US training focused too narrowly on the special forces effort to create a "partisan resistance model," and if combined arms training in the United States for Taiwan's military personnel was limited to simply the battalion level. 
Instead, both the scope of the training as well as the numbers involved should be magnified. 
For the sake of simplicity, existing engagement programs could be expanded. For instance, on the issue of a "partisan resistance model," Taiwanese non-commissioned officers (NCOs) are already attending exchange programs in the United States during visits to the US Joint Readiness Training Center and the US Army Asymmetric Warfare Group. An expanded effort could involve not just more NCOs in a "train the trainers" program, but also selected, high-performing conscripts who could later spread their knowledge in either the garrison troop (守備部隊), civil defense (民防系統), or reserve system (後備系統). While it is still unlikely that Taiwan will fashion a Ukraine-like Territorial Defense Force, an expanded US training effort here would provide a significant long-term boost to existing private civil defense efforts like the Kuma Academy. 
Furthermore, expanded training should not be limited to asymmetric warfare. As Ukraine's intense and difficult endeavor to generate massed conventional combat power for a large-scale counter-attack demonstrates, there is a real necessity for Taiwan's military to also be capable of massing, maneuvering, and executing combined-arms operations at scale. Moreover, Taiwan's military must assume that these operations will be conducted under fire by a far more capable adversary than the fumbling Russian military. 
Thus, current battalion-level training in the United States is likely insufficient; instead, both Taiwan and the United States should evaluate the possibility of brigade-level training in the United States, with a similar level of engagement by the Republic of China Air Force (ROCAF) and the Republic of China Navy (ROCN). Again, utilizing existing engagements would be ideal, such as Taiwan's attendance at US exercises such as Northern Strike, hosted by the Michigan National Guard. The size of US training areas and ranges would provide space for more complex exercises and make it more difficult for prying eyes to ascertain tactics, techniques, and procedures learned. Moreover, the multilateral aspects to these exercises would provide Taiwan's military a broad spectrum of examples to learn from, instead of simply taking the US expeditionary force as a sole model for military operations.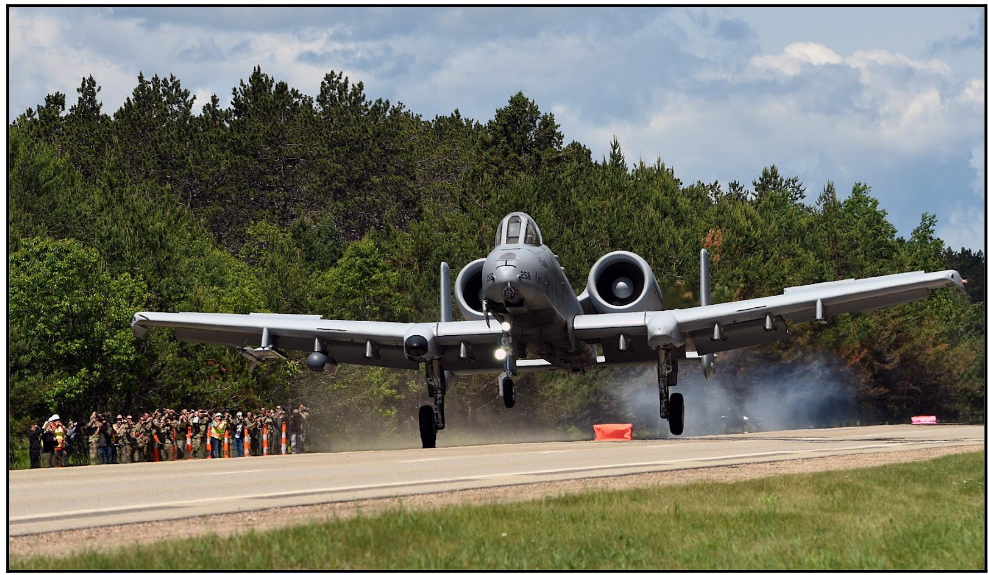 Image: A Michigan Air National Guard (ANG) A-10 conducts a public highway landing as part of exercise Northern Strike 22 (June 2022). Northern Strike featured combined-arms training between Michigan ANG, the Army National Guard, and the US Marine Corps Reserve, as well as forces from the UK, Canada, and Latvia. Expanded Taiwan participation in a combined-arms exercise like Northern Strike will not only allow for large-scale combined arms training, but also allow Taiwan to leverage the US alliance network to share operational best practices. (Source: US Air National Guard)
Conclusion 
For Taiwan, the increased US focus on training as the new cornerstone of the security cooperation relationship may mean accepting a greater level of short-term risk: if training in the United States is dramatically ramped up, then that would mean some reduction in force on Taiwan itself, at a time when military manpower is already a concern. However, it is critical to take advantage of the period of time when Xi Jinping (習近平) still does not believe the People's Liberation Army (PLA) is capable of both successfully invading Taiwan while defeating counter-intervention forces. With increased risk, though, comes the possibility of higher return. It would mean a military more readily capable of using its new platforms and weapons at full potential, thus providing greater deterrence throughout this decade of maximum danger. 
The main point: For the immediate future, US defense production issues will continue to delay delivery of FMS items to Taiwan. US PDA and policy changes will ameliorate this over the next two to three years. By accepting greater risk today and expanding training, Taiwan's military will be in a much stronger position to rapidly integrate new weapons systems and deter the PRC.