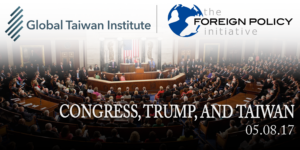 *Please note: this event will be held at the Cannon House Office Building, rather than at GTI.
Unlike any other bilateral relationship, U.S.-Taiwan relations are governed by a specific law, the Taiwan Relations Act of 1979 (TRA). Beyond the normal struggle between the executive and legislative branches over foreign policy, the TRA defines the broad interests and policy objectives that successive American presidents have been expected to pursue in this relationship. While administrations have interpreted these commitments and obligations differently, Congress has worked to strengthen relations between Washington and Taipei. How will President Trump interpret the TRA? Will he subordinate relations with Taiwan in the pursuit of greater Chinese cooperation on trade or the North Korean nuclear crisis? How will Congress exert itself as the steward of this law and relations with Taiwan?
Please join the Global Taiwan Institute and the Foreign Policy Initiative on May 8, for discussion of these and other questions on Congress, Trump, and Taiwan,  as we bring together current and former senior Congressional staffers to assess the prospects for US-Taiwan relations under the new administration.
Doors will open at 11:45. A light lunch will be served, and the panel will begin at 12:00. Kindly RSVP by May 5. Please direct questions or concerns to at abell@globaltaiwan.org.
**Media: Please contact Anna Scott Bell at abell@globaltaiwan.org if you would like to bring additional crew members or equipment, so that we can be sure to accommodate you. 
PANELISTS
Christopher J. Griffin joined the Foreign Policy Initiative (FPI) as Executive Director in January 2013. Previously, he served as legislative director to Senator Joseph I. Lieberman (ID-CT), advising the senator on the full range of legislative proposals and key votes. Between 2008 and 2011, he was Senator Lieberman's military legislative assistant, in which capacity he developed the senator's legislative agenda as a senior member of the Senate Armed Services Committee and chairman of its Airland Subcommittee. Prior to joining Senator Lieberman's staff, Mr. Griffin was a research fellow at the American Enterprise Institute for Public Policy (2005-2008), where he focused on U.S. foreign and defense policy toward the Asia-Pacific. During his time at AEI, Mr. Griffin was also a contributing editor to the Armed Forces Journal, writing feature articles on international defense industrial cooperation and a monthly column titled the "Blogs of War."
Mr. Griffin's writings have been published in the Washington Post, Wall Street Journal, and New York Times. Mr. Griffin received a B.A. in international studies from Austin College in Sherman, Texas, and an M.A. in international studies from the Johns Hopkins School of Advanced International Studies in Washington, DC.
Igor Khrestin serves as National Security Advisor for Senator Cory Gardner (R-CO), handling foreign policy and military affairs, and also serves as the Senator's subcommittee staff director for the Senate Foreign Relations Subcommittee on East Asia, the Pacific, and International Cybersecurity Policy. Prior to joining Senator Gardner's office in 2015, he worked for 5 years as Senior Legislative Assistant in the office of Senator Mark Kirk (R-IL), focusing on foreign policy and international trade issues.
Igor also worked as an international policy analyst at the BGR Group, a government affairs consulting firm, and as a researcher at the American Enterprise Institute. He holds a Master's degree from Georgetown University's Walsh School of Foreign Service, a Bachelor's degree from Illinois Wesleyan University, and has also studied at the London School of Economics. He is fluent in Ukrainian and Russian.
Walter Lohman is director of The Heritage Foundation's Asian Studies Center, which develops recommendations to further American interests in freedom and security. In addition to his management responsibilities, Lohman is a policy expert focused principally on Southeast Asia, but also broader Asia policy including relations with America's allies in Japan, South Korea and Australia. He is also the leading voice at Heritage on the U.S.-Taiwan relationship, and is a close observer of China policy. He also is an adjunct professor at Georgetown University, where he leads graduate seminars on American foreign policy interests in Southeast Asia and the role of Congress in Asia policy.
Lohman previously served for four years as senior vice president and executive director of the U.S.-ASEAN Business Council. He also worked on Capitol Hill as a Senate staff member. In 2002, he served as a senior professional Republican staffer advising then-Sen. Jesse Helms, R-N.C., the ranking Republican on the Foreign Relations Committee, on issues affecting East Asia. From 1991 to 1996, Lohman was a policy aide to Sen. John McCain, R-Ariz., advising him on foreign policy, trade and defense issues. Lohman holds a bachelor's degree in humanities from Virginia Wesleyan College and a master's degree in foreign affairs from the University of Virginia.
Christopher Nelson is Editor and Publisher of The Nelson Report, a daily "insider's" look at foreign policy and trade issues. Nelson has been a consultant and journalist since leaving Capitol Hill in 1983. What became The Nelson Report started in 1986. In October of 2016, Nelson became a Fellow for US-Asia Relations, Sasakawa Peace Foundation USA. Nelson is a graduate of Phillips Academy, Andover, 1962; The University of California, Berkeley, 1967; graduate studies at McGill University, Montreal, 1970.
His professional career began with United Press International, in New York, in 1967, and he has spent his professional life a journalist and Asia-policy specialist with a focus on Asia and US policy-making. Capitol Hill jobs have included the House International Relations Subcommittee on Asia, where he handled normalization of relations with China and The Taiwan Relations Act, and the Senate Democratic Policy Committee. He currently travels and lectures in China, Japan, South Korea and Taiwan on a regular basis.