On May 9-10, the Chinese Communist Party (CCP, 中國共產黨) hosted the 2023 Taiwan Work Conference (2023年對台工作會議) (hereafter "TWC") in Beijing, an annual event that is nominally held to review and formulate the party's comprehensive policies towards Taiwan. Last year's conference, a caretaker event in the lead-up to the CCP 20th Party Congress, offered no new or noteworthy policy formations, and appeared to signal continuity for the CCP's overall approach to Taiwan. Since the 2022 TWC, however, a number of significant developments have taken place in the cross-Strait environment—including the provocative military exercises that followed then-US Speaker Nancy Pelosi's visit to the island (see here and here), and CCP General Secretary Xi Jinping's (習近平) appointment to a third term (and likely lifetime tenure) at the 20th Party Congress. As a significant event on the CCP's annual policy calendar, it is worth examining the messages emerging from this year's TWC in order to look for indications regarding the future direction of People's Republic of China (PRC) state policy towards Taiwan.
Although the TWC is, in theory, a coordination event for the CCP's Taiwan policy-making process, the limited information made public about the event suggests that it has shared the fate of so many other party-state events under Xi's tenure: rather than serving as a vehicle for contact and coordination across the multiple bureaucratic xitong (系統, "systems") responsible for implementing cross-Strait policy, it appears to have become yet another venue for the top-down dissemination of propaganda for the purposes of internal party indoctrination. [1] Despite this, there were some subtle thematic indications to emerge from this year's TWC, which could provide some clues as to the future direction of PRC policy.
Official Messaging from the CCP's 2023 Taiwan Work Conference
The official CCP media reporting on the conference was very light (nonexistent, really) in terms of providing any detailed breakdown of the agenda or specific events. Such reporting did note that attendees consisted of "central party-government military, civil, and mass [organization] departments, and various concerned responsible comrades." (Video of the event showed a large auditorium of civilian officials, with a scattered handful of military officers, furiously scribbling notes in ritualized displays of party loyalty.) While the breakdown of organizational representation is unknown, it may be reasonably assumed that most attendees were representatives of various branches of the CCP's sprawling bureaucracy for united front work (UFW, 統一戰線工作), which bears primary responsibility for implementing Taiwan policy.
Three CCP officials associated with Taiwan policy appeared on stage as the senior party members presiding over the conference. These were: Song Tao (宋濤), the director of the Central CCP Taiwan Office (中共中央台灣工作辦公室) (which also operates under a dual identity as the PRC State Council Taiwan Office); Wang Yi (王毅), a Politburo member and director of the CCP Central Foreign Affairs Commission (中央外事工作委員會); and Wang Huning (王滬寧), a member of the CCP Politburo Standing Committee (PBSC, 中央政治局常委會). The latter Wang was the most senior of the three officials: he holds the fourth-ranked position in the Politburo hierarchy, which carries with it chairmanship of the Chinese People's Political Consultative Conference (CPPCC, 中國人民政治協商會議)—and in turn, attendant responsibilities for managing the party's overall united front policy portfolio.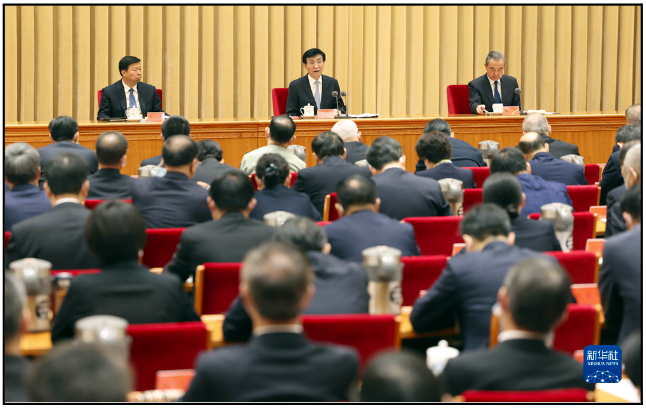 Image: CCP Taiwan Office Director Song Tao (left), PBSC Member Wang Huning (center), and CCP Foreign Affairs Committee Chairman Wang Yi (right) at the CCP's annual Taiwan work conference, held in Beijing on May 9-10. (Image source: China Nationalities and Religion Net)
Official CCP media coverage of the conference was striking in terms of how little it actually said about Taiwan in substantive terms—and by contrast, how much it said in terms of banging the drum for Xi's cult of personality. The official CCP media summary of the event emphasized Wang Huning's speech before the conference, in which Wang opened with a laundry-list recitation of slogans associated with the need for absolute loyalty to Xi Jinping, and for complete adherence to "Xi Jinping Thought on Socialism with Chinese Characteristics in the New Era" (習近平新時代中國特色社會主義思想). Wang also praised Xi for developing "a series of important discussions" (一系列重要論述) and "a series of new concepts, new thoughts, new strategies" (一系列新理念新思想新戰略) for Taiwan policy. These in turn had led to the "Party's Comprehensive Plan for Resolving the Taiwan Problem in the New Era" (see further discussion below), which all party members must "completely, precisely, and comprehensively carry out" (完整、準確、全面貫徹落). 
Wang's comments also spoke of the importance of "the two sides of the Strait as one family" (兩岸一家親), and of maintaining the "system of welfare for Taiwan compatriots" (台灣同胞福祉的制度)—thereby alluding to the CCP's touted economic benefits for Taiwan's people under "deepening cross-Strait integrated development" (深化兩岸融合發展). Wang also included the de rigueur denunciations of "Taiwan independence separatist activities" ("台獨"分裂活動) and "interference by foreign forces" (外部勢力干涉), and asserted the need to maintain the "92 Consensus" ("九二共識") as the basis for any cross-Strait dialogue.
What does any of this mean? While the official summary of Wang's comments was light on substance and heavy on tiresome repetition of official slogans (提法), there are a few interesting points to tease out.
Speculation Regarding Wang Huning and a New Ideological Formula for Taiwan
Early this year, there was media speculation that Wang Huning, acting in his long-standing role as the CCP's lead ideologist, had been given responsibility for developing a new ideological framework for unification with Taiwan. Theoretically, this new model would supersede the venerable "One Country, Two Systems" (OCTS, 一國兩制) framework first promulgated under Deng Xiaoping (鄧小平) in the late 1970s. For over four decades, OCTS has served as the CCP's official formula for incorporating Taiwan (and Macao and Hong Kong). However, OCTS enjoys negligible support in Taiwan, and has been rejected by virtually every leading political figure on the island (including recent comments by Hou You-yi [侯友宜], the Kuomintang's [KMT, 中國國民黨] newly designated presidential candidate). Despite the moribund nature of OCTS, it has continued to be invoked as a pillar of CCP policy towards Taiwan, as recently as the leadership speeches presented at the annual "Two Sessions" (兩會) held in March of this year.  
Despite this, mentions of OCTS were notably absent from the official summary of Wang's comments. Instead, the summary included three mentions of the "Party's Comprehensive Plan for Resolving the Taiwan Problem in the New Era" (新時代黨解決台灣問題總體方略) (hereafter, "Comprehensive Plan"), which was directly connected with the purported "thought" of Xi Jinping himself. The "Comprehensive Plan" is vague in its content (a more detailed analysis of the "Plan" is available in a previous Global Taiwan Brief article), but broadly re-asserts the current direction of CCP policy: rejecting engagement with Taiwan's current "separatist" government, building united front social and cultural connections, and offering economic inducements to persons and groups in Taiwan who do not challenge PRC claims of sovereignty over the island and its people.
Wang Huning's comments were also noteworthy in terms of their continued insistence on maintaining the "92 Consensus" as a foundation of PRC policy and as a precondition for any official cross-Strait dialogue. Since at least summer 2022, the CCP propaganda system has been more forcefully reasserting the concept, albeit with a significant shift in interpretation: namely, that the "92 Consensus" carries with it acceptance of the PRC's own "One-China Principle" (一個中國原則)—which in turn holds that the PRC is the one and only China, of which "Taiwan island" is a province. This goes beyond what nearly any public figure in Taiwan would agree to, except for marginalized voices on the extreme pro-unification fringe of Taiwan politics.
Conclusions
Too much could easily be made of any single CCP forum or leadership speech, and outside observers attempting Kremlinology on the CCP's opaque policymaking processes should be cautious about inferring too much from any one event. Still, the limited information reported about Wang Huning's speech at this year's CCP Taiwan Work Conference offers some tantalizing clues as to what the CCP propaganda system might be signaling about the direction of CCP policy—or, at a minimum, how the CCP articulates and promotes that policy.
It is unusual that "One Country, Two Systems"—usually, a boilerplate staple of CCP narratives about Taiwan—was omitted from the coverage of Wang's speech. This could indicate a possible de-emphasis of the OCTS framework in CCP messaging, even though OCTS has not been explicitly rejected. Furthermore, the subtly increased emphasis on the "Party's Comprehensive Plan for Resolving the Taiwan Problem in the New Era"—especially in terms of it being linked with Xi Jinping's "new concepts, new strategies" et al.—suggests that the "Comprehensive Plan" could be emerging as the favored ideological framework for Taiwan as Xi enters his third term.
If this is indeed what is happening, such a step would allow Xi to quietly replace a framework associated with past CCP leaders with one that he could more exclusively claim for himself. In light of the megalomaniacal qualities that Xi has clearly demonstrated and the pervasive cult of personality that he has built around himself, this would align with a larger trend to characterize any major policy initiative as the product of Xi's own personal genius. Furthermore, fundamental aspects of OCTS—namely, the promise that Taiwan could maintain its own system of government, social institutions, etc. under a future unification arrangement—appear to run counter to Xi's obsession with absolute party control. Furthermore, such promises were dropped from the PRC's updated 2022 white paper The Taiwan Question and China's Reunification in the New Era (台灣問題與新時代中國統一事業). Xi, in all likelihood, does not wish to entertain any discussion of the future survival of "two systems" in any territory claimed by the PRC.
It is too early to say with confidence whether or not the "Party's Comprehensive Plan" will be elbowing aside "One Country, Two Systems" as the guiding framework for the CCP's "reunification" with Taiwan. However, it is possible that the new formula that some have expected to emerge from Wang Huning may already be before us—and that it may gradually move towards a more prominent place in the CCP's ideological discourse on Taiwan.
The main point: The Chinese Communist Party conducted its annual "Taiwan Work Conference" from May 9-10. While information regarding the conference is limited, Chinese state media sources provided summary accounts of the keynote speech given by Wang Huning, the senior-most official responsible for CCP united front policy. Wang's speech appeared to deemphasize "One Country, Two Systems" in favor of another formula titled "The Party's Comprehensive Plan for Resolving the Taiwan Problem in the New Era"—thereby signaling a potential shift in the CCP's prioritized ideological framework for Taiwan policy.
---
[1] Under Xi's tenure, the CCP has placed a significantly increased focus on internal ideological "education" for its own cadres.